As new technologies and business models are created, integration complexities arise. Because of this demand, more companies are putting millions into developing technology enablers for digital transformation purposes.
We all know that in this new digital era, technology is guiding the digital transformation of organizations to drive innovation and improve their performance. The key to this is harnessing the power of cognitive technologies, advanced enterprise networking technologies, IoT, analytics, and mobility.
It is, therefore, critical for businesses to constantly look for new ways to use technology to stay competitive, both in their market and globally.
Digital Transformation in the 2020s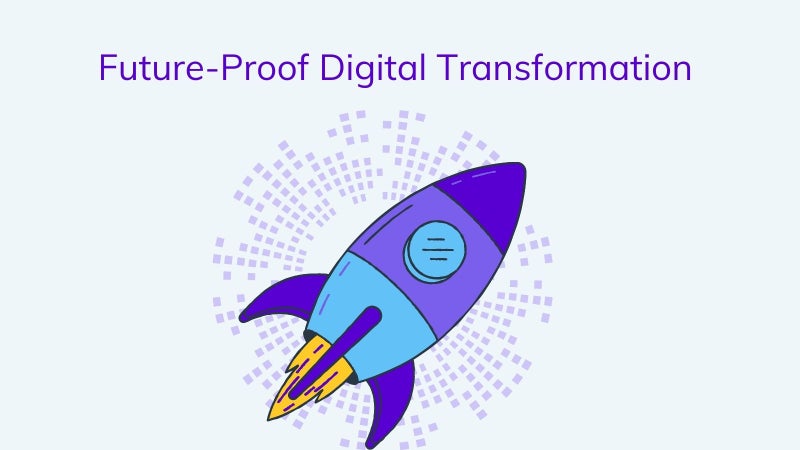 To leverage technology development for your business, you need to consider the role of technology enablers in your digital transformation strategy.
It's difficult to imagine the transformations that new technology will create in our lives, but what is certain is that we can no longer ignore the impact they're having.
The disruptive changes occurring in our world are characterized by their speed, which implies a greater need for organizations to empower new technologies that allow them to respond quickly and effectively to these changes.
The benefits of digital transformation are innumerable - from a strategic, competitive, and business perspective. While many large international companies already realize these benefits, there's more pressure for companies to embrace digital transformation.
New technologies like big data analytics and artificial intelligence are forcing businesses to take a fresh look at their internal processes, systems, and programs, which is why digital transformation resonates with companies.
In addition to its business implications, digital transformation has important implications for every aspect of society. It means new products, new business models, and new relationships between people and the companies they do business with.
According to McKinsey, technology advancements can generate a 20-30% improvement in customer satisfaction. With that said, it's no longer possible to ignore digital transformation as a significant factor in competition, customer experience, and business success.
7 Technology Enablers for Digital Transformation
Let's look at some of the critical enablers of digital transformation that impact businesses today and how you can use them to improve your company's performance in the coming years.
What Are The Key Enablers of Digital Transformation?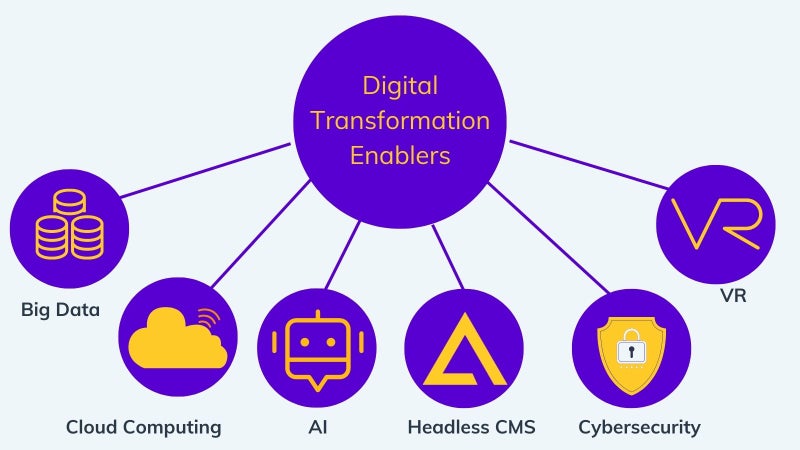 Digital transformation enablers are technologies that help businesses harness the power of information technology to improve performance and drive productivity. The term "enabler" is often used in business process re-engineering, but it also describes achieving digital transformation utilizing automation.
They provide a framework for digital transformation that makes it easy for companies to create new ideas, find new opportunities, and new ways of doing business.
Many IT and R&D companies are offering them, and the trend is on.
Let's break down 7 of the leading technology enablers for digital transformation.
Cybersecurity
Cybersecurity is the practice of protecting a business's assets and information systems from unauthorized access. It's an area of IT that is just as important as any other but often gets overlooked.
Plenty of security technologies are available to protect a company's assets and safeguard itself against cyber threats. Cyber security is even more critical than ever with the rise of cloud computing and big data.
This is because the information that companies hold in these systems can be accessed from anywhere.
Cyber attacks are becoming increasingly more of a problem for businesses. According to Accenture's Cost of Cybercrime report, of the 43% of small businesses being attacked, only 14% of them are prepared to counter-attack.
One might think only large companies are targeted, but this is not the case. Small and medium-sized businesses are being hit harder than large businesses by cybercriminals, targeting a new market of small companies with little to no IT support.
Security software and solutions serve as an essential part of digital transformation for any business that uses a computer system to conduct its daily operations. It is no longer a luxury but the standard for any industry, irrespective of its size.
With that said, it's important to remember that security is a moving target. Cyberattacks are constantly changing to find new weaknesses in the system, so it's essential to be innovative in this area of security. It is also necessary to make improvements in the present, constantly look towards the future, and ensure that a company's security strategy is up to date.
Companies can use various tools to help them protect their data, including encryption, firewalls, antivirus software, and VPN. These tools help ensure that only authorized personnel can access sensitive information.
They also ensure that unauthorized individuals, be they internal or external people, cannot gain access to any information from within your system. Cyber security is even more critical than ever with the rise of cloud computing and big data analytics.
This is because the information that companies hold in these systems can be accessed from anywhere. Cybersecurity is not just about protecting against outside threats; it's about securing an enterprise from internal leaks.
It's hard to believe that people can destroy the company they are working for. But it happens, and more often than you would think. So, if you want to transform your business and stay ahead of the curve digitally, make sure that you have a top-of-the-line cybersecurity strategy.
Headless CMS

Headless CMS is exactly what it sounds like: a content management system where the repository body is separated from the head layer. The focus of headless CMS is to produce content in the back-end and display it on the front end via APIs.
One main advantage of this decoupled approach is publishing content to multiple platforms while targeting different devices. With a headless CMS, you have a more feature-rich product that's easier to maintain and deploy. You can now update content on the fly (via API or webhooks), and when you change it, your app will automatically reflect the changes.
Many companies find that moving to a headless CMS is a logical next step in their digital transformation process. After all, it makes sense to take advantage of the benefits of decoupling CMS structure from any single channel and the other advantages.
It's more than just a technology change, though – it's about working smarter from a different perspective.
You can head over to this post to know more about the benefits of using a Headless CMS.
More and more companies are shifting from traditional CMS to headless CMS to streamline their existing content infrastructure. This is because a single instance of back-end code can be shared between all of their different channels and platforms.
Imagine having the same experience regardless of what device someone is on - devices and platforms need not constrain your digital presence. That is the beauty of headless CMS. With it, one can create a single website or app that works on desktops, mobiles, smartwatches, IoT industrial devices, etc.
To keep pace with technology, remove the shortcomings of traditional CMS and make all channels a first-class citizen of your digital presence, headless CMS control is the way to go.
Cloud Computing
Cloud computing is an integral part of digital transformation. It provides greater flexibility in terms of data storage space and processing power. Data is stored on a cloud-based system, making it easier for businesses to access their files from any location.
Since most cloud providers charge on a pay-as-you-go basis, Cloud computing enables businesses to take advantage of more extensive data storage for a fraction of the cost, thus reducing capital expenses.
Cloud computing comes with a variety of great features that makes it an attractive option for any business:
Flexibility: with cloud computing, a business can now run its operations on a smaller data center than it could previously afford.
Scalability: With cloud computing, companies can now change their service levels based on workload demands and scale when demand goes down.
Security: Cloud computing is a secure way to store and share data.
Cost-effectiveness: cloud computing is a cheaper alternative to traditional IT infrastructure.
This allows information to be shared and expanded without using physical space. And because cloud-based systems are accessible from multiple locations, it cuts down on the time and costs required to move data from one system to another.
The way cloud computing acts as a critical technology enabler for digital transformation is evident in the various ways it can impact a business. Cloud computing can help enterprises simplify their need to have a server system and focus on other areas such as operations, business growth, and customer satisfaction.
Business Solutions
Staying relevant in the digital age means constantly keeping up with the latest technology. Business solutions help you do just that by providing your business with software tools and applications that help you develop new products and services, manage your workforce, automate routine business processes, and much more.
The online market offers many business solutions, ranging from single-feature software to full suite. They are also available in various forms, such as digital, mobile, web, and desktop apps. The list of business solutions is undoubtedly too long to mention here, but the most common ones are:
1. CRM - Customer Relationship Management (Hubspot CRM, Salesforce, Zoho CRM...)
2. PMS - Project Management Software (Asana, Monday, ClickUP...)
3. ERP - Enterprise Resource Planning (NetSuite, Rossum, Tipalti...)
4. CMS - Content Management Systems (Agility CMS)
5. EMS - Email Marketing Software (ActiveCampaign, Hubspot EMS, ConvertKit...)
Big Data
Big Data has become the new goldmine for digital transformation. Its ability to uncover meaningful insights and help predict trends is unmatched by any other data collection methodology.
In simple words, Big Data Technology is a set of software and tools that have the power to pull out data from pretty massive and intricate databanks that would be impossible with conventional tools.
For instance, during a digital transformation, companies have to monitor their entire ecosystem for any irregularities and make changes in the business processes to improve the efficiency and quality of service.
This can be done by using Big Data Technology to help track multiple data sources on a single platform to identify any anomalies or changes in business operations quickly. It provides a platform for today's businesses and future growth. Still, it also creates new opportunities for companies to make smarter decisions that will help them improve productivity and increase revenues. Big data is an essential concept because it is easier to access, generate, store, and analyze large amounts of information.
Big Data can be a valuable solution for many different types of businesses, like media and entertainment, finance and banking, healthcare, retail and wholesale, web and app services, etc.
Big Data Technology is all about finding the right insights from data in a cost-effective, fast and efficient way.
Artificial Intelligence (AI)
Artificial intelligence (AI) is making much noise in the business world. It's being used in many sectors, including healthcare, manufacturing, retail, and agriculture. AI works by allowing machines to mimic the thinking process that human beings go through when they solve a problem or make decisions about something.
The goal is to use data analysis and machine learning capabilities to improve efficiency and enable faster decision-making processes. The power to exhibit human behavior and responses to problems is a prevalent aspect of AI.
The machines that are being built today are getting quite good at solving problems without the need for humans. It also involves other terms like Deep Learning, Natural Language Processing (NLP), neural networks, etc.
The most popular areas where AI is used include robotics, self-driving cars, automated web content analytics, predictive analysis for marketing and advertising, and customer engagement. Such sites have a relatively limited range of use but opportunities for AI to become even more pervasive.
AI is seeing new levels of innovation in "digital assistants," such as Siri, Cortana, Alexa, and Google Now. These digital assistants store data from a user's online activities and use AI to reflect that data to the user.
This is useful for providing recommendations, automated replies, and voice recognition for many digital tasks. It's here to stay as a fundamental tool for digital transformation.
Augmented Reality (AR) and Virtual Reality (VR)
The most crucial feature of Augmented reality or virtual reality is the immersive these two technologies provide when interacting with digital information and content. VR and AR use software technology to ensure the next-generation user experience. The lifelike interaction with digital information and content offers users a more engaging, profound, multipurpose experience than traditional computer-generated 3D images.
Virtual Reality (VR) uses computer hardware and software to create a simulated environment that can be interacted with like the real world, allowing users to feel as if they are actually in that world.
VR is currently used in nearly every technology area, including gaming, cinema, media, telecommunications, industrial design and manufacturing, architecture, education, medicine, and training. VR is often used to showcase products or services before purchase.
Augmented Reality (AR) adds digital information to the physical world through a display device. AR offers powerful human and machine interaction capabilities that are not possible with traditional computing modes like mainframes, laptops, and desktops. AR can perform various tasks from design, construction, and management to entertainment, education, transportation, etc.
Agile Digital Transformation Strategies & Suggestions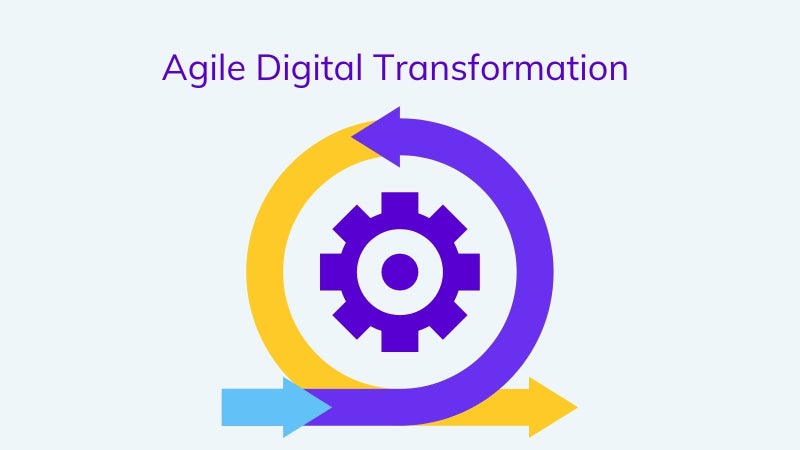 Digital transformation is a strategy that introduces new solutions in response to changing interests or requirements of an organization. Proper planning cannot be achieved by repositioning your company in the digital landscape.
The opportunities for those who can apply these new technologies to their everyday operations are endless. But the risks involved aren't without consequences either. When not used correctly, digital transformation may negatively impact financial performance, customer satisfaction, employee motivation and engagement, and regulatory compliance issues.
This is why the new digital transformation must be managed very carefully and should be done strategically. Below are a few key considerations when approaching digital transformation.
Well-Defined Strategy
A well-defined strategy is the first step in any successful business operation. Without a well-defined system, it is easy to fall prey to the many fads and trends. A digital transformation plan outlining what will be done, why it will be done, how it will be done, and by whom is crucial to any digital transformation efforts.
Communicating these plans throughout the organization can go a long way in gaining support and trust from employees. Only after the strategy is in place can the process of digital transformation start.
Taking action before having a solid strategy outlined will only lead to problems that are hard to solve and should be avoided at all costs. Planning and execution are the main hurdles separating organizations that lag in digital transformation from those ahead of the curve.
Do not be afraid to take your time and make sure you have a strategic plan before moving forward.
An Understanding of Workforce Expectations
The force driving digital transformation is the workforce itself. Businesses are increasingly looking for technology to improve customer experience, optimize processes, and reduce costs. It is crucial to understand the workforce expectations and incorporate workforce feedback into the digital transformation process.

Consider All Aspects of Your Business
Digital transformation often focuses mainly on customer-facing functions like marketing, sales, and customer service. However, digital transformation can make a huge difference in many other business areas.
Understanding how digital transformation can help with internal operations and employee support is essential.
For example, machine learning and artificial intelligence can improve product development by helping engineers run experiments more quickly and efficiently, resulting in better knowledge of product performance.
As such, digital transformation goals should be made clear to all employees. This includes explaining why digital transformation is needed and how it will benefit each vertical within a business, from sales personnel and order fulfillment to product managers and financiers.
Don't Forget About Important Regulatory Considerations.
Digital transformation can profoundly affect how businesses operate, and it can be a massive challenge for those whom the government heavily regulates. Digital transformation is all about using new technologies to improve the efficiency of business operations, which might include collecting and storing vast amounts of sensitive customer data.
While this is extremely valuable for businesses, it may require them to comply with local or international regulations regarding data privacy. If these regulations are not considered, it could result in significant fines and penalties by the regulators.
Thus, a clear strategy for digital transformation must be implemented before any new technologies are rolled out within a business.
Know When IT Is the Answer
Different businesses have different requirements for digital transformation, but not all companies can implement digital transformation effectively. IT departments often have no idea how to get started. This is because digital transformation is not an IT-specific process but a collection of activities intended to improve business performance.
Therefore, it's your duty as a business owner to know when IT is the answer and when it isn't.
Any change has to be implemented very carefully to avoid upsetting your existing business processes, causing chaos within your teams, or negatively impacting any other aspect of your digital transformation efforts.
The Importance of a Digital Transformation Team
It is vital to have a team to support your business throughout this digital transformation phase. Teams are often understaffed and overworked. Thus, having a dedicated team that focuses solely on digital transformation becomes crucial. Organizational performance is critical!
This is not a complete list of all the digital transformation considerations, but it's a good starting point if you're considering a digital transformation journey.
Achieving Digital Transformation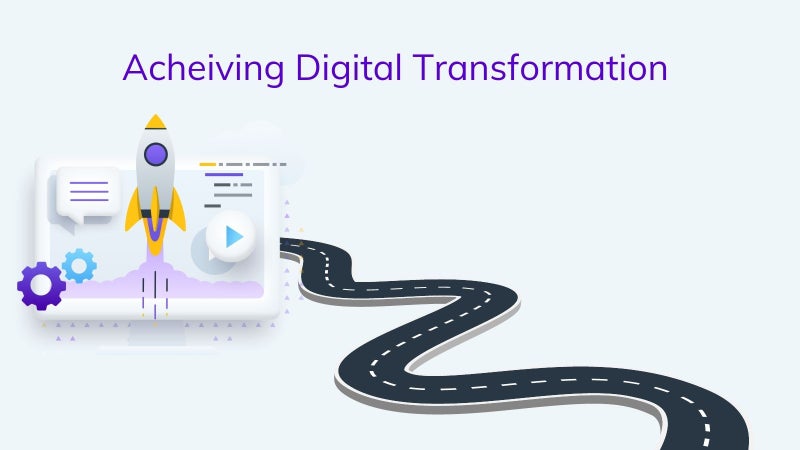 Digital transformation is an effort to create radical change in all aspects of a company's operations, from IT to business and even marketing and sales.
Companies that successfully implement it can take advantage of new technologies that allow them to be more responsive to customers with better customer service and increase employee flexibility.
Achieving digital transformation also means being ahead of the curve: companies must be able to adapt quickly and effectively when technology changes or when their industry as a whole change.
Digital transformation requires companies to reinvent their processes yet keep their core values.
Companies that successfully implement digital transformation can reach their target market with the right messaging at the right time.
Achieving digital transformation is not just about knowing your audience and their needs. It's also about having a clear idea of what you want your business to look like in five, ten, or even twenty years.
It is important to remember that the concept of digital transformation is not a single event. It is a process that happens over time.
Many things will occur at different stages, each with benefits and limitations. In the words of PWC, digital transformation needs to be something that a company does continually.
Agile vs. Digital Transformation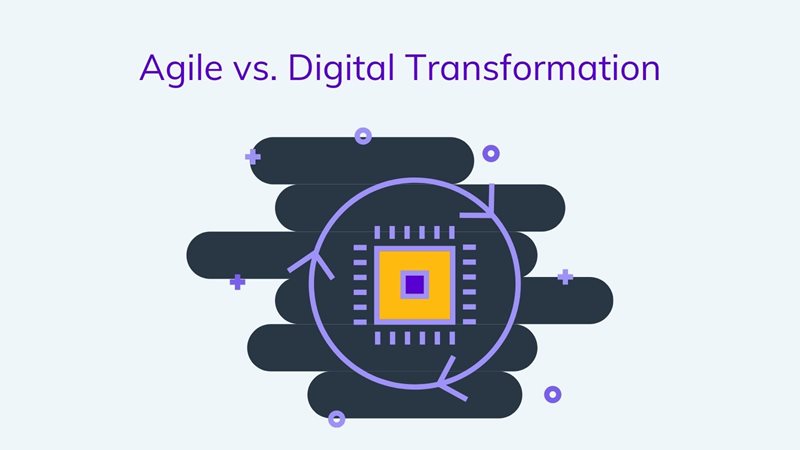 What is the Agile Methodology of Transformation?
Agile transformation, unlike digital transformation, isn't focused on technology. Instead, it uses principles that guide the project management in an iterative and incremental approach to bringing greater agility to the organization.
Agile transformation goals are broader in scope than those of digital transformation. For example, you can be more concerned with solutions for changes in the business environment or new opportunities with this approach.
Agile transformation is mainly about culture change and developing a collaborative approach to creating a better result for your business.
Agile organizations are optimized for speed, flexibility, and responsiveness. They use a learning-driven process that allows continuous improvement and rapid product delivery. They leverage the "waterfall" software development method and quickly transition from idea to implementation with minimal upfront costs.
What is Digital Transformation?
On the other hand, digital transformation focuses on digital technology to improve your business.
A digital transformation is a customer-centric approach that focuses on your customers' needs.
It seeks to provide a lasting competitive advantage by leveraging technology to create a unique customer experience that can't be imitated and products and services beyond what your competitors have in their models.
So, should you focus on digital transformation or agile transformation? The answer is going to depend on your specific needs ultimately.
Agile transformation is likely more suitable if you're looking for a more integrated approach with a stronger focus on change management and your overall organizational culture.
However, digital transformation might be right for you if your organization focuses on improving internal processes and delivery times with minimal disruption in the short term. The decision is yours to make, though!
Choosing The Right Digital Transformation Technology Stack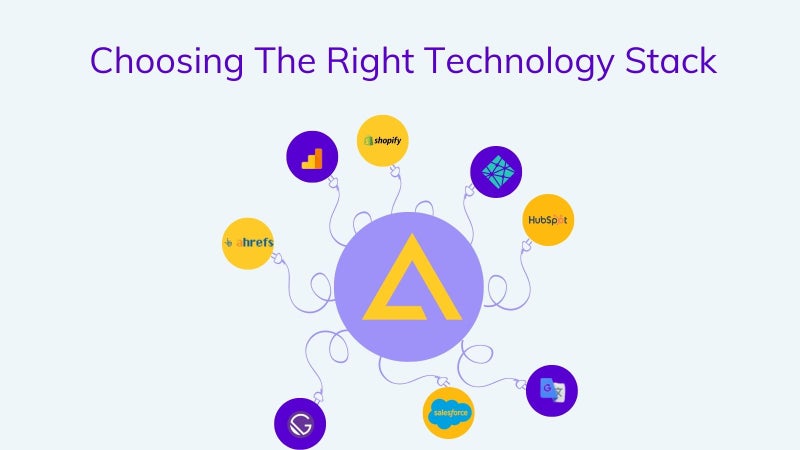 After reading all of this, you might wonder, "how do I choose the best technologies to boot up my digital transformation strategy?"
Well, we have some tips for you! Below are some things to consider while choosing your tech stack:
Do your Research
Always start by doing your research to ensure a wise investment when the time for implementation comes.
We recommend spending time looking at case studies for this purpose. When it comes to digital transformation, it's essential to know the best tools for you and your company.
If you are starting, consider starting small and building from there. You shouldn't feel like you have to have the best solution at all times.
Instead, take time to see the current best practices, see what technology is there, who is using it, etc.
Evaluate your Business
Don't just look for the most popular solution. You need to really understand your business and then use that knowledge to determine which solution might work best for your company.
Many times, companies over-invest in technologies without understanding their needs. That is a common mistake made by startups and organizations that are just getting started with digital transformation. They often look at high-level solutions but don't comprehend their needs deeply enough.
Don't Forget the Money Factor
Digital transformation doesn't just mean replacing your aging technology with something new and shiny. If your technology is past its prime and you cannot recoup your investment, that changes things entirely.
It would be best if you were careful about the cost of technology. The prices of one solution can be more than the costs of another, but at the same time, you don't want to invest in something that will not get used or add value to your organization.
Make sure you consider the costs (both capital and maintenance) over time.
Get Feedback
It's always best to get some feedback on the technologies you are thinking of implementing. We suggest running a pilot before committing to a full rollout of anything.
This will hold for both digital transformation and agile transformation. Some companies spend millions and millions on technology that ultimately fails for them, either because the business model wasn't suitable or because it had no functional value for the business.
You can avoid that all by yourself by testing out your tech stack before fully implementing it.
Hire the Right People
Finally, don't forget to recruit the right people to implement your digital transformation using the technology stack of your choice. That's arguably one of the most important things you can do when implementing anything new.
You have to have experienced, capable people who know how to use the technologies and can help you perform a digital transformation without any colossal issues.
Digital Transformation Considerations
Digital Transformation is a process you go through to realign your business in the digital economy. It touches every aspect of your business, from customer service to accounting to product development.
The technology enablers for digital transformation discussed in this article are worth thinking about. Still, you also need to understand precisely how your business will benefit from these new technologies and how your employees will use them.
One of the most critical questions is, "Can my business benefit from a digital transformation while staying true to its core values?"
Before embarking on your digital transformation journey, it is crucial to understand why you're doing it and how you will measure success.
You may also have to revisit your business goals set during the first step of your digital transformation process to align them with any new tools you implement.
If you want to test one of the technology enablers we've discussed, try one of the best headless CMS providers on the market ==> Agility CMS.