Cybersecurity has become increasingly vital for banks this past decade. With banks handling large amounts of sensitive customer data, and an increasingly digitized banking environment, the risk of being hacked is higher than ever. Cyberattacks on banks can also be challenging to detect and cause significant damage.
In this article, we will identify the top cybersecurity risks posed to banks and tech solutions for future-proof architecture.
What is Cybersecurity in Banking Industry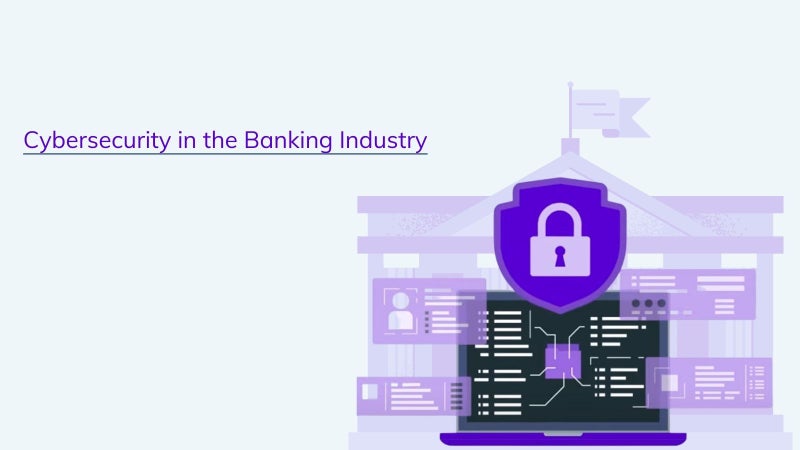 Cybersecurity in the banking industry refers to the measures taken by banks to protect their online systems and networks from cyber-attacks. These measures typically include; firewalls, intrusion detection systems, and encryption technologies.
With a transition to digitally available banking, the industry is increasingly reliant on computer systems and networks to conduct business, making banks susceptible to cyber attacks.
Banks have started mitigating cyber-attacks by 'beefing up' their cyber security defenses. These defenses help protect banks' systems and networks from attack and mitigate the damage that a successful attack can cause.
In addition to defensive measures, banks are also taking proactive steps to reduce future exposure to cyber risks. These steps include the development of policies and procedures for dealing with cyber threats, training staff in cyber security awareness, and implementing technologies that can detect, prevent and respond to cyber-attacks.
Most significant Cybersecurity Issues in Banking Sector
One of the critical issues facing the banking sector is how to protect against cyber attacks. It poses a formidable challenge as the banking sector is one of the most attractive to cybercriminals. There are several reasons for this, including that banks hold large amounts of sensitive customer data and, let's face it- money.
The banking sector is also facing a challenge in terms of regulation. In recent years, there have been several high-profile cyberattacks on banks. As a result, regulators are now imposing stricter requirements on banks in terms of cybersecurity.
Importance of Cybersecurity in the Banking Sector
The banking sector is one of the essential industries for society to function. It is responsible for handling the finances of individuals, businesses, and governments. Because of the sensitive nature of the information that banks deal with, they must have robust cyber security measures in place.
Cyber security is vital for banks because of the large amounts of money they deal with daily. If hackers could gain access to a bank's systems, they could have a devastating effect on the economy as a whole.
Fortunately, banks have become much more aware of cyber security in recent years. They have invested heavily in both prevention and detection measures. However, there is always room for improvement, and customers need to be aware of the risks.
Attack by Carbanak Group
One of the most notable cases of cyber security attacks in the banking industry occurred in 2014.
This attack was conducted by a group of hackers known as the Carbanak Group. The group was able to gain access to the network of a central bank and steal approximately $1 billion.
The group could do this by using malware to infect the bank's systems and then gain access to customer accounts. They were then able to transfer funds from these accounts to their own.
Attack on Bangladesh Central Bank
Another notable case of cyber security attacks in the banking industry occurred in 2016.
The Bangladesh Bank Heist carried out this attack. In this attack, hackers were able to gain access to the network of the Bangladesh central bank and make unauthorized transfers totaling $81 million.
The hackers used malware to infect the bank's systems and then gain access to customer accounts. They were then able to transfer funds from these accounts to their own.
Top 5 Cybersecurity Threats Faced by Banks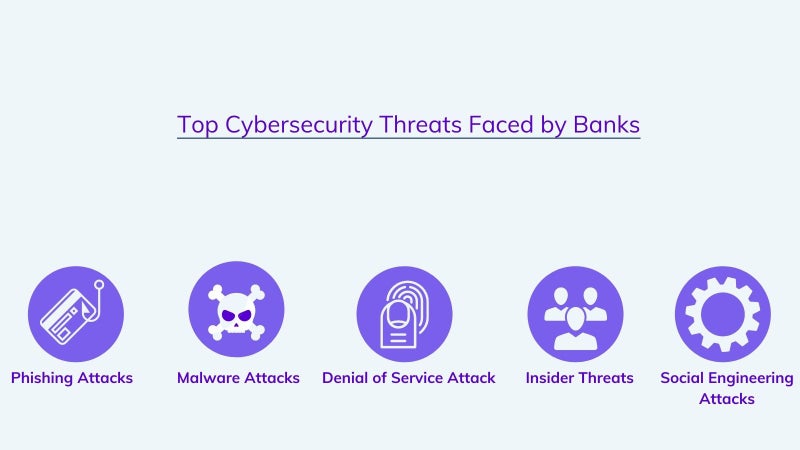 Banks are increasingly becoming targets of cyber attacks due to the vast amounts of money and sensitive customer data. Here are five cyber security threats faced by banks:
Phishing attacks: In a phishing attack, hackers send fraudulent emails that appear to be from a legitimate bank or financial institution to trick victims into revealing sensitive information such as login credentials or credit card numbers.
Malware attacks: Malware is malicious software that can be used to infect a computer system and steal sensitive data. In a malware attack targeting a bank, hackers may implant malware onto the bank's plans to access customer account information.
Denial-of-service attacks: A denial-of-service attack is a type of cyber attack that renders a website or online service unavailable to users by overwhelming traffic from multiple sources. In a denial-of-service attack targeting a bank, hackers may flood its website with requests to overload its servers and prevent legitimate users from accessing the site.
Insider threats: Insiders refer to employees or contractors who have legitimate access to a company's systems and data but use that access to commit fraud or theft. In the case of a bank, an insider threat could involve an employee stealing customer data or money from accounts.
Social engineering attacks: Social engineering attacks exploit human psychology rather than vulnerabilities in technology. In a social engineering attack targeting a bank, hackers may pose as bank employees to trick customers into revealing sensitive information or transferring money to the hackers' account.
Top Cybersecurity Framework for Banks
There is no one-size-fits-all answer to this question, as the best cyber security framework for banks will vary depending on each bank's specific needs and risks. However, some of the most commonly recommended frameworks for banks include the Cybersecurity Framework developed by the National Institute of Standards and Technology (NIST), the Payment Card Industry Data Security Standard (PCI DSS), and the Bank Secrecy Act/Anti-Money Laundering Examination Manual (BSA/AML).
In general, banks should look for a comprehensive and customizable cyber security framework to tailor it to the specific risks and needs of the bank. The framework should also be regularly updated to reflect the latest threats and vulnerabilities.
The NIST Cybersecurity Framework is a good option for banks, as it is comprehensive and regularly updated. The PCI DSS is also a good option, as it is specifically designed for businesses that handle credit card payments. However, the BSA/AML Examination Manual is the most comprehensive and specific to the banking industry, so it is the best option for banks looking for a comprehensive cyber security framework.
Composability and Headless CMS for Cybersecurity in Banking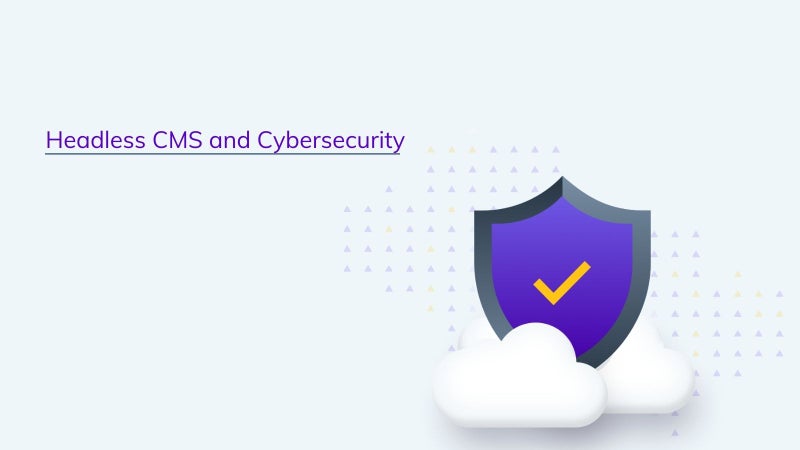 With a new approach to banking and digital strategies, financial institutions are reconsidering how their tech stacks impact their cybersecurity.
Traditionally, bank tech stacks were built on monolithic solutions. A monolithic suite is a hub that provides all the digital solutions an enterprise may need for its website or app. These served as an innovative and all-encompassing solution early in the 21st century but pose a host of limitations and security issues for banks today.
Traditional digital experience platforms, such as Sitecore, have come under scrutiny for critical cybersecurity flaws in their updates. What's more, the updates themselves are incredibly difficult and require a strong technical team. While most large banks have acquired these teams, deploying updates takes time away from their overall productivity and time.
The emerging alternative transforming banking is headless CMS. This approach to digital content not only empowers content editors but provides secure digital solutions.

Through headless CMS, editors and developers no longer have to change both the frontend and the backend content repositories. The CMS, instead, enables communication via APIs. This, plus the use of client-side Javascript, makes headless CMS significantly more secure and reliable than its monolithic predecessors.
What's more, headless CMS introduces business composability. This eliminates the all-in-one solution provided by companies like Sitecore and Adobe, which are notoriously overpriced and complicated. We like to use the analogy of a toolbox.
If you only need a hammer and a screwdriver to fix a problem, why should you have to buy the whole thing? Wouldn't it be better if you could just use the hammer and screwdriver as needed and be empowered to borrow other tools/replace them as required?
That is, in essence, how composable tech stacks operate. Using headless CMS as your content platform, you can integrate or eliminate solutions as needed. If a piece of your tech stack, say your CRM, is posing cybersecurity issues and requires a serious overhaul with headless CMS, you can easily unplug and plug something else in. With the monolithic approach, you'd be stuck with it!
How to Choose a Headless CMS for Banking Cybersecurity
First off, our best advice is to go headless. Other CMS like WordPress is great for small businesses but is a nightmare when it comes to cybersecurity, especially in banking.
Tip 1: Make sure the Headless CMS has a secure CDN
Do your research, make sure the CMS has a reliable CDN that does not have a reputation for vulnerability
Tip 2: Make sure the CMS provides automatic updates
Because of the nature of manual updates required in WordPress, these CMS are notoriously susceptible to being hacked
Tip 3: Make sure the CMS has SSO
With single sign-on, the CMS ensures that each of your users has an individual login
Tip 4: Soc 2 Compliance
Soc 2 is the highest standard of cybersecurity for CMS; it ensures that banks comply with regulations in cybersecurity
Cybersecurity in Banking Case Study: Scotiabank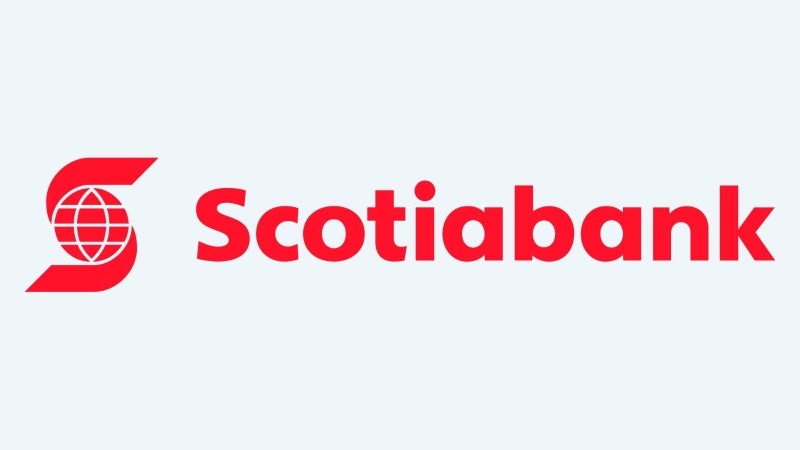 Scotiabank is a Canadian multinational banking and financial services company with the highest requirements for security and reliability.
The bank desperately needed a more secure digital solution as they prepared to shift to a future-proof cloud environment. Scotiabank evaluated their options and found Agility CMS to be their #1 contender because of their high standard for cybersecurity.
Agility CMS has enabled SSO, automation, and a secure CDN and maintains SOC 2 compliance. Tests are frequently run by the Scotiabank team, and Agility CMS consistently passes with flying colors.
You can read more about the case study here.
Bottom Line
As the world increasingly moves online, businesses must do the same to remain competitive. Unfortunately, this also makes them more vulnerable to cyberattacks. In 2016, 43 percent of cyber attacks targeted businesses with under 250 employees. Banks are especially vulnerable to these attacks, as they store large amounts of confidential customer data.
Cybersecurity is the practice of protecting electronic information from unauthorized access or theft. Now more than ever, banks must secure their data, both online and offline.
Banks must also educate their employees on cybersecurity best practices. Banking institutions should train employees on how to spot phishing emails and what to do if they suspect their computer is compromised. By taking these steps, banks can protect their customers' data and reputations.