Professional content marketing calls for an efficient content approval workflow in place. Down the line, such a process makes content publishing feel like a breeze and scales quickly if you need to.
Besides, we're living in the era of content, and never before have companies invested in content marketing so much. This translates to humongous amounts of content to plan, create, approve, publish, and promote.
Now, if companies want to succeed at content marketing, they must keep their content fresh at all times. And taking that bull by the horns ad hoc would probably only work for a few small projects and content teams.
So, what does a good content approval workflow look like? In this article, I'll unveil some tips for putting one together.
What Is a Content Approval Workflow?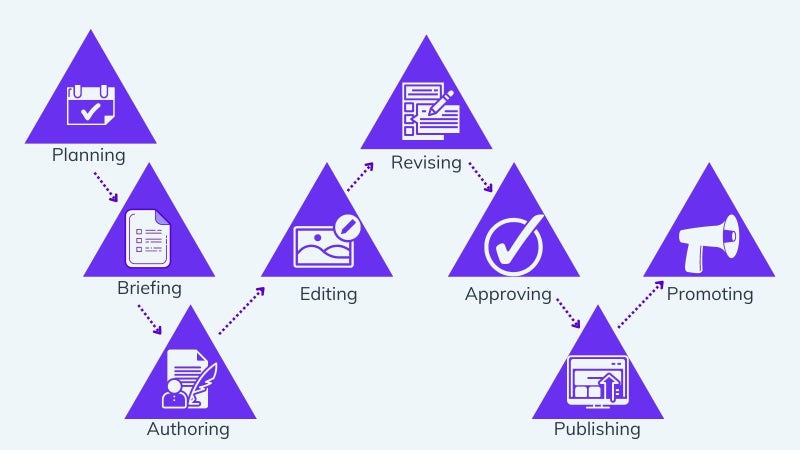 You might know the content approval workflow as the editorial process that content goes through from planning to publication. It determines which and when members of content teams have to do the following content activities:
Topic planning
Briefing
Authoring
Editing
Revising
Approving
Publishing
Promoting
Note: Written content might contain illustrations and videos.
The Pieces of the Workflow
A content approval workflow defines the roles, tasks, work products, and decisions involved in approving content for publication and promotion. Let's look into each one of the process's component types.
Roles. These are the responsibilities of those involved in any step that leads content through the approval process.
Tasks. The content approval workflow determines the tasks assigned to each role. You might attach valuable information to each task, such as its due date and support documentation. Sometimes, tasks are split into smaller steps to guide the team members in executing them more easily. Tasks also depend on each other and are conducted either simultaneously or one after the other.
Work products. In the case of content approval workflows, each team member's products are content pieces such as blog posts.
Decisions. A content approval workflow defines what decisions each role makes at specific points of the process if certain constraints verify on tasks or work products. Approving a piece of content for publication is an example of a decision.
A Typical Content Approval Workflow in 10 Steps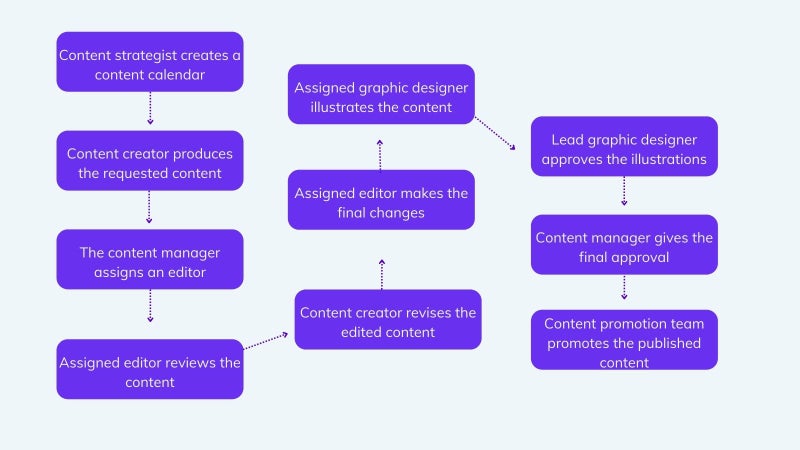 Here's a brief overview of a typical content approval workflow:
A content strategist creates the content calendar, researches SEO keywords, elaborates content briefs, and sends those briefs to content creators.
Each content creator produces the requested content. They might use copy frameworks to speed up this step.
The content manager assigns an editor to each newly created or updated content.
Each assigned editor reviews the assigned content.
The corresponding content creator revises the edited content.
The assigned editor makes the final changes and sends the content for illustration.
The assigned graphic designer illustrates the content according to either the editor's or the content creator's brief and sends the illustrations for approval by their lead graphic designer.
The lead graphic designer approves the illustrations or sends them back to the graphic designer for changes.
The content manager gives the final approval for publishing the content and either does it or asks a content strategist to do it and make sure that on-page SEO is on point.
The content promotion team promotes the published content on multiple channels.
Throughout the entire content approval workflow, the content manager monitors and follows up on the execution of the process. Their goal is to ensure that no delays or interruptions occur in the workflow.
Customizing the Typical Workflow
Despite the workflow in the previous section being quite comprehensive, general, and linear, content approval workflows might vary depending on the content team or company. These are variations that you might find out there:
Overlapped Roles
In some companies, the content strategist and the content manager are the same people. So, all the content strategy and content management tasks are assigned to a single person.
Outsourced Content Activities
Sometimes, companies outsource their content creation to a content marketing agency. In those cases, there's usually at least one review round by an agency's editor and another by the agency's client.
Low Design Budgets or Expertise
Not every company has the budget or in-house expertise to create customized, branded designs from scratch. Therefore, their content approval workflows won't include illustration design, review, revision, or approval tasks. They won't include the graphic designer or lead graphic designer roles too.
Illustration Design Flow
Some content teams might create designs after the editor makes the final changes to the content. Others might request writers to brief illustrations to graphic designers at the early writing stage.
Who Buys Image Rights
Some companies give writers access to paid stock image repositories, but others don't. In the latter scenario, either the content manager or the content strategist is assigned the responsibility to buy the rights for using paid stock images in published pieces of content.
Designs That Include Text
When illustrations include text—infographics, for instance—editors might be requested to approve them after the graphic designer creates them. This might lead the editor to ask the graphic designer to change the text embedded in the illustration and send it to the editor for a final review.
When Promotion Pitches Occur
Content promotion specialists might pitch the content to different publications before it is approved for publication. Some other promotion specialists might only pitch the content after publication.
The Perks of an Efficient Content Approval Workflow for your Marketing Team
A content approval workflow has many benefits. It's a quality assurance mechanism for your content operations. These are the quality checks that the process encompasses:
Ensure your content's style consistency, grammatical correctness, and accuracy
Guarantee the content's alignment with your content strategy and its delivery at a regular cadence
Optimize your content for search engines to organically grow your audience, widen your brand's web traffic and reach, and ultimately drive conversions
Without an established process, the likelihood of bottlenecks would definitely increase. This would lower the efficiency of managing content creation and publication and make it impossible to perform those operations automatically.
Above all, a good content approval workflow helps your authors attain the following:
Their full creative potential—by putting their creations through rounds of review and revisions before they're published
Their maximum productivity—by keeping the process flowing smoothly as everyone knows what they're supposed to do and when
Catching a quality issue in your content after publication might be a nightmare, especially for the promotion team. Sometimes, it's just a typo that most of your audience won't catch. But other times, a quality issue might even compromise your brand's image.

Common Issues That Surface in Content Approval Workflow
A poorly defined, implemented, or tool-supported content approval workflow can bring many drawbacks to the table. Many times, this is what goes wrong and how you can prevent it:
A High Number of Approvals
When content pieces don't get past the editor, content manager, or any other approver and they keep asking authors for changes, something's not right. You might need to describe a detailed set of authoring guidelines for your content creators and illustrators to follow.
Still, if the guidelines don't do the trick, something might be wrong on the authors' side. Perhaps you need to coach them in your style and productivity techniques.
Also, limit the number of approvers to prevent content from going from one approver's hand to another in a long sequence.
No Clear Deadlines
A lot of content authors prefer working with flexible deadlines. However, the truth about flexible deadlines is that they might do more harm than good to your workflow.
Content managers won't understand which pieces of content are on time—thus, on budget. As a result, they won't be able to send follow-up emails to authors who missed a deadline or make hiring decisions.
Editors—especially those paid by the hour or word—might get less work than planned. Ultimately, their expected income might suffer unexpected changes.
For all the above reasons, your content approval workflow should account for the following:
A maximum turnaround per task type
A maximum number of days each kind of work product can be in a specific state (for instance, "Under review")
A maximum number of days for a decision to be made
No Clear Roles- You need to assign tasks!
Don't forget to assign a role and set up corresponding permissions for each one of your workflow tasks and decisions. It could be pretty harmful to your content marketing outcomes to have people with an inadequate role executing a task or making a decision they're not supposed to. Similarly, the content flow could stop if a task or decision didn't have assigned roles.
Timely and clearly inform your content team on what the role of each one of them is. This includes effectively communicating their responsibilities at every step of the content approval workflow, if any. For instance, explain if it's the editor or the lead graphic designer who approves text in custom-made illustrations.
No Workflow Notifications
With clear deadlines and clearly assigned roles, you can set up automatic notifications—alerts if you prefer. These are a few you can send through a workflow management system if you have a well-defined content approval workflow:
Alex was assigned the role of "Writer."
Alex was assigned to the article "Why You Should Have a Content Workflow."
3 days to finish writing the article "Why You Should Have a Content Workflow."
Alex finished writing the article "Why You Should Have a Content Workflow."
Joel was assigned the role of "Editor."
Joel was assigned to the article "Why You Should Have a Content Workflow."
1 day to complete reviewing the article "Why You Should Have a Content Workflow."
Joel finished reviewing the article "Why You Should Have a Content Workflow."
Mason was assigned the role of "Illustrator."
Joel sent the article "Why You Should Have a Content Workflow" to Mason for illustration.
Allie was assigned the role of "Illustrator."
Mason transferred the illustration of "Why You Should Have a Content Workflow" to Allie.
Automatic alerts like these allow content activities to run quicker with fewer resources. For instance, content managers don't have to spend time manually sending recurring emails to check in on task execution.
How to Build a Content Approval Workflow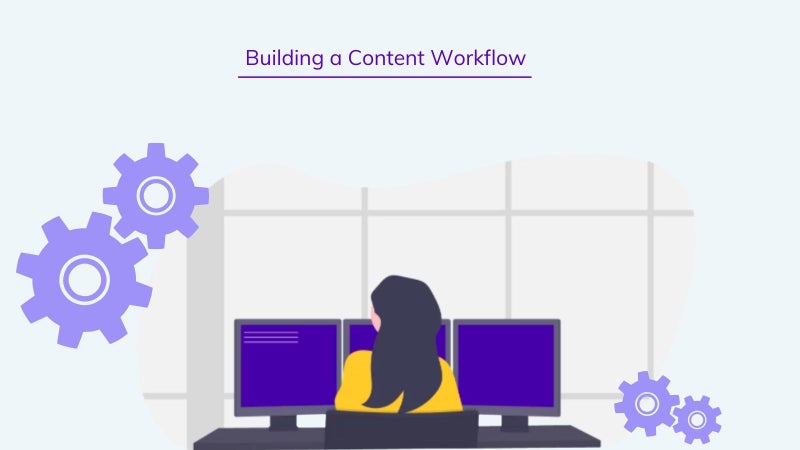 Here are the main steps for you to define a content approval workflow:
1. Involve the Team
An effective content approval workflow is adequate for your content team and company. So, building such a process is a group effort. Call in all your content team members to help you do the following:
List the components of your workflow—the roles, tasks, work product, and decisions you need for the creation, publication, and promotion of your content
Define the information you need about each one of those components to run the workflow—for instance, a task's due date or a work product's description
Describe which of the workflow components relate to each other and under which circumstances—for instance, when and how the work products flow from one task to the other, the tasks and decisions that each role makes, or the actions that each role can have on each work product or the automated notifications they receive
After defining the content approval workflow, hold content team meetings to discuss it from time to time. The goal is to share the challenges of executing the workflow and collect suggestions to improve it. Collaterally, you'll nurture the team's adoption of the process.
2. Draw the Workflow- create lists and libraries
To verify if your content approval workflow makes sense and is optimized, draw a diagram. You might do it on paper or use a tool of your preference, whatever suits you best.
Then, while looking at the diagram, run some mental tests. Imagine that the workflow is live and try to predict every possible success or failure scenario that might happen.
For instance, if an editor got suddenly sick and can't finish a review, you should be able to transfer the task to another editor. And if your content approval doesn't support that scenario, adjust it accordingly.
3. Create Support Documentation
Not only software, appliances, or vehicles call for support documentation—workflows do too. It helps team members to understand how the content approval workflow works, what's expected from them, and when.
Support documentation is especially relevant for new hires who don't know the workflow yet. Nevertheless, that documentation is also valuable for demanding accountability for inadequately executed tasks.
Managing Content Approval Workflows with Agility CMS- A Future-proof Content Marketing Strategy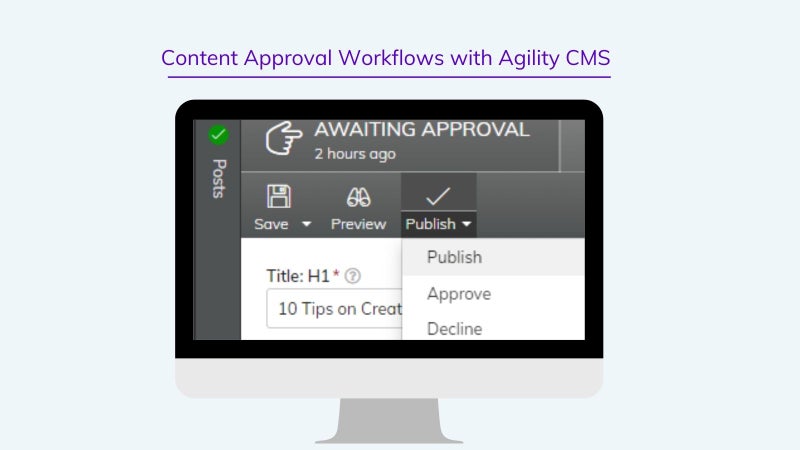 You could implement a manual content approval workflow and manage it on paper or an Excel workbook. Fortunately, there's a category of software tools to support you in doing that in a less troublesome way.
Headless content management systems (CMS) such as Agility CMS help you efficiently implement and manage content approval workflows. For instance, they assist you in defining and enforcing the permissions attached to workflow's roles, tasks, work products, and decisions.
Headless CMSs follow a content-first approach. In other words, the system separates your content repository and CMS functionalities from the channel where you deliver the content. You won't necessarily deliver content on a templated website or application developed on a CMS.
However, you'll still benefit from the built-in workflow management tools CMSs have. They'll make sure that you don't experience any bumps in the content approval workflow. Each stage in the content creation and publication process will smoothly transition into the next one without skipping any steps.