Financial services companies are amongst the most targeted types of institutions for hackers and cyber-criminal groups. Cyberattacks on financial institutions in 2020 revealed more than 350,000 sensitive files. These files contained names, addresses, credit cards, social security numbers, and more sensitive data. Additionally, the average financial services employee has access to up to 11 million files on customers. This makes the financial services industry one of the most lucrative targets for hackers.
Executives and cybersecurity teams within financial services companies need to have strict cybersecurity policies and requirements to protect vital consumer data. Without extensive measures being taken, financial services institutions like banks, credit unions, etc., are at massive risk for phishing, ransomware, and other cyberattacks.
Financial Industry Cybersecurity Risks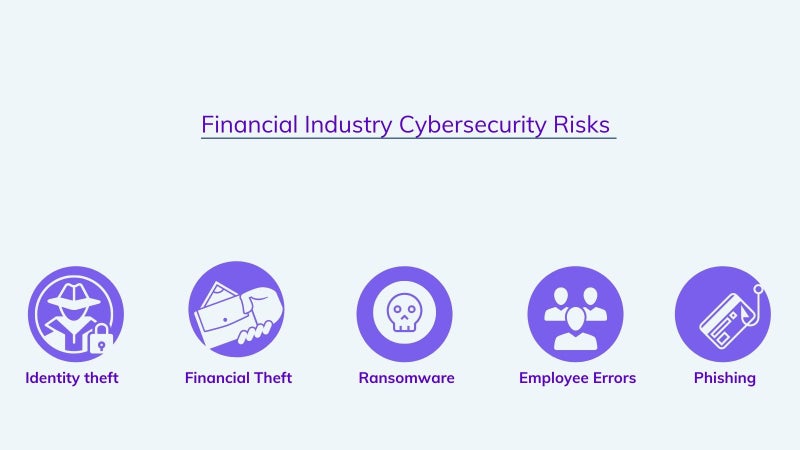 The first step in securing your cybersecurity is knowing the different threats posed to your organization. Although most financial services companies see the importance of cybersecurity, they are still unaware of their organization's imminent risks. Some of the leading cybersecurity risks to be aware of include:
Identity theft:
One of the most damaging risks associated with poor cybersecurity of financial institutions is the identity theft of customers. The average financial institution has all of the personally identifiable information of a customer. This includes a customer's name, address, social security number, date of birth, and credit card information. If this data falls into the wrong hands, it can be used to open new accounts, make purchases and even commit fraud. Financial institutions can face a host of regulatory and legal consequences if their customer's information is used to commit identity theft.
Financial theft:
Financial theft is often the worst risk associated with cybersecurity attacks. When hackers gain access to financial institutions' systems, they can make unauthorized transactions and transfers. This can lead to massive financial losses for the organization. With decentralized ways to send money, like through cryptocurrency, financial institutions may never recover any stolen funds from their organization. Often, the financial institution will not realize this has happened until months after the incident. It may be too late to track down the hackers and recoup any lost funds.
Ransomware:
Ransomware is a prevalent type of cyberattack on financial institutions. With ransomware, hackers can take control of a financial institution's systems and encrypt sensitive data. They will then demand a ransom to decrypt the data. This can be a very costly attack for a financial institution, as they may have to pay the ransom and hire IT professionals to fix the system. In some cases, the data may be lost forever. The average bill for a ransomware attack in 2021 was roughly $1.85 million for organizations.
Employee errors:
A commonly overlooked cybersecurity risk is employee errors. Financial services institutions spend significant money on preventing external threats but often ignore internal errors that can cause their organization to be exposed. Employees can accidentally click on phishing emails, download malware, lose laptops or USB drives with sensitive data, etc.
This can often lead to irreversible cybersecurity damage, data theft, or other consequences. Financial services organizations need to have strict policies and procedures to prevent employee errors. This should include educating employees and setting up internal controls to avoid most internal employee errors.
Phishing:
Phishing attacks are one of the most common types of cyberattacks. They are also very effective, as they can trick even the savviest employees into clicking on a phishing link. Phishing links can look legitimate and complex to distinguish from genuine emails. Companies are often caught off-guard by phishing attacks, as they may not be aware of them until it is too late.
This is even more damaging for financial institutions because hackers can browse through internal networks, documents, and files without the organization knowing. Some advanced phishing techniques like whale phishing targets senior management within a financial institution. This can further the damage done by the phishing attack, as senior management may have more sensitive information.
Cybersecurity Requirements for Financial Services Companies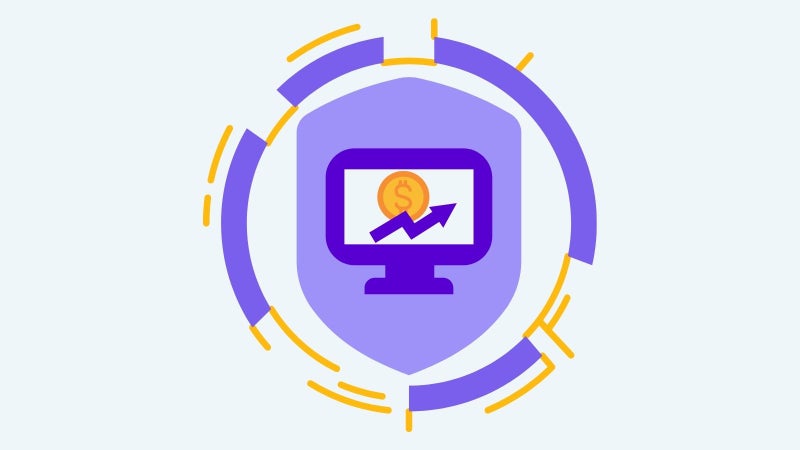 Although the cybersecurity risks for financial services companies are numerous, several proactive strategies can be implemented to reduce these risks. These strategies can help you identify and mitigate different risks in your cybersecurity program. Some of the best methods include:
Securing your content hub
Content hubs and content management systems (CMS) are the most overlooked areas that hackers target to gain access to an organization. These content systems are responsible for the design, operations, and content publishing of a website. These systems have access to all of the content produced by an organization. Hackers can use these systems to gain credentials into an organization, add malicious links to existing content on a site and even deface websites.
Organizations need to ensure that their content management systems are appropriately secured. This includes upgrading from outdated systems (ex., Drupal), using strong passwords, allowing IP addresses, etc. Taking proactive steps like this will ensure your content systems are secure and safe from bad external actors. Failure to secure the organization's content hub can lead to bad actors exploiting company blogs, emails, and networks to spread malicious software further.
Improve access management
Access management is another central area of cybersecurity risk for financial institutions. Organizations often rely on manual processes to grant or revoke new employees' and contractors' access. These manual processes are ripe for human error and can be challenging to audit. Financial institutions need to implement robust password management systems and identity access management solutions to mitigate this risk. This will allow them to use standards-based security, get attack protection and ensure secure access for all employees.
Most companies have little to no access management for their devices and networks. This makes it very easy for unauthorized individuals to gain access and wreak havoc. Companies should consider implementing an identity and access management solution to combat this. This will give them the ability to control who has access to what, when, and how devices and networks are used throughout the organization.
Implement a disaster recovery plan
Cyberattacks are especially damaging to financial institutions when no disaster recovery plan exists. A disaster recovery plan is a set of protocols that are activated in the event of an IT outage or incident. This includes having a backup of all data, applications, and systems. A disaster recovery plan aims to minimize downtime and get an organization back up and running as quickly as possible in the event of a cyberattack or a similar incident.
Financial institutions need to have a robust disaster recovery plan to ensure they can recover from a cyberattack. This includes testing the program regularly, using powerful backup tools and resources, using cloud storage, and having an incident response team. By implementing these disaster recovery protocols, financial institutions can minimize the impact of a cyberattack and be back up and running quickly.
Secure endpoints
Endpoints are often the most targeted areas for hackers to access a business's cybersecurity. With more employees working remotely, the number of endpoints for business networks has increased dramatically. These endpoints now include smartphones, laptops, tablets, etc.
If a hacker gains access to a network through an endpoint, they can easily access sensitive data and applications. It may be too late for organizations before they notice one of their endpoints was compromised. In most cases, employees won't even see, and hackers can exploit the networks during non-work hours to cover their tracks.
Organizations need to secure all endpoints that have access to their network. This includes ensuring all devices are patched, using strong authentication measures, data analysis tools, metadata analysis tools, etc. Businesses can significantly reduce hackers' access to their network through an employee endpoint by taking these precautions.
Conduct a thorough risk assessment
The single best way enterprises can reduce their cybersecurity is to conduct a complete risk assessment of their business. A risk assessment helps identify where an organization is most vulnerable to a cyberattack. It also allows companies to prioritize their cybersecurity efforts and budget.
Conducting a risk assessment can seem like a daunting task, but many tools and resources are available to help. The National Institute of Standards and Technology (NIST) Cybersecurity Framework is one such tool. This framework provides a comprehensive approach to managing cybersecurity risk. It includes guidelines for conducting a risk assessment and best practices for implementing security controls.
By conducting a thorough risk assessment, businesses can identify their most vulnerable areas and take steps to mitigate those risks. This is an essential part of any strong cybersecurity program. You can ask your internal IT team to help you conduct a risk assessment or outsource this to a 3rd party company that can perform the risk assessment for your business.
Financial services companies need robust cybersecurity strategies that can protect against a wide range of internal and external risks. The critical approach discussed above, like securing content hubs, improving access management, and securing endpoints, makes it possible to mitigate these risks and prevent cybersecurity incidents. These are just a few steps you can start taking to protect your cybersecurity. To learn how to get enterprise-grade security for your business, explore our offerings here.
Cybersecurity for Financial Institutions with Agility CMS
From data security to privacy and compliance, maintaining enterprise-grade security is an ongoing process. We keep your data safe and ensure compliance, today, tomorrow, and in the future.
Agility CMS uses the leading platform Auth0 to ensure our entire authentication layer is standards-based and compliant with the latest certifications.