Tired of counting lead drop-offs from your sales funnel? Looking to grow your customer base efficiently and rapidly? Agile demand generation marketing offers some great strategies you can't ignore. Following the principles of agile methodologies, agile demand generation hand-picks only the efficient parts of demand generation and leaves out the inefficient.
As a top-of-the-funnel strategy (TOFU), demand generation is responsible for generating and capturing demand and providing qualified leads for the sales team.
However, it could get corroded by opinionated (rather than data-driven) strategies, long-term static plans with pointless goals, siloed and hierarchical organization rather than seamless collaboration.
This is where agile demand generation could help you avoid the nemesis of a corroded demand generation. Let's see how.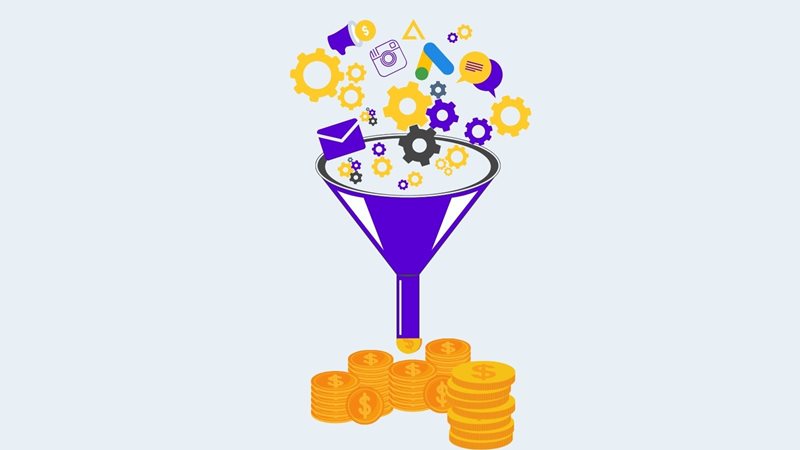 What is agile marketing?
"To keep up with the speed and complexity of marketing today", agile marketing offers rather "new ways of working". These are the values they follow according to this website.
1| Focusing on customer value and business outcomes overactivity and outputs
Customer needs (or your own needs if you have an in-house marketing team) are always at the forefront of agile marketing. All your marketing activities and the outcomes you desire to achieve should align with those needs.
This increases the relevance and efficiency of your marketing plan. "When we prioritize customer and business needs we create more targeted and relevant marketing programs. In other words, creating the 'right things' vs 'more things'."
2 | Delivering value early and often over waiting for perfection
Following agile software development methodologies, agile marketing tries to deliver values incrementally rather than in a perfect final form. This way you (or your customer) would have more time to reflect on the effectiveness of the increment delivered and give feedback to your team.
"When we wait for 'perfect' we remove the chances to learn from our customers so we can deliver more value later on. Instead, striving for perfection leads to long production cycles and a big-bang approach."
3 | Learning through experiments and data over opinions and conventions
To avoid wasting time and money on pointless plans and ineffective conventions, agile marketing prioritizes experiments and data over opinions and conventions.
"If we ignore the data and only rely on someone's opinion or an outdated convention, then we underserve our audiences and spend valuable time producing the wrong things."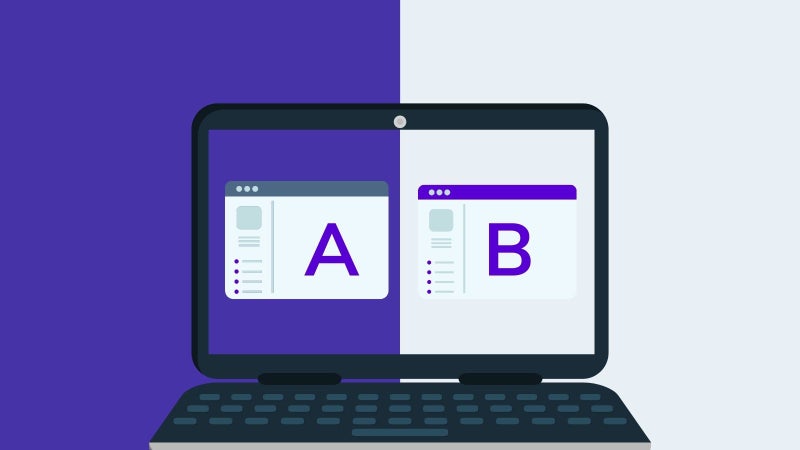 4 | Cross-functional collaboration over silos and hierarchy
It's impossible to maintain an efficient marketing plan without cross-functional team collaboration. It should be easy for team members to communicate their needs and issues with each other and with their superiors.
"Collaboration focused on the needs of the customer produces better marketing than siloed, departmental turf wars and strict adherence to hierarchical decision making."
Along the same lines, it's important for you to assign roles and facilitate communication and collaboration using a suitable resource management software tool.
5 | Responding to change over following a static plan
As with any other agile methodology, responding to change is the main feature of an agile marketing methodology. Instead of spending a long time devising a long-term plan (i.e. yearly), an agile marketing strategy assigns shorter timeframes to the marketing plans and leaves room for possible change.
"If we are unable to deviate from a rigid plan when a buyer/market/global change occurs, then we risk under-serving our audiences and reaping poor outcomes."
Scrum is an agile framework that allows you to respond to change accordingly.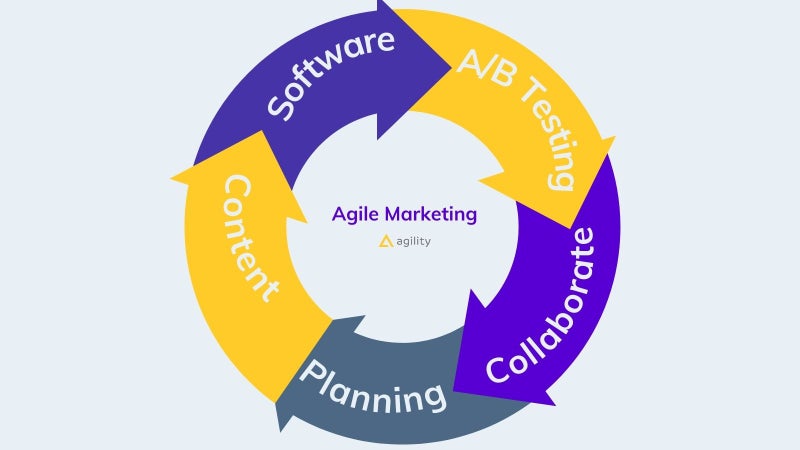 What is demand generation?
Demand generation is the process of generating and capturing
demand and providing qualified leads for the sales team to convert to customers.
One could say that all the top-of-the-funnel marketing activities (including lead generation) could be placed under the rubric "demand generation".
The difference between demand generation and lead generation is that demand generation is the overarching term covering all aspects of generating and controlling awareness while lead generation is a set of activities that simply feed leads into the sales funnel. In other words, lead generation is part of demand generation.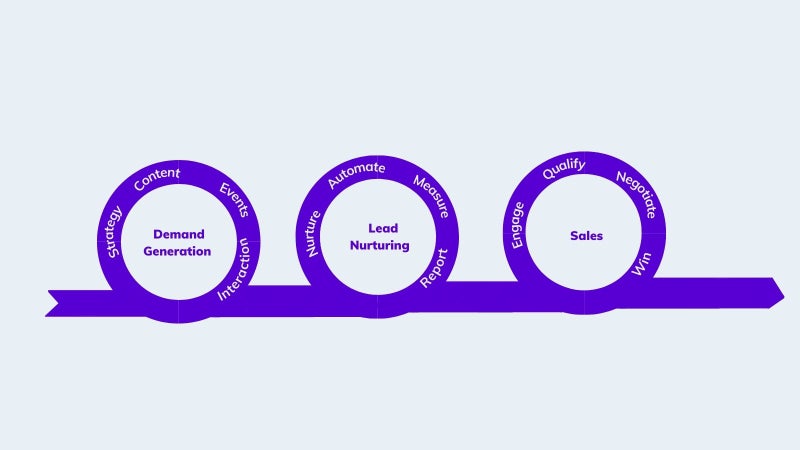 4 | Agile marketing ideas for demand generation
Combining demand generation with agile does not necessarily make it faster. It could however make it more efficient by:
Identifying your exact needs and goals
Focusing solely on delivering value
Prioritizing data-driven approaches
Facilitating collaborations with team members
Adapting to new conditions
Here are some ideas for agile demand generation:
1- Content-first approach
Today, digital content is probably the fastest and most efficient way to reach your target audience. Because people are spending more and more time on their digital devices, and demand generation strategy that does not prioritize digital content is outdated.
The catch here is that it's more difficult to produce content that could catch eyeballs and produce results. An agile approach to content-dependent demand generation would only spend time and money on the content that produces the desired outcomes.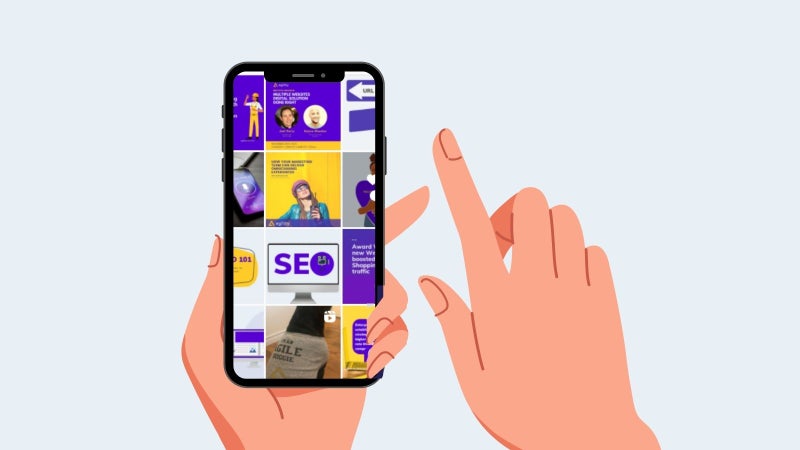 Trustworthy content works best
One of the factors that people consider before they decide to get engaged with your content is whether you're trustworthy or not. As the founding father of internet marketing, Ken McCarthy, says:
"Trust may be the single most important word in business. I'm not talking about blind trust. Healthy skepticism is one of the most important tools in the entrepreneur's tool kit. I'm talking about being trustworthy. Literally: worthy of trust. And no, I don't mean a new sales technique or copywriting tactic. I mean being worthy of trust."
The obvious step to make your content trustworthy for your audience is trying genuinely to address their issues and offer solutions. This especially rings true for the top-of-the-funnel content where people try to get to know you and what you stand for.
Spend time to get to know your audience and their real issues and pain points. Collect customer feedback on your current content and devise your future content plan based on their feedback. Use top content marketing software tools to research content opportunities, manage and direct content production according to the latest trends, and analyze your content's performance.
Headless content management
Headless content management is the practice of using a headless content management system (CMS) to create and distribute content for different outlets or front-ends.
The biggest difference between a traditional CMS and a headless CMS is that a traditional CMS allows you to publish content on one particular outlet (or front-end or "head") such as a website, while in a headless CMS it's possible to use your content on different outlets or "heads" at the same time because it's not connected to any particular outlet or head (thus the word "headless").
Headless CMS is in a sense an agile demand generation technique because it makes your content marketing efforts more efficient by eliminating the need for creating separate content for different outlets. You can deliver the content in your database through RESTful API wherever you need -- not just one website or application.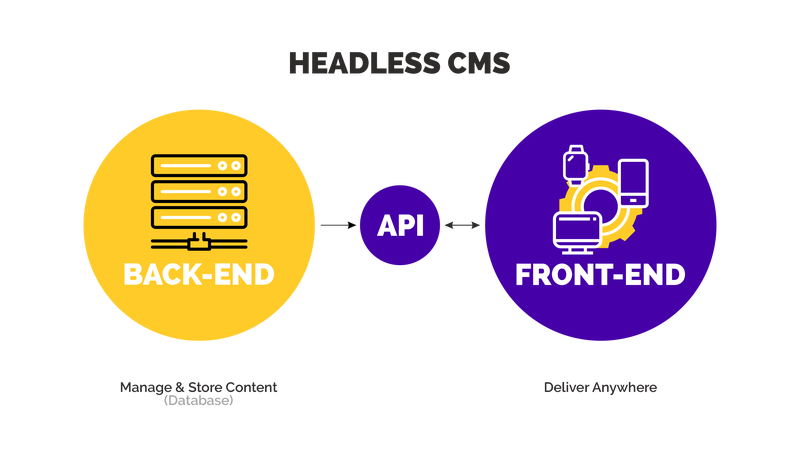 This content-first approach to content management and distribution allows you to build a content warehouse and supply it with ever-green content. "One of the main advantages of the content warehouse is that it centralizes assets, and once you update it once, it's updated across devices."
It also helps you personalize your content and increase its relevance. With headless CMS, "there's no need to create new pages or tweak layouts every time something changes. Instead, you just have to personalize certain content fields so they update the content according to the visitor type."
2- Word of mouth
People are fed up with companies' bloated claims and insincere ads these days. Nearly half of consumers don't trust advertising. This is while %92 of them trust word of mouth, or more precisely recommendations from family and friends.
Word of mouth could be an agile demand generation strategy because it's the most effective promotion strategy (thus providing the most value) and is a great solution for people's mistrust in popular advertising (thus responding to change).
What strategies work best in word-of-mouth marketing?
Referral marketing:
Happy customers are more likely to recommend you to their family and friends. It's a fact no one can deny. But how many of your happy customers actually do the act of referring? Granted that you provide the best customer experience ever, what are the chances that people actually refer to you in their daily conversations amidst their busy lives? The answer is less than %30. The rest are either too busy to remember you or just don't care.
Referral marketing can help you encourage your happy customers to refer people to your business.
In short, the main strategy is to incentivize your happy customers to refer people to you. Morning Brew, a company that has grown to more than 2.5 million subscribers, takes advantage of an active referral program as its main strategy for growth. Here are the rewards they offer for each particular number of referrals you make for them.
Online reviews:
90% of buyers read online reviews and ratings before purchasing a product. How should you do so? Using social media to collect feedback is one way -- post-purchase emails are another.
After each successful sale and delivery of your product, ask your customers to talk about their experience with you on social media, third-party review sites, or even submit it directly to your own website.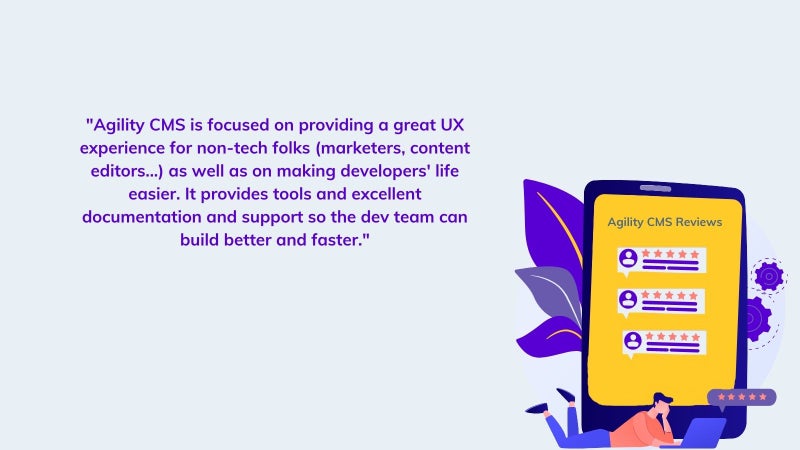 Be proactive and respond to any negative reviews you receive anywhere. Try to make amends for their poor experience and encourage them to remove their negative review afterward. Mention your customers' positive reviews on your own website or your social media account. Or even dig a bit deeper and create comprehensive case studies out of them.
AgilityCMS has a good number of case studies you can read and learn from.
3- Partnering up (co-marketing)
One of the most neglected demand generation strategies is partnering up with businesses that target the same audience as you. Sometimes referred to as "co-marketing" or "co-branding" for bigger brands", partnerships allow you to expand your reach and increase the effectiveness of your efforts more quickly.
There are numerous ways to partner up with other businesses. Here are a couple of suggestions:
Content production and distribution:
The most basic form of co-marketing is partnering up on content production and distribution. You can use the expertise of other marketing teams to produce any kind of content such as ebooks, blog posts, studies and researches, videos, courses, or even live events and webinars.
You can pull data from your combined audience, you can delegate different tasks to experts in both teams, and you can take advantage of the technologies and tools of both parties involved. To manage the complex process of collaborating on the project, you can use a project management software tool that could facilitate teamwork.
The magic happens when promoting your co-branded content. Without any extra effort, you can take advantage of your partner's audience and increase your own brand's awareness. You and your partner can link back to each other's websites, or promote each side's content on their social media channels, newsletters, upcoming posts or guest posts, etc.
This is a partnership proposal from MeedEdgar to Quu to help promote each other's content.
Technology partnerships:
Technology firms can find partners to share their IT infrastructure and improve their technology capabilities. This kind of partnership could be loosely called "co-innovation". There are two benefits for "co-innovation". One is that you can expand your technology infrastructure and offer more features which as a result will attract more customers. The other is you'll inevitably get more exposure as a result of being featured as a technology partner of various businesses.
You can partner with other technology companies to integrate with each other and expand your features, or you can simply use your partner's technology for facilitating your workflow. AgilityCMS has many technology partners who integrate their own features and capabilities with AgilityCMS and offer top-notch services to their customers.
4- PR campaigns
"Public relations is a strategic communication process that builds mutually beneficial relationships between organizations and their publics" according to the Public Relations Society of America (PRSA). In simple terms, it's a strategy to communicate how valuable you are to your audience. PR campaigns are extremely effective for increasing awareness about your business and generating leads and customers for you.
Needless to say, PR is a simplistic term for a large group of diverse practices. There are many media outlets through which "strategic communication" could take place. Some of these outlets include public gatherings (meetings, speaking events, etc.), TV or radio (e.g. interviews), social media platforms (Facebook, Instagram, YouTube, etc.), newsletters, websites, and blogs (e.g. owned websites, third-party niche blogs or popular news websites).
The ultimate goal is to get featured on third-party media outlets such as blogs, events, social media channels, newsletters, etc.
A PR campaign has two main parts:
1- Prospecting
2- Pitching
Prospecting:
Since you're doing prospecting for PR, you need to reach out to content creators such as journalists, bloggers, content managers, video creators, photographers, etc. The main question you want to answer is "does their content reach the kind of people you want to sell to?"
To find these people you need to start with the ones you already know. You definitely have your own relations or know some particular ones you've always wanted to reach out to.
Then try different sources that could give you access to these people. You can directly search through LinkedIn or Twitter for these people. Or you can use Google to find their websites and then reach out to them. You can easily find them by Googling the keywords they're trying to rank for. Anything related to your industry could help.
Once you found their website, you should find out how you can contact them and inquire about publishing content by yourself. Find their guest posting guidelines or the "write for us" page if they have any. You can also find out who's behind their blog and reach out to them directly.
Alternatively, you can use a tool like Respona that could help you with prospecting and pitching.
Pitching
Once you have your contacts ready, it's time to reach out to them and pitch your idea:
Ask them to review your products
Pitch them a story. This could be an opinion post, a how-to guide, etc.
Offer them to interview you.
Offer a partnership idea for content production or promotion (you help them create/promote their content and they help you create/promote content).
Or any relevant pitch based on the kind of content they publish frequently.
Agile demand generation is about efficiency:
The main criterion for deciding whether a demand generation strategy is agile or not is its efficiency. Does the strategy produce the results you expect from it in its assigned time frame? Can you imagine any key performance indicators that could help you with analyzing its performance? Can you increase its results over time as you gain more experience with it?
Are the results useful for your sales team? Or do you see an increase in lead drop-offs?
The four demand generation strategies discussed in the article could all be considered agile because they prioritize efficiency and can adapt to your specific needs and expectations.
Author bio:
Mostafa Dastras has written for some companies such as HubSpot, WordStream, SmartInsights, LeadPages, and MarketingProfs. Over the past years, his clients have primarily relied on him for increasing organic traffic and generating leads through outreach campaigns. Visit his blog, LiveaBusinessLife, or connect with him on LinkedIn.