Digital Transformation is essential for every business. This is what we hear from every keynote speaker or panel of discussion. What many companies don't understand is the digital transformation definition. What then is digital transformation?
Some business leaders feel the word "digital transformation" has become so broad that it has lost its meaning. Notwithstanding the meaning it bears today, Digital Transformation still means the ability to rethink old systems, experiment more, and focus on improving your ability to respond to rivals and clients.
This article aims at current digital transformation trends, the benefits of digital transformation, and how to get started because the advent of technology plays a vital role in how an organization evolves and meets customers' expectations.
What is Digital Transformation?
Digital transformation is a system of integrating digital technology into every aspect of your business, thereby changing how the company operates and offers value. It also refers to a change in cultural values of the workplace that requires the industry to continually alter its status quo and experiment until they get it right with their business model.
While organizations today are in a different place regarding digital transformation experience, one thing the majority of them find hard to do is how to get started and get over the initial bumps from vision to execution.
Why Does Digital Transformation Matter?
Digital transformation is significant to every business, irrespective of size. Every company has to ensure they remain relevant and competitive. While people may mention different reasons for businesses to experience digital transformation, the main reason is to thrive.
Digital Transformation is known to be expensive and risky, so the necessity for digital transformation is for businesses to survive and thrive. Since technology is driving the evolution of companies, companies who wish to optimize business processes and succeed must pair technology with their operations and strategy.
For companies to toe the digital customer experience transformation line, data analysis software must be one of their first focuses. This will help read data on the company's services through machine learning and data visualization.
They also have to consider the speed of their operation. Digital initiatives that improve the speed of organization operations are at the forefront of the transformation. All these are operational demands of the change, but the main reason is to use digital transformation to improve customer experience.
Emerging Digital Transformation Trends & Technologies
Businesses now aim to bring their customers together with digital transformation services like seamless omnichannel experience, instant services, and online availability. They have realized that a personalized relationship with their customers can help them achieve 3x more commitment and get them free marketing passes and recommendations.
Here are some recent digital trends that have helped improve customer experience and enhance business models
Personalizing the customer's digital experience
According to Accenture, 91% of customers are going to enjoy using your services if you provide any of these services, which include:
Offering relevant recommendations: That is the liability that customers will spend more money when provided with suggestions based on their previous purchase.
Offering recognition: Customers are likely to patronize you more if their names recognize them.
Being remembered: Customers are likely to continue their purchase if you remember their purchase history.
Offering consistent customer patronage through seamless multichannel
The advent of technology has given customers the luxury of multiple channels. They tend to regard new interaction on any new platform as a journey. Meanwhile, customers only want to feel familiar with their different interactions on different media. To solve this problem, one should make a seamless multichannel available to:
Reduce support costs
A seamless multi-channel experience will bring customer satisfaction, leading to less work for your customer services. Businesses can now harness their customer data through business silos to drive improvement in customer service.
Deliver consistent customer experience
Customers become loyal to a brand when they provide a consistent customer journey by delivering seamless multichannel.

Accepting Automation
Automation systems have become a necessity for digital transformation. Automating day-to-day workflow is at the heart of digital transformation. Adopting and implementing automation systems across your business will enable your teams to benefit from a new efficient workflow.
With this system, the customer's overall digital experience has improved and has led to several advantages, which include:
1. Time-saving: Customers may find it tedious to wait for a response if they have issues with your product. Unlike human advisors or customer service representatives, automated replies such as chatbots will engage and respond faster.
2. Increase in team efficiency: Adding automation to fundamental processes such as follow-up emails and ticket prioritization will facilitate a better customer experience transformation process.
3. Prejudice mitigation: Customers sometimes perceive human advisors as rude and biased. Automating your communication mitigates this risk because communication will always be polite and unbiased.
Improving user experience through efficient onboarding practices
Customers and people who visit your pages expect to easily navigate your site or applications. If they cannot do this, they may not use it or recommend anyone in the future. When businesses develop sites and apps, they focus on the onboarding process.
The onboarding process lets users understand what your app or website is about. Many businesses include on-screen guidelines to make it easy for new users or provide interactive virtual assistant software. The benefits of improving user experience through this mean;
Your app is customer-centric because it can guide its users.
You can improve customer experience through the use of easily usable apps.
A satisfied customer is the best brand ambassador any business can have. So, when you satisfy your customers, expect to get new referrals.
Emerging Technology: Headless CMS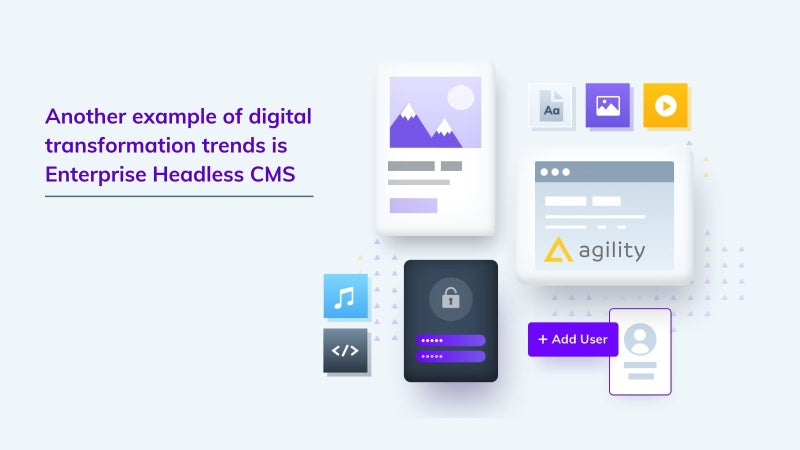 Another example of digital transformation trends in the Enterprise Headless CMS. This software tool offers large enterprises CMS supports and features that every large organization will need.
This tool handles content workflows to advanced security, scalability, permissions, and users and roles. It is also integrated with extra tools to provide companies with analytics, advanced personalization, and more through API-first architecture.
How to Get Started on Digital Transformation for a Competitive Advantage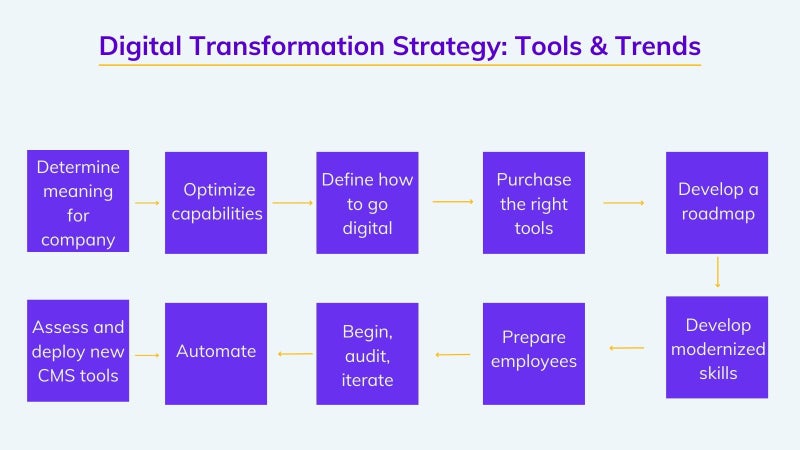 With the evolution of e-commerce digital transformation, businesses have no choice but to embrace this recent technology change and evolve if they want to keep thriving and meeting customers' needs. Irrespective of the global turn toward the digital world, many businesses still have a long way to achieve total digital transformation benefits.
The critical part of this journey is putting your plans together in a digital transformation guide and beginning working on them. So, to help those who are still yet to develop a concrete plan on how to start their transformation, here are a few steps that could help them.
Determine the meaning of digital transformation to your company
One major part of digital transformation that people have to realize is no universal definition for digital transformation. If you can ask different business owners, you will get other answers. This is not surprising because there are so many ways you can advance your business technologically, and each company attends to different customers and their needs.
With that in mind, to start your digital transformation journey, you have to bear in mind what that means to your company. Consider the challenges your business is facing, your competition, your customers, value chain, ecosystem, and any factor that affects your business.
Gather this information, and it can tell you what digital transformation will mean to your organization in its context, what you want to achieve with it and why you need it.
Access your present capabilities
After defining digital transformation for your business, and what it will look like, you need to take note of the current digital capacity you have on the ground. We mean that you take stock of your existing technologies, the tech stack, employees, and machinery used in running your business smoothly currently.
Define how you want to go digital
Now that you have put together your capabilities and objectives, you can evaluate the different digital transformation routes you can take. You have the front end of your business where your products and customer experience would be attended to and your back end where the IT and cloud infrastructure is set.
You then have solutions that can transform both areas of your business. There are many options to take when building a strategy for your digital transformation.
The strategy you choose to follow can either be internal or external, or it may be a slight change. However, always ensure that your system will bring better value to your business and your customers.
Purchase the right equipment for transformation
After putting your strategy and plans together, you must obtain the right equipment for your system. If you do so, you're ready to get the project up and running and willing to take the investment risks.
This might not be a straightforward process compared to building a strategy, but you must put plans in motion because it might take time to get the right equipment.
Develop a roadmap
After taking note of the strategy and equipment you need to kickstart the transformation, you need to develop a roadmap. When you start executing the process, you cannot do everything at once. This is where the importance of a roadmap comes to play, as it will show you a plan of how your transformation will pan out.
From this map, you can also derive what you need to do first, what will work, what will not work, what will cause the most significant impact and bring more value, and what will slow your progress. Your roadmap will show you when things need to happen and how your business will be transformed digitally over your set period.
Get the right skills you need in place.
One primary reason why many digital transformation projects fail is because of the shortage of skills you need. This doesn't come as a surprise because most digital transformations require cutting-edge technology, which many businesses may not possess.
According to Gartner, 31% of respondents said that a lack of digital expertise and skills was a challenge to the success of their transformation. So, when you want to perform a digital transformation, businesses should focus on hiring the accurate skills they need to achieve success in their transformation.
Prepare your business for the change ahead.
To ensure that the transformation is successful, informing the company about the goals and strategy of the change is essential. For the digital transformation process to succeed, it has to bother on a cultural shift as much as it grates on a technological one.
An example of cultural and technological change is post-covid-19. Where systems businesses had to adapt to curb the spread of the virus. Companies adopted the online ordering and delivery of goods to customers. This is an example of one of the things you can anticipate happen.
Letting your employees know the plan and providing them with the necessary training can help your digital transformation succeed.
Begin your transformation immediately
Now that you're here, you have to begin your transformation. Make sure that you're committed to the process throughout its duration. Companies that have successfully transformed their services digitally are those who put the end goal in their mind and work towards achieving success and growth for the business.
Automate your customer service using the Help Desk
Currently, companies interact with clients through various channels of communication. Your agents' work will be streamlined when using a help desk solution, as they can receive customer issues from a unified workspace and respond to them efficiently.
Deploy a CMS Tool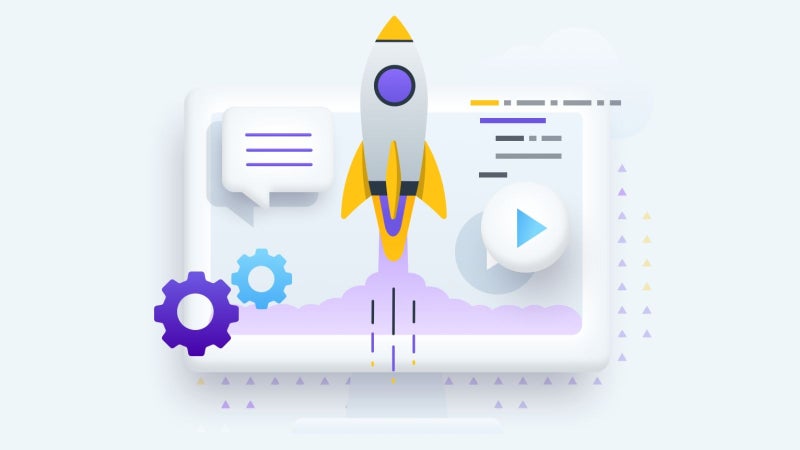 When you deploy a Cloud CMS system, you can publish content from one CMS branch to one or more Deployment Endpoints. A Deployment Endpoint can be an Amazon S3 bucket, an FTP server, a file system location, and a Cloud CMS branch running in a nearby data center or a different place.
You can trigger Deployment manually or automatically. This can be done as part of publishing your content.
Benefits of Digital Transformation
Many people may not know this, but digital transformation improves and changes the way their businesses operate. Their business operations are processes, systems, culture, and workflow. For the business to thrive easily, the companies must take cost-related measures, which is the driver for digital transformation. Here we're going to show you some benefits of digital transformation.
Improved data collection
While many businesses collect customer data regularly, the main goal is to harvest this data to optimize the services your offer going forward. Through digital transformation, one can gather this data and incorporate it into their business system to provide improved benefits.
Strong resource control
Data transformation helps businesses gather information and resources into a suite of tools. Rather than store data in different locations, it consolidates the business resources and reduces overlap between vendors. With digital transformation, businesses can gather their database, applications, and software in a central repository for intelligence.
Customer insights
The key to unlocking customer insights is data. By better understanding your customers and their needs, you can forge your business to be centered around your customer's preferences. These insights can help increase business growth using both unstructured and structured data.
Improved customer experience
Now imagine how your digital transformation can not only improve your teams' efficiencies but will also deliver an improved experience for your clients. This will drive the demand for your goods or services higher. Enhancing your customer's experience through their data is the new way for businesses to drive growth.
Conclusion
Your business needs digital-savvy leaders if you want to succeed using digital transformation. You need to build capabilities for the future, empower employees to be innovative, upgrade administrative tools and keep the communication line between team members open. This way, no one will be dragging the process backward, and the possibility of failure will be reduced.