Headless content management system (CMS) is a popular buzzword, and the last few years have seen it become a popular trend in managing digital content. In this article, we will look at the impact that cloud computing has had in this field.
What Is Cloud Computing?
Cloud computing refers to the on-demand delivery of computer-related services such as intelligence, servers, networking, databases, analytics, and software. All these services are delivered via the internet, hence the term "the cloud."
The delivery of these services is meant to provide economies of scale, flexible resources, and faster innovation. A business typically only pays for the cloud services it uses, a factor that significantly lowers its operating expenses.
On-demand computing makes it easier for business owners to run their infrastructure and continue to scale as the business needs evolve.
Top benefits of cloud storage for businesses: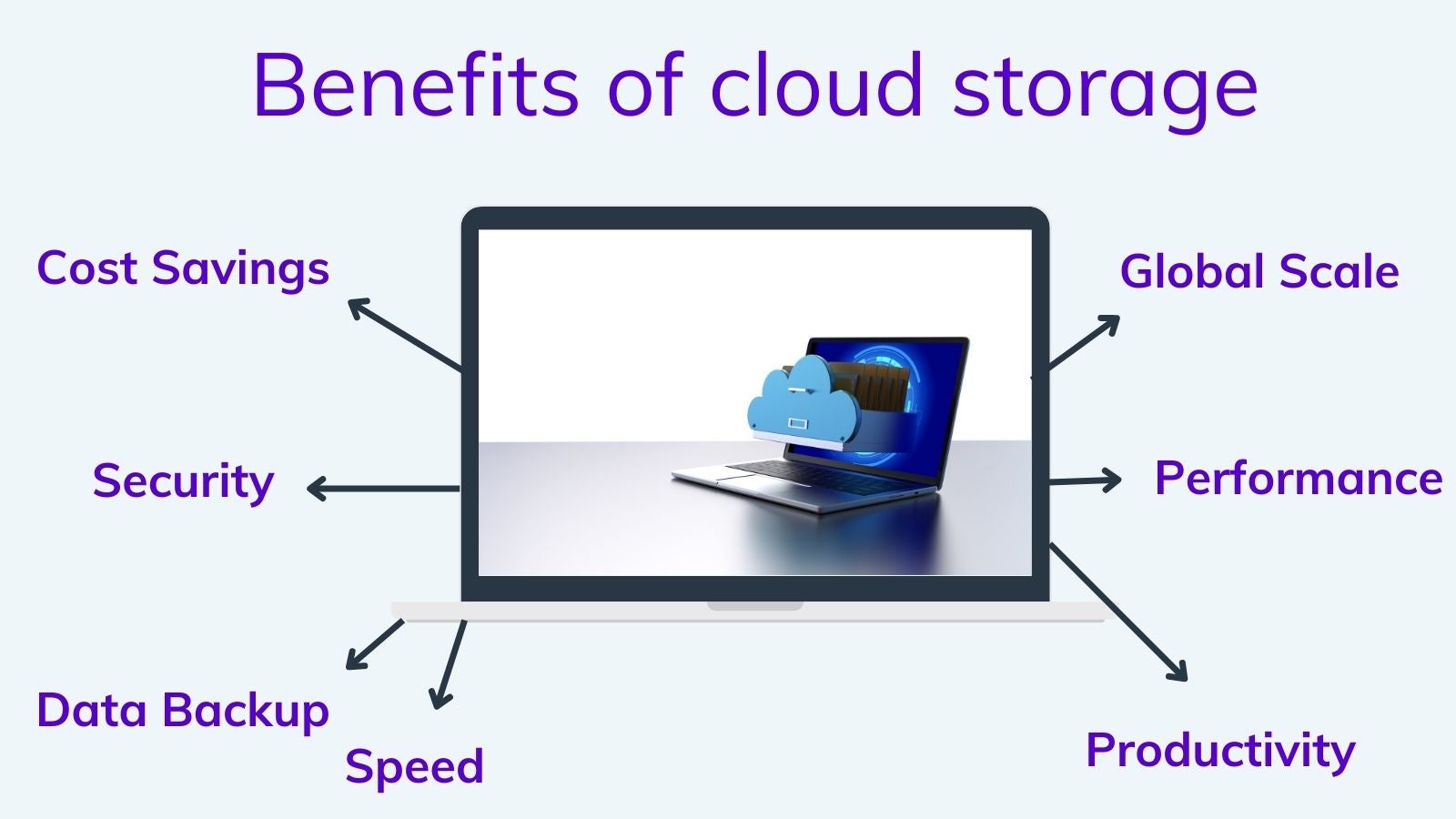 1. Cost Savings
On-demand computing helps businesses eliminate the costs of purchasing software and hardware and running and setting up on-site data centers. The costs add up fast, especially considering the salaries for experts managing the servers, cooling hardware, and the round-the-clock electricity for power.
2. Security
Today, utility computing solutions providers provide a wide range of controls, technologies, and policies that strengthen the overall security posture. They help protect the business infrastructure, apps, and data from potential threats. While VPNs were previously important for remote workers to access their work network securely, cloud services now enable secure access to proceed cloud resources without needing a VPN system.
3. Data Backup
On-demand computing goes a long way in making business continuity, disaster recovery, and data backup affordable and much more straightforward. Business owners mirror their data on multiple redundant sites via the cloud provider's network.
4. Speed
Many utility computing services are typically provided on demand and are self-service. That makes it easier for the provider to offer large amounts of computing resources within a few minutes.
All a business manager has to do is make a few mouse clicks. It does away with the pressure that comes with capacity planning and offers better flexibility to the business.
5. Global Scale
One of the top advantages of on-demand computing is the ability for the business to scale elastically. In cloud computing terms, that means getting to provide the IT resources that are needed; immediately they are required, e.g., bandwidth, storage, and computing power.
And all this has to be done from the right geographic location!
6. Performance
The most extensive utility computing services operate on a global platform of highly-secured data centers. Service providers regularly update the data centers to ensure they are running the latest and most efficient software and hardware in the market.
It's what assists in guaranteeing more significant economies of scale and reduced latency when running applications.
7. Productivity
On-site information centers generally need a lot of "stacking and racking"—software patching, hardware setup, and tons of other time-consuming, sensitive, and costly tasks. Cloud computing assists in doing away with most of these IT management tasks.
It allows the IT department to focus on other business-related goals.
The Different Types of On-Demand Computing
Utility computing continues to evolve every year. While it may not be for everyone, it does offer diverse services, types, and models intended to assist in meeting different business needs. Firstly, business owners need to determine the on-demand computing architecture or cloud deployment services that they would prefer to have the cloud services implemented.
Currently, there are three primary ways to deploy cloud services:
1. Private Cloud Technology
A private cloud generally refers to utility computing resources set aside for exclusive use by an individual organization or business. The cloud can also be physically stationed at a company's on-site information center.
Certain companies also pay third parties to manage their private clouds. A private cloud is where the infrastructure and services are preserved on a private network.
2. Public Cloud Platforms
Public clouds are operated, managed, and owned by third-party cloud service providers. The providers are in charge of offering computing-related services, such as storage and servers using the internet.
The cloud provider belongs to all the software, hardware, and other supporting infrastructure. The business can only access these services and manage their accounts via a web browser.
3. Hybrid Cloud
Hybrid clouds are a blend of private and public clouds that have been joined together by technology. They help make it easier for data to be shared between the two platforms. They offer businesses more deployment options and better flexibility.
Hybrid clouds also assist companies in optimizing their existing infrastructure, compliance, and security.
Types of Cloud Services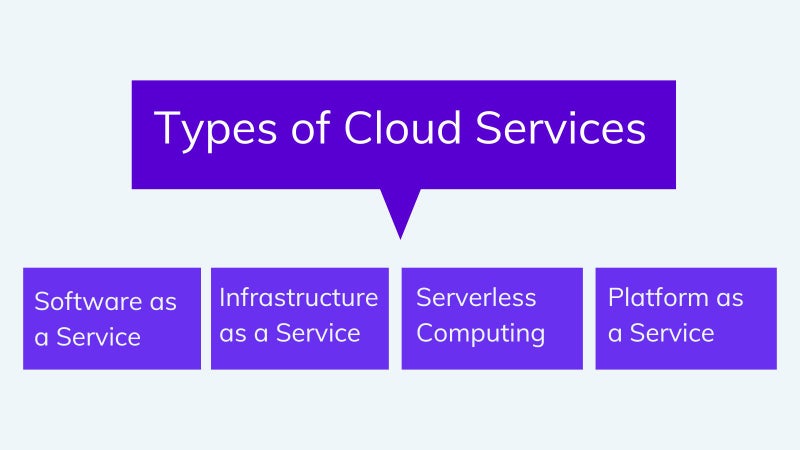 On-demand computing services mainly fall under four highly diverse categories: software as a service (SaaS), infrastructure as a service (IaaS), serverless, and platform as a service (PaaS). These are sometimes also known as the utility computing "stack" as they tend to build atop each other.
Understanding their meaning, differences, and what they are, helps businesses achieve their objectives.
Software as a Service (SaaS)
SaaS refers to a technique used to deliver software applications using the internet, on a subscription basis and mostly on demand. Using SaaS, on-demand computing providers manage and host software applications, their maintenance (security patching, upgrades, etc.), and underlying infrastructure.
Users need an internet connection to connect to the application.
Infrastructure as a Service (IaaS)
IaaS is the most basic category when it comes to utility computing services. With it, businesses lease IT-related infrastructure, e.g., operating systems, servers, networks, virtual machines, and storage.
The utility computing service providers offer this on a pay-as-you-go basis.
Serverless Computing
Serverless computing mainly deals with app functions and, most of the time, infrastructure and server management. The on-demand computing provider handles the business's server management, capacity planning, and cloud setup.
Serverless architecture is event-driven and highly scalable. It only uses computing resources when a given trigger or function occurs.
Platform as a Service (PaaS)
It refers to utility computing services that offer an on-demand environment that supports software applications' development, testing, delivery, and management. Platform as a Service is meant to help developers create applications without the extra burden of setting up an underlying server, network, storage, and database infrastructure.
What is Headless CMS?
A headless content management system is a back-end CMS where the body (repository) is separated from the head (presentation layer). Usually, the content housed inside the headless CMS gets delivered through application programming interfaces.
Standard or modern CMS platforms provide a headless API that enables users to transmit content to a different head. The reason it's known as headless is because the head or presentation layer is detached from its repository.
Implementing a headless CMS makes it possible for a business to overcome the limitations of using a regular CMS. For example, a website using a presentation layer as the head of a CMS will be called headless if this layer gets cut out.
Although this kind of headless CMS has several benefits for businesses and enables users to select their preferred heads for the digital platform, it still doesn't help solve structural content issues. This, in turn, means that the headless CMS can't be reused across varied channels and platforms.
Therefore, headless CMS and headless architecture can be said to have the same concept. Headless CMS is a multichannel solution that can be used to publish information across multiple devices and platforms.
All the data stored in a headless architecture is unformatted and raw, and the presentation doesn't get limited by the publishing (front-end) system.
CMS In Cloud Computing
The cloud computing framework continues to be an operating system pioneer years after it began to brave the ongoing computing solution race. As you know by now, the cloud is cyberspace where you get to complete most of your daily projects and tasks.
Typical tasks include scheduling, data storage, networking, and file sharing. A standard open-cloud framework allows you to get access to the aforementioned from any web-enabled device.
Utility Computing Security
Utility computing security has become so widespread and popular that most people rarely realize its role in their daily lives. Most people use up to thirty-six different types of cloud-related services on a single day without even knowing they are doing it.
All this makes it necessary for one to try and find out the kind of secure experience offered by an on-demand computing framework. Cloud security combines solutions, regulations, services, procedures, and policies enacted to help maintain internet safety.
Its primary role is to prevent and eliminate any threats to the on-demand computing frameworks. All these strategies are put in place during the development of the cloud applications, from the design to the coding and the implementation phases.
Besides defensive procedures, cloud security is meant to ensure strengthened business growth and agility. Today, many enterprises are placing a lot of emphasis on the security of on-demand services due to the rise of cyber-attacks.
It's a factor that has seen them invest heavily in secure operating systems, which they rely on when uploading information to the cloud. Some of the measures used by utility computing services to prevent harmful internet crime from accessing your cloud include:
Data Encryption
Data encryption is essential for companies that use multilayer cloud integration. It ensures that the information uploaded to the cloud remains safe regardless of whether it's in use or just resting.
Data Ownership Definitions
Most cloud-computing services have adopted a shared data ownership responsibility model. This model shares accountability and compliance for extra security between the customer and the cloud provider.
The cloud provider deals with the security of the cloud infrastructure, while the customer deals with the security for maintaining data on the cloud. Looking at this, there's a need for all involved parties to define information ownership between private third parties and the public.
It's what enables the customer to navigate the cloud with ease.
Monitoring Data Activity
All the services and systems connected to the business cloud must be monitored regularly. Logging data access and tracking all the exchanges between different cloud services assists in identifying extraordinary actions and maintaining visibility.
Benefits of On-Demand Computing
A survey by RightScale shows that private and public cloud adoption has been increasing consistently since 2017. Companies of all geographies, industries, and sizes have started turning to cloud services.
It's a trend expected to continue into the next decade when most companies adopt cloud-only or cloud-first policies.
Some factors attributed to this change include increased flexibility, lower operating costs, better collaboration, and improved time to market. Startups enjoy the flexibility of on-demand computing; this adaptable approach is perfect for entrepreneurs who are in the process of financing their businesses.
The cloud makes it easier to manage a company, as it offers more pros than cons. The following is a look at some of them:
Quick Deployment/ High Speed
The speed and agility of software development have been reshaped by the ability to spin up new on-demand computing instances. Developers can quickly test new design application architecture without worrying about slow procurement processes.
Competitive Edge
While not all companies will agree to migrate to the cloud, those quickly realize that the benefits of doing so automatically outweigh the cons.
The impacts on their business operations are immediate, as it provides them with access to unmatched technology, which helps them remain a step ahead of their competition.
Automatic Software Integration and Updates
Continuous Delivery and Continuous Integration both rely on recently developed software apps that can constantly be tested and deployed on the cloud. It provides better velocity, guaranteeing enhanced product innovation.
End-users get to enjoy weekly and sometimes monthly releases of new software features. The cloud environment offers better integration with standard DevOps logging systems and tools.
Control
All companies need to have overall control over their sensitive data. No one can be sure what will happen if a document gets misplaced or falls into the hands of a competitor. The cloud allows the business manager complete control and visibility of the company information.
They can set controls to limit the number of people accessing company information. Furthermore, it assists in streamlining operations as personally will have an idea of the type of documents they can access and the ones they aren't allowed to see.
Collaboration is significantly enhanced as different people can work on a single document and share their ideas without meeting physically.
Efficiency and Cost Reduction
The use of cloud infrastructure means the business doesn't have to spend thousands of dollars on acquiring, setting up, and maintaining equipment. It's a factor that assists in drastically reducing the Total Cost of Ownership and CAPEX costs.
A company will not need to spend money building a big data center, facilities, hardware, and related utilities. Moreover, it will not need to hire large IT teams to handle its cloud center.
Cloud solutions also assist in reducing downtime costs. Cloud systems rarely experience downtime, so the company doesn't have to spend money dealing with such issues.
Data Loss Prevention
Data security and data loss are significant concerns for all organizations. Storing information on the cloud ensures that information will remain available to all personnel at all times. The employees will access the information whenever necessary, even if their PCs or laptops get damaged by a power outage or natural disaster.
Cloud infrastructure also plays a crucial role in loss prevention. Companies that rely on traditional on-premises techniques have no option but to store their data locally. And this puts them at risk because computers can malfunction due to viruses, malware, or human error.
Uploading important information to the cloud ensures that it will remain accessible to anyone using an internet-enabled device.
Scalability
IT needs to tend to vary from one company to the next. For example, a company with over a thousand employees won't have the exact needs of one with less than a hundred employees. The cloud allows companies to scale their IT departments up or down as their needs change.
Companies with fluctuating bandwidth demands need to look into cloud-based solutions to allow them to remain functional without investing in infrastructure. It's a type of agility that quickly gives a business an edge over its closest competitor.
Moreover, scalability assists the business in reducing the risks that come with running an in-house operation, more so when it comes to operational maintenance. A headless content management system guarantees the business access to high-performance resources with little upfront investment.
Scalability is perhaps the most significant benefit that comes with using cloud solutions.
Mobility
On-demand computing allows mobile access to company information via any web-enabled device, be it a smartphone or computer. It's the only way to ensure that no employee will get left out or lack access to crucial company data.
Personnel who live far from the office or those with hectic schedules can use this feature to stay in contact with colleagues and clients. Cloud resources can be processed, stored, recovered, or retrieved using a few mouse clicks.
Better Collaboration
The cloud environment allows for better collaboration between colleagues and teams. Product architects, developers, security personnel, operations, and quality assurers are all exposed to a single infrastructure.
It enables them to operate simultaneously without any department feeling like they are being taken advantage of or used by their colleagues. Cloud permissions and assigned user roles assist with increased monitoring and visibility.
Supervisors can easily see which employee performs a particular role, at what time, and from which workstation. All this helps in reducing confusion and preventing conflicts between the workers. This will make the talent management process more precise and communicative. Today nearly 75% of organizations are gaining these benefits by well communicating their firm's vision, which improves their performance compared to their competitors.
Additionally, different cloud environments can be used for other purposes. For example, those concerned can have pre-production, staging, demo, or QA environments.
Disaster Recovery
It's easier for the company to recover from a natural disaster when multiple software versions are stored in the cloud. The same applies to those with different production instances in other cloud regions.
If an application deployed in one region goes down, it can easily get redirected to the available zones. It helps to ensure that the customers will continue to access services regardless of their location.
Also, if a bug is noticed in a new software release, the business can always initiate an immediate rollback to minimize damages and service unavailability.