We could wax poetic about the benefits of going headless, modularity, and composability, but Agility's blog already has many articles about them.
After I learned and explained to my mom and my cats what a headless CMS is and does, I saw yet another concept I had to learn about. Content platforms.
In simple terms, a CMS is a content platform; a software application that helps you create, manage and publish digital content. But there's more to it than just that. In the headless, API-first ecosystem, content platforms must go beyond its three foundations and become the connective tissue that enables a composable architecture.
What follows a no-nonsense explanation of what is a content platform and how both marketers and developers can benefit from one.
The anatomy of a content platform
Content teams and developers can unite to create better customer experiences with Agility, the only headless solution that pleases them both. Business-oriented users enjoy an intuitive authoring experience featuring content production, modular reuse, and real-time collaboration capabilities. Meanwhile, tech-savvy professionals get their pick of frameworks without sacrificing speed or performance.
With a unified front marching towards improved outcomes through engaging content. With a content platform, everyone wins.
But what does that mean in real life? What are the parts that compose a content platform? Let's take a look:
In short, a content platform should be a one-stop shop that allows the creation and orchestration of all your digital experiences. A content platform like Agility keeps things tidy and centralized for you and boosts your brand's consistency and speed across channels.
With its expansive array of plugins, tools, integrations, and APIs that can be tailored to your company's specific needs, a content platform represents the next logical step in the headless, composable scene, giving you all the benefits of composability and the ease of use of a content-first CMS.
Composability and Content Platforms
If you've been following Agility, you'll see that composability has become an increasingly important part of their message, and not without reason, as businesses of all sizes have embraced a composable mindset. But for them to function like an agile, modular organization and build digital experiences, their tech-stack must be composed of one cohesive infrastructure.
This means that IT teams need to take charge of orchestrating multiple software solutions towards shared data flows across systems, as well as better understanding how this impacts organizational processes – so organizations can remain at the forefront when adapting quickly to market changes.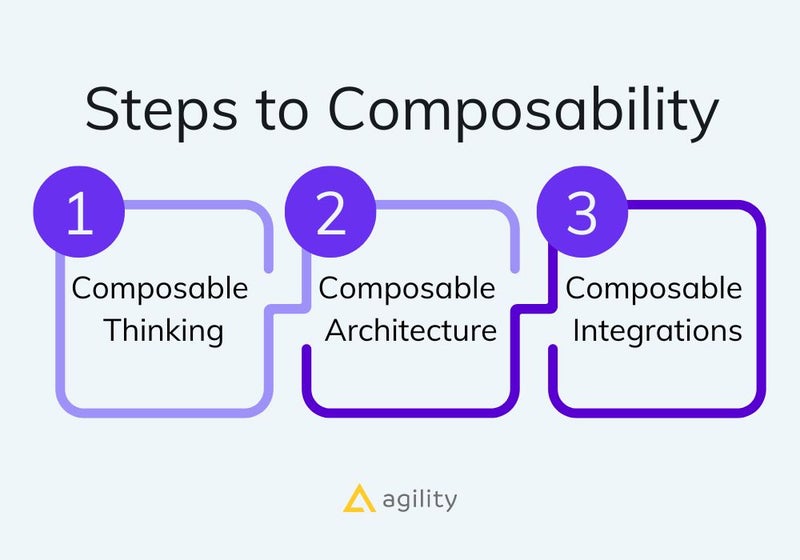 Agility believes that composability is revolutionizing the way we create software. Rather than relying on monolithic architecture, composability enables us to construct new products from a range of interchangeable microservices and frameworks — just like constructing with lego blocks –if you forgive me for the tired analogy.
A content platform guarantees composability. It's the connective tissue that makes full orchestration possible. Rather than haphazardly integrating a bunch of services and hoping they'll work well across teams and departments as you would with a traditional or monolithic architecture, a content platform was born out of the composable mindset. The platforms are built to play well with others and provide you with a command and control center from where to create and distribute digital experiences at scale.
Why do you need a content platform?
Ok, Diego, I understand why going headless and composable is a good thing, but I'm fine with my current CMS; why do I need all those bells and whistles you described above?
Granted, a content platform is not for everyone. Still, if you're a company looking to scale beyond traditional content management, you'll find that a content platform like Agility has everything you like from a CMS and a handful of things you didn't know you wanted.
However, for the unconvinced, here are some reasons why you need a content platform:
Superior Scalability
Content platforms like Agility speed up your content creation by harnessing the power of our App Marketplace. With a content platform, you can easily integrate existing third-party services or create custom integrations from scratch using Agility's App Framework – taking functionality and features to the next level in record time.
Better separation of concerns
As a content person myself, I'm a bit biased on this one, but with a content platform, your editorial teams can take more ownership of their content – allowing developers to focus on what they do best. The right platform will reduce dependency on your dev teams and give back control over your workflow to your content team: less work for you and a better experience for everyone.
Blazing-fast Speed
With a content platform, developers can create incredible digital experiences with rapid deployment and minimal effort. Forget about duplicating code – Agility's library gives you a bunch of ready-to-use SDKs and starters to help you instantly deploy new content on websites, apps, wearables and whatever comes next conveniently. Now that's smart.
Superior Editor Experience
Unlock the power of collaboration and content creation with Agility. Streamline your editorial process, from planning in the calendar to real-time reviewing with comments, suggestions & co-editing –all tailored for effortless versioning and timely publishing that's guaranteed to be right every time. With an agile content platform, your content strategy is expedited; marketers can seamlessly publish, schedule and create content without a developer. With lightning-fast Jamstack architecture, SEO teams are also empowered by lighthouse scores which boost content on search engines.
Code It Your Way
Agility understands how important it is to present your content exactly as you envision. With our starter templates and APIs – REST, GraphQL or Sync SDKs – the opportunities are limitless. Get up-to-speed with maximum speed using our nimble Sync SDK while populating your data via Management API for streamlined distribution like never before!
Closing Thoughts
There's no doubt about it - if you're creating or distributing digital content at scale, then you need a good content platform. A content platform can save you time and money by helping you streamline your content creation and distribution processes.
The composable approach is changing how we create software, and content platforms are at the forefront of this revolution. A content platform guarantees composability, making it possible to build modern digital experiences and software products from various interchangeable microservices and frameworks.
But with so many different options on the market today, how do you know which one is right for your organization?
Agility is leading the charge regarding content platforms, providing users with a command and control center that is easy to use and navigate. However, with a traditional or monolithic architecture, you're relying on haphazardly integrating a bunch of services and hoping they'll work well together across teams and departments.
However, with a content platform born out of the composable mindset, you can rest assured knowing that it was built to play well with others and provide you with all the orchestration tools you need to develop next-gen software.
If you want to experience the power of a content platform, try Agility today.