We all know that firms must innovate to meet customer demands.
Companies in every industry must keep up with maturing markets, trends, and evolving customer expectations, from food companies decreasing sodium in Ready meals for the health-conscious to car manufacturers manufacturing electric vehicles for the environmentally sensitive.
This move is new to the tech industry, which is currently undergoing rapid digitization. Progression in technology enables a shift in how businesses handle customer service, allowing customers to have even higher expectations.
Thanks to digital transformation, companies may now provide
fast communication,

unique customer journeys, and

higher transparency to their customers.
These technical advancements are now the norm, and digital consumers expect them.
Defining Digital Transformation
In this new digital age, digital transformation is a business model that more and more firms are adopting. A company's digital transformation entails incorporating technology (digital channels, gadgets) throughout its business units to deliver products to customers. Changes such as these result from the metamorphosis.
The business's operations

How it provides value to its clients
Digital Transformation's Correlation to Customer Experience
Every expert states that CX is one of the most essential components you will need for digital transformation. Customer experience innovation and enhancement are critical components of a company's growth and success. According to Mckinsey, user experience digitalization can boost a company's income by 20% to 50%.
Today's customers have elevated expectations and want, all because of the top-notch experiences of best-in-class companies. Companies like Amazon have become the poster child for digital customer service. Amazon is now a worldwide firm focused on long-term growth because of its customer obsession and use of technology.
Similarly, customers are at the heart of businesses such as Uber, Starbucks, and Zappos. These brands are obsessed with providing the most outstanding possible experience for their customers.
As previously stated, improvements in technology and exceptional customer service have upped the bar for the digital customer experience. It has elevated the relevance of end-to-end CX optimization for every digital firm in the market.
The impact of customer experience innovation and optimization on business income is enormous. The New York Times is one example of how digital transformation increases revenue. Around 70% of newspaper advertising revenue has been lost in the last 15 years. On the other hand, the New York Times has 3 million subscribers and generates $500 million in digital revenue.
B2B organizations have seen a revenue increase of 10 to 15% and expense reductions of 10 to 20% after experiencing digital transformation in the customer experience process, according to Mckinsey.
The New Digitally Aware Consumer
Digital technologies have heavily influenced customer patterns and behaviors. Thanks to mobile devices, applications, machine intelligence, automation, and much more, customers can obtain what they want almost precisely when they need it.
Furthermore, these new digital tools have shifted client expectations, creating a new type of modern shopper. The customer of the digital era is always connected, app-native, and aware of what technology can do for them.
Customers frequently rank firms based on their relationship with consumers first because of the possibilities of leveraging current technology. You must rethink how you communicate with your clients if you want to go digital-first. You can create podcasts or use some of the best webinar platforms to connect with your target audience seamlessly.
You're no longer limited to waiting for the phone to ring or fax to arrive for customer service personnel. Herein, being responsive is not sufficient; you have to be proactive in how you assist your clients. These clients can seek aid through a variety of media.
The customer service ecosystem includes social media, review sites, forums, and communities. Your company must also think digitally first to better accommodate the modern-day buyers.
Digital Transformation Trends Driving Customer Experience
Customers today desire a long-term relationship rather than a succession of one-off transactions. Customers that have an emotional and personal connection to a company are more inclined to promote its products to others and have a 3x higher lifetime value.
Businesses are now pulling their customers closer with digital transformation tactics such as rapid service, seamless omnichannel experience, and continued online availability.
Here are a few current digital developments that are assisting businesses in improving and personalizing their consumer experiences.
Creating a Personalized Digital Consumer Experience
According to a survey, organizations that supply these three services to customers are more likely to experience digital customer service.
Customers are more likely to buy online if their names are recognized. Alongside, they are more inclined to spend money online when they are given appropriate recommendations based on past purchases or preferences. What's more, consumers prefer purchasing if the company is aware of their previous purchases.
Netflix, for example, is a video-on-demand service that focuses on personalizing the digital consumer experience and improving the customer journey.
Back-end Process Optimization
Inefficient backend processes might have a negative influence on the customer experience. Because 64% of customers expect businesses to respond to them in real-time, your backend must be digitally capable of responding.
Consider which jobs can be automated and what you can do to establish more efficient workflows and minimize redundancies if you want to digitize your backend process and enhance customer-facing channels.
Uniformity in the Customer Journey Across All Channels
Customers now have access to many channels because of technological advancements. Customers may believe that a new engagement on a different platform starts a new journey. However, on the other hand, they prefer to feel at ease, so new encounters on various media feel like extensions of the same experience. These issues can be overcome by delivering a seamless multi-channel experience through mobile and IoT development, which results in:
Customer experience consistency: According to McKinsey, having a comprehensive customer journey through smooth multi-channel results in customer satisfaction and loyalty.
Lower issue resolution costs: A successful multi-channel experience that is seamless leads to client satisfaction, which leads to happy consumers! Customers who are delighted using fewer customer care/service channels lower the cost of resolving difficulties.
Companies are linking business silos, using the power of their customer data, and driving continuous improvement to provide customers with meaningful and consistent experiences across all channels and devices.
Automation Acceptance
According to a report, 84 percent of customers prefer to connect with computerized systems. These automated methods are accessible at any time, are less prejudiced, and are quick. As a result, these systems improve the whole digital experience of customers. Now is the time if you haven't already started using automation as part of your online client experience plan!
Let's Look at Some of the Benefits of Automating
Customers will save time by not having to wait for a response. Human advisers or customer service services connect and provide services slower than automated responses. Customers anticipate service responses within one hour in today's era and time, regardless of the time or date.
Reduces prejudice: Customers may believe that human consultants are impolite or biased. You can mitigate this danger by embracing automation.
Increases team efficiency: For an improved online customer experience transformation process, time spent by team members on fundamental tasks like follow-up emails and ticket prioritizing should be automated.
Establish Metrics to Measure Success Across the Organization
To accurately measure the performance of company-wide reforms, you'll need to define company-wide measurements and KPIs.
In other words, while establishing the correct metrics to utilize, discussing difficulties, and investigating other customer experience-related activities, everyone in the business must speak the same language.
Use Composable Digital Experience Platforms (DXPs)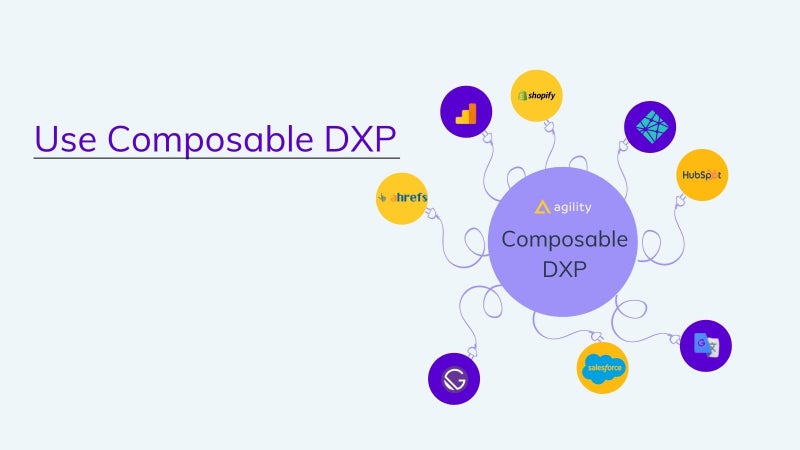 A Composable Digital Experience Platform, or Composable DXP, is a new type of software that helps businesses digitize quickly to offer a better Customer Experience (CX), which is why some sources may use the terms DXP and CXP interchangeably.
Composable DXPs are frequently referred to as "Next Generation CMS," although CMS is still at the heart of most DXPs today, particularly when choosing a best-of-breed microservices strategy over a monolithic all-in-one suite.
In the instance of a Headless CMS, the material is provided via an API, making it an excellent base on which to create a DXP. Any DXP service can use the API to easily pull this data and use data logically to send it to the appropriate user at the right time. While this lets developers and marketers focus on what they do best, it also enables granular additions, revisions, and adjustments to be made without disrupting the overall flow of the project.
The extendable API-driven content and ease of interface with other systems, either via posted integrations or webhooks, make the Headless CMS invaluable in the DXP.
Enhancing the User Experience Through Effective App Onboarding
Customers want to be able to effortlessly browse around your applications. If the customer cannot do so, they are unlikely to utilize or promote your application in the future. We pay special attention to app onboarding when we create apps to support an enterprise's digital transformation. App onboarding is a step-by-step procedure that helps users understand the app and its features. You can integrate on-screen instructions with an interactive virtual assistant that walks customers through each step, further improving the customer's digital experience. The following are some of the advantages of improving the user experience:
When a mobile app guides its customers, it is customer-centric.

It focuses on giving clients value and making their lives easier.

A user-friendly software leads to a positive consumer experience.

A happy customer is your most vital brand ambassador and promotional agency.
Keeping the Client Informed
Providing excellent digital customer service necessitates keeping your consumers informed. It's hardly rocket science to keep the client informed about what's going on with the product. Automated workflows and real-time tracking are the keys.
Amazon, for example, is an online service that keeps customers up to date. When an order is inspected and placed, the payment is completed, the charge is scheduled to arrive at your doorstep, and the application continuously updates clients.
Maintaining a Human Touch
Keep in mind that your clients are people, and in this rise of electronic customer service, you must maintain the personal factor. Long-term relationships and true collaborations with your customers will benefit from your human experience. I'm sure you're thinking to yourself, "How can we add a human element to our application?"
Every business has a backstory! Begin by telling your customers that story using videos or blogs with a minimalist web design. Share your company's history, mission, values, and vision.
AI should be used to provide feedback! It is always preferable to obtain client feedback and improve on it. This improves digital customer engagement, and your app will continue to evolve.
The key to keeping clients engaged is personalized content. It improves the consumer experience because it is designed just for them.
Spend time and money on customer experience solutions that will help you understand how, when, and why your consumers do business with you.
So, here's what we're saying:
Artificial intelligence (AI), chatbots, big data analytics, cloud computing, machine learning, and virtual reality (VR) can make the transformation experience as human as possible and vital parts of a digital strategy.
Summary of How Digital Transformation is Driving the Customer Experience
Creating an exceptional customer experience has moved from a nice-to-have to a requirement, regardless of industry.
If you implement a strategy that prioritizes the customer, it will make a world of difference in your company's search for digital transformation trends and technology. You'll want to take the appropriate steps to guarantee that your time, money, and resources are spent wisely on areas that provide results while also aligning with your company's fundamental beliefs.
After all, businesses that adapt to changing client wants will outperform their competitors and prepare themselves to prosper in a competitive global economy.