Structured content has been a part of work for over two decades. It has been fascinating to see how technology and procedures have evolved. Structured content has become more sophisticated due to the increasing demands of the business world. Unfortunately, structured content could be challenging to comprehend. This article will explain structured content, its benefits, and how headless CMS can improve structured content delivery. Let's get started!
What is Structured Content?
Structured content refers to content that has been broken down into manageable and is ready to be used in a variety of ways. For example, if you're writing a blog post and want to include a title, subheadings, a byline, and keyword tags, these are examples of structured content because they may all be placed in different fields. This enables the reuse and repurposing of the same fundamental components of information on a website. If you have a lot of pages with similar content that need to be updated frequently, structured content may be the best option for you.
The issue with HTML-based editing
Below are the two main problems that you could face while HTML-based editing:
HTML appears to be straightforward, but it isn't. So they'd search the internet for a code snippet that they could enter into their website editor. Then, they'd call the developer to check it out when something went wrong.

HTML can't be used on other operating systems. So you have to separate the content from the code if a client wants to distribute it via mobile apps, social media, or different types of devices.
This method ensures that the content can be reused and is platform-independent. It's also possible to make edits without risking breaking anything.
Benefits of Structured Content for Editors
Why is structured content essential, and why should your business needs it? The following are the advantages of using structured content: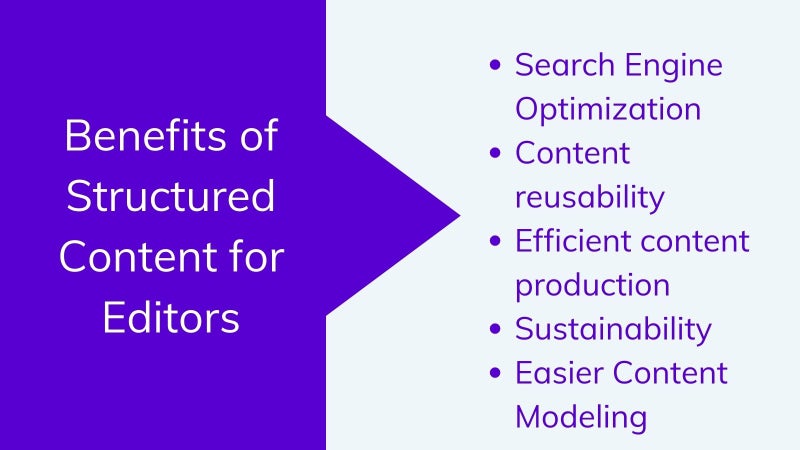 Search Engine Optimization
When it comes to SEO, structured content allows you to communicate with search engines like Google on the types of content that may be found on your website. Google's search engine is continuously being upgraded, and the company is adding new features to the sites it generates. As a result, Google can index your content and place it in the appropriate category much more quickly and efficiently because of structured content, which sends Google precise data about a page. As a direct result of this, Google will be in a position to appropriately recommend your website for those search queries that are the most appropriate.
Content reusability
There is much emphasis placed on originality in discussions about content. However, it is not necessary for every piece of content to be original. Many content assets, such as customer evaluations, case studies, and descriptions of products or services, may be repurposed and utilized in various contexts. This method can be made far more efficient by storing all the content assets in a relational database or CSV file.
Efficient content production
All the work associated with producing and managing content becomes more efficient because writers and content managers no longer have to create the same content repeatedly. As a result, your content staff will have more time to devote to productive tasks, such as developing new content for your website, whether designing a new landing page across several platforms or iterating in preparation for later A/B testing. In addition, after content has been modified just once, all of the places on the website where it is used or referenced are automatically updated.
Sustainability
Increased sustainability is the primary benefit of using organized material. Structured content not only makes it easier to integrate repetitive content (information that should appear in various places on your website), but it also eliminates the need to rewrite material every time you want it to appear in a new channel, interface, or via a specific delivery method. In addition, a database of your website's content allows it to be accessed at any time and from any location because it has been broken down into its smallest components before being stored.
Easier Content Modeling
The purpose of content modeling is to document all the different forms of content you require on your website to guarantee that your CMS is set up most effectively. Editors can construct models based on content assets utilized on a particular page and then generate new material based on those models.
How Does Headless CMS Improve Structured Content Delivery?
Empower content creators and editors
The content interface of a website is designed by developers in a traditional CMS, leaving writers and editors at the mercy of their whims. Writers can create, but they can't publish anything until the visual framework (rendering) is in place. Content can be rendered independently in a stack without relying on a CMS's head.
A headless CMS is a good fit if you're looking for something that doesn't require you to write front-end code. There will be no code to get in the way of the content, and the editors won't have to do any coding to get it online in the first place. They may focus on their creative content roles and workflows without knowledge of HTML. They don't have to write an email to the development team and wait for them to rectify a typo that has already appeared online. They have been restored to wholeness.
Empower developers
When APIs are utilized to handle headless content, developers gain tremendously whether they are working on web or mobile apps. As a first step, they get a lot of freedom. Their front-end programming languages, tools, and workflows are up to them. They can swap out pieces of the tech stack or frameworks without affecting the CMS.
Front-end developers can work on functionality for numerous channels regardless of what's happening on the back end. Developers can focus solely on developing exceptional user experiences, pass the buck to the relevant API and go on to the next project. They can create applications and then deploy them with ease and speed. In addition to being enjoyable, this can save a significant amount of time.
Moving to a headless CMS frees editors and developers to work more collaboratively with one other, which is a win-win for everyone involved. When a master content item is repurposed for numerous channels, there is no need for the time-consuming re-creation of material, which means quicker publishing timeframes. When a requirement arises, users can take care of it. The fact that content for multichannel distribution can be managed in a single location also implies that users only have to learn the system once.
Scale Easily
Traditional CMS have scaling limitations, whereas a headless CMS has no such restrictions (with high availability). As soon as a channel is added, the central CMS may be used to get content from it instantly. You can modify developer tools using a headless CMS and send content to high-performance cloud hosting and build services.

Structured Content Best Practices
There are times when structured content is challenging to deploy. Here are some guidelines to assist your organization in getting started.
Systemic approach
Planning is the most critical aspect of running a business. To create a robust structured CMS, a systematic approach is required. Without it, you run the risk of jeopardizing the entire operation. Therefore, when determining the types of content assets you will employ and constructing the framework for your structured content, you must examine all potential applications for your assets.
Keep your content up-to-date
When maintaining structured content, it is necessary to eliminate duplicate and deprecated content. For example, multiple instances of the same image can use valuable space on your web host. In addition, duplicate content may potentially be deprecated, posing a problem. Therefore, your content manager and marketing team should regularly edit your structured material to eliminate outdated content that more current and relevant assets have replaced.
The next thing you need to do is make sure that your new system performs as you expect and make it flexible enough to be used in any situation. To begin, this entails breaking the content into a variety of discrete parts, analogous to the idea of web components, which can be pieced together in many ways to achieve the objectives.
How Agility CMS Uses Structured Content To Set Up Content Architecture
Content architecture is the most crucial operation you can perform as a modern firm operating in today's linked world. Content performance is directly tied to how well you can advertise and communicate with customers, which leads to more significant traffic and, eventually, more conversions. Fortunately, effective content architecture helps your firm move faster and more reliably in terms of your marketing initiatives. Let's discuss what approaches can adopt where Agility CMS helps to set up content architecture.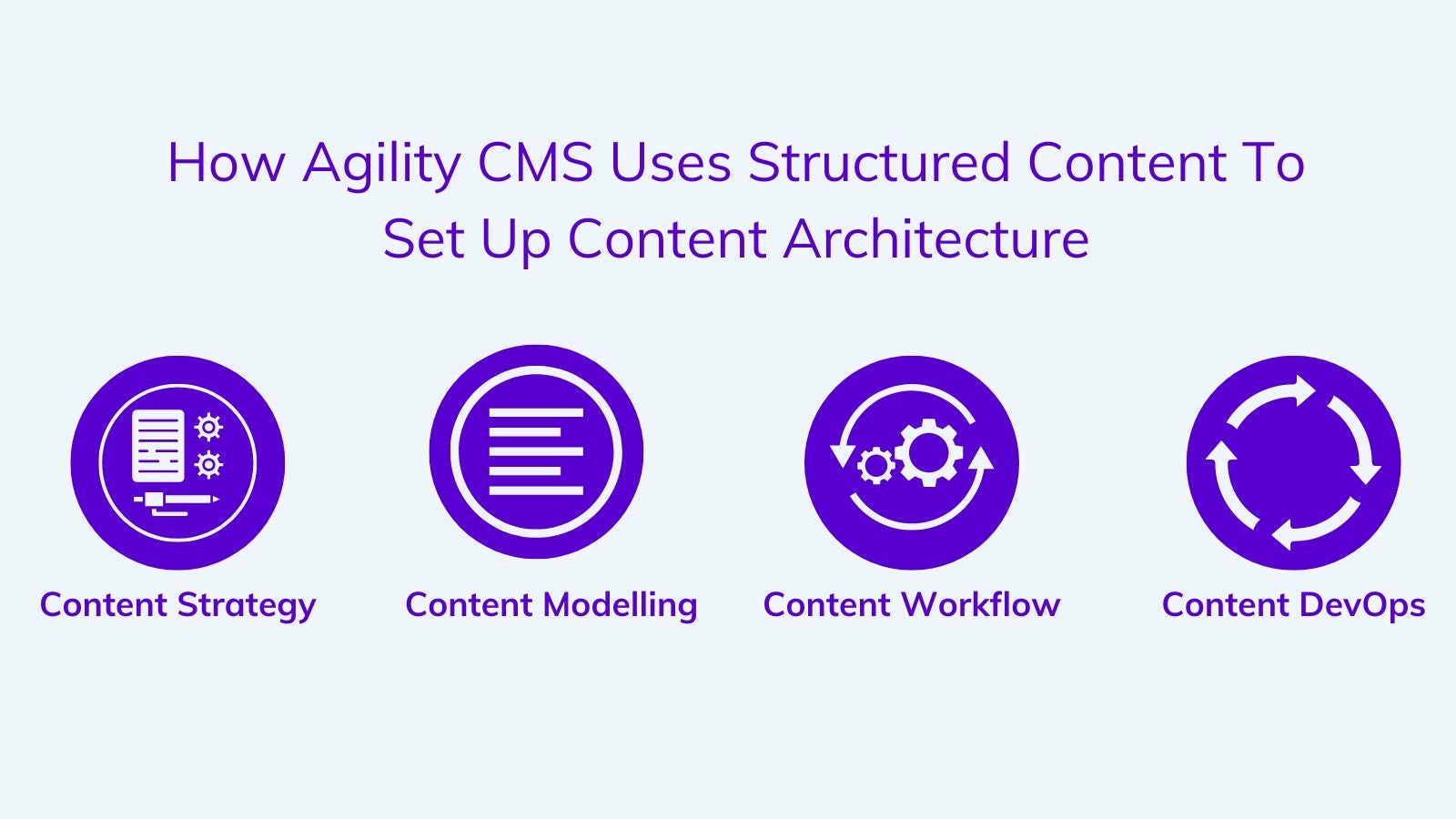 Content Strategy
Your content strategy is the first and most crucial pillar. Imagine this as a constantly updated bird's-eye perspective of how everything is intended to function. In the process of building up your strategy, you will have the opportunity to decide on all of the very high-level aspects that matter the most, such as your strategic goals, the value of creative content, and the implementation of strategic integrity. Finally, the more clearly we can describe what success looks like for you from a high-level perspective, the more likely it is that we can keep you on track for long-term success.
Content Modelling
Agility CMS's Content Model defines how your content (such as text, lists, images, videos, and so on) is organized so that editors can easily update and distribute it throughout your digital goods.
Your content can be defined and linked in infinite ways thanks to Agility CMS's unique Content Modelling technique. The next step is to consider the final destination or outputs of the content. Moreover, with the best-in-class Editor Experience in Agility CMS, you will not only define and relate content but also combine it with built-in Page Management. As a result, you have complete control over the content you create and where it appears on the web.
Architectural models will inevitably change as you analyze the details of each goal. It would help if you considered what the future holds as you work through all the locations where your content will flow. Are you making judgments dependent on a technology that could vanish or significantly alter soon? It's time for a shift. What can you do to ensure that system can handle this kind of change? At this stage, you need to respond to the questions such as:
Who is in charge of writing the content?

Who gives their permission for this?

Who initiates the actions that allow data to move from a source to a destination?
This process is referred to as Content Workflow, and the focus here is on the individuals involved in the process. However, it is essential to remember that these individuals are the blood that circulates in your content, and their experience is significant.
Content DevOps
At this point, you can start working through concepts regarding the flow of your content in the Agility CMS stack to its many outputs. This refers to Content DevOps. However, the development and the operations process are combined in a cycle known as DevOps. This cycle is used to deploy and upgrade the artifacts that power online properties. This is depicted as a pathway that continuously repeats itself through the stages of planning, creating, verifying, packaging, releasing, configuring, and monitoring, and finally returning to planning because we can iterate quickly and consistently with new features and bugs fixes thanks to this method.