After all, content is the fuel behind engaging digital experiences. It can determine whether your company meets consumer demands, or if they'll opt for a competitor.
Having dependable and scalable software is essential to remaining competitive at the enterprise level. In light of that, now may be the time to swap out an existing CMS to supply your content needs.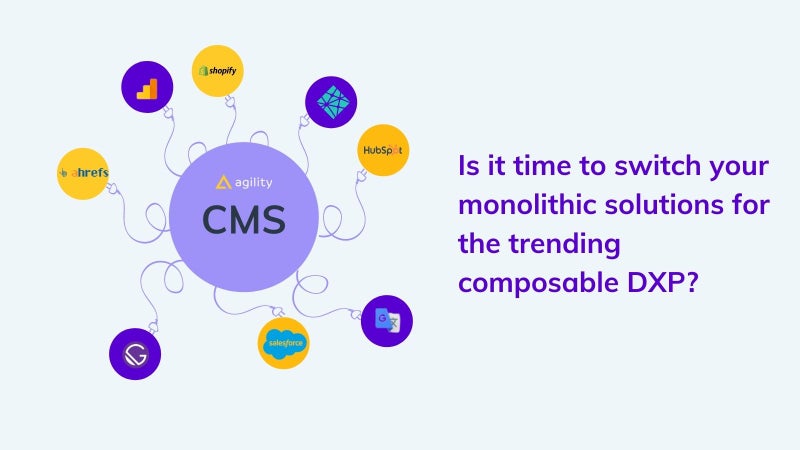 Many companies may have relied on a legacy software suite (such as Sitecore) or a traditional CMS like WordPress and wonder if now is the time to simply go with the latest updates or ditch those monolithic solutions for the trending composable DXP.
Do you even need everything a DXP has to offer? Or is a CMS enough to handle your content needs?
Gartner has suggested that "To future-proof the stack, a composable DXP must be used to deliver composable user experiences."
In this post, we'll shed some light on the monolithic CMS vs. composable DXP debate and show you why opting for composable DXP can provide the most benefits today and in the future.
What Is a Monolithic CMS?
A monolithic CMS is a traditional CMS in which the front-end and back-end layers are coupled.
This type of content management system is made for powering one digital channel like a website or mobile application. It empowers marketers with user-friendly features that make publishing content a simple process.
Small and medium-sized businesses typically use traditional CMS platforms. Still, some enterprises may have them as part of their existing tech stack and never bothered to swap them out for a modern platform.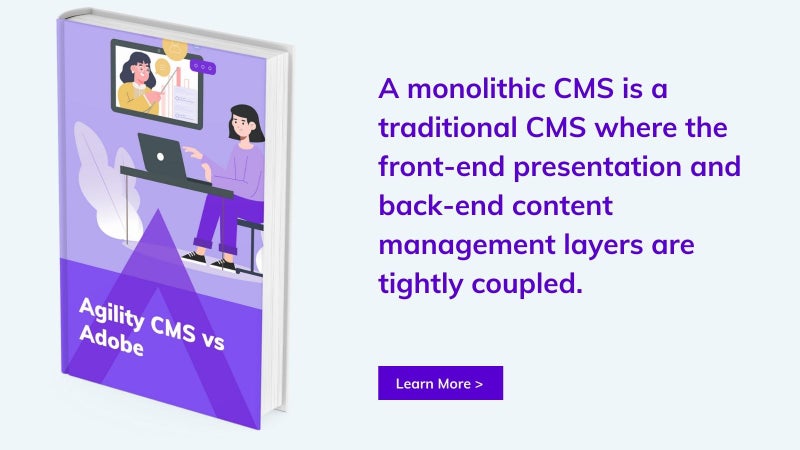 What Is a Composable DXP?
A composable DXP is a digital experience platform that provides total control over software stacks. It enables businesses to select and integrate best-of-breed technologies as they see fit.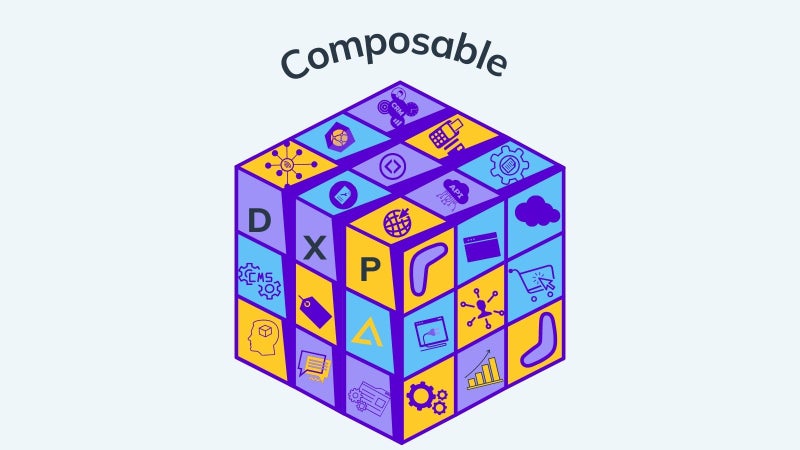 If you're considering a new tool to manage your content, opting for a composable DXP over a monolithic CMS can be a gamechanger. The purpose of a DXP is to help your business create and orchestrate digital experiences. A headless CMS, which provides the sits at the heart of your composable DXP, can help build digital experiences across a host of touchpoints.
Read More: DXP, Composable DXP, and MACH Explained
Limitations of a Monolithic CMS
The number of digital channels and touchpoints for customer interaction continues to grow beyond sites
.
Customer interactions have expanded to mobile applications, smart speakers, smartwatches, digital kiosks, VR headsets, and more
.
Omnichannel growth isn't expected to slow down either, so the digital experiences your brand creates can't miss the mark. Unfortunately, while you might think a monolithic CMS is a suitable option, you need to consider some of the many limitations that come with it.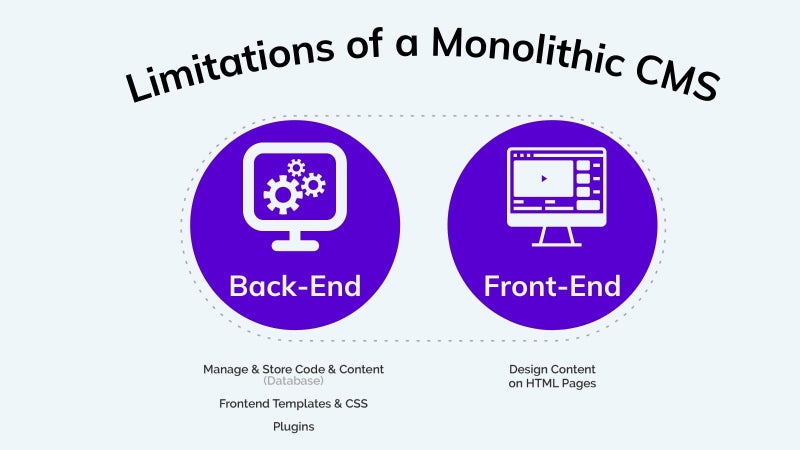 1. Starting With a Handicap
The primary problem with a monolithic CMS is that by opting for in today's current digital environment, you are starting with a handicap. The number of channels for publishing content will continue to grow, as will the various software tools that make up your tech stack. With a monolithic CMS, it will be difficult to quickly adapt to any changes in the market like you could with a headless CMS.
2. Developer Restrictions
Monolithic CMS platforms make it easy for content editors to create and publish content to a website, but they can be a pain for modern developers. New front-end frameworks and tools continue to emerge every year, and the best developers want the flexibility to choose the best one for a particular task. Unfortunately, monolithic CMSs have rigid templates that can restrict developers from adopting another approach that enhances the customer experience.
3. Limited Scalability
Enterprise businesses are always trying to grow bigger. Unfortunately, as you add more websites, software applications, and editors, you may get overloaded and struggle to keep up with demand with a monolithic CMS.
4. Need to Re-Platform
What happens when a new customer channel gets launched in the next two years that is unlike anything which came before it? What if a better analytics tool is available to tell you how well your customers are converting across every campaign? Or a more streamlined social media or marketing automation tool?
If you have a monolithic CMS, you'll need to re-platform before you can accommodate these new channels and software tools.

Benefits of a Composable DXP
A headless CMS sits at the center of a composable DXP, and that provides your business with headless architecture that decouples the front-end layer from the backend layer. Instead of the tight coupling with a monolithic CMS like Adobe or Sitecore, a composable DXP can use APIs to make the connections more easily. When you opt for a composable DXP, you can reap the benefits of the composable approach to content management and building a software stack. These benefits include: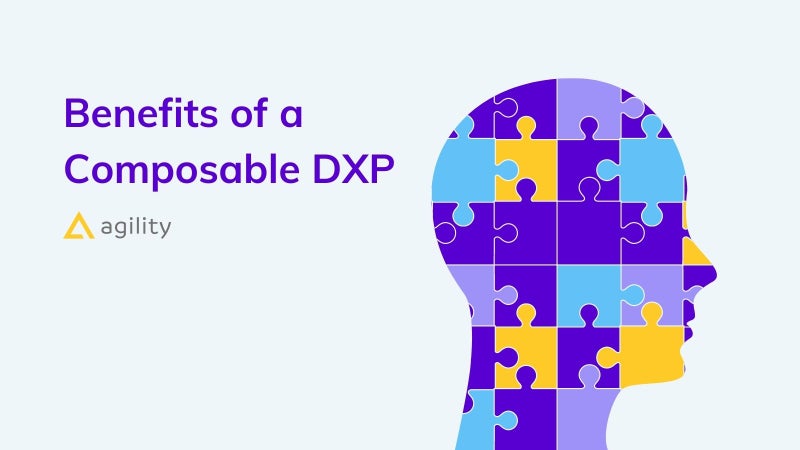 1. Omnichannel Digital Experiences
A composable DXP enables you to connect to multiple channels using APIs, meaning that you can create omnichannel digital experiences throughout the customer journey.
2. Future-Proof Architecture
With a composable DXP, businesses don't need to be afraid of change. By leveraging APIs, they can quickly connect to new digital touchpoints and channels, whether they are available today or yet to be created.
3. Faster Time to Market
Responding to changes quickly is another one of the benefits of a composable DXP. This allows you to be faster to market, roll out new campaigns, or adopt modern technologies whenever you recognize the market opportunity.
4. Build as Needed
A composable DXP allows you to select the best tool for the job and your business. If the new marketing automation tool you're considering doesn't quite fit with your existing CRM, then it's easy to replace it with another one that best suits your business.
Agility CMS: Your Answer to the Monolithic CMS Shortcomings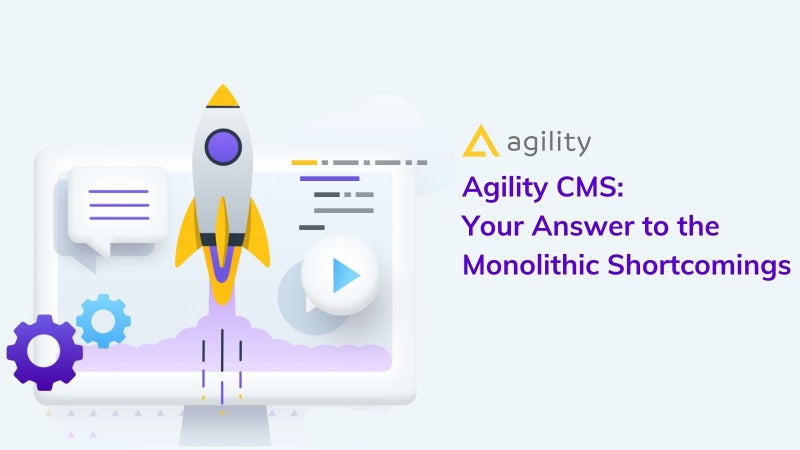 As a hybrid headless CMS, Agility CMS provides the foundation for your composable DXP. However, unlike all-in-one monolithic DXPs, we don't force more on our customers than they need.
With Agility CMS, you have the freedom and flexibility to choose the software tools that make up your tech stack. Aside from the option to select your best-of-breed tools, Agility CMS offers pre-built integrations that make composing your DXP a more straightforward process. Content editors can feel comfortable with user-friendly content authoring tools and page management features that simplify working with content pages.
Meanwhile, developers can benefit from a framework-agnostic headless CMS that gives them the freedom to choose what works best for each project. Our REST or GraphQL APIs allow you to easily extend platform functionality.
Before Cineplex came to Agility CMS, they had a platform that limited their flexibility, design freedom, and content scattered across multiple locations. After adopting Agility CMS, they could easily rebuild their previous website and now have a future-proof solution that can quickly adapt to their evolving needs.
Read more about how Cineplex benefited from Agility CMS and why having a headless CMS enables them to compose their technology stack as they see fit in our case study.