Web creators are some of the most prominent entrepreneurs in the modern economy. Many creators have built scalable businesses like blogs, e-commerce stores, and content sites. By leveraging search engines and social media platforms, web creators can drive thousands of visitors to their sites and make purchases.
Although this is great, many web creators lack the infrastructure to support their website visitors and customers. Content management systems help web creators by providing a backend infrastructure to manage content, users, and other data. This allows web creators to focus on their content and less on the technical aspects of their website.
What is a content management system?
A content management system enables web creators to manage their website content without coding or learning complex web technologies. Content management systems allow creators to control their websites' content, design, and functionality. Without this, developers would need code and even technical help to make small changes to their websites.
A CMS provides users with an easy interface to manage and make changes to any content on their site. This permissionless way of content management is why content management systems are so powerful.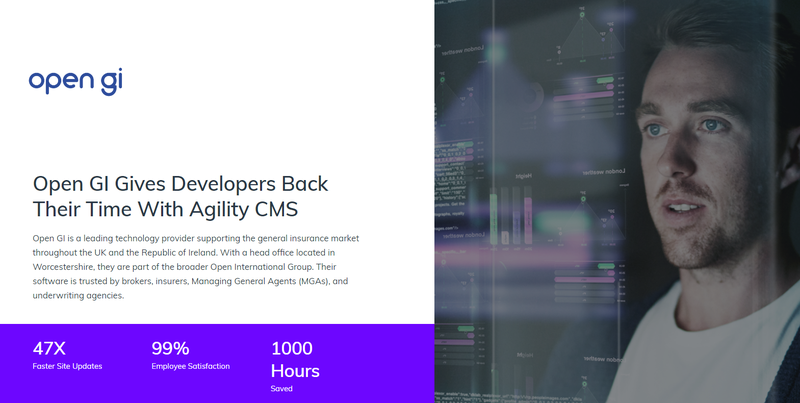 AgilityCMS' content publishing interface
Why do web creators need content management systems?
The vast majority of websites on the internet use a content management system. In fact, there are over 73 million websites that use a CMS and over 43% of them use a custom-built CMS. There are several primary reasons web creators may use a CMS. Some of the reasons include:
Functionality
The average web creator does not want to spend time learning how to do technical tasks. A content management system allows creators to spend all of their time on their area of expertise: creating, editing and publishing content. With a CMS, creators can add content without needing to know HTML or other coding languages.
Security
Sites with weak security are often the victims of cyberattacks like identity theft, ransomware and phishing. The average web creator has virtually no technical or cybersecurity background. A content management system provides a creator with several layers of cybersecurity and they can focus on publishing content for their audience. Most content management systems will have some form of basic cybersecurity and you are able to add specific plugins to improve your website's security over time.
Cost savings
Creating and managing a website can be very expensive, especially as you scale your site. It takes a lot of website development to add specific features and code your website to your design and content needs. The average web developer will cost thousands of dollars per month just to make small changes to your website. Using a CMS can reduce most of these costs and you can pay a fraction of that to use all of the features of a CMS.
The benefits of using content management systems for web creators include:
There are numerous reasons why web creators opt to use a CMS over traditional content management methods. Some of the best reasons why creators use content management systems include:
Non-technical nature
The primary reason why web creators love to use content management systems is their non-technical nature. With a CMS, you don't need a custom app or any technical knowledge; all of the apps and features come preloaded. Since the CMS is handling all of the technical aspects, web creators can focus on creating content that is valuable to their audience. This allows web creators to create more content while having confidence in their website's stability.
Efficient content creation
Content management systems are designed to make content creation more efficient. With a CMS, web creators can draft, write, publish and edit posts on the same platform. This makes it extremely easy to publish content since everything is in one place. In addition, many content management systems come with pre-built templates and design features that make it easy to create beautiful content. You can get an accurate view of how your audience will view your content before you even publish it.
Content management
Content management is just as easy as content creation when using a CMS. A CMS dashboard will allow you to see your archive of blog posts and make any changes with just a few clicks. In Agility CMS, you can view and edit blog posts, blog categories and make site edits easily. This allows you to test content and design changes easily without needing any technical help. Even if you delete content by mistake, you're able to retrieve it within 30 days.
Access to content tools
Another key benefit of using a CMS is access to content tools that make it easier for web creators to make better content. Some of the tools that AgilityCMS provides include:
Content scheduling: With content scheduling, you can create content in advance and have it automatically published at a later date. This is great for content creators who want to plan ahead or if you're going on vacation and want to keep your content schedule up-to-date.
Content templates: With content templates, you can create content more efficiently by using pre-built templates. This is great for content creators who want to save time and create content that is consistent with their brand.
Content versioning: AgilityCMS allows you to review and revert versions of content at any time. When you're producing content at scale, it's very easy to make mistakes. Content versioning allows you to go back and fix any errors without having to start from scratch.
Content approval workflow: Web creators often use systems to publish content. You can create your own content approval workflow directly in AgilityCMS and add as many content approvers as you need. This is great for content creators who want to have more control over their content and ensure that it meets certain quality metrics.
Content collaboration
Web creators often need to work with a variety of people for content creation, content editing and content approval. Without a CMS, this is a very repetitive and manual process via emails, calls, Slack, etc. With content collaboration features, you can add people to your content team and give them different permissions. This enables you to work on the content together in real-time without having to send content back and forth repeatedly. Additionally, the ability to control permissions allows creators to give access to people only for the content that they need to work on.
The Future of Content Management Systems and Creators
Many creators are using a CMS today, but the advancements in CMS technology will allow even more creators to efficiently manage their content. The most exciting advancement in CMS technology is the rise of the headless CMS.
A headless CMS enables web creators to manage and store content without a front-end interface.
Some of the best benefits of using this include:
Better content architecture
The content architecture limitations that are usually present in a traditional CMS do not exist with a headless CMS. This makes it easy for your content managers to tailor your content architecture to suit your content strategy. You can add a variety of content channels easily without compromising your performance. This ultimately helps you improve your website's usability and improve your customer journey.
Supporting interactive content
Web creators are using more interactive content to increase engagement and conversions. With a headless CMS, you can easily create and manage this content without having to worry about the technical limitations that are often present in a traditional CMS. You can build beautiful and responsive content across your site without needing any technical support.
Stack integration
The average web creator uses a variety of tools to run their business. A headless CMS enables you to easily integrate your content management system with the other tools in your content stack. This allows you to easily incorporate your SEO tools, email marketing tools, CRM, analytics and more into your CMS.
These are just a few examples of how content management systems help web creators. If you're a web creator, consider using a content management system to help you efficiently manage your content. Not only will it save you time, but it will also allow you to focus on creating high-quality content that aligns with your brand. To learn more on how you can use a headless CMS for your content, demo Agility CMS here.