A content management system (CMS) isn't only about having a one-size-fits-all. It should include easy to use, built-in tools designed specifically for developers, editors and other digital experience professionals to deliver content and deploy to various digital channels in a way that is scalable, flexible and easy to manage. By the time you're finished reading this guide, you will be able to understand what a headless CMS is, its benefits, the different types of architectures, and plenty more.
With a plethora of definitions out there, let's first start by defining the term headless CMS. Contrary to a traditional CMS, a headless CMS is entirely decoupled from the presentation layer/frontend, which in this case is the "head", and the backend is your content repository or known as the "body". When you separate your content repository "body" from its presentation layer "head," it becomes a headless CMS. What truly makes a headless CMS better than a traditional CMS is its content-first approach with full APIs to access and display content in any way desired. With this approach, a headless CMS enables you to author your content through the RESTful API and deliver that content wherever you need it.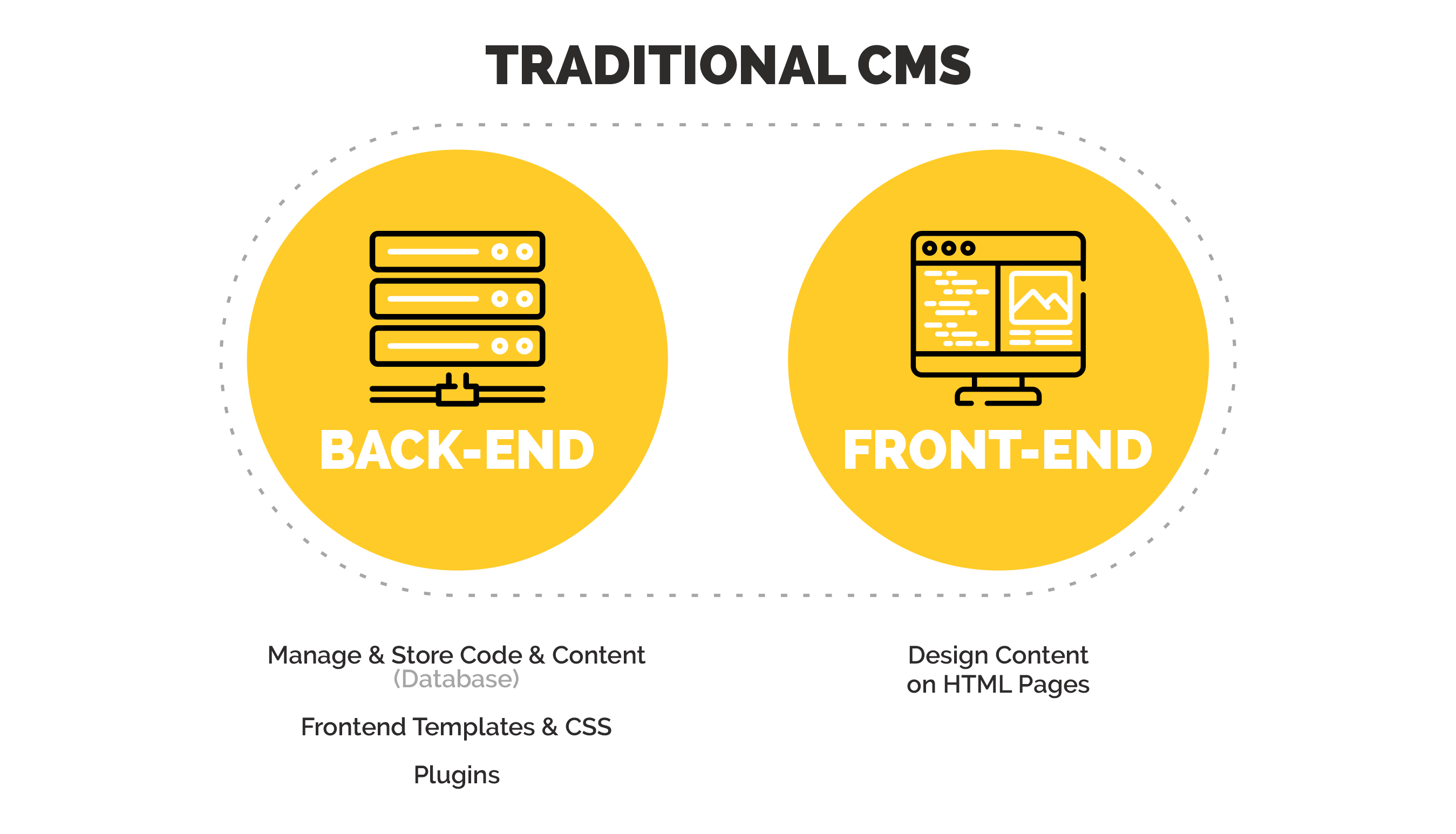 The Benefits of a Headless CMS Architecture
There are several benefits to using a headless CMS architecture. If you're looking for a solution that caters specifically to the needs and wants of your developers, provides you with maximum control and flexibility, enhances your platform security, and ultimately future-proofs your CMS, then a headless CMS architecture should be on your radar. Below, I highlight and explain the top four benefits.
1. Faster Development, Faster Time-to-Market
A headless CMS is a dream come true for developers. Developers can continue to build websites or mobile applications using any programming language with their favourite tools, frameworks, and own development processes while still allowing full control over the application lifecycle without having to interfere with any CMS code.
Not just that, but developers and editors can also work better together. Editors no longer have to rely heavily on developers to build pages with a custom layout. This promotes an agile way of working which for projects can mean being finished a lot faster! The result is that not only will the time-to-market be diminished but also a single content item can be reused and combined with a number of different presentations. Developers and editors will be able to work much better together as well rather than in a silo.
2. Easy Integration
A headless CMS allows easy and secure integrations with any of your existing systems. A developer can code in any preferred language while allowing to use the programming language of the other platform that is being integrated into the CMS. Not having a fixed structure to develop or code in allows your developers to build any code for any type of integration. Allowing this type of flexibility makes it easier not just from a resourcing side but to integrate with systems that are more complex to integrate with. Webhooks is another common way to have action triggered events. A webhook is user-defined by an HTTP callback (or small code snippets linked to a web application) which are triggered by specific events. For example, Stripe has a webhook that will automatically send an email to a customer whenever a subscription payment fails to go through.
3. Better Content Architecture & Ease of Use
The ability to architect and manage your content without worrying about its delivery is a huge bonus with a headless CMS. Its ease of use allows developers to build out your content and interface for your front-end users without the complexities that come with it. Content editors can relate their content types in different ways, but the interface usability also allows them to manage their content however they'd like.
Also, because most headless systems are multi-tenant (which I'll explain in more detail below), it's always kept up to date with the most current trends, allowing organizations to be up to speed on the latest and greatest front-end experiences. With a headless API, you can specify content types and fragments that you want to push to the device or touchpoint of your choice allowing omnichannel readiness through any digital touchpoint and at any given time. This means a headless CMS can provide content for display and use on any number and type of channels.
4. More Scalability
Architecting a content-first approach makes your system cleaner, more scalable and provides you with full control with how and where your content appears. You can host content anywhere, and this includes the use of static site generators (like using Gatsby JS for example) and other multi-server environments. Future-proofing is another significant benefit because you can easily integrate with new technology and innovations, especially when the industry is changing as often as it is.
Since the back-end and front-end are separated, if the back-end CMS platform has any performance issues or, simply, needs maintenance, it won't create any downtime to your website. In addition to this, cloud scalability, higher security, performance, and low operating costs is another big advantage.
Why You Should Choose a Multi-Tenant Architecture
There are three types of headless CMS architectures. Below I outline the advantages of these types of architectures and why cloud multi-tenant is the best choice when choosing a headless CMS.
Install Based: An install-based architecture is exactly how it sounds; you install the platform locally and host it on your own environment. This means you need to manage everything end to end and often still pay for a maintenance package to your provider to cover the platform updates.
Cloud Install: A cloud install architecture is very similar to install based except your provider installs the platform in their cloud. You normally pay your provider for hosting, management, and upgrades which can be extra or included, depending on your provider's terms and conditions. Bear in mind that this can get extremely complicated because there can be different versions of your platform out there especially if you are constantly making updates and fixes. With this approach, you can quickly get behind in platform versioning if you are updating multiple sites.
Cloud Multi-Tenant: This means your CMS itself is fully managed and upgraded automatically for you. I highly recommend this architecture because of its easy upgrades and security benefits. Here are some other top reasons why I recommend a true headless multi-tenant system:
The "head" can be built anywhere, and you have unlimited options.
You don't have to deploy the CMS or manage it at all!
Better support: A vendor only has to support one version and therefore you can concentrate all your efforts, documentation and time to just one solution.
Often times bugs are fixed even before you get the chance to report it because the entire user base is reporting on the SAME version.
SaaS-based so the cost is always spread out.
You don't need to manage ANY hardware or software, you just deploy your OWN code to your environment, this means more control without the hosting "black box" software method.
The Headless CMS Industry Shift
First off, let's dive into the effects of digital transformation. A survey found that 70% of companies either have a digital transformation strategy in place or are working on one. This means that adopting technology and therefore using technology to interact with one's customer is critical. Technology is moving faster than ever and in order to keep up with our customers and partners through all the digital channels available, a headless CMS can offset this for you.
To keep up with digital transformation, you need to move fast, fail fast, and get up and try again. Organizations need to develop faster, get to market faster and then tweak and change as they move along. They need to integrate with all the systems that each business now needs. I get it, as you get busy and go through digital transformation, you add additional technology to your stack and therefore need a system that can easily integrate and work with all your systems. A headless CMS promises all of these touchpoints to you!
Second, it should come as no surprise that consumers today shop across multiple devices and channels. With new channels cropping up all the time, enterprises must look beyond a handful of digital touchpoints. An omnichannel approach offers the ability to create, orchestrate, and deliver delightful, fresh and iconic personalized customer experiences at a global scale across all touchpoints and all stages of the customer journey. This approach enables companies to stay in front of the rapidly changing digital landscape.
On average, brands that employ a strong omnichannel strategy retain 89% of their customers compared to 33% of those with weak omnichannel engagement. You need to be able to scale your platform to support all these channels, but you also need a team that can handle all this work. Having an easier to use interface that is content first, allows you to focus on your content, publish and push your content to all your digital channels. This is why a headless CMS is so critical. It can provide content for display and even better, distribute that content to any type of channel. This saves resources, reduces the amount of duplicate content and also helps when you need to change things fast and deploy even faster.
This omnichannel approach offers the means to engage prospects, customers, and partners wherever they stand. By empowering businesses to seamlessly create, manage and share content cross-channel, this approach can better support today's complex customer journeys.
Content as a Service (CaaS) & Decoupled Platforms
A headless CMS doesn't generate any front-end code, which is why a headless CMS is sometimes referred to as "Content-as-a-Service" (CaaS). Just to give you a brief overview of what this means, this process results in the best available digital experience for the end-users of a particular device since front-end developers are able to continue developing new functionality for any channel independent of the core/backend CMS. A decoupled CMS provides the capabilities of a headless CMS configuration (i.e., a separate backend with APIs enabling any channel to pull content from it as well as frontend capabilities (e.g., coding and templates for presentation) where content can be pushed into a channel with limited presentation intelligence.
The Future of a Headless CMS is Here to Stay
Wow, you've come this far, and you now understand why everyone is adopting a headless CMS approach and why it is SO important!
Consumers are making use of more devices and channels than ever before, and brands have to meet them there to provide quality omnichannel customer experiences. Going headless, whether that's through a pure headless CMS or a decoupled CMS, is the simplest way to achieve that.
We need all the benefits stated above, and we need to move faster, get more done and have a cleaner and more scalable solution. The need is growing, and the only way to meet those needs is with a headless CMS system.
So, what are you waiting for? If you're ready to give headless CMS a try, create your FREE account with Agility CMS and test out all the fantastic benefits that a headless CMS has to offer. Have questions? Let's chat! We're always here to help.