In the ever-evolving digital landscape, businesses are turning to headless Content Management Systems (CMSs) with marketplaces to revolutionize their content management strategies. Unfortunately, some Headless CMS platforms often require technical expertise, limiting accessibility and slowing down the process. However, headless CMSs with no-code marketplaces, such as Agility's Marketplace, empower businesses by providing a wide range of specialized tools and solutions. These marketplaces enhance accessibility, shorten time-to-market, reduce costs, promote scalability and adaptability, foster innovation, and improve the user experience. With the ability to integrate seamlessly, collaborate, and future-proof content management processes, headless CMSs with marketplaces offer businesses a competitive edge in the digital landscape.
Why a Headless CMS Needs a No/Low-Code Marketplace: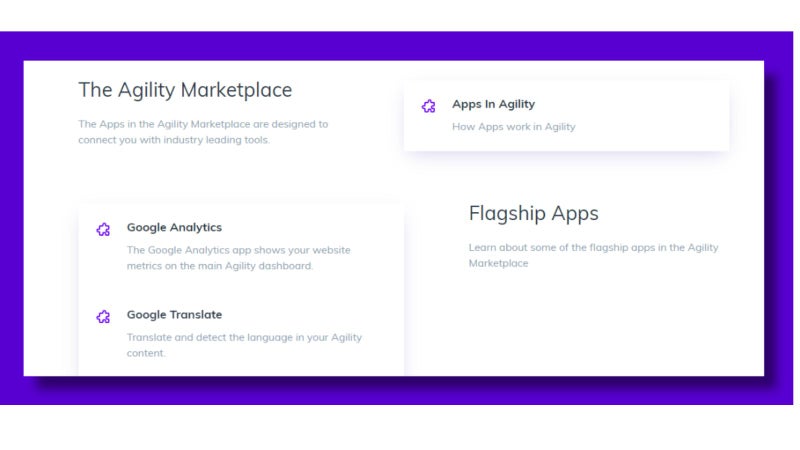 Accessibility and Empowering Non-Technical Users:
The requirement for technical expertise is a significant barrier that firms confront when using a headless CMS. The barrier to entry is greatly reduced in a low/no-code marketplace. Marketing, sales, and content creation teams, for example, may now manage and personalize their content without relying entirely on developers. Agility's Marketplace empowers businesses by promoting cooperation and enhancing productivity across departments. Businesses may adjust to market needs and capture opportunities more rapidly by reducing their reliance on technical resources.
Speeding up Time-to-Market:
In today's competitive marketplace, the capacity to iterate quickly and bring new initiatives to market swiftly is a big advantage. Businesses can shorten their development cycles by using a low/no-code marketplace. Non-technical users can independently create and alter content-driven apps, removing the need to wait for developers to implement changes. Agility's Marketplace helps organizations respond quickly to market demands, keep ahead of competitors, and capitalize on emerging possibilities.
Cost and Resource Efficiency:
Creating and maintaining a traditional CMS frequently necessitates a substantial investment in qualified developers and technical resources. Businesses, on the other hand, can cut these costs by using a low/no-code marketplace. Agility's Marketplace enables non-technical teams to make content management changes on their own, saving money on developer work. These cost savings enable organizations to wisely concentrate their development resources, focusing on complex and strategic initiatives that genuinely require their expertise.
Scalability and Adaptability:
Businesses' content management requirements alter as they develop and adapt. A low/no-code marketplace allows firms to smoothly scale their operations without costly development efforts. Agility's Marketplace offers a diverse selection of tools, plugins, and capabilities that enterprises may incorporate into their headless CMS. Agility's Marketplace ensures firms can easily adapt to changing requirements and grow their capabilities, with 10 apps presently accessible and another 40 anticipated by the end of 2023.
Innovation and Future-Proofing:
Business success is propelled by innovation. By providing businesses with a varied selection of tools and solutions, a low/no-code marketplace encourages experimentation and creativity. Agility's Marketplace promotes an innovative culture by allowing firms to explore new opportunities and experiment with cutting-edge technologies. Businesses can future-proof their content management processes by embracing Agility's Marketplace, staying ahead of the curve and exploiting emerging trends to achieve a competitive advantage.
Enhanced User Experience and Personalization:
Businesses can improve the user experience and deliver personalized information to their audiences by using a low/no-code marketplace. Agility's Marketplace features apps that are specifically built to improve user experiences, allowing organizations to create bespoke content and personalized trips. Businesses that use these tools can connect with their customers on a deeper level, increasing engagement and loyalty.
Integration and Interoperability:
A strong marketplace guarantees that systems and platforms integrate and communicate with one another seamlessly. Agility's Marketplace offers apps that are simple to connect into existing workflows, allowing businesses to leverage their existing technology stack. This integration feature breaks down data silos and improves cooperation among multiple teams and systems, resulting in a more streamlined and effective content management process.
Community and Collaboration:
A thriving marketplace encourages user community and collaboration. Agility's Marketplace connects developers, businesses, and users to share ideas and collaborate on new app development. This thriving environment fosters innovation, with users providing feedback, and suggestions, and even developing their own apps to improve the marketplace's offers.
Headless Marketplaces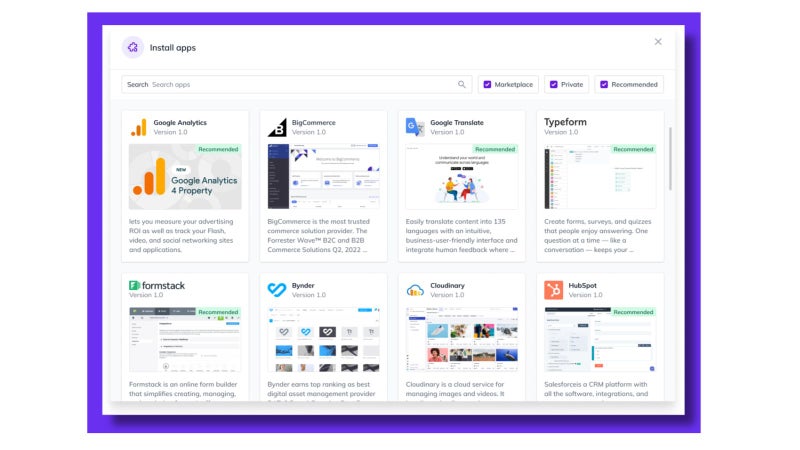 The introduction of a low/no-code marketplace for headless CMS platforms, such as Agility's Marketplace, has heralded a new era of content management opportunities. This game-changing technology enables organizations of all sizes and sectors to fully realize the potential of their headless CMS without the need for technical skills. The advantages are vast and extensive.
Businesses may level the playing field by embracing a low/no-code marketplace, allowing non-technical users to control and personalize content with ease. This openness and empowerment promote collaboration, shorten time-to-market, and encourage innovation. With 10 apps presently accessible and 40 more anticipated by the end of 2023, the marketplace's growing selection of apps offers a varied choice of solutions that cater to unique needs, guaranteeing businesses can find the perfect fit.
A low/no-code marketplace also streamlines operations, lowers costs, and optimizes resource allocation. It reduces the need for considerable development resources and frees up technical teams to focus on more difficult projects, increasing efficiency and cost-effectiveness. The marketplace's scalability and versatility ensure that firms may easily change and expand, meeting the dynamic demands of the digital landscape.
The advantages extend beyond internal processes to the end user experience. Businesses can develop engaging, personalized content that resonates with their audience using increased user experience tools and personalization capabilities, encouraging loyalty and driving business success. Integration with existing systems and comprehensive security measures allow smooth collaboration and data protection, increasing stakeholder trust and confidence.
As businesses strive to stay ahead in a rapidly evolving digital world, embracing a low/no-code marketplace for their headless CMS is not just an option, but a strategic imperative. Agility's Marketplace stands at the forefront, offering a vibrant ecosystem of apps, comprehensive support, and a commitment to ongoing innovation.
The time is now to embrace the power of a low/no-code marketplace. Discover Agility's Marketplace and unlock a world of possibilities for efficient, innovative, and future-proof content management. Propel your business to new heights, connect with industry-leading tools, and redefine success in the digital landscape.