Webinars and virtual events are more in demand, due to the pandemic than the physical ones. They're more feasible and cheaper to hold. And because of their digital nature, they give you more freedom to gather data about your audience and your event's performance.
However, a well-defined content strategy is extremely important for your webinar. Contrary to the physical events where people can easily entertain themselves or grasp your content agenda once they're on the site (mostly by socializing with others), in a webinar, people are more at loss regarding your content agenda. Because of this, you need to take a more proactive approach to your webinar's content strategy.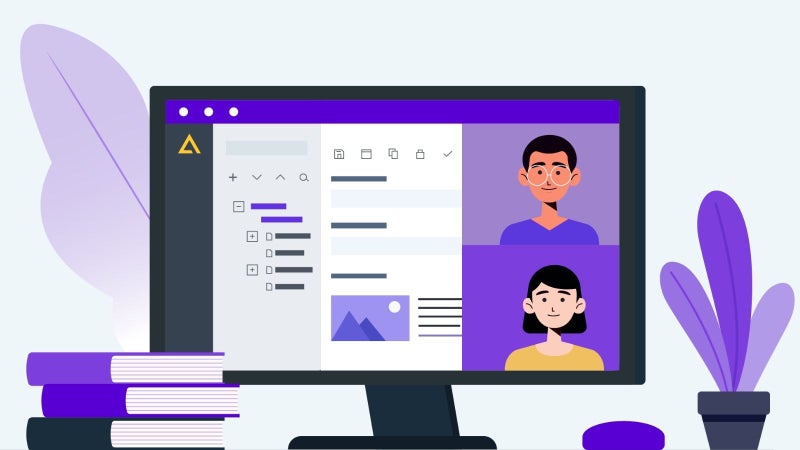 What are webinars and why hold them?
A webinar is any type of event that takes place in the digital environment, usually over live streaming or video communications apps.
With COVID-19 changing the rules of communication and the ways of doing business across industries, webinars began to find their own unique place in our lives.
Companies realized holding virtual events instead of living gatherings has its advantages—like removing the barriers of in-person events.
Since webinars are immune to logistics limitations inherent in physical organizations, they lure in participants from diverse geographic and cultural backgrounds. They simply make your marketing efforts more accessible to your audience, as well as the participants.
While in-person events can take only so many people, you can scale a webinar as much as you want- no need to rearrange the space or even reconsider your marketing budget.
Naturally, they're also much more cost-effective. You don't need to rent a physical space, arrange audio and visual equipment, book a catering service, or pay for participants' travel expenses.
And by the nature of being digital, webinars give you a chance to collect tons of data:
Which topics captured attendees' attention the most?
Which sessions were more interactive? What can be the reason behind this?
What did attendees want to know about the topic? What kind of information were they seeking?
Any kind of information you can derive from opening a poll during the event.
So, virtual events are here to stay. Sooner or later, every business will find out ways to incorporate them into their marketing strategy. But how to make the most out of a virtual event? Although they're more convenient than in-person meetings, they're not entirely effortless, right? You'll devote some of your resources and time to this, so you want to maximize the outcome.
Here's how to do that.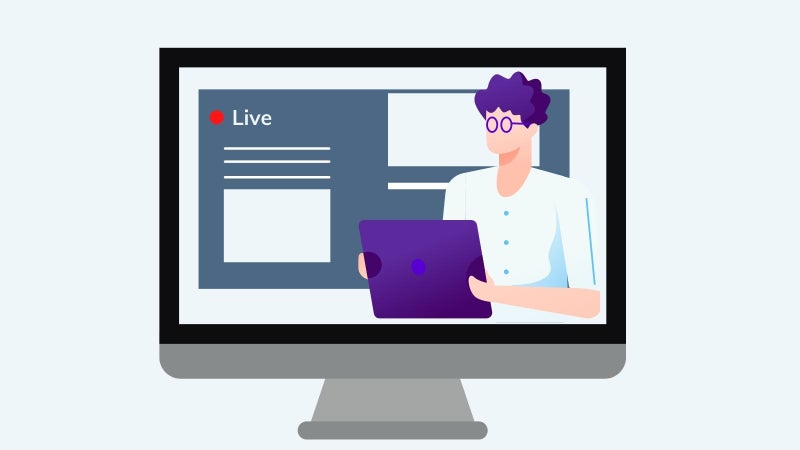 Content strategies for successful webinars
1 | Define the event's purpose clearly
Before anything else, you need to set things straight: what's the purpose of holding this event?
If you want people to attend your webinar—or any of your events—you'll have to offer an enticing value proposition. Will you be able to make it worth their time? What will the participants get out of attending it?
To explain the value you'll add, answer the questions below.
1-1 What's the event about? What topics will be covered?
Make sure every topic to be covered is listed on your event pages. Clearly state the key takeaways from each session. To prevent misunderstandings, request this information from the speakers, the actual experts. Don't forget to mention how learning what they'll learn will help participants grow their businesses.
1-2 What's the difference you'll bring into the event as the host?
There are tons of events out there covering similar topics. Offering a unique value proposition will encourage people to choose yours. Say your event is free, but those who buy tickets get extra benefits. You can offer them perks, discounts, 1-1 sessions, access to your exclusive resources, or any other resource that you think will entice your premium attendees.
1-3 Who are the speakers? What are their qualifications and expertise?
Well, time is the most important asset for many professionals. They have only limited time, so they'd want to know who they will spend their time with. It's crucial that you give the details of the speakers' expertise and how it'll contribute to the participants.
1-4 Will participants be able to ask their questions?
It's only natural that attendees will want to ask questions. Make sure to spare some time for Q&A. A 5-min Q&A after each session is mutually beneficial for you and your participants. They get to ask what's on their mind, and you get to observe what they're interested in. And of course, let people know they'll get to ask questions during the event.
Giving these details will leave no room for confusion and hesitation.
2 | Start promoting your event in advance
Start promoting your virtual event at least two weeks before the actual event day. For starters, create a landing page that contains all the details about your event. You can also list the conditions of speaking at the event on this page and accept applications. And of course the sponsorship conditions.
Agility CMS also has a dedicated page for its upcoming and past webinars.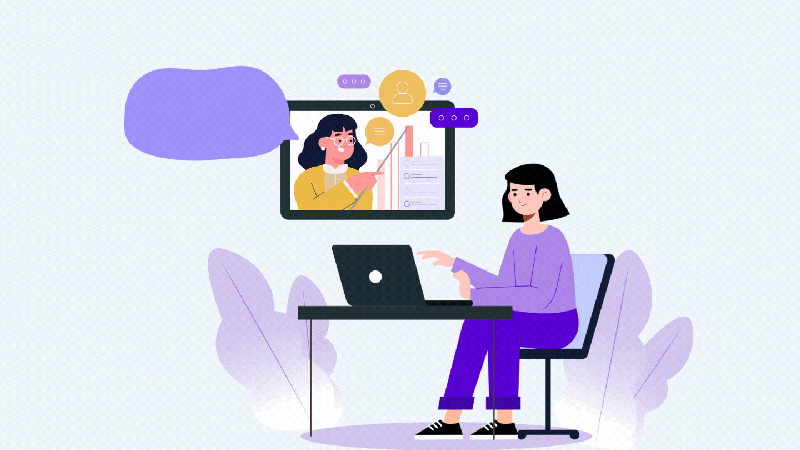 Note how they encourage visitors to sign up for their upcoming events as well as their previous sessions on-demand.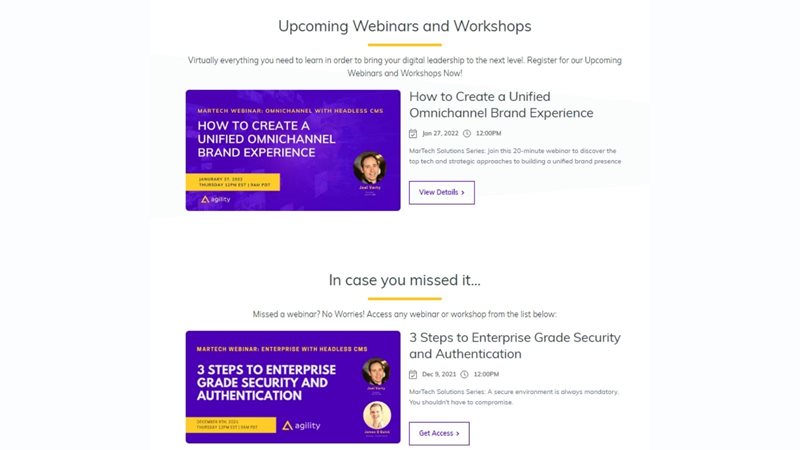 Use a simple form to collect participant information. This will let you know what kind of audience your event lures in and makes it possible for you to send notifications for future events through your email or sms marketing platform.
To reach a broader audience, create an event page on LinkedIn and invite your followers. Ask your teammates to invite their connections too – a personal message always works better than standard promotion.
Use all your social channels to promote the event, and if you have the budget for the cost of ppc management, hire an expert to handle that for you . Once your event pages are live, set up ad campaigns to promote them. LinkedIn especially grants you the chance to get your event in front of a well-targeted audience and generate quality leads.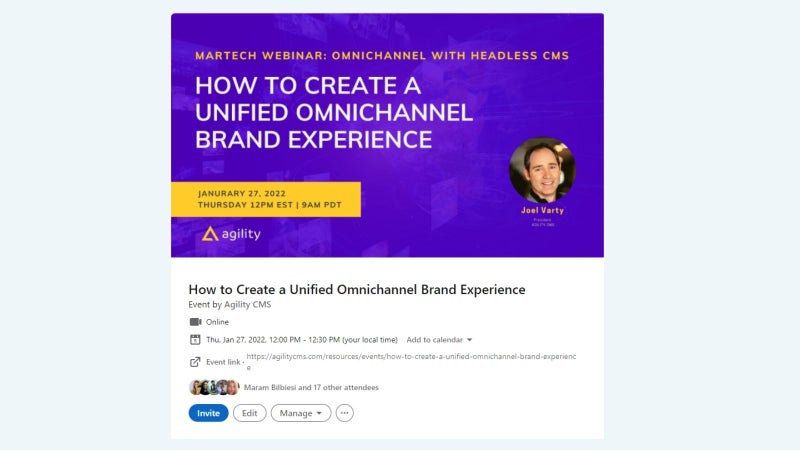 Publishing a blog that explains your virtual event's value offer is also important. It allows you to push your qualified prospects to the next stage in their buying journey. It significantly increases the chance to convert customers through the sales funnel.
You should also announce your virtual event via your newsletter, and schedule a reminder email shortly before the event. Ask your speakers—and their companies—to share the event on their socials and newsletters. Their audience is likely your qualified prospects.
3 | Find ways to boost engagement
Engagement metrics could drop easily in a virtual event. Whereas in a physical event participants could more freely socialize, entertain themselves, and fill their knowledge gaps, in a virtual event they're extremely dependent on your content agenda and could easily get distracted or bored by it.
You want your event to stand out from the crowd and get engagement. One way to do it is to talk about provoking or controversial topics and to offer a unique point of view. The logic is that playing to people's emotions is the most effective way to make them take action. Here are some other ways:
3-1 Use captivating copy
Your copy is the major way people find any information about your virtual event. You need to spend time to make it captivating enough. Say for example you're an IoT solutions provider that helps logistics companies optimize processes. And you're hosting a webinar on getting rid of efficiency loss in logistics operations.
There is more than one way to communicate the value of attending this event:
How to optimize your logistics operations
Improve your operational efficiency in logistics
Breaking news: No need to bleed money, abandon inefficient logistics processes
All of the headlines above can be used to promote the same event. But the last one can bring up discussions, which can create hype around your virtual event. And it's simply more catchy.
3-2 Make use of Q&As, polls, quizzes, live chat
Now that you have your event pages live, open up discussions yourself via questions, polls, quizzes, or live chat. Embed those quizzes or polls on your website and share them on your social accounts.
As Matej Kukucka from StreamBee.io, an analytics SaaS solution for live streamers, explains, live interactions make live streaming much more interesting to people than recorded videos.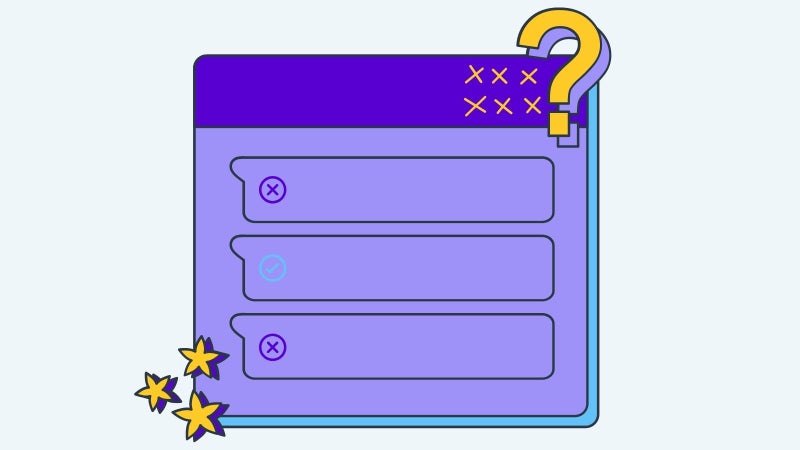 "Live streaming is more interesting due to having direct interaction with your favorite creators. The ability to ask a question at any given time and share your thoughts with other people on the stream makes the experience even better. To get the most out of the live stream, creators should interact with followers, answer their questions, and basically become their friends. In general, creators should turn viewers into part of the stream."
Say for instance you went for the poll. Ask one or more of your speakers to share and evaluate the results of the poll during their live sessions. It'll show your audience that you care about their thoughts and want to exchange knowledge. This particular type of communication is the secret to successful life-long business partnerships.
Ask your speakers to encourage people to participate in the conversation by asking questions and submitting their ideas. You can do this by using live chat during your sessions. Doing this will create an even greater sense of ownership. Trust me, they'll be more motivated to attend the next event. Not just because they'll learn about the topics they suggested, but also because they're now invested in it—intellectually and emotionally of course.
Another way to keep in touch with the attendees is by asking them to take part in a survey about the event. You can ask for feedback on the choice of topics, the length of sessions, the realm of expertise of the speakers, the health of the stream, etc. Collecting and using customer feedback can increase customer loyalty over time.
3-3 Use high-quality equipment
Good equipment quality is an absolute necessity for a successful virtual event. In the age of video, no one wants to waste their time watching poor-quality streams where speakers lose connection. There are countless educational resources out there and you don't want to give your audience a reason to go look for them elsewhere.
Acquire studio equipment and make sure your internet connection is stable. Since this is a virtual event, you might not be able to send over your equipment to your speakers' locations. But you can definitely ask them to use good-quality devices. And of course, to leave nothing to chance, run a test stream before the event and solve technical issues that might occur.
3-4 Promote the event on social channels
Use your network for the sake of your event's success. Invite them to attend your event, and/or share the event page on their socials. Direct LinkedIn invitations with a personal touch will work much better than generic newsletters and public posts.
Ask your co-marketing partners—who help you hold the event—to share the event with their social followers. It's cherry on top if they use some hashtags and invite their own connections. If they're in a Slack channel of industry professionals—a type of networking we see a lot these days—kindly ask if they can share it on Slack too.
For one last thing, ask your attendees to recommend the event to their friends and share the recording on their social media. Seeing that you share insightful, high-quality content, more people will come and look for it on your social accounts. You can also make use of paid ads to get more traction to the event page.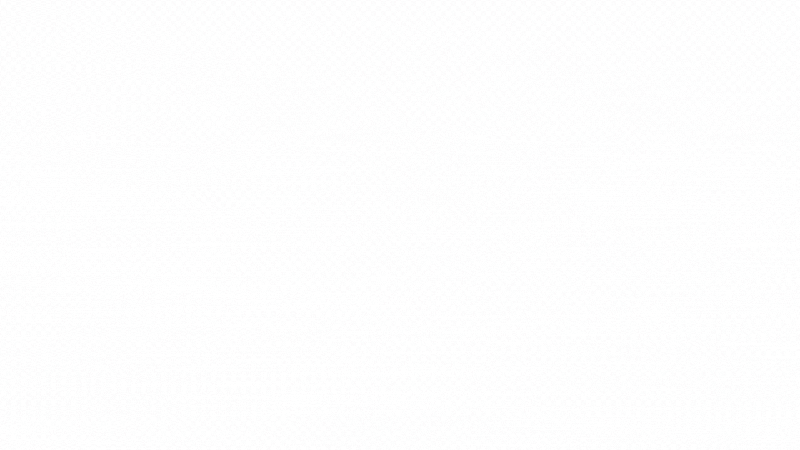 4 | Provide on-demand recorded versions
Well, at this point, you know how to come up with truly interesting topics for your webinar, or how to promote your virtual conference. You have all the resources to host a virtual event that's beneficial to your audience.
Remember, you've created an asset. And since you've spent so much time and made a true effort, you want the impact of your virtual event to last. But how do you do that?
First off, record the event. Almost all live streaming apps allow that, and some even record it by default.
Upload the virtual event video to your website, under resources. If you're planning a series of events, you can show it on the event page, or even promote all the related videos combined as a training program.
You can even add relevant blogs to the page to give in-depth knowledge about the topic at hand. In time, you can spice it up with different content formats like infographics, data visualizations, quoting people, etc., to be the go-to source for learning about that particular topic.
You might think, why do I do these all for free? Devoting this much effort into just a virtual event? That's not the case at all. If you can offer research-based insightful content, you'll bring in just the audience you want in the long run. And of course, you can always offer your educational content—like reports, classes, 1-1 sessions—as an upsell to monetize it.
Finally:
Virtual events seem to be the perfect kind of event. You're no longer dealing with the shortcomings of physical events. Location won't be a big cash-burner anymore, and you could basically scale your event to accommodate as many people as you want. You can also gather data about your audience and your event's performance to gain customer intelligence and grow your customer base.
But because of their digital nature, virtual events are more prone to technical difficulties and are more troublesome for people to take hold of especially when it comes to grasping your content agenda. Digital events lack the high level of sociability and engagement that physical events have.
This is why it's necessary to have a strong content strategy in place. Define your event's purpose clearly before and during the event, promote your event the right way to make sure people know when and how to participate, find ways to boost engagement during your event, and provide on-demand recordings of your event to provide the most value to your audience.