Are you considering a multisite deployment? That's great. Following a multisite strategy is an excellent way of displaying different content to different personas or brands within the same company. However, multisite deployment can be tricky. You'll need to consider the individual needs of each site so that they can all run efficiently and support your strategy.
Implementing a multisite strategy can help you not only differentiate between two brands or locations of your company but also enter new markets and increase your market share. A solid multisite deployment also opens the door for your brand to scale in different regions or even countries which can attract more local visits. This blog post will share the benefits of a multisite deployment, some best practices, and how to deploy a multisite in Agility CMS.
What is Multisite Management?
Multisites are websites hosted on multiple servers or domains that are operated by one company to serve different regions or target audiences. For instance, one example is Google which has sites in various languages and alphabets that are all accessible from its main domain.
However, maintaining –and managing– multiple sites separately will become cumbersome quickly, especially if you have many different sites with specific audiences and content needs. Multisite management is an excellent solution for this. It simplifies how you manage each site which enables you to centralize information in a single CMS for greater visibility.
Multisites also allow companies to serve niche markets without setting up separate hosting infrastructure. This simplifies management and reduces costs –all while maintaining a solid brand presence.
Benefits of Multisite Management
Less Data Silos: In companies with multiple sites, data silos are bound to appear sooner than later. Proper multisite management practices and a multisite-ready CMS can sharply reduce their occurrence because all the sitemaps and instances are housed within the same platform.
Reduced Hosting Needs: Multisite practices enable you to host different websites in the same hosting, reduce costs, and ensure a consistent brand presence across regional websites or business units.
Increased Security: Keeping your websites within the same instance or sitemap will help you centralize every document and asset centralized. It also helps you control the different versions of the site and keep them updated and performant against malicious actors.
Reduced Load Time: Rather than loading every possible asset in your website, including sites from other regions, multisite management practices enable you to build and deploy each site separately to achieve better website loading speeds and a less bloated infrastructure.
Multisite Deployment Best Practices
1 | Don't Forget Multiuser Management
Multiuser management enables admins to make immediate changes to your user types which are customer personas associated with that specific sitemap or instance. With multisite management, you control who has access to which project and even invite external stakeholders, agencies, or contractors to your instance.
2 | Set Cross and Multisite Google Analytics and Domain Tracking
Cross-domain tracking is an analytics technique that combines different user journeys across related instances and sitemaps into a single session in Google Analytics. By setting cross-domain tracking, Google Analytics enables you to track individual users on your websites and observe patterns in how your visitors navigate between pages and engage with your content.
3 | Leverage A Multisite CMS
Managing multiple sites with ease plays a significant role in your brand consistency and your capacity to deliver a centralized experience to different visitors across multiple sites. A CMS that enables you to build multisite experiences and gives you granular content governance options gives content editors and managers a neural center from which to publish efficiently.
Deploying A Multisite in Agility CMS
In Agility CMS, you have two deployment options, multiple sitemaps or multiple instances. Let's see both:
Sitemap: Allows editors to manage multiple content destinations within a single instance. A content destination can be considered a website, application, IoT, or digital signage where editors can manage the pages and module components that make up their digital solution's front-end.
Instance: Represents a dedicated area for your editors and developers to log in, create, manage, and publish digital experiences. They can also have their own set of web apps and hosting. Each sitemap enables separation of concerns, and each instance can have a vastly different structure and different permissions.
Deploying Multiple Page Management Sitemaps
Each Agility instance has the capacity for handling multiple sitemaps. You can use each sitemap for a different website. Managing content for multiple sites using a single instance makes a lot of sense if you have the same content team working on all those properties and you want to share a majority of the content or assets between those sites.
Some organizations utilize multiple page management sitemaps in Agility to separate their sub-brands or microsites. They can easily reuse content and assets from the primary site on the additional sites to allow for faster website building.
Deploying Multiple Instances In Agility CMS
Agility allows you to manage multiple instances that are completely separate from each other regarding the content, assets, and content editing teams. In a multi-instance scenario, organizations can maintain a one-to-one ratio between an instance and a website while keeping security, permissions, and workflows different from each instance.
In many cases, it makes sense to have multiple instances where there is also a primary instance that acts as the Content Hub for all content that's shared everywhere.
Read More: How To Build a Content Hub.
Choosing between Multiple Sitemaps and Instances
Here's a simple guide to choosing whether you should be using a single instance with multiple sitemaps or multiple instances to manage content for more than one website.
Single-Instance, Multi-Sitemap
You have a single content team and the content is very similar across all your sites
You have many similar websites with slightly different branding
You have many smaller microsites that pull content from a primary website
When working with multiple sitemaps, you can use each sitemap for subdomains of your website, or you can target completely separate domains.
For example, if you are using subdomains:
Sitemap 1 => mysite.com
Sitemap 2 => subdomain1.mysite.com
Sitemap 3 => subdomain2.mysite.com
If you want to setup completely separate domains:
Sitemap 1 => mysite.com
Sitemap 2 => anothersite.com
Sitemap 3 => mythirdsite.com
Multi-Instance
You have separate teams or users to manage each website
Each website has an entirely different brand, content, or assets
Each website has a different workflow for managing content
Configuring Sitemaps
The screenshot below shows that this instance has been configured with 3 sitemaps, called Website, Documentation Site, and Members Site. Each sitemap has been pointed to its own deployments.
In your website projects, you can specify which sitemap you wish to use for your project. For example, if you are using Next.js, you can specify which sitemap you want to use in the project in the .env.local file. In the code below, you can see the members' sitemap is being used.
AGILITY_SITEMAP=members
However, keep in mind that you must be on the Pro package or higher to work with multiple sitemaps.
If you want to learn more about multisite management in Agility CMS read more here: Multisite Deployments
Modern Multisite Deployment for Global Real Estate Case study: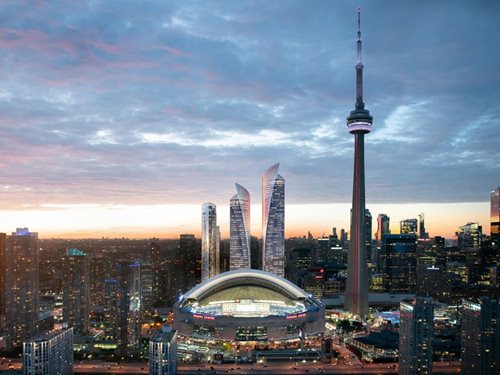 Oxford Properties invest in, develop and manage some of the world's most transformative places. They have a diverse team working across four continents in cities like London, New York, San Francisco, Singapore, Sydney and Toronto. Our competitive advantage lies in combining our global platform and expertise with local trends and experience to create exceptional value.

Problem:
Oxford Properties manages an extensive network of commercial and residential properties, hotels and investment properties. All these projects needed consistent and fast performing website to match Oxford brand. It was hard to find a CMS that is easy to use for multiple marketing teams and yet guarantees security and scalability of the multisite deployment.
Solution:
Agility CMS was chosen as an agile headless CMS to meet the business needs of this aggressively growing brand. Agility system with easy Organization and Instance management allows OXFORD PROPERTIES to manage and keep up to date the content across hundreds of properties they manage and lease.
Thanks to modern implementation of their multi-site solution, OXFORD PROPERTIES leads the industry with innovative digital solutions that represents their rich portfolio focused on premium properties in the best locations. Their diverse team works across cities including London, New York, San Francisco, Singapore, Sydney and Toronto and needs a unified, reliable and secure system to manage variety of digital content, timely launches and content upgrades.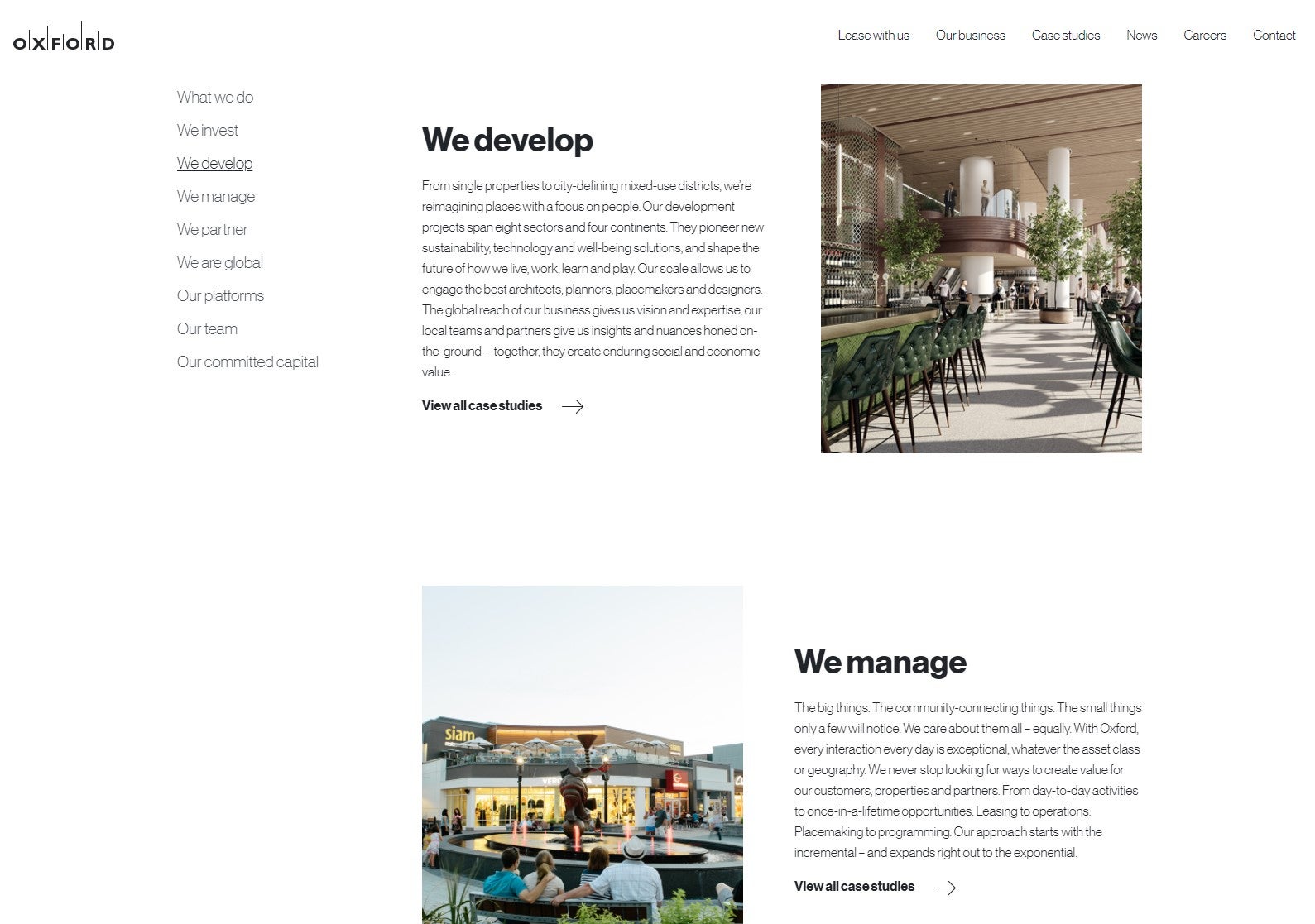 Live website: https://www.oxfordproperties.com/corp
Learn more about Multisite Deployments with Agility CMS:
Multisite Deployment Options – Agility CMS Help Center
Sitemap – Agility CMS Help Center
Reusing Content across Multiple Web Properties – Agility CMS Help Center