Bringing customers to your website and keeping them there is not easy. This is what Walmart Canada felt when they brainstormed on what they can do to improve online sales. The company took a year to develop a responsive web design, testing it rigorously through a mix of pre and post-design usability testing. The result was conversion rate optimization of 20% with a 98% increase in mobile orders.
Every organization will have different requirements for the optimization of conversions. Several factors can affect conversions like navigational features, loading speeds, checkout pages, product page designs, security, etc.
While enterprises spend a massive amount on SEO and paid marketing to attract more traffic, much more needs to be done to convert website visitors into customers. So, here we will discuss some of the best ways to convert your website traffic into customers.
#1. Navigational Simplicity
Keeping the navigation simple will help your audience access the information they are seeking easily.
You can follow a three-step approach for inspiration in designing your web pages:
Competitor Analysis: Analyze your competitor's websites and check how they have used different navigational features.
Search Intent: Analyzing the search intent can help you understand how to facilitate access to specific information on the site- place targeted keywords towards the top of the page to retain readers.
Hierarchy: Keep the hierarchy of web pages and information simple enough for the users to navigate easily. A complex web design structure can drive customers away and ultimately reduce conversions.
The simplicity of navigation is a great way to improve conversions through ease of access. However, it's not the only way; actionable content like CTAs is another approach that can help improve conversions.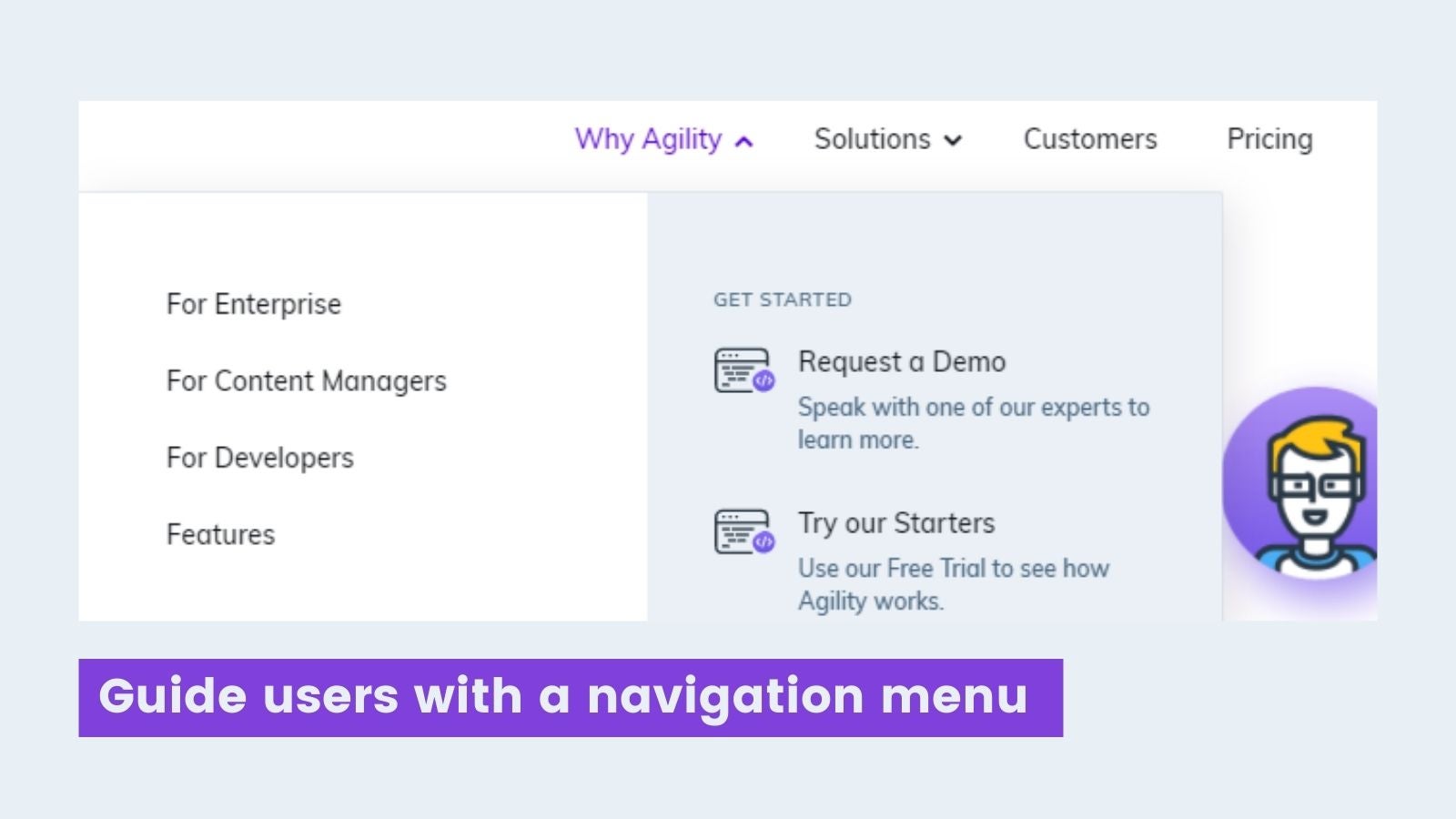 #2. Actionable Content
CTAs or calls to action are essential components of any website, enabling higher conversions when executed well. Every CTA needs proper placement to achieve better conversions.
Designing CTAs for conversion rate optimization can differ according to your needs. There are three practices to leverage when you design a CTA,
Consider its appeal to the audience
Ease of access (Make it visible)
Build a guiding mechanism or navigation towards CTA
#3. Identify Target Audiences
One of the critical aspects of conversion rate optimization is identifying, segregating, and engagement of leads. For identification and planning the engagement of leads, you will need audience profiling. Here, you need to identify the position of the customer in the marketing funnel.
A marketing funnel has three layers,
Top of the funnel (Tofu)
Middle of the funnel (Mofu)
Bottom of the funnel (Bofu)
Tofu - Top of the funnel customers are at its core strangers to your products. These visitors to your website may not have yet interacted with your brand. Here, more than conversions, you will need omnichannel marketing to encourage these users to engage with your business.
Mofu - The middle of the funnel is your goldmine! It is where your leads will be still pondering whether to become a customer.
Bofu - The final part of the funnel that addresses more comprehensive content on the selling point of your product or services. For example, a bottom of the funnel customer has already decided what type of product they want, but they need a reason to choose your product.

#4. Build Trust
Building trust is essential for higher conversion rates. If your platform is trustworthy, customers will share important data through forms, surveys, or even signups to improve the services.
With cybersecurity measures, there are no data leaks and risks involved, creating a trustworthy user experience.
Here are some of the measures that you can take to ensure a highly secure user experience.
Two-factor Authentication
A two-factor authentication is an approach that you can take to secure the interaction of users with your websites. It is like adding an extra layer of protection to your existing cybersecurity measures, ensuring that data access on your website is authenticated.
It involves a user getting a code or one-time password on the device through SMS or email. Once the user verifies through the code or password, the login process completes, allowing access to website content or data. Some tech giants like Google, Microsoft, Amazon, and several others leverage this approach for user authentications and secure login processes.
HTTPS Protocols
HTTPS protocols are one of the most important parts of your website security as they help achieve a secure site badge. This will automatically enable you to infuse trust into your customers. You can purchase an SSL certificate for installation and achieve an HTTPS badge. However, if your hosting service provider offers a pre-installed SSL certificate, your website will show an HTTPS badge.
An SSL (Secure Socket Layer) employs encryption algorithms to scramble the data exchanged between a user and the browser to make it hard for the hackers to read it. This way, you can ensure that no data from the user is exposed to cyber-attacks which allows secure transactions on your platform.
Web Application Firewall
Install a web application firewall to secure data exchange on your website. It is a secure layer between the web server and data connection that reads every information that passes through this channel.
Modern WAFs are more of a plug-and-play type of service that does not require too much hassle for integration. They are cloud-based and offer a gateway for all the incoming data, filtered to block several hacking attacks. WAFs can also help you filter malicious bots, spam links, and phishing attacks.
Once you build trust, the next thing that you need to do is build customer relations. It would be best to have a robust CRM(Customer Relationship Management) to build stronger relations.
#5. Customer Relations
Building trust and maintaining relations are interconnected- affinity towards your brand is essential, especially for new customers to build strong relations.
A CRM or Customer Relationship Management system leverages multiple channels to maintain strong customer relations. One of the most rewarding channels is social media to connect with new customers and existing users. According to Statista, there are more than 4.2 billion active users on social media platforms.
Here, it is not just the platform but strategies like the personalization of interactions that can improve conversion rate optimizations. For example, you can integrate advanced technologies into social media messenger like a chatbot and personalize each user interaction.
Another important aspect of CRM is customer support. Without efficient customer support, achieving conversion rate optimizations can become easy.
Use of Headless CMS:
Headless CMS is a newly prevalent concept in the content management system. Headless means the content is managed and organized but without a display layer. Headless CMS is disconnected from the presentation layer/frontend or called 'head' and the backend of content source or named as "body." When a body is decoupled from the head/front end, it becomes a headless CMS.
With a Headless CMS, you can distribute your content on mobile, email marketing, CRM, or website using API. Because the CMS is headless, you don't have to create and publish content for different platforms, allowing brands to deliver a seamless omnichannel experience. Save time on content creation so you can prioritize converting leads into consumers. Here are some other features of a Headless CMS:
Fast content delivery
Control over how and where your content will appear
Secured third-party integrations
It bestows fast adaption with new technology with easy integration.
Headless CMS uses API that can integrate easily and distribute content in less time.
Due to dissociated backend and front head, the website will have no downtime or any compromise in its performance.
#6. Customer Support
Every customer who comes to your platform looking for information related to products or services should find it easily- you will need a reliable customer support mechanism that can guide your customers.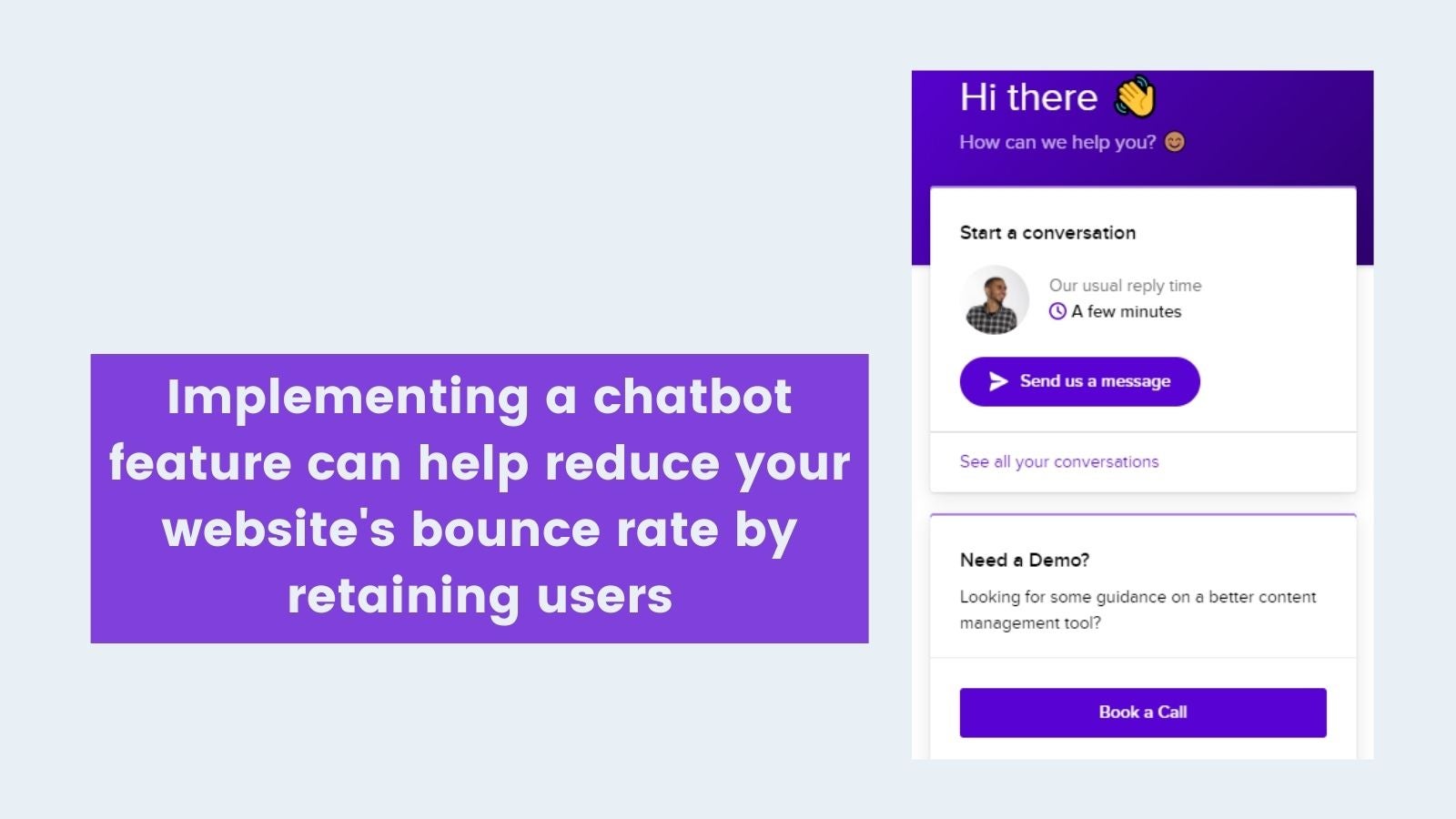 According to Salesforce, 52% of customers leave a brand online if they don't find the information or data they were looking for. Adding a customer assistant to your system can help improve conversions through guided interactions.
If you are a B2B business, improving conversion rate optimizations is easy by assigning a customer success manager or executive. A dedicated customer success manager will ensure that your services and products are optimized for the client's growth.
For example, suppose your business offers marketing services. In that case, customer success is an ongoing process that takes a specific time. An executive can communicate with clients to explain the entire process driving conversions. Customer support is not just about after-sales support but also enabling customers' journey with proper communications.
#7. Analyzing KPIs
Before analyzing the key performance indicators of your platform or website, you need to define them. This will vary according to the business-specific requirements, target audience, sales funnel, and channels of interactions.
Here are some KPIs that you can measure to understand what improvement your website needs for better conversions.
The number of visits- Measure the total number of visits to your website and segment it into different categories based on your customers. For example, you can segregate website traffic into three segments based on a sales funnel like Tofu, Mofu, and Bofu.
Channels of interactions- Monitor, track, and identify different channels of interaction for every visitor. This will enable you to adjust the CRM strategies as per the specification of the medium through which a user is interacting.
Time on page- Measure average time on page to analyze which section of website or content is most engaging.
Bounce rate- Measurement of bounce rate allows you to understand the correct percentage of visitors that leave your website without taking any action. These actions can be filling out a form, downloading a file, or clicking on any other CTA.
Click-Through Rate (CTR) is a metric that will help you determine the exact number of clicks on your URLs indexed in Search Engine Result Pages. It is a great way to gauge the success of an ad copy, headlines, title tags, and meta descriptions.
Conversion Rates- While all the above KPIs are essential, this is the core metric for which you will be strategizing the entire campaign. It measures the percentage of transactions or conversions per visitor on your website.
From the security of your website to the creation of engaging content and even enhancing customer support, there are several ways in which you can improve conversion rates. However, achieving conversion rate optimizations also need careful consideration of the sales funnel, channels of user interaction, and critical metrics.
Learn More:
What is a Headless CMS System? | Agility CMS
What Are The Benefits of a Headless CMS? | Agility CMS
Page Management for Content Marketers - With Agility CMS
About the author:
Jason Parms is the customer service manager at SSL2BUY Inc. His key responsibility is maintaining customer happiness by providing help desk resources and technical guidance, resolution for customer troubles, detecting and diagnosing network problems, and managing staff. As a part of the online security industry, He is always updating knowledge by contributing to cybersecurity events, reading information security publications, maintaining personal networks, examine information and applications, participate in security surveys.