The digital world is constantly and rapidly changing, and having the right CMS platform is crucial for business owners who want to set up their websites for future success. That is why it is no surprise that more and more companies are adopting headless CMS technology and making the commitment to improving their content marketing and web development strategies.
Headless CMS integrations can help improve your e-commerce site in many ways—from automatically adding new products and keeping your inventory up to date to continuing communications with potential buyers through email newsletters and push notifications and everything in between. Essentially, what it does is help you manage your website more efficiently while making sure your customers get the best-customized experience possible.
As a business owner, you already know that your online shop is a vital part of your marketing strategy. Why not make it even better?
What is headless CMS?
It helps to first look at traditional CMS to better understand what a headless CMS is. If you have been in business for quite some time, it is a good bet that you have heard of WordPress, Drupal, Joomla, or ButterCMS. These are examples of traditional CMS, and for years, this architecture has been the standard.
A traditional CMS has connected front-end and back-end systems.
The front-end system or the head: covers the HTML templates, CSS, JavaScript, and other presentation tools.
The back-end system or the body: stores all content-related assets, such as images, videos, texts, and product data.
Because both systems go hand in hand, users are able to effortlessly update pages without having to deal with coding or moving of assets through FTP.
On the other hand, a headless CMS only deals with the back-end system or the body, hence the name. Its content-first approach ensures that raw, unformatted content is transmitted to various channels and device types, such as mobiles and desktop browsers, via APIs at any time.
In essence, opting for a headless CMS does not eliminate the need for a head. The point is that you get to choose which head/s you send your content to.
Benefits of integrating headless CMS with e-commerce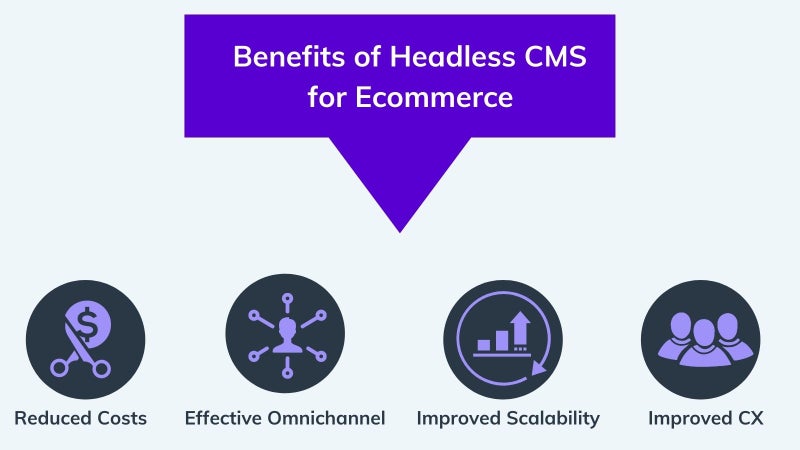 Once you take the leap to integrate headless CMS into your e-commerce, you improve several aspects of your business. You get to enjoy:
1. Reduced operational costs
With integrated headless CMS, you can automate numerous manual processes and reduce instances of human error. Accurate customer, product, order, and shipping data is stored into a single space and is readily accessible every time without inconsistencies—ensuring that problems from lapse of focus never arise.
2. Effective omnichannel reach
Whether you have a single online storefront or multiple sales channels, you can greatly benefit from an integrated e-commerce platform. A streamlined system means that all information is correct across the board and is distributed to channels that are able to reach your customers in whichever state of purchase they might be.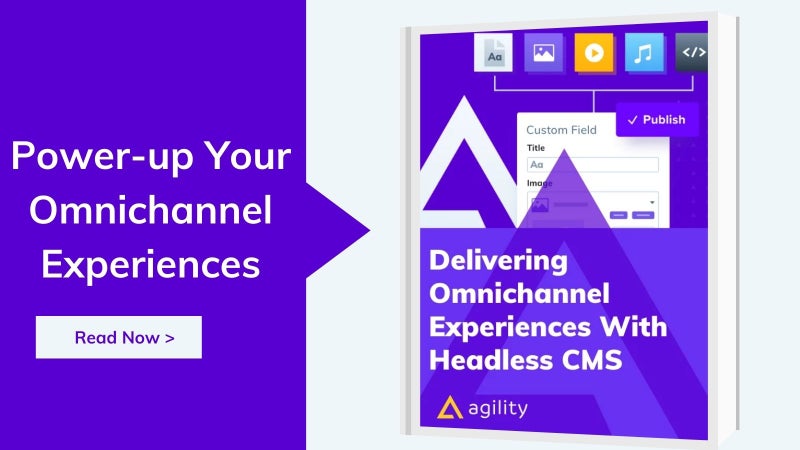 3. Improved scalability
As your business grows, certain demands and needs change along with it. You might need to deploy new business models, introduce the latest features, or expand to a larger audience. This is a potential problem when you are still stuck on a manual system. However, with e-commerce integrations, even non-technical staff can easily administer changes to your online store.
4. Improved customer experience
As a business, the most important criterion you need to fulfill on a daily basis is customer satisfaction. E-commerce integration makes your processes transparent, allowing customers to enjoy every phase of their purchasing journey. Browsing and selecting products, viewing availability, checking out, and tracking can be done in one website, eliminating all those unending portals that link into each other or require multiple clicks between pages.
Essential CMS integrations your online store needs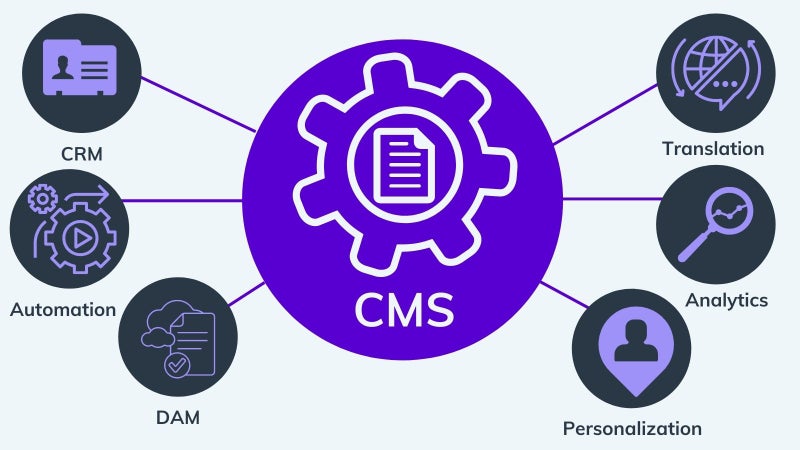 1. CRM
Customer relationship management (CRM) is the lifeblood of many businesses as they make up for the lack of face-to-face contact with customers.
This tool allows you to interact with potential and current clients by collecting relevant data that can be used to push messages and connections tailored to specific client tastes, preferences, habits, and expectations.
Using the collected information, sales and marketing departments can better address customer needs and offer target offers. Simply put, it drives sales.
One of the widely used CRMs in the world is Salesforce. Their full-service CRM platform can help in growing your accounts, finding fresh customers, and closing deals faster, all the while providing detailed reports and monitoring the health of your business.
2. Marketing automation
E-commerce is an aggressive landscape, and it is crucial that you are able to keep up with market changes and trends in real-time.
This is tricky business but through the use of a PPC management software, you can automate your marketing flow to grow traffic, convert visitors, and run marketing campaigns in the process.
Among the features you should look for are:
Geotargeting
Bid management and optimization
Keyword research and tracking
Ad group creation
Conversion tracking
Campaign management
Budget planning, execution, and monitoring
4. Workflow automation
An online business is expected to run 24/7, but it is impossible to have someone man your digital storefront at all hours of the day and night.
The principle of workflow automation is to identify repetitive manual tasks and functions and find ways to—as the name implies—automate them.
Each business has different needs but here are three workflow automation ideas for greater efficiency and quality:
5. Inventory management and listing
Being on top of your entire inventory and warehouse security is time-consuming and should be on your priority list of must-automate. This way, you can make sure new items are listed as they arrive and low-stock or out-of-stock items are replenished immediately.
6. Order management
Using automation, you can easily track the journey of your customers and make sure they experience hassle-free shopping. You can automate the approval of purchase orders, generating of shipping labels, processing of refund claims as well as gathering of feedback after a sale.
You can also avoid cart abandonment by sending automatic abandoned cart reminders and emails, helping you bring customers back to your site.
7. Customer support and service
There's more to automated customer support than your typical chatbots. With the right integration, you can set up relevant, carefully crafted, and most importantly, immediate responses to placate customers while their issues are being handled.
8. Digital Asset Management
Virtually everyone utilizes digital assets to further grow and promote their business. This includes all kinds of photos, videos, music files, documents, and other media that are created and published across various platforms.
The problem is that expanding e-commerce comes with it a flourishing digital asset archive that can be challenging to handle and keep organized in the long run.
A great digital asset management (DAM) solution provides your team with a singular source for all your brand assets that lessens the time and effort exerted in finding the right files in your library for publishing.
Cloudinary, for example, offers fully authenticated and secured APIs that allow for the delivery of all kinds of media over http and https without issues. It can handle the upload and streaming of high-quality videos, the transformation and optimization of photos, and a whole lot more.
9. Translation
A translation integration for your e-commerce platform helps you reach audiences from across the globe by making sure content is automatically translated from one language to another when prompted. What's important is that your translation capabilities are of human quality and are optimized for e-commerce products, categories, and attributes.
Here's why you should invest in this integration:
It broadens your customer base.
It increases your search engine visibility.
It boosts conversion rates.
It improves customer experience and brand image.
Google Translate, perhaps the most used multilingual neural machine translation service, can eliminate the need for manual translations and external translators. It is capable of translating texts into more than a hundred languages, making it possible to localize your content and engage your customers better.
10. Analytics
In e-commerce, it is critical to gather data that has a direct impact on your digital storefront. This is precisely what analytics is all about—giving you insights that help you understand your customers and how they are interacting with your online platform and content. These can include user behavior data, product data, and marketing data.
Integrating analytics into your e-commerce means you are making your data work for you. You get your hands on reports that give a clear picture of your performances in terms of reach, impressions, engagement, conversion, retention, and more, which, in turn, ensures that you are making decisions based on fact and not guesswork.
Some platforms like Shopify and BigCommerce have built-in analytics integrations that can assist you throughout the entire customer lifecycle. It makes the process of providing direction to your business a lot easier.
11. Search
Your search results page can determine whether customers will choose to stay or leave your online shop. You wouldn't expect someone to make a purchase when they can't find what they are looking for, would you?
What a search integration does is produce relevant content within milliseconds. More than just speed, you need to look for intelligent features in this integration.
Is it tolerant and forgiving of typos? Does it take into consideration not only onsite content but also metadata facets? Would an auto-complete function be possible?
Take Algolia Search for instance. An AI-powered search and discovery platform, Algolia Search brings to the table capabilities to produce smart and instant results that can boost your conversion rates.
12. Personalization
You should never underestimate the importance of personalization in e-commerce. It is a driving force that transforms casual visits into clicks and repeat purchases.
To achieve this, you have to keep in mind that your goal is not just to showcase what your business has to offer but also to give your customers the experience they prefer.
Instead of relying on hunches and assumptions, data based on demographics, behaviors, attitudes, and preferences are used to deliver personalized product recommendations, offers, ads, rewards, messages, and other means of communication.
This is essential because personalization means your customers are more engaged and more likely to come back.
As opposed to sending the same spam-like content to every buyer, offering more personal interactions suggests focus and attention to the client, similar to how you build relationships with your favorite local retail associate.
It is through personalization that you can build brand advocates that can further widen the reach of your business.
13. Video
Product videos are an excellent way to showcase your products when descriptions and images alone just don't cut it.
Some might read online reviews, ask a friend, or compare products online when checking out a product they are interested in, but there are several who prefer watching videos instead.
On top of being visually stimulating, here's why videos are a must for your e-commerce:
They help you build your brand. Product videos are unique to your company, and they reflect the image and tone of your brand.
They increase SEO. Video galleries help in reaching maximum SEO performance and topping search rankings.
They widen your reach. Videos are highly shareable on any platform and that could mean more clicks and more eyes on your online shop.
They are digestible. Large chunks of text that can easily be overlooked can be formatted into a product video that interested consumers can watch, rewind, and forward as they please.
14. SEO
When people look for something online, they head straight to the search engines, and most of them hardly click past the first page of results.
Having your products rank higher than competitors means customers are more likely to see your website first and click on it.
More clicks mean more traffic and more traffic translates to more sales. This is precisely why SEO is important: it gives you as much search engine visibility as possible.
But how can you improve your e-commerce SEO? An all-in-one toolset like Ahrefs can help.
Ahrefs enables you to optimize your SEO through competitive analysis, keyword and content research, rank tracking, web monitoring, and more.
This tool can provide you with answers as to why people are not finding your store or why the competition is getting all the traffic and provide you with solutions to fix your SEO issues.
It is worth noting that SEO does not bring overnight success. It requires research, strategy, consistency, and patience to see changes in your website's traffic and conversions. That's why it is better to start your SEO optimization now!
15. Social media
While your e-commerce platform is where you want to ultimately lead people to make a purchase, social media channels like Facebook, Instagram, and Twitter are where you can make a good impression.
It is through these avenues that potential customers can read reviews, view actual photos of products, and learn about your company's current marketing efforts. All these can influence your audience into doing—or avoiding—business with you.
Here's how you can integrate social media into your digital stores:
Include a social media feed
Curating a collection of posts from your various social media channels for display on your e-commerce site is a great way to give a glimpse of your products in real life. This can be done through artistic photography, high-quality graphics, helpful product review videos, and more.
Add social media widgets and buttons
One of the most useful features you can incorporate into your e-commerce is the option to jump from your store to your social channels. This makes it easy for potential customers to interact with your brand and determine if they are ready to check out their carts.
Integrate social media feedback
Social feedback integration is a must for any growing e-commerce business as it is one of the best ways to build credibility. As opposed to only displaying hand-picked reviews submitted directly to your website, this option makes it possible to post reviews coming from different social channels, making your company more trustworthy.
When you establish your presence on several platforms, it can be a challenge to properly interact with your customers and provide them with the support and information they require. You can look into an omnichannel social media customer service solution to help you converse with people from any social media platform they prefer.
How to choose the right CMS for your e-commerce site
In order to make the right decision, you need information. That means knowing what your company needs from a CMS. Here are some questions we recommend considering:
What type of content do I plan on posting?
Do I plan on changing my content daily, weekly, or monthly?
Should I commit to looking after content hosting and maintenance myself?
Would automation of my processes be beneficial for my business and my customers?
Is the cost for this CMS worth the features I would be getting?
The process of choosing the right CMS for your digital storefront can be overwhelming. Make sure to take into consideration your future goals, the value of ease of use for your staff and customers, and the overall effect of a CMS on your business before you commit.
Conclusion
In today's technology, a website is only as good as the content it has to offer. Engaging, useful, and insightful content is critical in making your customers feel like you are trying to establish meaningful conversations rather than just making an easy sell.
With a fast and flexible CMS like AgilityCMS, you can experience a true content-first approach that can help you save time, money, and energy in the process. AgilityCMS offers all the familiar tools you love wrapped in an innovative headless platform. More importantly, you get to pick whatever works best for you and your customers.
Learn more about AgilityCMS and how it can help level up your e-commerce experience.