Running a successful business is not just about creating the right marketing strategy. It is about working smarter, not harder using the top enterprise business tools.
Such tools can help entrepreneurs and industry leaders with core business functions such as
Document management

Project management

Real-time collaboration

Whiteboard

Marketing

Finance

Outsourcing
Moving ahead, we will explore the best tools for businesses that fall in one of the above categories. You can then pick the right combination of tools to streamline your enterprise's success this year!

Agility CMS is a Content Management System (CMS) with built-in Hybrid components for a better Editor Experience.
The platform adopts all the aspects of Headless CMS that makes an omnichannel approach easy, with the understanding that Page Management is of utmost importance in any website project.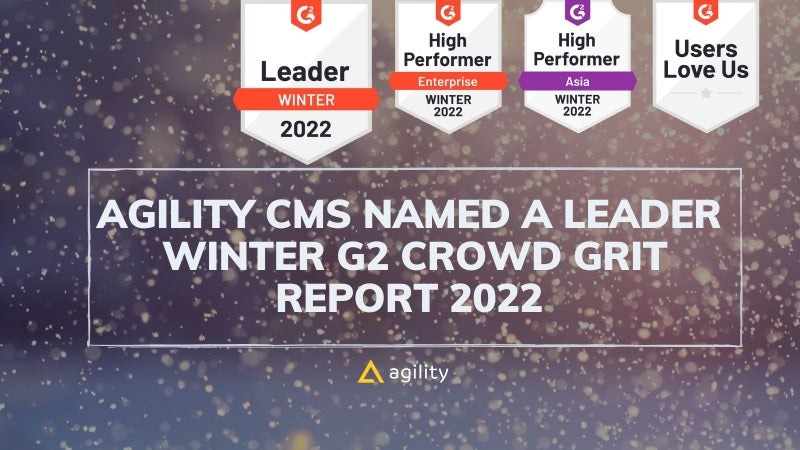 The platform is regarded as one of the best business tools due to its unique content-first approach. Agility CMS, hosted on Microsoft Azure, helps you define your content structure. You get the flexibility to reorder, reuse, and repurpose content efficiently across all digital channels.
Picking a headless CMS system over traditional ones gives you access to built-in features, integrations with industry-leading tools, and a user-friendly interface. Thus, you can get new products and experiences into the market quickly in a cost-effective manner.
Page Management
URL Routing Management
Content and Page Previewing
Content Modeling
Content Sharing and Reuse
Content Scheduling
Unlimited Custom Content Definitions
Workflow Management
Content Analytics
Digital Asset Management
You can either opt for a monthly or annual subscription. The Business and Pro packages come with a free trial, and you can talk to their expert regarding the Enterprise version.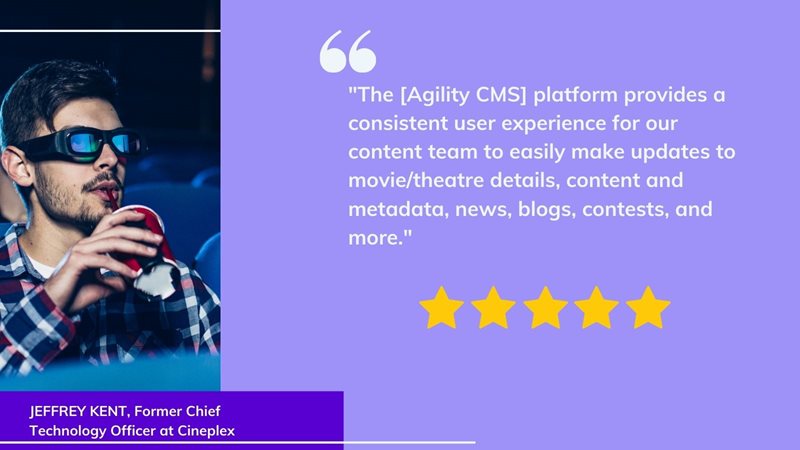 2. CallHippo
A cloud-based business phone system should be a part of your business tools suite. CallHippo is your go-to service provider for such robust VoIP (Voice over Internet Protocol) solutions. It operates in over 50 countries and takes care of everything from call recording to analytics.
Salient features of CallHippo:
Power Dialer: Automatically dial phone numbers from a predefined list as part of your marketing campaign.
Call Transfer: Redirect calls received on your phone to a team member when required.
Call Barging: The supervisor monitors the call silently and gives his inputs if needed.
Call Analytics: Track your team performance, measure the call load of each team member, and get other valuable insights.
Smart Switch: Switch to the best network before calling and solve all your connectivity issues.
Global Connect: Call international clients according to their local time and avoid irritating them.
Call Recording: Record all calls on your virtual phone number and monitor your team performance.
Voice Mail: Receive voicemails in your inbox and play them directly from your email.
On Hold Music: Play melodious background music to keep your callers engaged while they are on hold. You get the option to upload and play the signature tune of your brand.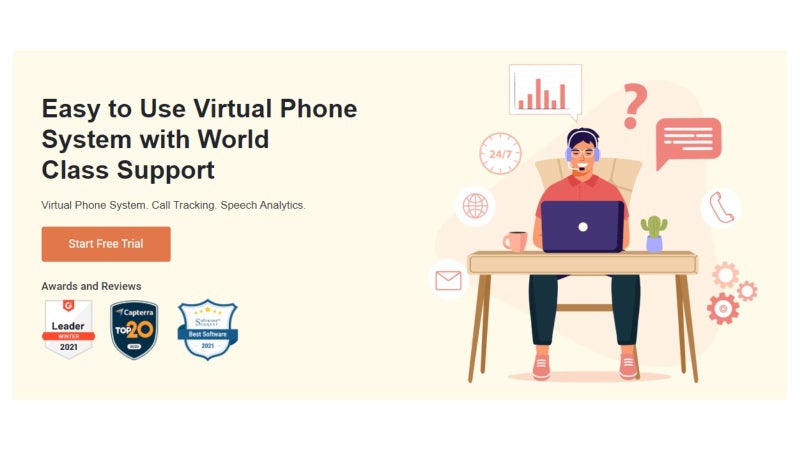 Pricing:
CallHippo offers plans based on whether you need a call center solution or a cloud-based office phone system. You can check the pricing for each in the following images:
Call Center Solution: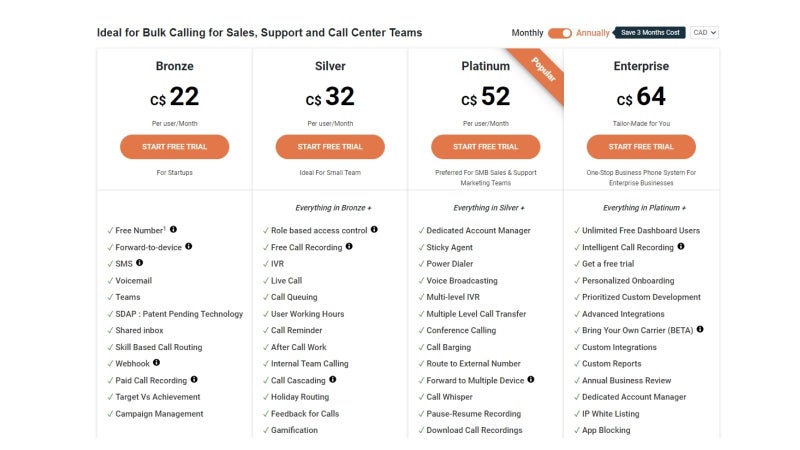 Cloud-based Business Phone System: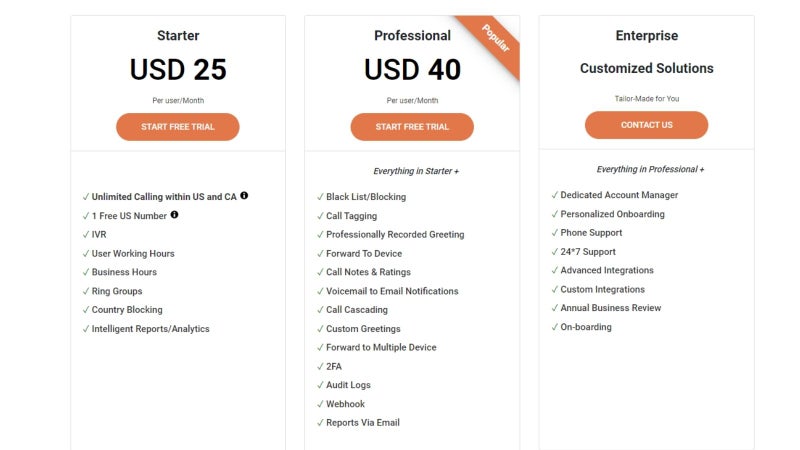 3. Google Analytics
The way you use business data determines your success or failure to a great extent. Google Analytics helps you gain valuable insights from data. You will get to know what works and what needs improvement. It provides website analytics in an easy-to-use dashboard.
You can also use Google Analytics with other third-party software. For example, it supports integration with Agility CMS. It becomes easy to track website visitors, products, and conversions. Also, you can do A/B testing and make data-informed business decisions using Google Optimize.
Salient features of Google Analytics:
Analytics intelligence

Proactive insights
User and conversion modeling

Reporting

Audience Reports
Advertising Reports
Acquisition Reports
Behavior Reports
Conversion Reports
Real-Time Reporting
User Flow Reporting
Data Freshness (Analytics 360 Only)
Unsampled Reports (Analytics 360 Only)
Roll-Up Reporting (Analytics 360 Only)

Data analysis and visualization

Filtering and Manipulation
Funnel Analysis
Segmentation
Visualization and Monitoring
Custom Funnels (Analytics 360 Only)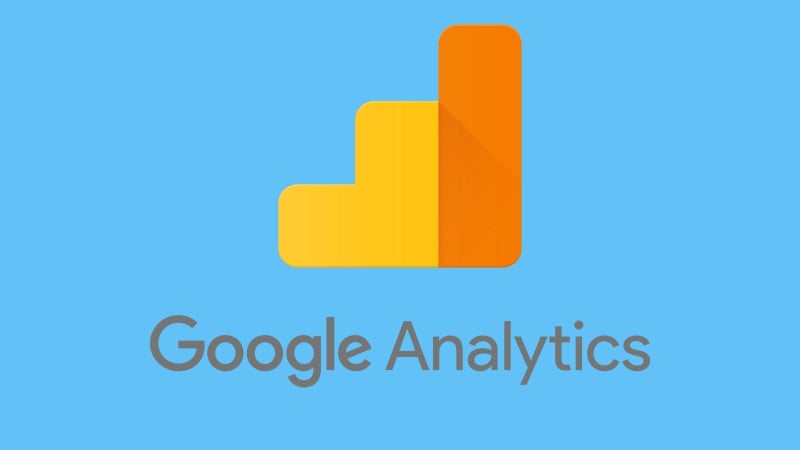 Again, it is not an exhaustive list of features. If you ever have difficulty using Google Analytics, consult digital marketing experts to get professional help.
Pricing:
Marketers can access some of the features for free. Businesses can subscribe to premium plans starting from $150,000/year.
4. Canva
Canva helps you collaborate and create stunning graphic designs. You can also access a library of stock design templates and videos. Moreover, the Android and iOS apps help professionals create graphical masterpieces on the go!
Salient features of Canva:
Online video recorder: You can easily record a video to explain a particular topic, demonstrate a process, or showcase your product.
Free stock videos: Create and edit videos using a diverse library of pre-licensed and free stock videos, right from the Canva video editor.
Canva Live: Run live sessions to encourage audience participation. Your audience can use a 6-digit code to send reactions, comments, and questions as you present your work.
PDF editor: You can import and edit PDF files in Canva for free. Canva can break down the files into editable elements. You can convert, annotate, and customize the documents instantly. Finally, you can download your work as SVG, PPT, or print-ready PDF files. You can also share them from the dashboard.
Teams: You can create designs together in real-time and collaborate on any device from anywhere in the world. Just invite your team, give them access permissions, and start working in seconds.
Canva Academy: Canva has an online design school that hosts courses and tutorials for beginners and professionals. You can access them and expand your knowledge base for free.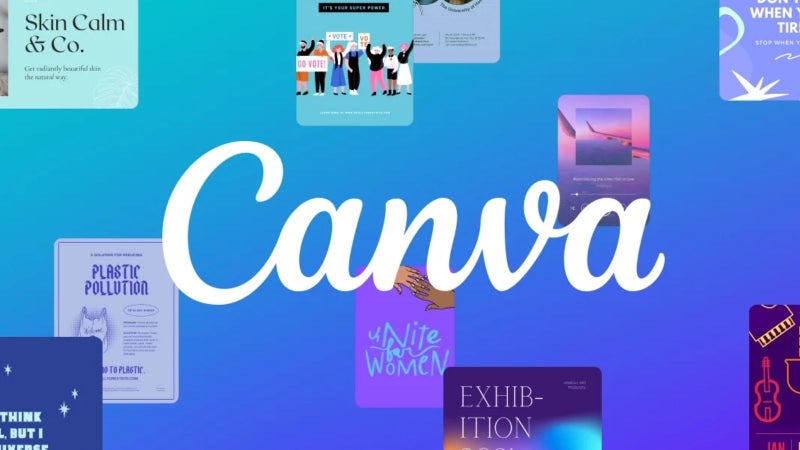 Pricing:
Educational institutes and nonprofits can enjoy tailormade, premium versions of Canva for free.
Canva offers Free, Pro, and Enterprise plans for individuals and businesses.
5. Semrush
If you desire excellent results from online marketing, Semrush is one of the best business tools available in the market. It helps you do SEO, competitor research, content marketing, PPC, and social media marketing from one platform.
Salient features of Semrush:
Keyword research.
On-page SEO and local SEO.
Competitor analysis.
Content marketing.
Rank tracking of target keywords.
Social media management.
Link building.
Paid advertising.
Competitor PR monitoring.
PPC keyword research.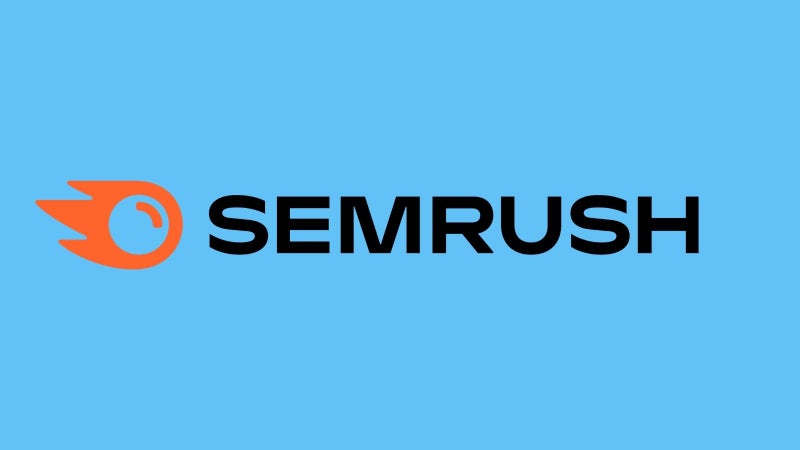 Pricing:
Semrush offers Pro, Guru, and Business subscription plans for its users. You can try them for free before subscribing annually. It is one of the best business tools that lets you cancel a subscription, downgrade, or upgrade your plan at any time.
Currently, Pro will cost you $119.95/month, Guru $229.95/month, and Business
$449.95/month.
6. Hootsuite
Hootsuite is a social media management platform and one of the best business tools available in the market.
It covers almost every aspect of a social media manager role. Users can curate valuable content and schedule posts. You can also manage team members and measure the ROI of marketing campaigns.
Salient features of Hootsuite:
Social media scheduler.
Social media monitor.
Social media analytics.
Customer service and team collaboration.
Library of apps and extensions.
Hootsuite Academy hosts courses and provides certifications for social media managers.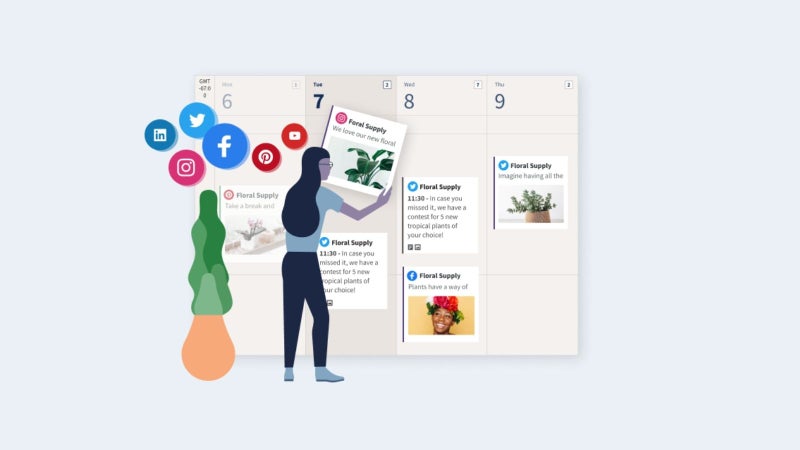 Pricing:
Hootsuite offers four types of plans:
Professional (Free 30-day trial available)
Team (Free 30-day trial available)
Business (Demo available)
Enterprise (Demo available)
The Enterprise plan lets you tailor the platform to your business needs. If you are a growing business, we highly recommend you go for this option.
7. Netlify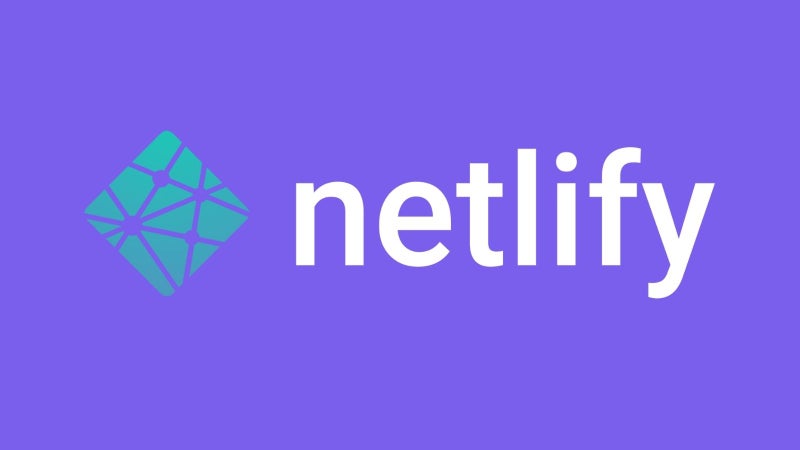 Netlify is one of the best business tools to develop exceptional web experiences. You can simplify workflows and scale web development effortlessly. It can show you a 10x faster path to building high-performing, secure and scalable websites.
Salient features of Netlify:
Starter web templates to clone the project and customize as per the requirements.
Instant rollback to a previous deployment, thus saving time when correcting mistakes.
Integration with enterprise-grade systems such as Agility CMS to web manage content more efficiently.
Role-based access control for your pages and sites.
Serverless functions that remove all the challenges of building and managing servers.
Pricing:
The plans offered by Netlify are as follows:
Starter - Free
Pro - $19/month
Business - $99/month
Enterprise - Contact the sales team of Netlify to get a tailored plan based on your business requirements.
8. Slack
Slack is one of the best business tools and can help you interact with team members.
You can use the quick messaging app to create a communication channel between teams based on interest, project, or department.
The main reason behind Slack's popularity is its affordable plans for startups and small businesses. It currently has over 35,000+ paid companies as subscribers and includes IBM and Airbnb.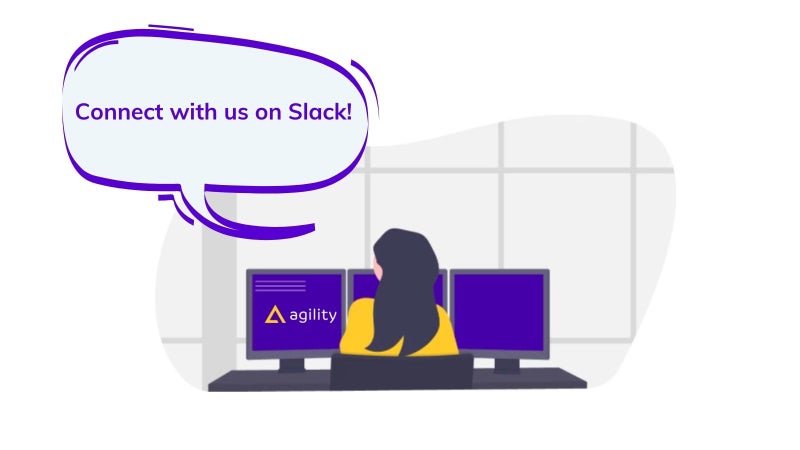 Salient features of Slack:
Conduct video and voice calls with team members.
Connect over 2200 third-party apps for added functionalities.
Search for messages, files, etc.
Pricing:
There is a Free plan that lets you use limited features.
The Pro plan starts from Standard ($2.6/month), Plus ($5/month), Enterprise Grid (contact sales).
9. Mailchimp
Mailchimp is a marketing automation platform and provides email marketing services. It helps brands bring their audience data, marketing channels, and insights together on a single platform. It then uses the data to tailor marketing campaigns.
It is one of the best tools for business as it lets you send the right messages on all the relevant channels. You can build emails, social ads, landing pages, postcards, and more from a user-friendly dashboard, which you can see in the snapshot below:
Salient features of Mailchimp:
Email Automation

Date-based automation
Welcome email automation
Behavior-based automation for apps

Real-time Analytics
Transactional Emails

Custom tags
A/B testing
Comparative reports
White-label click tracking

AI-powered Creative Assistant to generate custom email designs within seconds.
250+ app integrations to unlock more features.
Pricing:
MailChimp also has a pay-as-you-go pricing system where you can pay only for the number of emails that you send. You have to prepay for the email quota and get the same features as the monthly plans. Take a look at the following table:
| | | |
| --- | --- | --- |
| NUMBER OF EMAILS | PRICE PER EMAIL | TOTAL PRICE |
| 5000 | $0.03 | $150 |
| 10000 | $0.02 | $200 |
| 50000 | $0.02 | $1000 |
| 75000 | $0.02 | $1500 |
There are also many alternatives to Mailchimp, just in case you tried the tool and it is not fitting for your specific marketing goals.
10. YouCanBook.me
YouCanBook.me is an award-winning online scheduling tool for better team collaboration. We consider it as one of the best business tools because YouCanBook.me is no less than a personal secretary who organizes everything for you.
Your customers can schedule appointments with your business effortlessly. The platform can handle time zone differences and offers slots only if you are free in your connected calendar.
Salient features of YouCanBook.me:
Powerful workflow automation capabilities.
Activity tracking
Customized and automated alerts and notifications
Appointment management
Automated scheduling
Availability management
Booking management
Calendar management and sync.
Accept electronic payments from customers.
Advanced analytics
Pricing:
$10 per calendar if billed monthly
$9 per calendar/month if billed yearly
$8 per calendar/month if billed in 2 years
11. Bulkly
Bulkly will eliminate the process of spending hours each week copying and pasting your evergreen updates to social media. Set them up once, and have your posts rotated automatically for you with Bulkly.
There are various ways to add content to Bulkly. Among them are CSV uploads, importing from Buffer, using RSS feeds, and more.
Perhaps the biggest time save offered is the ability to automatically create multiple social media updates from a single blog post URL. Simply, paste in your blog link, and Bulkly will recommend dozens of updates for you to use.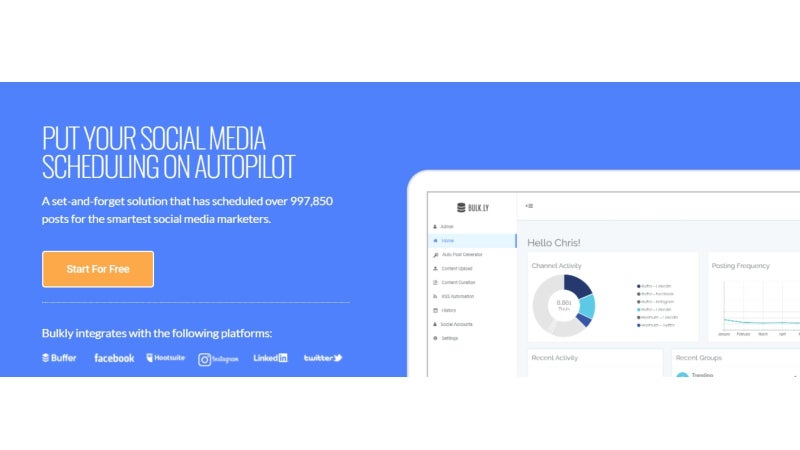 Features of Bulkly:
Schedule & recycle social media updates in bulk
Create dozens of status updates from a single URL - automatically
Works with Buffer, Hootsuite, Facebook, Instagram, LinkedIn & Twitter
Randomize the order updates are sent
Avoid sending the same post too soon
Schedule your updates to drip to your social media accounts multiple times per hour, day or week
Create schedules that start and stop on certain dates
Organize your updates into groups with unique schedules and settings
Pricing
Bulkly monthly pricing is as follows (save 20% when paying yearly)
Pro - $19/mo
Pro Plus - $39/mo
Pro Plus Agency - $149/mo
A final word
Most of these tools provide you with a free trial. So you can experiment with the different possibilities in which these digital tools can boost business growth. Also, the subscription-based pricing model lets you cancel anytime without any further obligation.