So you've got a fantastic product or service, but no one knows about it. This can be a huge snag in reaching your eCommerce goals. Thus, to let your audience know about your product and turn a lead into a paying customer, you need content. It's not surprising that 91% of B2B marketers use content marketing as their strategy source. While 86% of B2C marketers do the same.
Customers will only interact with the kind of content they find interesting and relevant. Meaning, your conversation rate can increase to as much as 2.9% with the right content strategy framework. It goes to show that the importance of creating an eCommerce content marketing strategy is growing significantly.
You, too, can develop an effective content strategy for your online retail business. In this article, we explore how you can create an eCommerce content strategy for your brand.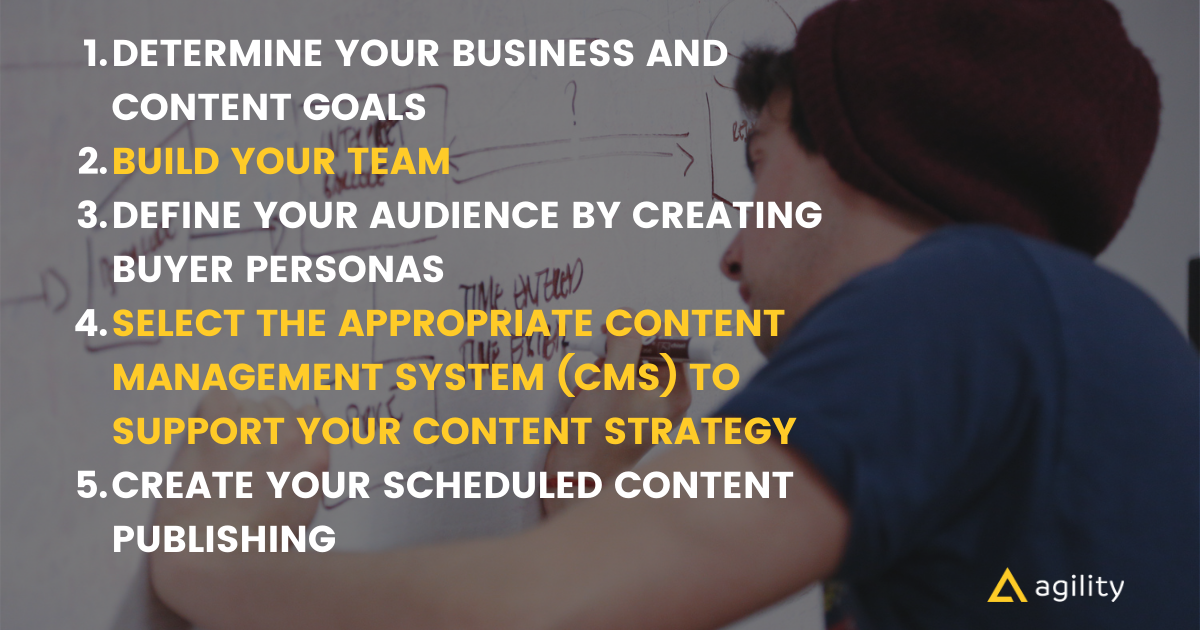 Determine Your Business and Content Goals
Creating content without having your business and eCommerce goals in mind is a wrong move. Your answers to these questions would enable you to determine your business and content goals.
Where do you want your business to be in three, five, or ten years?
Consider the steps you need to take to get there
How and where will a content marketing strategy fit into your plans?
What does your content aim to achieve?
Your plan requires you to think of every aspect of your business, and content marketing is only a part of it. Therefore, all business goals should relate to your content marketing framework. If this is absent, your content marketing strategy may succeed. But from a business standpoint, you may not achieve much. For instance, your goal may be to increase your social media following using engaging content. However, if you fail to focus on converting the followers into paying customers, your efforts are in vain.
Build your team
Creating your eCommerce strategy isn't a one-person job. You'll need a team of in-house or freelance workers, depending on your budget. They can also be friends and colleagues in the same industry as you. Irrespective of who makes up your team, everyone must have access to the tools and technology to enable them to work effectively. Also, the duties and channels of communication need to be clear all through the content creation process.
Depending on your budget and strategy, your team will benefit from the following experts:
Graphic designer
photographers
Social media manager
Shopping experts/ analyst (for buying guides)
Custom writing review services like Best Writers Online
Collaboration with influencers or other sites
Define Your Audience by Creating Buyer Personas
At the center of any business is the customer. To engage your customers, you need to know who you're marketing to. Since it is impossible to get the whole world to buy from you, you'll need to target your customers. With a specific customer audience, you can tailor your content strategy.
But how do you identify your audience and cater to their specific needs? You can do this by creating a buyer persona. A buyer persona gives you a full representation of your target audience. It includes samples of customer demographics, behavior, lifestyle, etc. Marketing study shows that the use of personas can increase:
User time spent on a website by 900%
Email-open rate by 111%
Marketing-generated revenue by 171%
Number of web pages visited by 100%
Details of a buyer persona will include name, photo, gender, location, age, and income. It can also have personality traits details like minimalist, ambitions, skeptical, etc. Lastly, it should contain the customer's preferred access to your site or social platform, their motivations, and challenges.
These insights can guide you towards creating accurate content that's relevant to your target audience. It will likewise lead to an increase in your conversion rates. The data for your customer personas can be gathered using interviews, polls, existing customer data, and competitor data. As you know more about your target customers, you can tweak and add information accordingly. Your content will also need to reflect such changes.
Select the Appropriate Content Management System (CMS) to Support Your Content Strategy
The CMS you pick needs to suit your content management strategy perfectly. Since there are several CMS platforms out there, choosing one can be challenging. Thus, some of the significant aspects to consider before picking one include:
The impact of the CMS on your business sand if the features match your goals
The cost of the CMS, bigger, is not always better
Are there any CMS maintenance and updates to be done, and who carries it out?
The applications the CMS can integrate with
Ease of using the CMS. Or will you require a technical team?
Is the platform able to cope with changes in your business needs?
Additionally, you may want o to consider a headless content management system.
Do you need to push your content to multiple channels (e.g. website and mobile app? or any point-of-sale screens and kiosks?). It this case you need to consider an omnichannel marketing strategy and you will have to use a Headless CMS.
This piece of technology is essential because you need to spread your content across multiple platforms. The headless CMS is a back-end only CMS built as a content repository. Its sole purpose is to store and deliver structured content for display on any platform. Such as your website, email marketing, mobile app, CRM, etc.
Will you need to adapt to the market and stay agile? Will you need to be able to easily change content and design when the market requires doing so? Then you might need to move away to traditional monolithic CMSs like Wordpress.
So when a content change or update occurs, it is centralized. It means you don't have to go to all your platforms to make separate changes. For example, if the paper writing review service website Online Writers Rating wants to change their product description. They don't have to copy and paste such changes across their different systems. Using a headless CMS, a single update in the repository will affect all other content platforms.
Scheduled Content Publishing
Your scheduled content publishing is equally as important as what is in the content. It entails how you're able to post content at the time your target audience is online. Thus this will require you to know what times they are online. You can consider statistics that show the best days and times to post for your social media posts.
For example, on Facebook, weekdays between 10 am to 3 pm are the best hours to post. And Wednesdays are the best. For weekends you can post from 12 to 1 pm on Saturdays and Sundays. While for Thursdays and Fridays, it's best to post between 1 pm to 4 pm.
It is best to post on Wednesdays at 11 am, and Fridays from 10 to 11 am on Instagram. While Wednesdays are the best day of the week to post, Sundays have the least engagement. However, some of these are just a suggestion you can use as a starting point. It would be best if you still did a bit more research to find out the best times for your business.
As for content on eCommerce blogs, the posting times do not have a universal formula. One major thing to consider for your blogs is the use of SEO and relevancy. There is a lot of information your competitors are also posting. Your blogs need to be consistent, relevant, and well-optimized with the right keywords to rank tops in any search engine.
Furthermore, you can make use of scheduling tools like a social content calendar. They are an excellent way to create your posts in advance and automatically post them at the right time and to the proper channels. It allows you to dedicate specific time(s) per day or week to creating your content. This way, it does not become an activity that takes you to other aspects of your work. Content scheduling and publishing is an excellent way to ensure consistency and increase your chance of exposure.
Conclusion
Taking time to create the right content marketing framework is essential. Your blog, social media, or homepage content strategy needs to be informative and relevant. Additionally, you need to set your eCommerce goals together with your team.
You also need to know your target audience and have a content scheduling plan. Lastly, you would want to consider CMS tools to help manage your content. This way, it becomes easy for your target customers to engage with the right content. And likewise, move from potential to paying customers.
About the author:
Frank Hamilton is a blogger and translator from Manchester. He is a professional writing expert in such topics as blogging, digital marketing and self-education. He also loves traveling and speaks Spanish, French, German and English.
Keep Reading:
If you want to learn more about eCommerce, Omnichannel and Headless CMS, make sure you read these articles: