Founded in 2001, Sitecore has amassed a reputation as a digital experience platform with the power of marketing technology and data science.
It offers multichannel marketing automation and content management to its users. And this content management system (CMS) is renowned as an all-in-one solution that facilitates collaborative content creation for diverse business verticals.
It might be surprising how technological innovations have shattered the consumers' demands and expectations over the years. That's why CMOs or Chief Marketing Officers of many leading enterprises have started to look for alternative commercial software that leverages more robust features and a higher level of support than Sitecore.
Other than this, read on to know the other "key reasons" that have led enterprises to realize that Sitecore isn't the most agile solution anymore (they shouldn't settle with it).
Reasons Why You Should Migrate Off Sitecore: Pros and Cons
In this crazy and fragmented world of content management, you'll find that there is an urgency for comprehensive marketing automation for businesses.
A vertical market shift towards modern CMS software solutions indicates that enterprises are wandering for cost-effective solutions that are more secure, robust, and easily adaptable.
Based on verified reviews from real-world consumers, we'll help you weigh your decision to choose migration off Sitecore to a seamless, robust content management system like Agility CMS.
Let's look at the drawbacks Sitecore has and learn how you can overcome those barriers.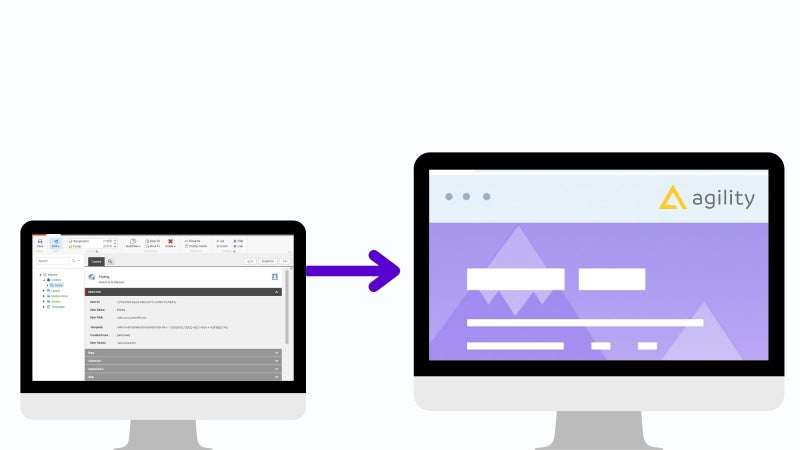 Drawback #1: Sitecore is Expensive & Eats up CMO's Budgets
Well, assume you need to fix a cupboard in your house. You only need some screws and a screwdriver, but you have to purchase an entire toolbox to fix it.
Why buy the price for a vast set of tools?
Instead, what if you had a toolbox from which you could pick the tools you need, as you need them, and easily switch them?
That's the composable approach CMOs are looking forward to.
If we talk about Sitecore, it is an expensive, all-in-one solution! So you need to pay a bit over the odds to purchase this whole-souled content hub for a business. Many of its functionalities remain untouched by most content marketers.
Further, its license fee starts at $40,000. Plus, you need to pay another $8,000 renewal fee every year.
Therefore, it makes no sense to purchase such an expensive CMS tool with high subscription costs. Instead, it would be best to have a modern customized CMS tool where you only buy the tools you need – Agility CMS.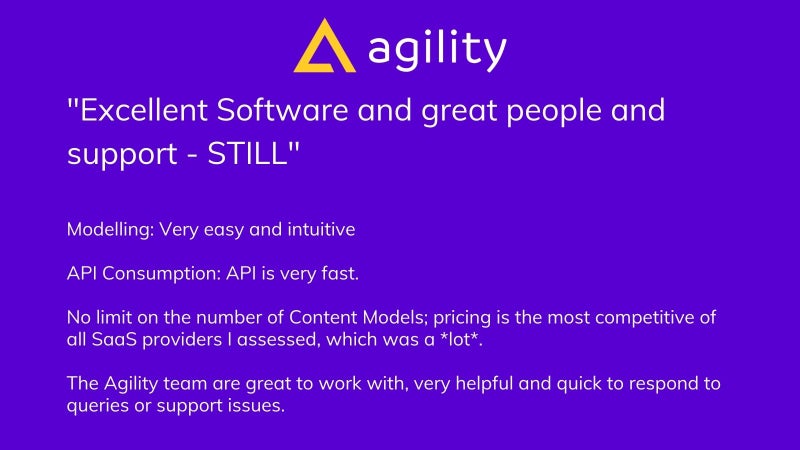 In short, with Sitecore, your marketing budget it likely being consumed by the platform.
Solution
The Agility CMS is a composable option that you must consider before migrating off Sitecore. It is an excellent back-end CMS that every executive wants to integrate into their organization.
Most importantly, this future technology is a perfect example of a headless CMS architecture getting popular these days.

What is a headless CMS? Why do experts lure at it? Is it a better investment?
A headless CMS is a back-end content repository decoupled from the front-end layer of any system. It means that this content CMS supports omnichannel experience management at its best.
Also, check out: What are DXP, MACH, and Composable DXP?.
No matter what the new design layout will look like on mobile phones, laptops, or other devices, a headless CMS will update your content as is without paying heftily for Sitecore's whole-souled digital experience.
Once structured, a headless content management system requires fewer updates. Another plus point is that it is much more flexible than traditional CMS like Sitecore.
Drawback #2: Sitecore is not User-Friendly
Another major shortcoming Sitecore has is that it is less user-friendly.
It's not a cup of tea for every back-end developer and marketing professional you may hire, so you'll need to train your staff by scheduling the "Developers Training Program" to introduce them to the basics of Sitecore architecture.
Secondly, learning Sitecore is extremely difficult. It might be possible that your content management team finds it a huge barrier to entry.
Likewise, you'll need to rely on the skillsets of your team. In such a scenario, it will get quite impossible to maintain a healthy content structure for your business in the long run.
Being a CMO of any organization, you should avoid using such a troublesome platform. Instead, consider using a reliable content management solution for your company that is user-friendly and easy for everyone to get their hands on.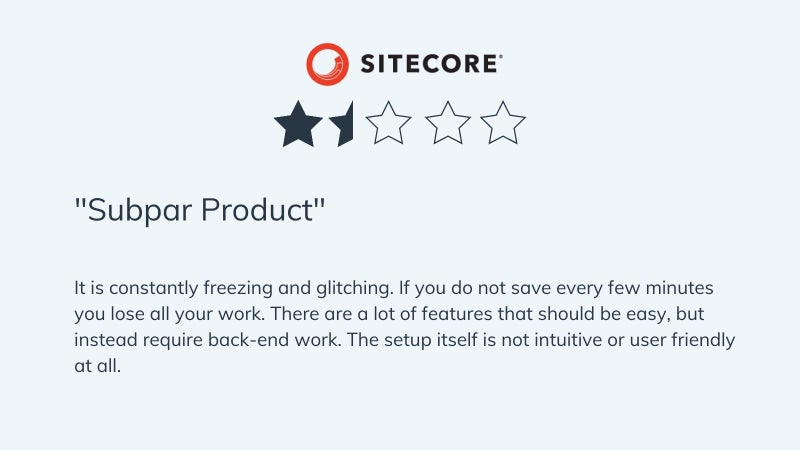 Solution
Before you pay for any CMS in the market, it's wise to book a demo of it and use its free trial to try it out and only decide if it will be beneficial to integrate it with your website.
Marketing teams are often the end-users of a CMS. Therefore, the CMS you choose should be a comprehensive, non-technical application that anyone on your team can learn and use effectively.
"Composable solutions, such as Agility CMS, prioritize providing a product built for marketers."
Using this CMS, your marketing team can easily manage to create and upgrade all digital content while sitting on a couch. You can even rely on this CMS to improve your content strategies.
Agility CMS is an API-fist CMS that offers easy-to-use features for your staff, even those with less technical knowledge. Because of that, there is no steep learning curve required for your marketing team to get trained first. Bingo!

Drawback #3: Sitecore Has Poor Technical Support
We live in a competitive marketplace where your website's performance matters every day. So it requires regular maintenance for a website and other marketing portals to ensure that their websites are performing well and at an optimal speed.
Regardless of how good a platform is, you'll still need its customer/technical support team's assistance every once in a while. Even with platforms designed to be used by non-technical users, there will always be instances when users need support from the platform.
Sitecore couldn't even score a good rating when it comes to the technical support it offers to its buyers. It claims to provide unlimited Sitecore support. But the truth is - that Sitecore is unable to provide sufficient support.
Yes, you are reading it right. Once you raise a ticket on the Sitecore Support Portal, you'll find yourself waiting for a long time to get answered, which often disappoints users.
You may find many of Sitecore's customer feedback stories that talk about its poor customer support.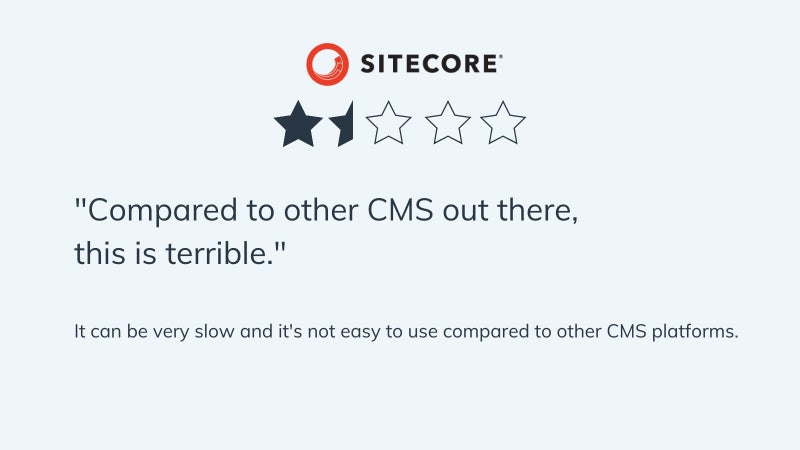 Solution
Compared to Sitecore, Agility CMS offers excellent support services for enterprise-level businesses. Their customer support officers are experts in the technical field and are ready to serve you 24*7 without any hassle.
So, don't worry about the on-demand tech support you'll need to ask for.
Agility CMS's clientele can vouch for its high-quality technical support service, which helps them generate great results.
Drawback#4: Sitecore's Upgrade Process is Challenging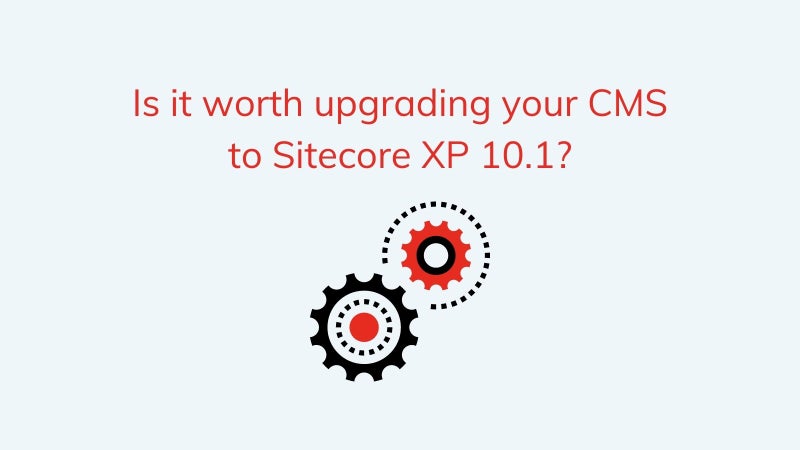 Are you considering updating your CMS to Sitecore XP 10.1?
It's not an easy task by any means. Once a new version is released, it becomes mandatory to update your older version with the latest version of Sitecore.
Sitecore stops providing support for all of its old versions when a new version is launched in the market.
You will also have to face countless issues and challenges when you try to upgrade to Sitecore's latest version. Here are a few of them:
Unavailability of Sitecore compatible version
Fixing problems at Sitecore configuration
Using outdated versions of third-party libraries
Updating the obsolete code
No support for the WFFM form
Outdated services and APIs
External database in bulk
Shifting to cloud hosting
Migrating the Sitecore user credentials
Updating the collection database
Sitecore roles & workflow management
Migrating Sitecore DMS stuff & much more
This makes Sitecore a terrible choice for companies that want to build a productive and efficient content hub.
In the screenshot below, one of Sitecore's customers is talking about the challenges they faced while updating Sitecore's version.
Not only this, there is a heap of such reviews and low ratings waving on the internet that is hard to ignore.
Solution
While updating Sitecore is such a daunting task, and countless issues emerge with the product, many CMOs choose to migrate off Sitecore and switch to composable solutions.
Agility CMS is one such future-proof, scalable, composable software solution that meets the demands of all enterprises like a pro. It enables you to have complete control of the software stacks that hold your content.
What else can one say? It is possibly the best decision for CMOs to choose a composable CMS like Agility CMS as soon as possible. This will help you cut down most of the limitations a traditional CMS such as Sitecore has. Also, you'll be able to enjoy the benefits of using a composable software solution.
Conclusion
Overall, Sitecore is an overrated platform with many shortcomings too. Though it is one of the oldest solutions that we consider powerful CMS for different business websites, it isn't a good option for big enterprises.
Yes, it doesn't work as per so many customer reviews and testimonials online that showcase an intense disappointment from using Sitecore CMS.
So, what's the solution? Agility CMS!
It is a feature-rich, agile platform that revamps user experience. Unquestionably, it has easy-to-use features that help digitize complex content marketing through modern operations.
Agility CMS is a cutting-edge product that every company must own. Its future-proof technology offers high flexibility to fabricate your front-end framework. Whatever language, tool, or framework your company will want to use in the future, will give you the freedom to choose any advanced technology.
The above image shows the outstanding rating and positive reviews Agility CMS gets from its happy customers.
Migrate your traditional CMS (Sitecore) with the best-tailored content management system (Agility CMS) today and enjoy the flexibility of repurposing your content efficiently across all digital channels. You can easily request a demo now.