Agile methodologies have changed everything and content management systems are no exception. The Agile methodology has broken down process and content silos enabling faster content delivery, more interconnectedness between departments, and better business outcomes.
From a CMS perspective, following an agile methodology and –more importantly– using an agile CMS simplifies content and asset management across enterprise organizations, enabling global brands to engage with customers across multiple countries and platforms.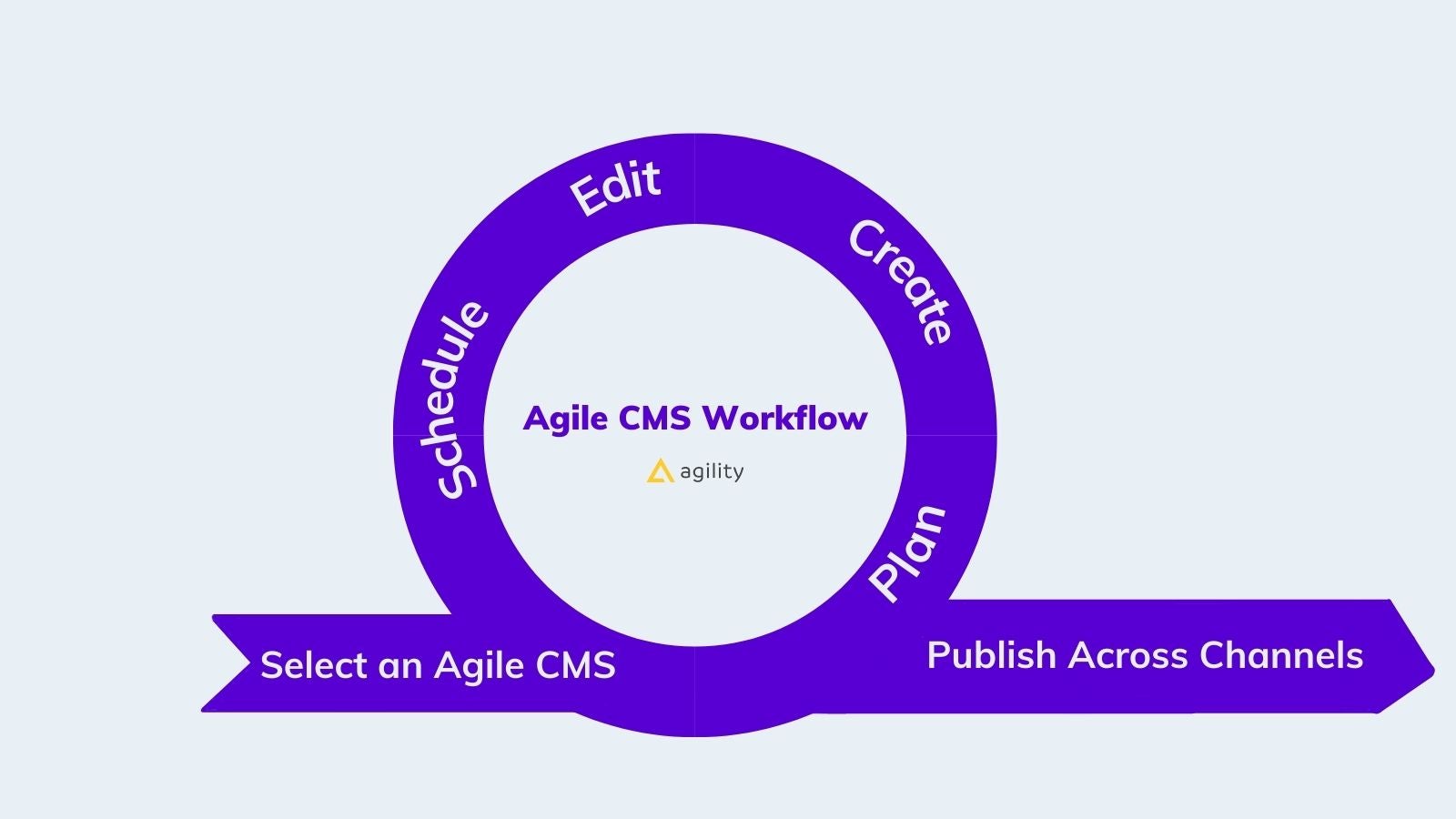 However, going headless isn't guaranteed to make companies agile. While headless architecture is one piece of the puzzle, it's not enough for forward-thinking enterprises to become truly agile. Global brands need more than a headless CMS; they need a CMS that gives every stakeholder what they need to succeed at their job.
In this article, we'll take a deep dive into the notion of an agile CMS- from what it means to the benefits it has for enterprises.
What is an Agile CMS?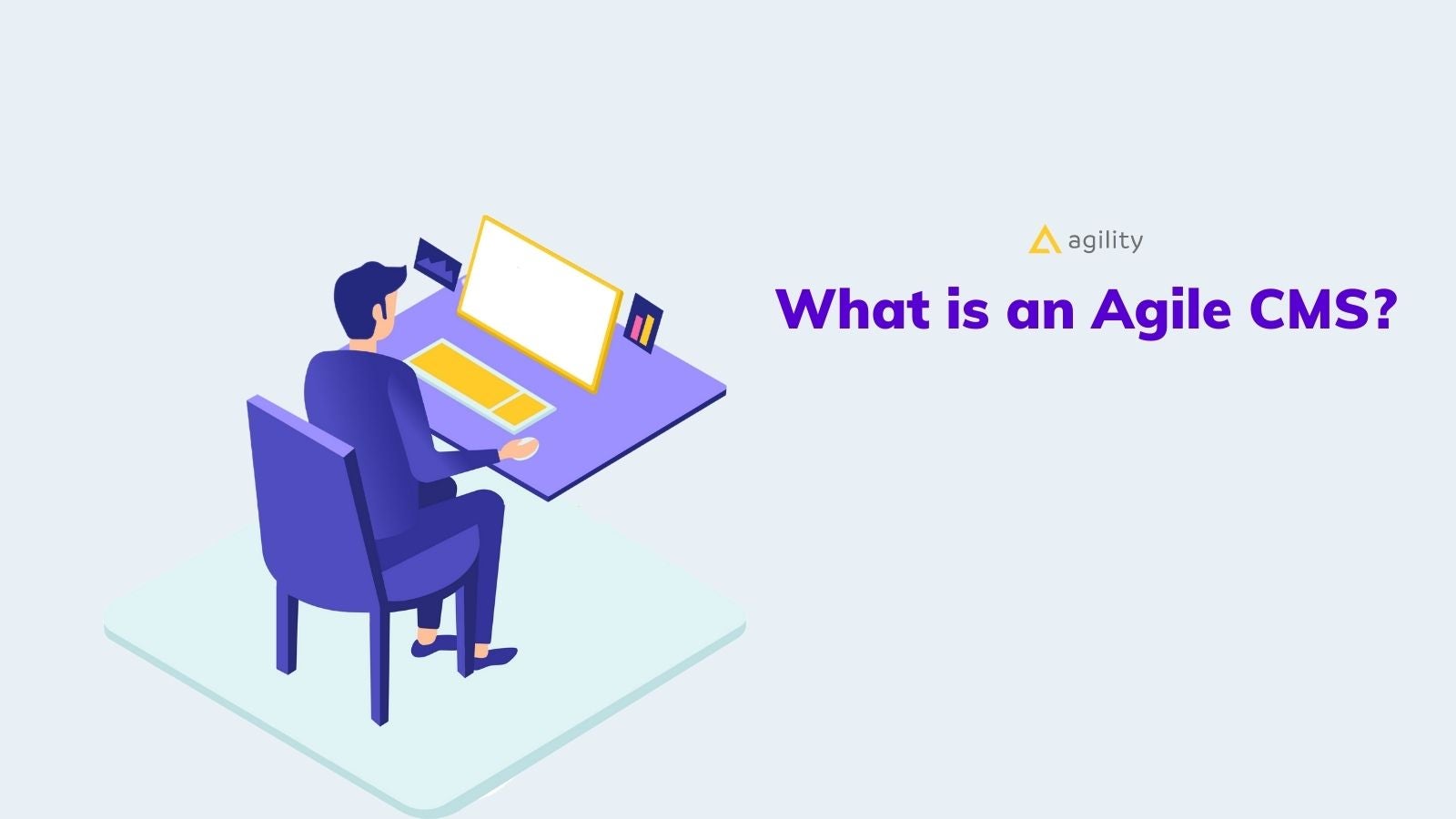 The concept of agile CMS was created to tackle the shortcomings of pure headless CMS. While headless platforms offer a solid developer experience they tend to sideline marketers and business users. This may be a result of separating the frontend from the backend repository. This was innovative five years ago but is not today. Modern companies demand forward-thinking.
Agile CMS offers that forward-thinking.
According to Forrester, Agile CMSs are capable of assembling "...new types of engaging experiences from content, commerce, and data building blocks.", and they need to have at least these three features: a content hub, collaboration, and planning tools, and flexible deployment.
With that said, there are other vital components a CMS needs to be truly agile and provide enterprises with the best experience.
Let's take a look at some of them.
The Anatomy of an Agile CMS
Content Hub:


To be called agile, a CMS needs to provide enterprise users with an easy-to-use interface to view, organize, and manage content in a single place while also staying compliant and secure against malicious actors.

Omnichannel Content Delivery:
The ability to deliver content to different devices and channels is no longer a nice-to-have feature for enterprises. An agile CMS gives enterprise businesses a platform they can use to centralize information and distribute it across devices with one click.
Flexible Deployment:
The ability to deploy digital experiences using different front ends and frameworks separates agile platforms from the rest. An agile CMS platform can also deploy code using other methods and tools for a solid development workflow.
Collaboration and Planning Tools:
Agile approaches aren't possible without thorough collaboration from every stakeholder in your company. To be considered agile, a CMS needs to offer a hub for collaboration or integrate with the best third-party planning tools.
Custom Workflows:
A workflow is a series of steps towards a desired state or goal. Most CMS have set-in-stone workflows that you can't change. An agile CMS aids enterprise businesses by creating custom workflows that fit their content and development pipeline.
Content Reuse:
Without reusable parts, building digital experiences at scale would be impossible. By treating each piece of your website as an independent module, an agile CMS helps enterprises to build digital experiences with less time and effort.
User Friendly:
If one thing is true about legacy CMSs, they're clunky and hard to use for non-technical users. Even CMSs like WordPress, the legacy giant, can quickly become unwieldy and difficult to make sense of if you haven't used a CMS before. An agile CMS simplifies processes, making them simple for non-technical and first-time users.
Agile Methodologies:
The agile methodology is the backbone of an agile CMS solution. The agile practices empower your employees to do their job with maximum creativity while remaining in sync for fewer content silos and greater innovation.
Content Modeling:


Content modeling

allows marketers to define and relate content at a granular level. It involves: analyzing requirements, determining what kind of content you need, identifying structures so editors can use and manage content faster.

Now that we have gone over the requirements to be agile, we can take a more in-depth comparison between traditional and agile CMS.
Agile CMS vs. Traditional CMS
| | | |
| --- | --- | --- |
| | Traditional CMS | Agile CMS |
| Architecture | Coupled | Decoupled or headless |
| Content Delivery | Single-channel or disjointed multichannel | Omnichannel across channels and devices |
| Workflows | Unchangeable workflows | Customizable workflows |
| Integrability | Integrable with plugins but not third-parties | API-driven integrations with third parties |
| Deployment Options | On-premise | Cloud SaaS-based |
Benefits of an Agile CMS
1 | Faster Speed To Market
Following agile practices encourage faster market speed, as it assists marketers, business users, and developers to build digital experiences and quickly respond to changes in the market. Hence, enterprises stay nimble, adaptable, and ready to deliver content to as many channels as possible without interruptions or overlapping efforts.
2 | Adaptability
By separating the frontend from the backend, an agile content management system allows developers to build digital experiences and websites using the tools they know and love without the constraints of a highly opinionated traditional CMS.
Agile CMSs are nimble and prevent you from getting in vendor lock-in. Agility CMS enables you to build a best-of-breed software stack that solves your unique content needs and increases your ROI.
3 | Customizable Workflows
With the increasing complexity of today's marketing campaigns requiring the coordination of multiple integrated touchpoints, an agile CMS solution is the perfect tool to create granular and personalized workflows. An agile content management system enables you to create and manage sophisticated, multistep workflows without having to code.
4 | Third-party Integrations
The agile approach calls for an interconnected web of services that talk to one another to deliver greater value than the monolithic approach of a traditional CMS. Agile content management systems leverage APIs and GraphQL, enabling developers and marketers to integrate with third parties.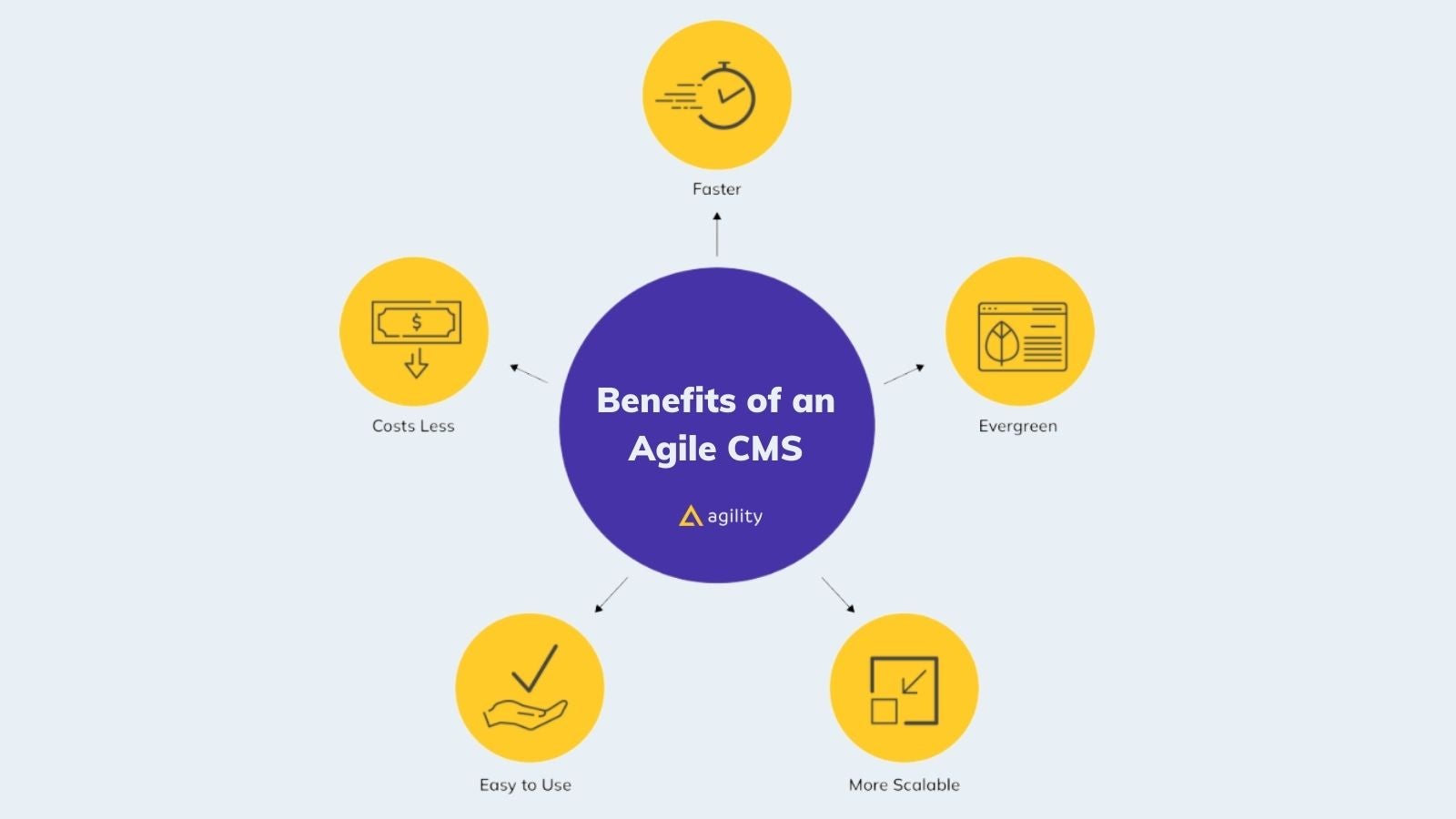 What Makes Agility CMS Agile?
Agility CMS is known as the ultimate agile CMS. Agility developed the first API-driven headless CMS in the market in 2003, and ever since then, Agility's API-first CMS has been the foundation others have tried to build on.
Agility CMS enables multidisciplinary teams to complete tasks following workflows and agile principles based on manageable sprints. The platform enables cross-functional operations and the development of digital solutions and content quickly.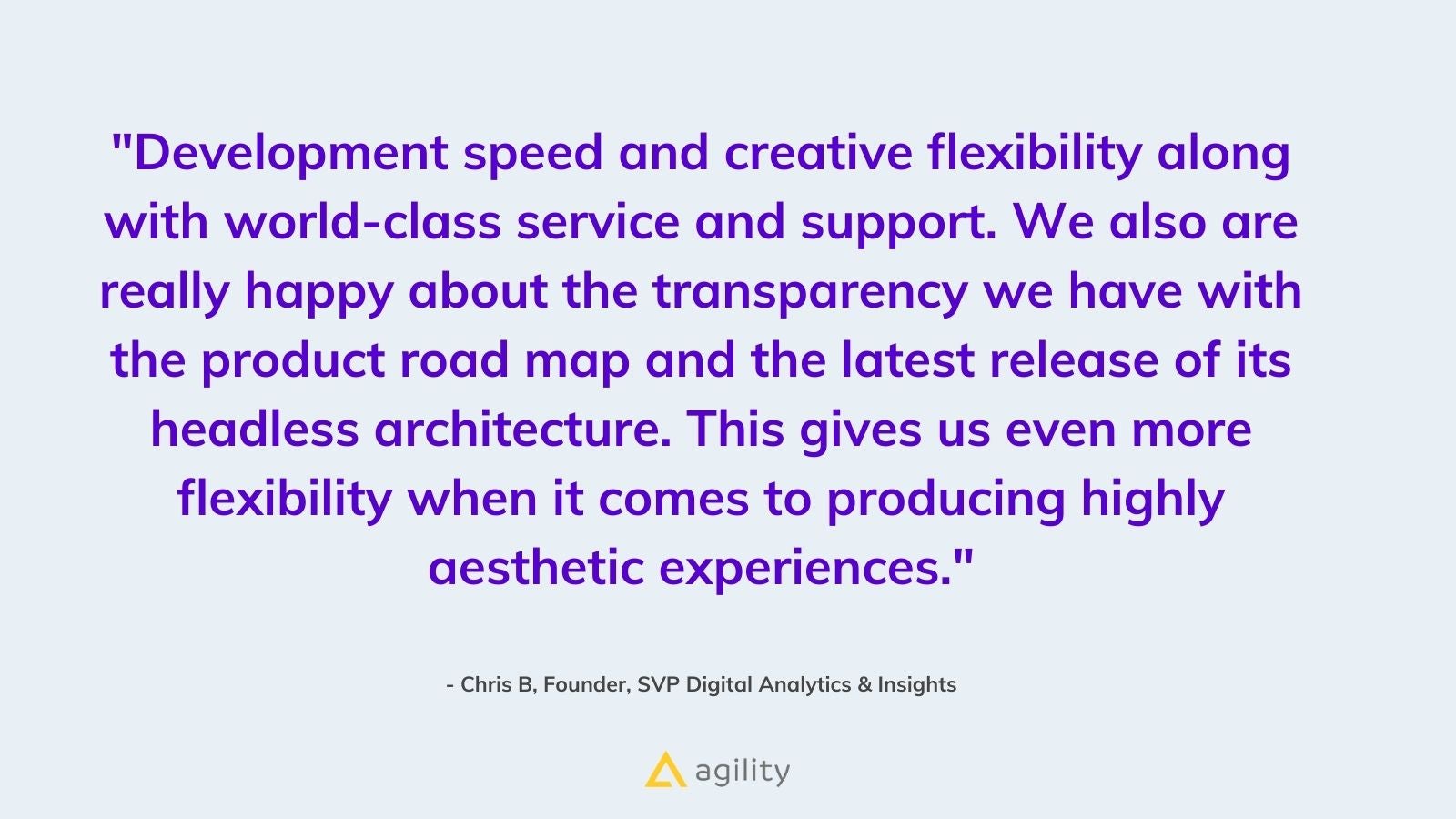 While headless CMSs have made frontend content delivery easier than ever before, Agility's agile development takes things one step further. It allows users to optimize the experience for both visitors and users in a truly omnichannel fashion, enabling forward-thinking enterprises to innovate and integrate new channels.
Agility CMS is also different from other agile CMS vendors. It's a content platform that includes all the features of an agile CMS with an added layer of services, tools, extensibility, and features to enable marketers and business users to build enterprise-grade digital experiences.
However, as for the reasons why Agility CMS is an agile CMS, we say that:
Agility is a content hub for your content and assets

Our CMS offers customizable workflows that are easy to set up and require no code

Agility CMS is an API-driven tool

Agility CMS has a solid partner ecosystem

Our CMS is highly integrable and extensible

With Agility CMS, forward-thinking enterprises can integrate agile technologies into their operations to bridge the gap between traditional and modern operations. If you want to learn more about Agility CMS' agile offer, read more here: Why Agility CMS Is The Best Headless CMS for your Enterprise CMS needs.