Do you need to up your content production game? Are you in the dark about how to do it?
Amplifying your content production efforts plays a pivotal role in building brand awareness and customer loyalty. However, it's not as simple as just generating more content. To achieve your marketing goals, it's crucial to scale content production without losing any quality elements.
The key to successful content production is creating content that reaches your potential customers. You can do this by being the business that answers their questions and problems.
Common issues occur when attempting to scale content production without adhering to quality control:
Overworked staff
Misaligned KPIs
Inauthentic content
Decreased customer interactions
You must be clear on your marketing goals and KPIs to scale your content production. Ensure your goals are achievable and realistic for your current team. If your team currently focuses on blog articles and infographics, you'll need to outsource different skills to publish different content such as webinars and podcasts.
Pushing out more content that is irrelevant to your target audience can be more detrimental than not producing enough content. If your customers feel disassociated from your content, and therefore, your brand, loyalty decreases. This can have an extreme impact on your bottom line.

Why is Content Still King?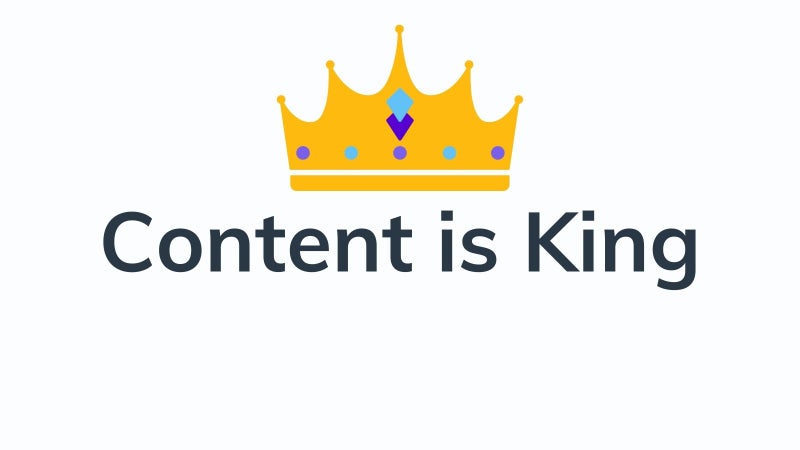 By investing the time and resources into creating substantial volumes of high-quality content, you significantly increase your brand's digital visibility and website traffic. Providing solutions reassures your audience that you relate to them, thereby achieving the first loyalty touchpoint.
When they land on your website, hit them with another piece of valuable content and motivate them to get in touch or buy your products or services. A positive customer journey touchpoint reinforces the connection with your brand, leading to more conversions and leads.
Tailored content marketing ticks the following boxes:
Improves brand reputation
Encourages customer loyalty
Raises referral traffic
Increases organic search traffic
Enhances customer journeys
Boosts customer touchpoints
Defines your brand's personality
Maximizes social media engagement
Promotes industry authority and expertise
Elevates conversion potential
Potential to reach a wider audience
With all these benefits, content production should be at the forefront of your marketing plan.
To reap more rewards for your business, it's time to start scaling your content production process—without compromising on quality.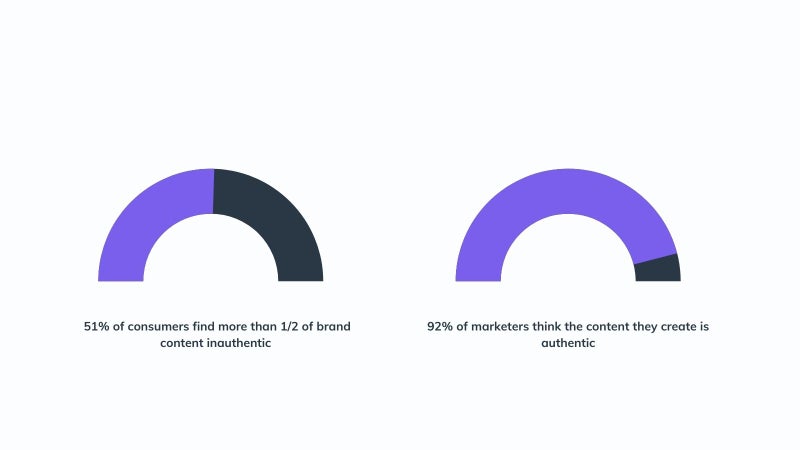 What is Scalable Content Production?
As we've mentioned, scaling your content production goes beyond increasing the number of blog posts or articles.
Scalable content production is about creating as much valuable content as possible for your target audience. Thereby educating and guiding them along their buyer journey to make informed decisions.
Why Scale Your Content Production Process?
The reason more high-quality content is essential is twofold.
Firstly, search engines reward digital content that is both relevant and valuable to their users.
Rewards come in the form of higher rankings on SERPs, meaning you enjoy a wider audience for your content. It's no coincidence that posts ranking on the first page of search results come from websites with a high volume of content.
Establish a custom SEO plan to generate valuable user-friendly content and ensure it's seen by the right people.
Secondly, consumers are becoming increasingly demanding about the businesses they choose to contact.
Articles, infographics, downloads, videos, and interactive materials all form part of your marketing strategy. Therefore, each of your scaled content posts should slot into your strategy and consistently grow your content marketing production.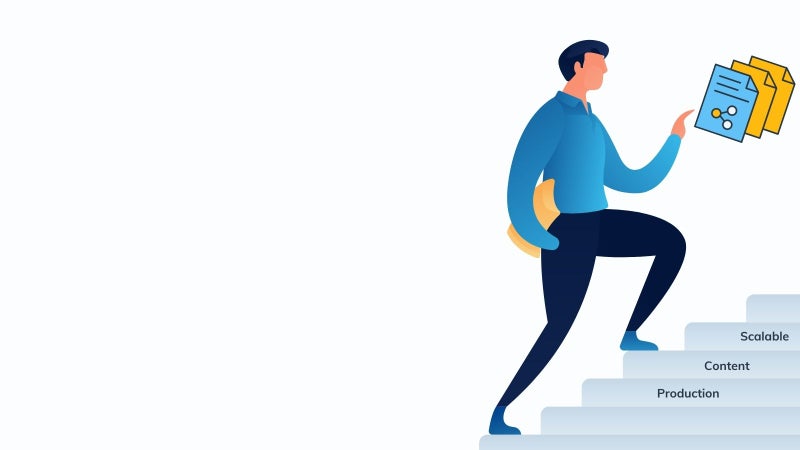 How to Scale Your Content Production Process
Just as a robust test plan for software is crucial to the overall development process, effective planning is also vital to scaling your content production.
Let's look at how you can scale up your content production process without losing quality. Below, we provide you with seven actionable tips that you can put into practice straightaway:
Know your audience
Structure processes
Create customizable templates
Organize processes
Leverage the right tools
Repurpose content
Outsource content creation
1. Know Your Audience
Growing your market reach means altering your content strategy. Your aim is to make the customer experience better by delivering a better user journey.
Take time to create target segments to ensure you're pitching new volumes of content to the right audiences. Create buyer personas for each segment to identify their content triggers:
What are their needs?
What discourages them?
What motivates them?
Document the concerns and needs of your new audience to answer their problems effectively with your content. Then, conduct a thorough analysis to review all interactions with your content.
2. Structure Processes
Structuring your content production processes means breaking down all the elements of your current content creation. See where you can maximize time and money by prioritizing tasks and analyzing steps.
This will allow you to delegate processes as efficiently as possible. Keeping control over delegation and understanding how each process works is integral to content production scalability.
For example, creating content often involves these tasks:
Topic brainstorming from competitor research, buyer personas, and relevant company ideas.
Keyword research from new opportunities, competitor analysis, and existing valuable content.
Topic prioritization to assess the most relevant and valuable sources of content.
Article guidelines to guide the writers on the topics.
Writing or production of blogs, video, and/or audio.
Proofreading written content.
Content editing or post-production edits.
Content formatting and preparing for publication.
Publishing content pieces.
Content promotion includes email marketing, influencer, and social media campaigns.
Content Production Map
Once you've laid out your content development process, it's time to assign roles and check capacities. Assemble your content team and develop a visual representation of how they work to achieve your content production goals.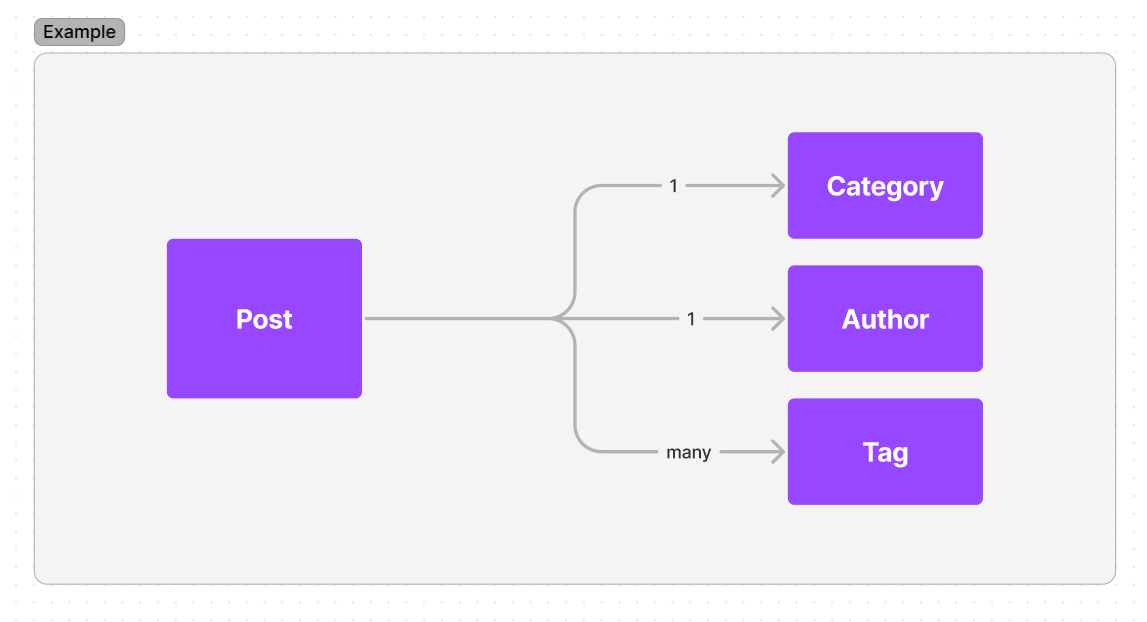 Image created by writer
As you develop this workflow, ask your team:
How much content can each team member realistically create?
How much time does it take them to create each piece of content?
What's their most time-consuming activity?
Who do they report to?
Do they communicate efficiently?
Create a defined vision of your current content production processes. This facilitates an understanding of how much content you can create to increase your production output.
3. Create Customizable Templates
We're not suggesting you copy and paste duplicate content all over the place. Customizable content templates with high-quality content effectively ramp up content production. Customized templates adhere to your brand guidelines by delivering content in a recognizable format.
Templated content gives your writers a framework for tone and composition. Creating more content efficiently is friendly on your budget, too. Establish a brand style guide for your content creators to follow that include your business's:
Voice and mission
Formatting rules
Fonts, colors, logos, and visuals
Personality
Tone, language, and grammar
Linking policy
Content goals
Values
A great way to scale your content is in the forms of case studies, listicles, and how-Tos. They are quicker to put together than lengthy white papers and are clickable, appealing forms of content.
Use examples like:
"5 Ways To Improve Your ROI today"
"Why You Shouldn't Follow This Advice"
"How To Use Your Team To Drive Sales"

This style of content provides lots of opportunities for specific keywords and leans towards the trend of People Also Ask in Google SERPs.
Pro Tip: If you're stuck for content around a specific topic, People Also Ask is a great place to start. Featuring real questions from customers just like yours, these are the questions your content should address.
4. Organize Processes
Informing your audience and solving their problems whilst enhancing their digital journey requires organization. Scaling your content production process leaves no room for random posts.
Consider your different marketing funnel steps and create a plan for the content you need, when you need it. Feel free to detail and organize these steps using an Excel task list if you're so inclined.
Top of funnel content: Interactive content, videos, articles
Middle of funnel content: Infographics, ebooks, resource downloads, articles
Bottom of funnel content: Case studies, reviews, demos, customer testimonials
Top of funnel marketing is the initial attraction to your content. The listicles and how-tos mentioned earlier are great for attention and generating clicks. After the initial attention, encourage visitors to continue their journey by delivering plenty of mid-funnel valuable content. The bottom of funnel content reassures your website visitors that they're in the right place and your business is the answer they've been seeking.
To organize your content production, install processes to fit your business needs. Consider a calendar-style content tool to organize content production and standardize activities. A chronological arrangement of your content production process works well to manage high volumes of content creation.
A content calendar allows you to keep a strategic vision towards your internet marketing activities and makes it easier to scale your content production process.
5. Leverage the Right Tools
To scale your content production process effectively, you need to leverage the right systems to your advantage. SEO planning platforms, CRM systems, analytics tools, and headless CMS all play vital roles in your digital marketing toolkit.
For example, creating an internal centralized system through a headless CMS streamlines content delivery and connects departments. You can harness this power to align your digital content across channels and recycle existing content to improve its impact.
6. Repurpose Content
If you've already got some valuable content on your blog, this is a great starting point for building topic clusters. Topic clusters boost your business's SEO by giving more opportunities to target specific keywords and generate backlinks from high-ranking sources.
To do this, list the main topics covered in your existing blogs, and create specific new posts with long-tail keywords. This method increases your content reach and supports your core articles.
You can do the same with existing ebooks and valuable downloads. Repurpose content resources with the help of your headless CMS into smaller pieces such as articles, social media posts, or infographics. You're basically allowing your audience to absorb your content in their preferred format, which only adds to their positive experience.
Continuously review your digital content and update older posts with new or better information so that your audience continues to find them relevant and valuable. There are so many opportunities to extend the lifespan of your top-ranking content pieces. Ask yourself whether each person who finds this content is getting the best value from it.
7. Outsource Content Creation
Keeping content production in-house probably isn't a maintainable strategy. Outsourcing content creation lets you focus on other business priorities while producing content on a large scale.
Outsourcing isn't just limited to writing. You can outsource tasks such as editing, designing, and project management. As we've mentioned, new types of content require different skills that you'll need to outsource.
To enhance efficiencies, 24% of small businesses are moving towards outsourcing. Which makes sense when you're planning to scale your content production process.
But how do you find the right people to outsource your content creation too?
Check out:
Industry-relevant blog articles
Social media groups
Freelance writers, editors, etc.
Content marketing agencies
Yet another excuse for a template, you can use a cold email template to reach out to content writers to join your team. This method is one of the most efficient ways to connect with potential content creators once you've tracked them down. The goal of working with freelance writers or content marketing agencies is to increase your content production while keeping the efficiency intact.
Pro Tip: Don't forget to take time to craft the best email subject lines for the best chance of engagement.
Let's Start Scaling
Having a steady flow of content is perfect to keep your audience engaged and your business relevant. Start by generating workflow improvement ideas to create consistently high-quality content.
Put together a great team, make a firm plan of action, outsource to the best people, and enforce a quality control system to create purposeful content on a schedule. Your content must shine to stand out from the competition.
Successful workflow processes add value to your organization and provide a solid base for scaling content production. Just remember not to lose sight of the quality of your content production efforts.
By optimizing your team, content marketing strategy, and processes, you'll be in a great position to produce reams of outstanding content more efficiently than you imagined.
Learn More:
What Are The Benefits of a Headless CMS? | Agility CMS
Landing Page Free 1-on-1 content hub consultation (agilitycms.com)
Request a Demo (agilitycms.com)
Bio:
Alister Esam - CEO and Founder, Process Bliss
Alister Esam is the CEO and Founder of Process Bliss, a work management software that is reinventing how businesses execute day-to-day tasks. He is an expert in strategic planning, business process management, process mapping, and business process optimization. With more than 15 years of experience in helping businesses run at peak efficiency, Alister has dedicated his career to making work easier and more motivating for managers and employees alike. Here is his LinkedIn.