Recent studies have revealed that consumer trust in traditional banking and finance is failing rapidly. Caused in part by the rapid shift to digital amid the COVID-19 pandemic, it has dipped to a low of 29%.
With this, a worldwide consumer survey by Statista revealed that trust remains the most important aspect of banking. It is essential for both new and existing customers, and it's up to today's financial institutions to work on boosting consumer confidence.
The pandemic has changed the landscape of most industries, and traditional institutions such as finance, legal, and healthcare are no exception. In the past, financial institutions could rely on customer loyalty to maintain their business.
However, in today's digital world, customers are more mobile and have more options than ever. COVID-19 also opened up new ways for customers to transact touchless, and businesses have likewise found better ways to meet consumers' needs through digital services.
Consumers have come to expect better service, communication, and transparency from their financial institutions. So, how can you maintain customer loyalty in the rapidly-changing finance landscape?
In this article, we'll examine the challenges that banks, credit unions, and other financial service providers face regarding customer loyalty. We'll also provide tips on overcoming these challenges to keep your customers coming back.
Challenges of customer retention in financial services
Financial service providers face several challenges when it comes to customer retention. Financial technology (FinTech) has dramatically disrupted the industry by providing consumers with new ways to bank and invest. FinTech includes mobile apps, software, and other technological innovations that aim to make financial services more accessible, efficient, and user-friendly.
As such, going digital became more of a necessity in the industry and not just something that provided an edge. Financial institutions that quickly adapted to the digital age had a leg up on their competition, while those that didn't risk losing customers to more nimble FinTech startups.
Therefore, the new challenge is connecting with (and retaining) a new type of digital consumer—one that differs from the previous era when traditional banking dominated the market.
Another big challenge to customer loyalty in banking is keeping up with the latest customer expectations. Customers now expect more from their service providers in terms of convenience, transparency, and overall customer service standards. They also want more personalized experiences tailored to their individual needs.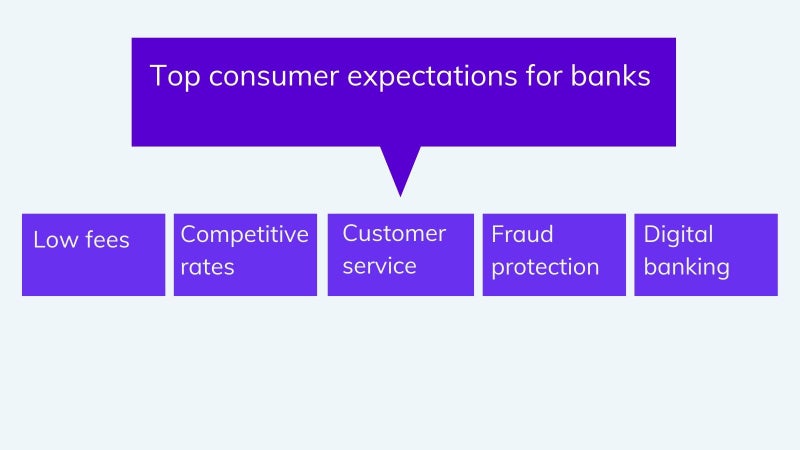 According to The Ascent, these are the top consumer expectations for banks:
Low fees
Competitive interest rates
Exceptional customer service
Protection from fraud
Access to financial services online and via mobile
In addition, customers have more options now and are not afraid to switch banks if they're unsatisfied. With the ever-expanding roster of alternative players, customer retention has become a more significant hurdle for banks.
Also, the global health crisis has forced many businesses to close their doors, leaving many consumers uncertain about the future. This has increased anxiety and stress levels, which can further impact customer loyalty. No doubt, the pandemic has intensified most of the issues outlined above.
So, how can financial institutions improve customer experience and boost customer retention and loyalty? In the next section, we'll look at the various fronts on which banks can work to improve customer experience.

How to maintain and increase customer loyalty in banking?
According to global consultancy firm Bain & Company, certain factors set loyalty leaders in banking apart from those that lag. The firm's research showed that banks focused on digital-first and prompt customer service tend to retain customers at higher rates while keeping costs down.
Improving customer experience for financial services isn't just a nice-to-have—it's now a necessity for banks if they want to stay competitive. Thus, a revitalized loyalty program is crucial to success. Here are some ways to implement customer retention strategies.
Provide excellent customer service
This one is pretty obvious, and for this reason, it's on top of our list.
Banks that offer outstanding service have satisfied customers who are less likely to leave for another provider. To achieve this, banks need to meet customers where they are most of the time, which is online.
We've mentioned how the digital age has reshaped customer expectations, but the question for financial service providers is: How can you leverage technology to improve customer service?
The answer lies in part in automation. Technology-averse individuals may find comfort in old-school customer service tactics, but today's digital customers expect automation.
There are various ways to automate customer service, and one is using chatbots, Robo-advisors, and other similar digital tools. Chatbots provide a quick and convenient way for customers to get answers to their questions without having to wait on hold or speak to a customer service representative.
Often, chatbots are able to resolve issues without needing to escalate the matter to a human representative. It saves companies a lot of time and money and keeps customers happy.
Ensure you provide secure solutions
In the wake of the pandemic, many consumers have become more aware of the importance of security where their finances are concerned. This has increased the demand for security solutions that can protect their money and personal information.
Thus, banks must provide their customers with solutions that will give them peace of mind. One reliable option is an API-first headless content management system (CMS).
Compared to a traditional CMS, where the frontend is considered the "head" and the backend CMS is the "body," a headless CMS decouples the two. This gives you more flexibility in delivering content and ensures that your customer-facing applications are always up-to-date.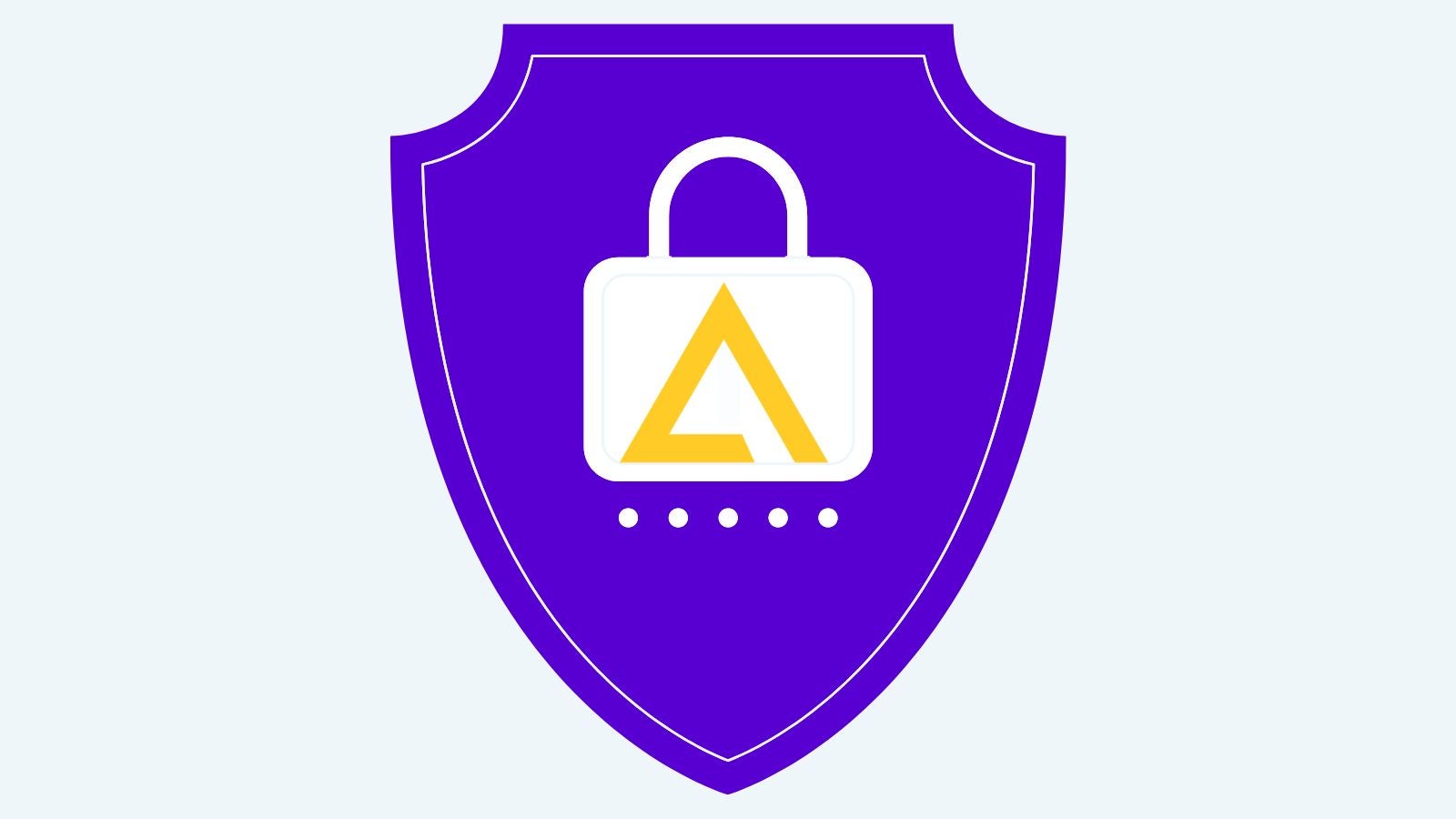 Adopting a headless CMS architecture will allow your developers to build and update websites and apps faster, using the tools and programming language they're most comfortable with.
With traditional CMSs, the learning curve requires handling the backend. The extensive back-and-forth needed to load even minor updates onto the website or app can also be significant. This leads to longer development times and can leave networks vulnerable as outdated software continues to run.
Headless CMS tools offer seamless integration with current technological stacks, so there's no problem if you want to retain your existing CMS and other tools. In a headless architecture, content is seen as data, making page rendering faster.
This also means that content only needs to be input once, even if you have multiple channels. And since today's marketing landscape is increasingly leaning towards omnichannel approaches, it can be beneficial, not to mention cost-effective.
Improve customer experience for financial services by leveraging data
Data can segment customers, personalize user experience, target ads, and more.
However, it needs to be properly collected and managed for data to be valuable. This can be a challenge for financial service providers, as regulations like the Gramm-Leach-Bliley Act (GLBA) and the California Consumer Privacy Act (CCPA) restrict the type of financial data that can be collected and how it can be used.
Nevertheless, there are still ways to harvest and use customer data while remaining compliant with regulations. For example, banks can utilize surveys to learn about customer needs and preferences.
This data can then improve customer experience by tailoring products, services, and marketing messages to specific customer segments.
Incentivize loyal customers with special offers (digital and/or physical)
Incentives encourage customers to stay loyal to your brand. Financial service providers can offer special deals, such as waived fees, interest-free periods, or cashback.
Digital incentives are especially effective in today's climate, as they can quickly and efficiently deliver to customers via email or SMS. Since many people are now banking online or through mobile apps, these offers can be delivered right where they are already interacting with your brand. Last but not least, to design your offerings properly, try to use an online logo maker tool to come up with new ideas and get inspired for your future efforts.
Physical incentives, such as branded merchandise or gift cards, can show your customers that you appreciate their business. These items can be given out at events or sent by mail along with their monthly statements.
According to Collinson Group, rewards and special offers from financial services positively influence the decision-making process of 70% of customers. In addition, 20% agree that they would be willing to spend more for enticing rewards that are personalized, relevant, and useful.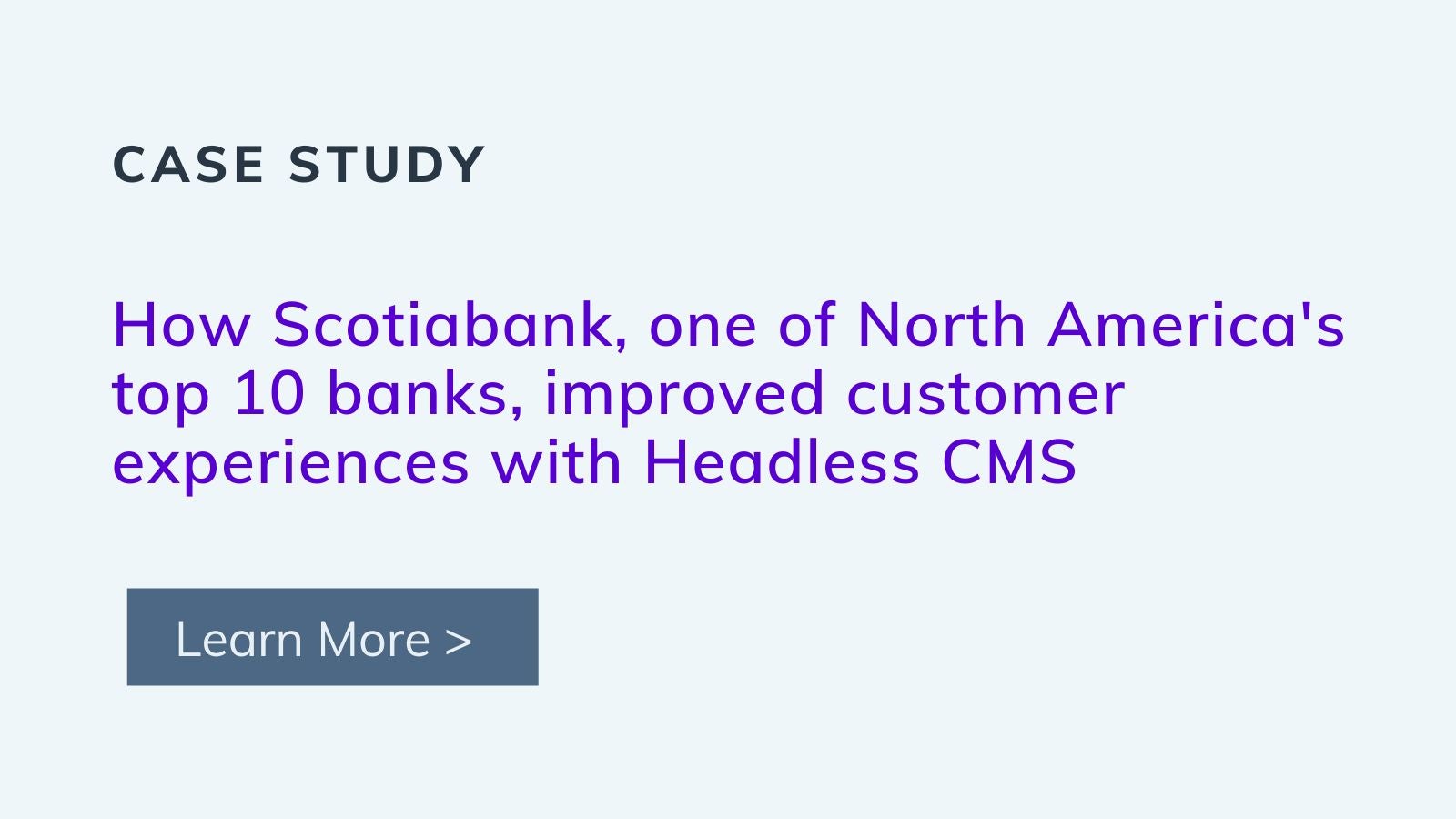 Empower customers through a referral marketing strategy
Referral marketing is another excellent way to improve customer loyalty and encourage customers to continue doing business with you. This approach generates reliable leads for new businesses while turning existing customers into brand advocates. At the same time, you're making the experience equally rewarding for everyone.
A few key things to keep in mind when implementing a referral marketing strategy:
Make it easy for customers to recommend your brand. The process should be straightforward, with clear instructions on getting started. Ensure that the customer journey from referral to conversion is smooth-sailing.
Offer an incentive worth referring to. It should be something your customers want, such as a discount on services, cashback, waived fees, or high-value merchandise.
Promote the referral program properly. Distribute marketing collateral through your website, social media channels, and email list. Facilitate easy information dissemination about the program.
Following these tips can create a referral marketing strategy that will improve customer loyalty and generate new business. Studies show that acquiring new customers can cost up to five times more than retaining existing ones. With a robust referral strategy, you can keep your costs down while still growing your customer base.
Expand the scope of your services
We've said it enough times by now, but it always bears repeating: If you want to stay competitive in the financial industry, you'll have to keep up with the latest trends and technologies.
Consider expanding the scope of your services. For instance, if you're a traditional brick-and-mortar bank, you might want to add a digital wallet or mobile banking app to your menu. Or, if you're an online lender, you could start offering your customers insurance products or cashback rewards.
You're giving your customers more reasons to do business with you by providing more services. They'll appreciate having everything they need in one place and will be more likely to stick with your brand when it's time to renew their services.
Keeping up with the latest trends also position you as a thought leader in the industry, which can help attract new customers and further solidify your brand.
Some options you can explore:
Cashback: Few things delight customers more than getting money back on their expenses. For this, they'll reward you with their loyalty.
Digital Wallet: The convenience of hassle-free payments and managing finances increases the likelihood of customers staying with you.
Digital Currencies: With digital currencies becoming more popular, it's worth considering adding them to your financial services mix. You may attract a potentially different client demographic and expand your reach.
Loans and Mortgages: Offer new ways for customers to pay off their loans, such as linking their loyalty rewards points, accepting digital currency, and allowing them to make extra payments without penalty.
Conclusion
The financial services industry is constantly changing, and customer loyalty has become more challenging. By offering superior customer service, expanding the scope of your services, and keeping up with the latest trends, you can retain customers and keep your business thriving.