Adollum, a security SaaS company acquired by Microsoft back in 2015, was in a market where the number of solutions was exploding. As a result, people were overwhelmed by the number of products they could choose.
But they sold to FireEye in less than ten minutes. They reduced their Time to Value by showing them how exactly Adollum could help them.
"The way they sold to FireEye was demonstrating literally in eight minutes that they could go from no implementation to a fully working product," says Shardul Shah, partner at Index Ventures.
In this article, we'll go through five ways you, too, can use to shorten your product's Time to Value.
What Is Time to Value (TTV)?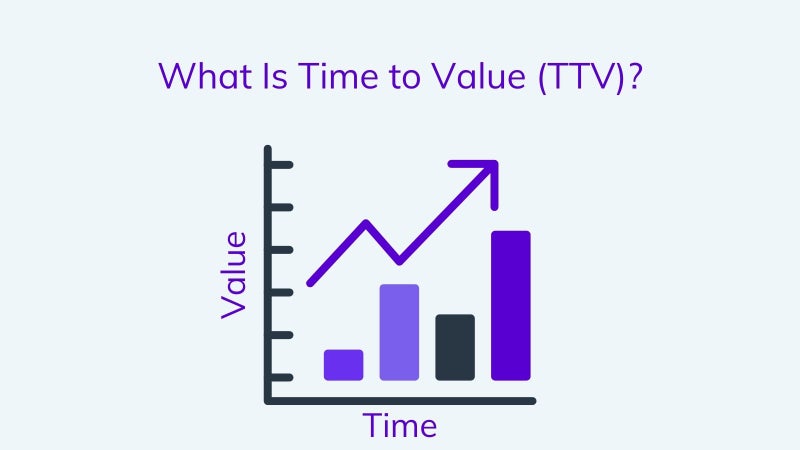 Time to value is the time it takes a new customer to realize the benefits of your product after purchasing it.
Ideally, you'd aim for a shorter TTV because the faster your customers realize the value, the more likely you'll see your retention rates improving and customers appreciating the value of your entire product.
And that's precisely what happened at Behance. The customers experience the product's value fast, and, as a result, they stay long enough to experience the overarching significance of the product.
"In the early days of Behance," Scott Belsky, the founder, writes, "the immediate utility was presenting your portfolio online. If we didn't execute this well, nobody would have stuck around long enough to experience the benefits of the networking and marketplace components."
But Time to Value is Different For Every SAAS Product
A simple product has a shorter time to value than a complex product with a wide range of features, which takes time to implement integrations.
Take Toby and Leanplum, for example.
Toby is a tab management app. I've always had thirty or so tabs open, and all the context switching sucks the soul. So I downloaded their chrome extension, and within minutes, I organized all my tabs and felt less overwhelmed and more in control.
Toby's time to value is immediate because it takes their customers to realize the product's value in less than 5 minutes.
For Leanplum, the product is complex. For their customers to realize the product's value much faster, they need to be onboarded by the Customer Success Managers (CSMs).
As Michael Buccellato, a Senior CSM at Leanplum, says, "So onboarding is the most crucial piece of the customer life cycle. What's most important is TTV. Your customers are investing a significant amount of money with you, so it's important to understand their previous scenarios. And then working across your different teams internally to ensure your ducks are lined up to provide value to customers."
But as much as they try to shorten the TTV, it usually takes a month or two for customers to realize the value of the product from the onboarding. "With Leanplum, it's a pretty complex piece of software. You can do a lot with it," Michael says. "Typically, we tell customers it takes anywhere between 30 and 60 days to onboard."
The Relationship Between Time To Market and Time To Value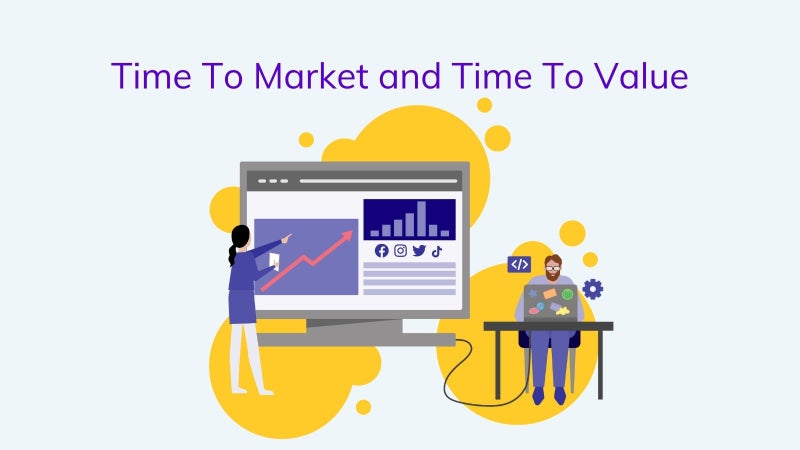 Undoubtedly, being first in the market enables you to establish a strong brand recognition before anyone else.
But a faster time to market doesn't automatically translate to more revenue. Customers first have to comprehend the value of your product before committing. They want a quick ROI for their investment, and if they don't get the value they expected, your faster time to market will all be in vain.
Scott Belsky, too, realized how a faster TTM is prioritized more than the journey users go through.
"The welcome/tour, the onboarding, the explanatory copy, the empty states, and the defaults of your product make up the first mile." He writes. "In a world of moving fast and pushing out a minimum viable product, the first mile of a product's user experience is almost always an afterthought."
But showing new customers the value of your product will improve their customer experience and prove crucial in retaining them. More so given that 80% of customers switch brands because of poor customer experience.
And as we'll get to see, much of showing this value to customers heavily relies on content. That's why it's crucial to have a tech stack that enables marketers to nurture customers from just leading to loyal customers.
Usually, you'd have your content spread out on various platforms, from your email marketing platform to the CRM software. You'd then have to switch between those platforms to update content and analyze the overall performance, whether the email open rate or the stage a lead is in.
But with a headless CMS, you can deliver all your content within your CMS without switching between different solutions. For example, Agility CMS's content-first approach helps you provide the right content at the right time, whether to your website, app, or even an IoT device like smartwatches. And integrations enable you to automate content workflow and personalize content for each customer.
4 Types of Time to Value (TTV) Metrics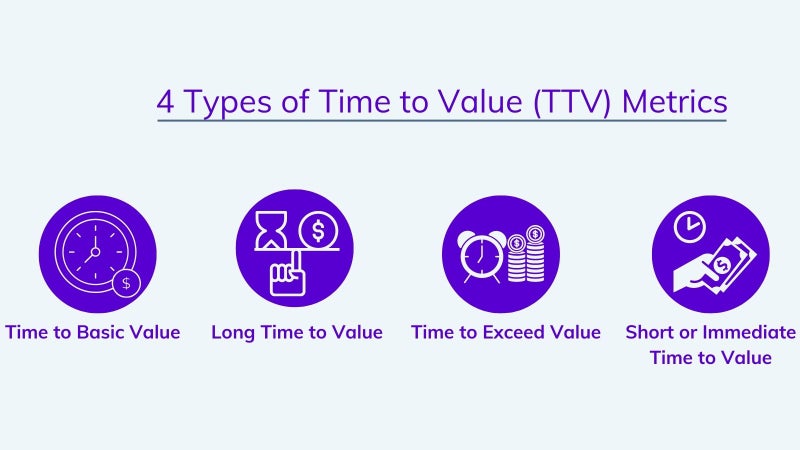 TTV is different for every company. For Toby, it's less than 5 minutes, while for Leanplum, it can be between one to two months. Understanding the various forms of TTV can help you comprehend how customers realize the value of your product and how long it takes them to do so. Here are 5 TTV metrics you can look out for:
Time to Basic Value
Time to Basic Value is when it takes customers to realize the slightest benefits of a product when they start using it. These are the benefits customers experience before realizing the value of your entire product. With our Behance example, customers realize the importance of presenting their portfolios online. When they use Behance for much longer, they'll get to see the value of the marketplace and all the other features.
Long Time to Value
Some products take longer for their customers to realize their value. We looked at Leanplum, which takes around one to two months, but some products can take even longer. It largely depends on the complexity of the product. This would influence how long the onboarding takes, the integration customers have to configure, or the guidance they need.
Time to Exceed Value
Time to Exceed value is the time it takes a customer to realize the value of your product that they may not have thought about. This kind of value strengthens the relationship with your customers and improves your CLT. Going with our previous example, for instance.
Toby helps me manage my tabs, but the exceeded value gives users the ability to share their workspaces with teammates. This kind of exceeded value could, by itself, retain most of their customers.
Short or Immediate Time to Value
A product has a Shorter Time to Value when customers can realize the value without guidance from the company. They sign up for a product and start using it immediately.
Tips for Decreasing Your Time to Value
Here are five ways you can use to reduce time to value: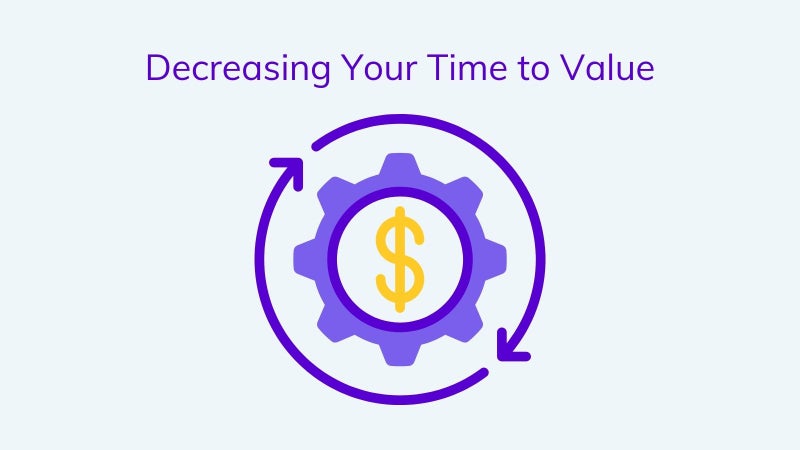 Create a seamless content creation workflow
Customers expect some guidance to figure out how to get value from your product much faster, and showing this value relies heavily on the content you produce. But the collaboration between different departments would determine how fast customers realize this value.
For example, the marketing department will create Bottom of the Funnel (BOFU) content to show customers how to use your product. The success team would then use some of these pieces to personalize the content experience for each customer based on their activity.
But without a well-defined content workflow, the alignment between the different departments would be disjointed; the marketing department would not know what kind of content to create, and the success team would find it hard to deliver the right ‌content to show value to customers.
But with a headless CMS, you can speed up and automate this process.
Mckesson, for example, had its documents, data, and assets scattered across different CMSs and DAMs. Communication was slow. As a result, this took more time to share content with customers and employees.
So they adopted a headless CMS. A headless CMS stores content in one place, and through integrations, you can automate content personalization to each customer based on their touchpoints. For Mckesson, they used Agility CMS to overhaul its content architecture and centralize its content in one platform. As a result, they could deliver content much faster, and their employee experience improved.
Ultimately, having a seamless workflow would allow your customers to extract value from your product faster, thus reducing your product's Time to Value.
Deliver an Omnichannel Experience for a Longer Customer Lifetime
An omnichannel experience is a constant interaction that customers experience across different channels, whether on the app, website, or any social site.
You can shorten your product's TTV by creating and distributing content to customers on those channels. And the good thing is, whichever platform they are in, the experience would be the same, whether it's on the site, app, email, or any IoT devices. But it's hard to deliver an omnichannel experience with a traditional CMS. You would have to create content for each channel, which would take time.
But with a headless CMS, it's possible. The backend stores the content, and since you can have multiple heads ( website, app, etc.), the distribution of that content would be fast and seamless to all those different channels.
Case Study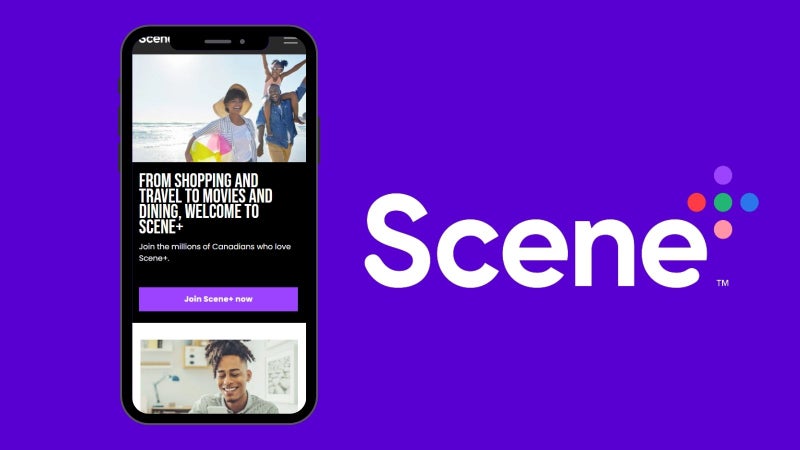 For example, SCENE, a Canadian loyalty program, planned on having a mobile app, and they wanted their content to be housed under one roof so they could update content without going into each channel.
So they worked with Agility CMS to house all their content except their users' data. That content could now be delivered from one platform to all its channels. As a result, there was no need to update content on each platform ( their website, mobile app, kiosks, etc.).
Being present on most channels your customers are in ensures you can deliver the right content that shows them how to get your product's value. And this, in the long run, shortens its TTV.
Create personalized Digital Experiences in a Short Time
Customers expect the same ‌experience across your website, app, social media, etc. But they also expect a personalized experience throughout.
The tools you use can accelerate this process. The sales and marketing team uses CRM software to filter and score leads, while the success team might use a sales enablement tool to curate content from the assets the marketing team created to distribute to customers.
A headless CMS fastens this process even further. It centralizes content in one place and integrates with all these tools to create a digital experience platform. You can then easily personalize your customers' digital experience by individualizing each link you send to them, for example, through integrations with a sales enablement platform.
And there lies the opportunity to shorten your product's TTV. The faster they get the right content at the right time, the shorter your product's TTV.
Create well thought out in-app tutorials for a Competitive Advantage
People use a ton of tools in their day-to-day work. Learning how to use each tool takes time, which they likely don't have. Each software has its onboarding that they expect customers to go through for SaaS companies, but most people don't have the time to do so.
"We don't have time to read or to learn something new, and we have no interest in going through onboarding with too many examples." Scott Belsky says. "These instructional videos that we're presumably going to watch even though we don't know what this product is, we just have no patience for it."
In-app tutorials show the product's value much faster without customers going through onboarding documents. These In-app tutorials provide short step-by-step instructions that users go through to understand the basics quickly and, as a result, get the value of the product fast.
Assign dedicated Customer Success Managers
A Customer Success Manager handholds customers and guides them throughout the onboarding process. They are always there to answer questions that customers might have or provide guidance to any problem that they might have.
This can ‌reduce your product's Time to Value because customers could extract value from the product much faster given the quick and real-time help they get from their dedicated CSMs.
Final Thoughts
Learning how to use a new product is difficult given how many products we use daily. The faster you show customers how to use your product, the shorter the TTV.
But customers don't need to know how your whole product suite would help them; they need a specific value from your product that would bring them to the Aha moment. This would, as a result, get them to stay long enough to experience your entire product and improve your retention rates.
We've gone through different ways that you can show customers this value across the customer experience journey. This would ultimately reduce your Time to Value.