About the G2's Summer 2020 Grid® Reports
G2 is the world's leading business software review platform that drives better purchasing decisions by scoring products and vendors based on reviews gathered from verified users, as well as data aggregated from online sources and social networks.
The G2 Grid® for Headless CMS identifies solutions that offer content modeling, facilitate content production workflow, allow businesses to store and manage content in a cloud-based repository, and reuse it across multiple channels.
We're excited to announce that Agility CMSt has been named a Leader in the Summer 2020 G2 Grid® for Headless CMS!
G2 scores products and sellers based on reviews gathered from our user community, as well as data aggregated from online sources and social networks. Together, these scores are mapped on our proprietary G2 Grid®, which you can use to compare products, streamline the buying process, and quickly identify the best products based on the experiences of your peers.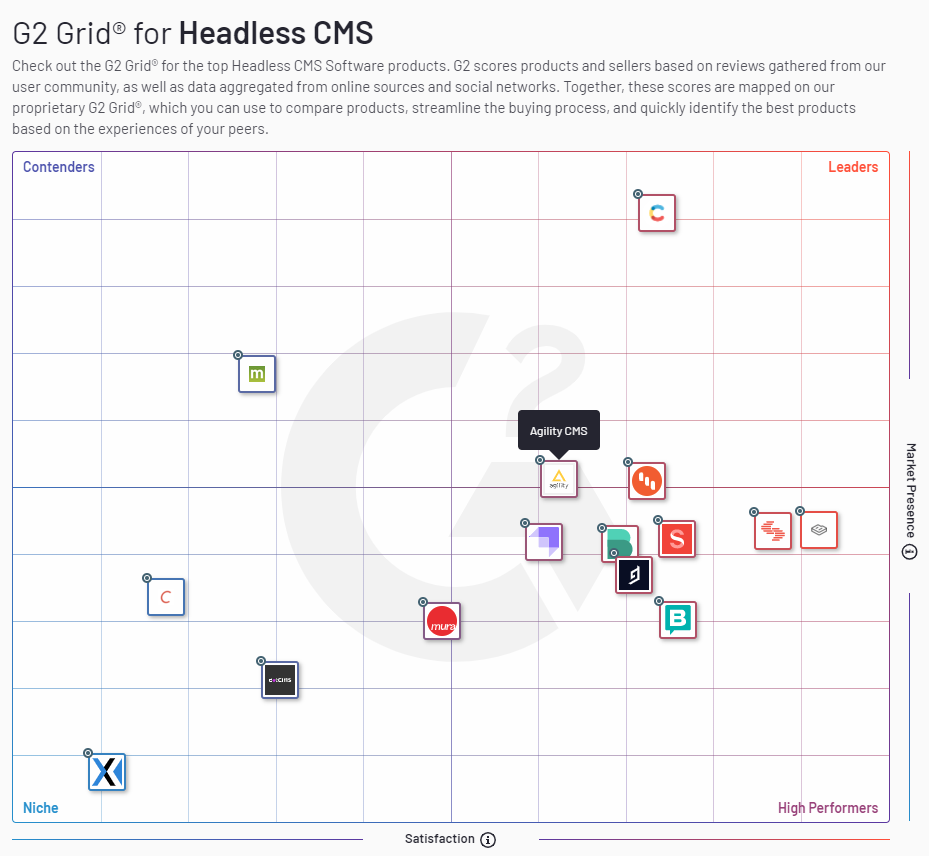 In G2's Spring 2021 Reports, Agility CMS received 6 badges including:
Leader, Grid® Report for Headless CMS - Products that are awarded the Leader badge have been highly rated by G2 users and have substantial satisfaction and Market Presence scores.
High Performer, Grid® Report for Web Content Management - Products in the High Performer quadrant in the Grid® Report have high customer satisfaction scores and lower Market Presence scores compared to the rest of the category.
High Performer, Enterprise CMS - Products in the High Performer quadrant in the Enterprise Report have high customer satisfaction scores and lower Market Presence scores compared to the rest of the category.
Users Love Us - The Users Love Us badge is earned after collecting 20 reviews with an average rating of 4.0 stars.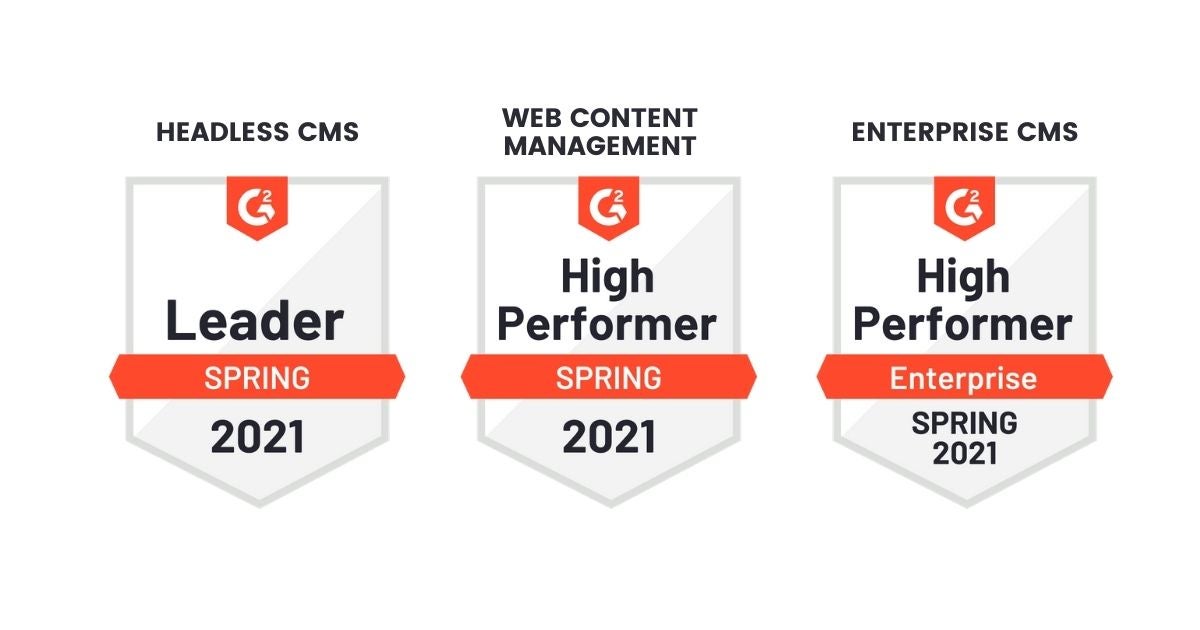 Headless CMS Leaders Spring 2021
We're proud that Agility CMS has been named a Leader for Spring 2021in the headless CMS category by G2 Crowd.
The other two leaders in the category are Contentful and Kentiko Kontent.
Agility CMS Product Overview
Agility CMS is a headless CMS platform designed with speed and flexibility in mind. Agility CMS gives users the tools to build, manage, and maintain their content with ease, having evolved from a .NET-based CMS to become a JAMstack-ready, API-first headless CMS.
The Agility platform has a rich and deep set of powerful features to power your omnichannel experiences. Most headless CMS platforms offer workflow functionality for approvals, publication scheduling, and similar needs. Agility also offers an HTML and text e-mail builder that can be tied to workflow triggers. It provides multi-site functionality, linking the same content and user permissions across multiple sites. Agility has robust analytics and convenient report generation built-in. Website search is a capability built into the platform, rather than requiring third-party services like Algolia
On the hosting side, Agility CMS leverages Microsoft Azure's hosting services and provides users with enterprise-grade security and support and data protection. Microsoft was the first cloud vendor to secure approval from European Union's data protection authorities. They have a strong track record with data security standards compliance.
Agility CMS vs Contentful
Currently, Agility CMS and Contentful are rated very closely by customers, with Agility CMS leading with marketer-friendly features like built-in Page Management and URL/Sitemap management.
Contentful recently released a Page Management feature but it some at additional cost and currently offers limited functionality compared to powerful Agility's pages feature.
When assessing the two solutions, reviewers found them equally easy to use. Reviewers felt that Agility CMS meets the needs of their business better than Contentful.
Users of Agility CMS also rate this system higher for Content Authoring, Rich Text Editor, Versioning and Approval Process.
You can access the full comparison on G2 Crowd site here.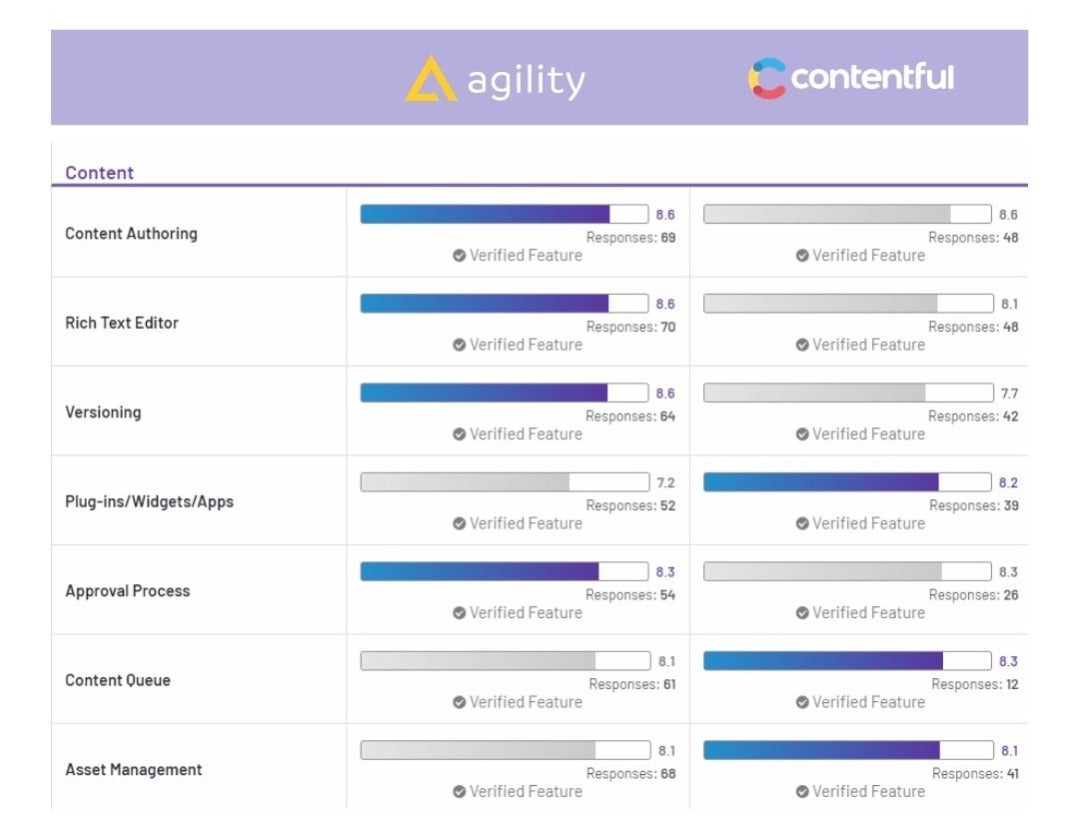 Learn more: Contentful vs Agility CMS: Which Headless CMS is Right for You?
Agility CMS vs Kentiko Kontent
Currently, Agility CMS and Contentful are rated very closely by customers, with Agility scoring 4.2 out of 5 and Kentiko Kontent scoring 4.3.
Unlike Agility CMS and Contentful, Kentiko Kontent does not offer a Free plan for the developers' community.
At Agility, we believe that it's necessary to give users a free version of our CMS to help them get started and see what we have to offer. Our free plan offers potential users unlimited content types, 2,500 content items, access to up to five users, and community support.
Kentico Kontent, on the other hand, doesn't offer a free tier of the platform. They offer a 30-day, no-obligation free trial. After that, plans begin at $999 per month for the business plan that provides one project, ten users, unlimited content types, and 10,000 content items.
In addition, Agility CMS's users give higher scores to Reusable Content and SEO features.
Agility CMS's SEO allows users to control their URL, define meta descriptions and keywords, as well as maintain an organized sitemap that can be easily managed by marketing teams without developers involved.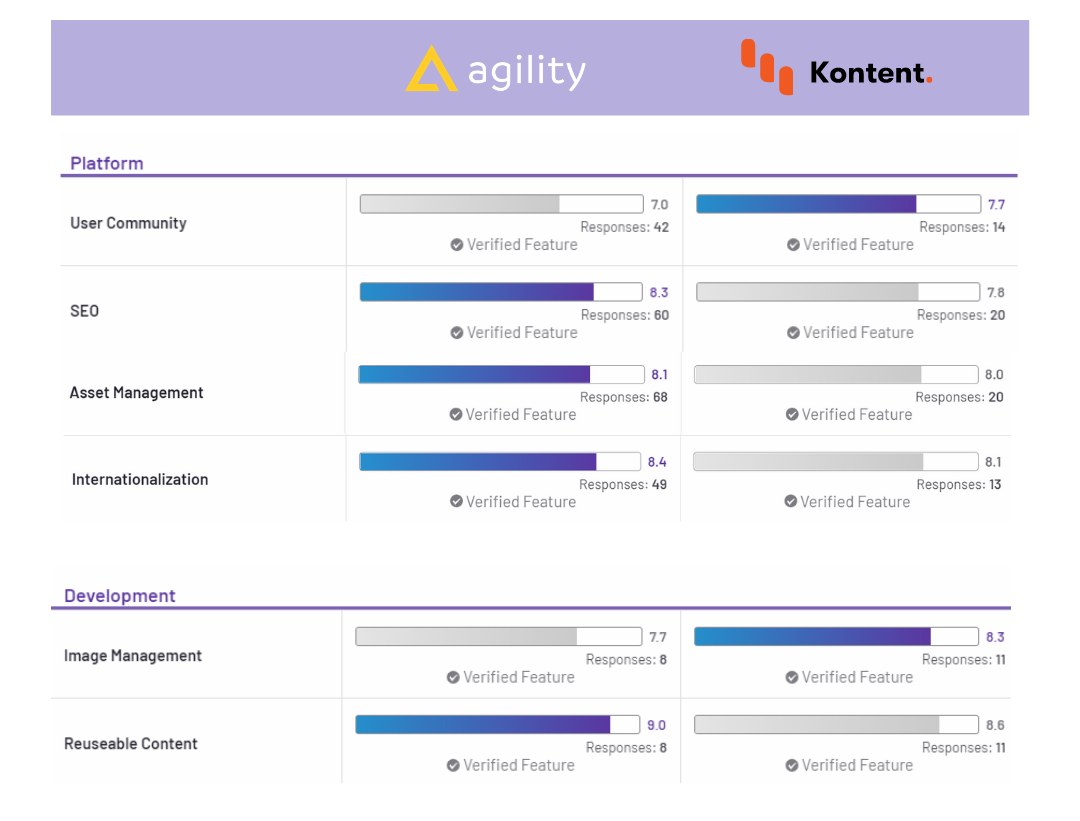 Integrated Page Management
API-based headless CMSs allow you to repurpose content across multiple channels: web pages, native mobile apps, kiosks, even smartwatches, and football stadium billboards. This flexibility comes at a price with many headless platforms. Changes to the layout of web pages (and other channels) require developer time. Agility CMS solves this by using templates and modules that determine how content will look when it's rendered on the website. Editors can modify the layout of pages in the easy-to-ease visual interface using drag and drop functionality The system is extensible, with many built-in modules and the opportunity to add new modules created by your development team.
Kentico Kontent doesn't offer a page management solution out of the box. The platform recently released Spotlight, an installable solution that helps marketers structure the site's navigation; yet, Spotlight doesn't come out-of-the-box and must be installed. Kentico Kontent doesn't support content modules with custom styling and functionality through its content management API but doesn't offer support out-of-the-box. Instead, it requires you to install the official publishing module to be able to synchronize all published content and assets from a specific site using the API.
Learn more: The Headless CMS Showdown: Kentico Kontent vs Agility CMS
What is Headless CMS Software?
A headless CMS, also known as API-first CMS, is a back-end exclusive content management system where the content repository "body" is decoupled from the front-end presentation layer. The architecture of a headless CMS differs from traditional CMS architecture. Instead of a static front-end display, content is pulled from the repository via a RESTful API (web services that implement a REST API), which allows it to be displayed on any type of device. Since content is pulled from a RESTful API, the front-end presentation is generated on the end user's side and developers can create digital experiences without creating bespoke front-end displays for different types of devices.
What are the Common Features of Headless CMS Software?
The following are features that make managing content using a headless CMS efficient for an organization.
RESTful API: REST stands for representational state transfer, an architectural style for communications utilized in web services. An API is a set of procedures or functions that allow programmers to access features or data of an application, operating system, or database within their application. A RESTful API uses HTTP calls to GET, PUT, POST, and DELETE resources from a content repository. A RESTful API is the backbone of a headless CMS. Without it, device and channel-agnostic content delivery wouldn't be possible since developers would need to create bespoke front-end layers for every device and channel. With a RESTful API, how content should be displayed is already built into the code and isn't dictated by a static presentation layer.
Editor interface: Like other web CMS software, a headless CMS provides an editor interface or dashboard where users can draft content, upload and manage assets, and view different project layers.
Content repository: A core component of a headless CMS is its content repository. The content repository houses all content that will be delivered through a website or application via the RESTful API, including written content, images, video, and audio files.
Content taxonomy and tagging: A headless CMS often provides a comprehensive taxonomy and tagging system for content added to the content repository. This provides structure to the content repository for ease of navigation and simplifies reusing assets.
Versioning: Headless CMS options also provide content versioning akin to versioning features in other content management systems. This feature allows content authors to keep track of changes and revert edits to content if the need arises.
User permissions: User permissions features allow administrators to designate access to specific features or permission to view and edit particular projects and content. Permissions and roles are standard features in content management systems, including headless CMSs. Every user working within a headless CMS does not need access to every project or piece of content; locking specific features or access to content is a practical solution to ensure security and prevent mistakes.
Workflows: Many headless CMS providers provide built-in agile workflows to enhance efficiency within the application. This allows teams to delegate tasks and keep track of the different stages of a project.
What are the Benefits of Headless CMS Software?
Multi-platform and omnichannel content delivery: A headless CMS allows for omnichannel content delivery, meaning that it gives companies the ability to distribute content to users through various channels and build a cohesive user experience across multiple platforms. A headless CMS streamlines operations and allows for content management to occur from a single location, making content optimization and delivery efficient.
Flexibility for developers while developing front-end layers: Using a traditional CMS structure can be extremely limiting for developers because the front-end layers are dependent on the back-end, meaning that there needs to be separate code for each type of device that the content will be displayed on. With a headless CMS, the front-end presentation layer is decoupled from the content repository, giving the user freedom to build a front-end framework that makes sense for the project. Headless CMS allows users to focus on content creation as opposed to content management, allowing for more freedom and scalability.
Who Uses Headless CMS Software?
Developers and programmers: While a headless CMS provides many benefits over a traditional CMS, it does require more technical coding knowledge. In a traditional CMS, marketers would be provided a WYSIWYG editor to draft content for publishing or functionality of website builder software to design and publish a website. Since headless CMS removes the static front-end delivery of a WCMS, presentation layers must be built before content can be delivered. While developers and programmers have always had a hand in creating their business's web experiences, marketers have less knowledge of what they can typically do in a headless CMS. As a result, the majority of a workforce's time spent in a headless CMS belongs to development teams.
Marketers and content creators: While developers and programmers will likely spend the most time within a headless CMS, marketers, content creators, and content editors still leverage some features within one. In particular, written content and assets still need to be added to the CMS's content repository. Since marketers and other content creators handle writing text-based content or designing assets, they might also be tasked with adding their new content (text, images, or videos) to a headless CMS's content repository.
Headless CMS Use Cases
Okay, so a headless or decoupled CMS can store content and delivery it anywhere via APIs, unlike a traditional CMS, which was built to send content to one or two specific types of front end. But what does that actually look like in practice?
Visit Orlando
JJ
Visit Orlando, the official tourism association for Orlando, Florida - home to Disney World and one of the most visited tourist destinations in the US - wanted to increase their engagement, conversion rate metrics, and ticket sales. To achieve this goal they wanted to manage their content across various channels and personalize marketing campaigns for a targeted audience.
Visit Orlando was severely hampered by an inefficient ticket management system and process and needed to revamp its entire digital strategy and bring everything under one umbrella. Through Agility's Headless CMS they now have a multi-site, multi-channel content management system and a new ticket sales and POS solution. Their team is now able to focus on adding new properties onto the platform, both as new website instances or as digital channels.
Learn more:
Visit Orlando Case Study
Cineplex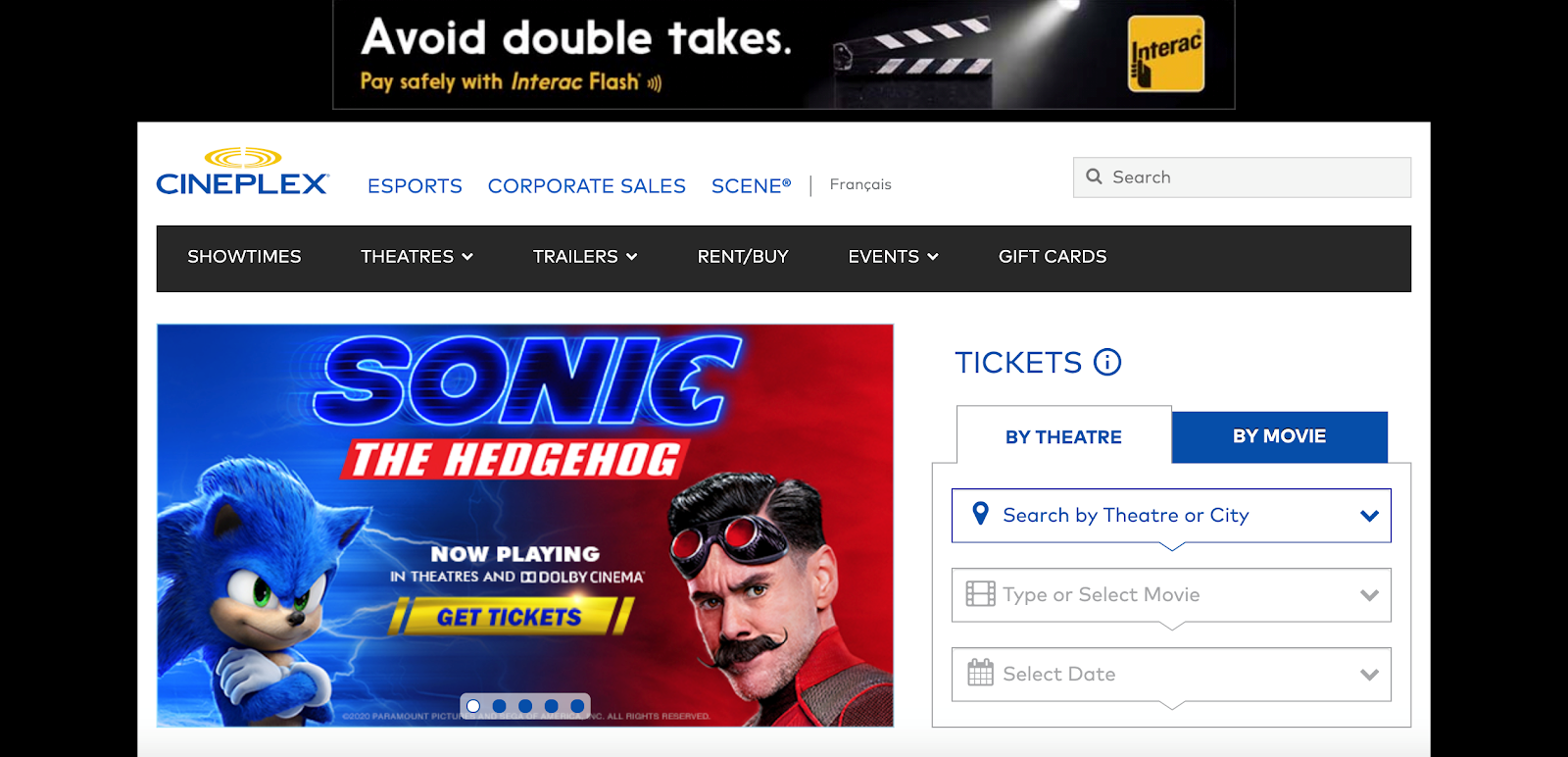 Cineplex, a leading name in the Film Entertainment and Content, Amusement and Leisure, and Media sectors, accommodates over 70 million guests per year on its digital platforms. The initial challenges Cineplex faced was a system that didn't allow freedom of design and was extremely limiting in terms of performance, scalability, usability, and multilingual capabilities. They needed to improve the overall customer experience across various channels and improve conversation rates.
Agility's CMS has allowed Cineplex to increase the scalability of the site and to optimize its hosting resources. The latest iteration utilizes a new hosting environment across load-balanced servers for optimal site speed and performance. The site is now handling more traffic with less CPU load than in previous years.
Learn more:
Cineplex Case Study
Headless CMS: Go Content-first to Future-proof your Brand
Consumers are making use of more devices and channels than ever before, and brands have to meet them there to provide quality omnichannel experiences. Going headless, whether that's through a pure headless CMS or a decoupled CMS, is the simplest way to achieve that.
By adopting a content-first approach, which seeks to make your content the focal point of your digital presence, while your many front-ends and their frameworks can be evolved and expanded, is the most logical way to ensure that your brand and its content can meet consumers wherever they end up going. Whether that's smart speakers, digital signage, VR headsets, or something else exciting
If you are an Agility CMS user and haven't yet reviewed the platform, take 2 minutes to do it. Your review can help other users pick the right headless CMS.
Keep Reading
If you want to learn more about Headless CMS, make sure you read these articles: