The average eCommerce store owner treats eCommerce SEO as an afterthought.
Paid ads and influencer marketing are what come to mind first. SEO is most times the last traffic option for an eCommerce store owner.
Fun fact, I have had eCommerce store owners tell me SEO does not work on several occasions.
And the reasons for that aren't far-fetched.
SEO is getting more competitive, with big brands dominating search engine results.
It is technical and has a steep learning curve.
Plus, it takes a long time to get results (six months to a year and could take longer).
But despite all these, be assured that there is enough room to rank your eCommerce store on Google.
This guide will dive into nine eCommerce SEO hacks to rank your online store and boost revenue.
Let's get started.
What is Ecommerce SEO?
Ecommerce SEO is optimizing online stores to gain top spots on search engine results pages. It is the act of generating organic traffic from search engines to your eCommerce store.
SEO has one of the highest returns of all eCommerce marketing and sales strategies. It can help your eCommerce store boost online visibility and increase ROI more than other marketing efforts.
Best Practices for Your Ecommerce SEO Strategy (Checklist)
Driving more traffic from search engines to your eCommerce store requires a robust approach, and with the strategies below, you can achieve tremendous success.
1. Conduct Keyword Research
The first place to start your SEO campaign is keyword research. It helps you find and target the proper search phrases your target audience uses, which you can optimize your store for.
When researching, look for easy-to-rank keywords with high conversion rates and good search volumes.
These are primarily long-tail keywords (hint: keywords with three or more words), and the reasons for that aren't far-fetched:
Long-tail keywords are usually less competitive
They provide more apparent context and understanding of searchers' intent. Hence, tend to convert better than shorter phrases or terms.
There are several ways and tools to find long-tail keywords for your eCommerce store.
Use the Amazon Keyword Research tool.
Amazon is an excellent platform for searching for keywords with commercial intent. Most people are there to buy, and understanding what they are looking for can provide vital insights into targeting keywords.
First, type your seed keyword into the search bar on Amazon. It will auto-fill suggestions that represent what customers are looking for.
These suggestions are long-tail keywords you can optimize your e-commerce store for.
You can repeat and rinse this process by changing your seed keywords.
If you run a big e-commerce store, there are amazon keyword research tools like Jungle Scouts and Sellics to make the process easier.
Use Google Autosuggest
You can find long-tail keywords using Google auto-suggests by entering a seed keyword:
Also, check the "people also ask" section for long-tail keywords you can target.
Do competitor research
Your competitor's website can give you ideas about keywords to target. What keywords are they ranked for? Which ones are they neglecting?
You can uncover your competitors' keywords using paid SEO tools like Ahrefs and SemRush.
These tools will provide you with all the keywords your competitor is ranking for. All you have to do is enter your competitors' domain names into the research tool.

2. Simplify URL Structure
There is a direct correlation between the length of URLs and search engine rankings. Short, simple URLs rank higher on SERPs than longer URLs.
For eCommerce pages, URLs tend to be longer because they usually include categories and subcategories. An unnecessarily long URL confuses Google and water down the impact of keywords.
Accessibility matters to Google. So, your URLs should be simple to read, interpret, and understand. It also makes it easier for customers to share links to your products on social media or other platforms.
Consider this example of a URL for an eCommerce store:
https://forexample.com/store/menswear/long-sleeved-cotton-shirts;product345262
You can simplify this URL by removing the category and the product details at the end. So, you end up having something more direct.
https://forexample.com/long-sleeved-cotton-shirts
Additional steps you can use to optimize URL structures for SEO include:
Add keywords: using keywords in URLs helps search engines determine pages' content and refer appropriately when customers make similar queries. So, find out the terms customers are using to find your products and ensure they are part of your URL.
Use breadcrumbs: These directional tools allow website visitors to return to previous pages from their current position. It may appear like this on the homepage, "Home > Store > Menswear > Cotton shirts." You can find breadcrumbs in web design tools and ad them using JavaScript.
Avoid Fillers and unnecessary prepositions: remember, you are trying to keep your URL short yet keyword rich. Adding common words such as "the," "about," "and," can take up space and reduce readability.
Improve your SEO with URL redirect: using a URL redirect can help improve SEO by providing solutions to major technical issues and creating shorter URLs.

3. Optimize product Pages (Ecommerce On-Page SEO)
Your product and category pages should be your most important targets for SEO. It's simple, once a customer lands there, it's easier to make a buying decision.
Here are some tips to help you optimize your product pages:
Take quality product images. It's as simple as that. A poor product image quality will put buyers off. It is a crucial factor in making selections.
Use a relevant keyword in the title tag of each product page. Ideally, the first or second word in the title or H1 tag should be the keyword you want that page to rank for.
You can also add enticing modifiers such as cheap, best, deals, X% off, lowest price, etc., to boost the click-through-rate.
Write a descriptive image Alt text with a keyword that tells Google what the product is about. Many buying research starts from Google image results, and it's an excellent place to rank high.
Add "Product" schema markup to your product images to boost the chances of appearing for product searches.
Write high-quality product descriptions. Google values quality content and ranks pages based on it. In-depth product descriptions with the right LSI keywords will help your product pages rank better; you can use AI copywriting software to generate SEO meta descriptions.
Use internal links to keep customers on your site. The more a visitor goes through your content or products, the better your chances of making a sale. For example, you can drive customers' attention to product pages or educational content with the right anchor text containing target keywords.
4. Technical SEO for Ecommerce
Technical SEO entails optimizing your website for crawlers by ensuring it is free from technical problems. Technical issues crop up frequently on eCommerce sites due to the sheer number of pages.
That is why running a technical SEO audit is good to ensure your site is free of any issues. Tools like Semrush, Deepcrawl, or Screaming Frog can help you do this. After each audit, you can then resolve issues accordingly.
Some major issues that affect e-commerce stores include 404 errors, temporary redirect, broken links, duplicate content, too short or long titles, too many pages, and missing meta descriptions. Make sure you have a CMS that enables marketers to update these. For example, with Agility CMS, creating URL redirects is simple: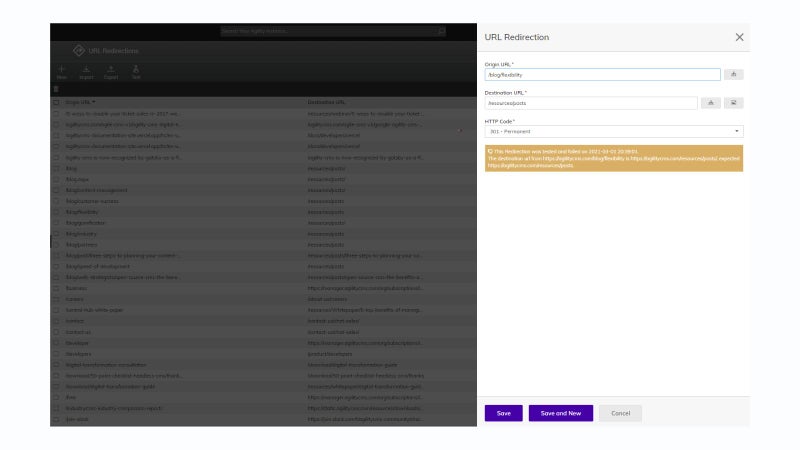 Some strategies to improve technical SEO for your eCommerce store include:
Too many pages make it challenging for Google to index all your pages. A solution will be to delete pages without any revenue or traffic returns. You can also use the no-index tag to tell Google not to index such pages.
Duplicate product pages: a slight change in a product page may lead to multiple unique URLs and duplicate pages. Use a canonical tag to solve this problem. It tells Google that the pages are the same or a slight variation of the same page.
Thin content: several pages with the same snippets of information without much value reduce organic traffic. Writing in-depth product descriptions for all your pages can help solve this problem. However, as this may be pretty challenging due to the number of pages, you can use a template that features the products' name, price, brief description, features, and benefits.
Site speed: large image files and bloated codes slow down servers and reduce load. Investing in a better hosting package and compressing image files can help you solve the problem.
One thing to do before trying to fix any technical SEO problem is to contact an expert on the subject. You don't want to resolve an issue only for it to give rise to another one or disrupt primary settings on your site.
5. Use Responsive Design
Google considers overall user experience, mobile-friendliness, and page load speed as part of its ranking signals. With a responsive design, you can create the right experience for customers irrespective of the device or browser.
Wondering how?
Make sure your site is user-friendly.
Creating a visually appealing online store with a simple design and incredible ease of navigation gives visitors the right feel about your store. And this is a significant consideration for most online shoppers.
Interestingly, it is also one of the core web vitals your site should demonstrate. But how does it all relate to SEO?
Search engines like Google understand this critical factor and use it to rank your website. In essence, if Google thinks your site offers users a good experience, it's likely to rank higher.
There are several ways to make your website more user-friendly. These include consistent styling, managing ads without disturbing users, keeping your site clutter-free, and using a headless content management system.
Ecommerce platforms like Shopify provide free and paid theme libraries with responsive designs.Make sure to adapt your website design according to the different possible versions - mobile and desktop. Generally, it's always good to have a separate mobile version of your shop or, if you have the budget for it, to build your own custom mobile app. You can incentivise users to download the app by offering a discount and then just keeping them hooked with a great user experience and customer support.
Ecommerce platforms like Shopify provide free and paid theme libraries with responsive designs.
Reduce page load speed
Your site should load quickly, within 2-3 seconds. The more the delay in load speed, the more likely you will lose customers.
Conversion rates also drop with slow loading pages. And the reason is simple.
The world itself is moving at an incredibly fast pace, and customers are also busy people with other things on their minds. So, there's no need to add to this delay when an alternative is at hand.
To avoid losing customers, which is also bad for SEO, ensure your pages load fast and deploy well on various devices and platforms.
You can use Google's PageSpeed Insights to test your site's load speed and take necessary action to help your site load faster.
6. Content Marketing Does Matter for Ecommerce
Many eCommerce stores rely on paid ads, social media, or influencer marketing to drive sales and score quick wins. These are good strategies, but they need constant effort and funds to enjoy similar results in the long term.
The other complementary part that serves this long-term purpose is content marketing.
Content marketing involves providing value to your audience without being salesy. When customers find your content useful, they'll come back to check out your product when they are ready to buy.
In addition, products and category pages can only rank for so many buying intended keywords. There are other ways customers search, which might not be intended for buying in the first instance. Content marketing can help you fill in for such keywords.
Some eCommerce content marketing strategies to invest in include:
Blogging: publishing regular, relevant informational articles on your eCommerce website can increase your credibility with search engines. It also helps you rank better for informational queries, which later result in sales.
Video content: videos are excellent content formats to add value to your customers. They appeal to the visual senses and are quick to capture attention, ultimately leading to a buying decision. How-to videos are especially popular with eCommerce stores. But not only that, funny videos, case studies, testimonials, on-demand webinars, behind-the-scenes, DIY, and user hacks are other content ideas you can put in video format.
Create a glossary: creating a glossary of terms in your business industry and niche can help customers with specific search intent find your store. In addition, it provides a central catalog for customers to find your products and associated keywords.
Before creating any content, understand your customers' personas, keywords, and the platforms where they hang out. Knowing this can help create a standout content strategy for consistent creation and distribution.

7. Link Building for Ecommerce
Using the right keywords and providing quality content is only a phase of gaining leverage with the search engine algorithm. The other part is the domain authority that comes from building high-quality backlinks.
Just as referrals from family and friends build authority and make you more likely to buy a particular product, backlinks do the same for your online store.
Google uses the number, relevance, and quality of backlinks to judge your site's authority and reliability.
Building the desired authority level may take a while if you are just establishing your store. But here are some strategies to implement to get more backlink opportunities.
Publish quality, in-depth content. When other sites find your posts insightful, relevant, and authoritative, you are more likely to get organic backlinks. Ultimate guides, research-based case studies, whitepapers, and industry-targeted editorials are some posts that drive such opportunities.
Build partnerships through guest posting. Find relevant authority sites you can provide value to, then pitch a guest post. Most sites allow you to add one or two backlinks to relevant posts from your site.
Leverage press mentions. Reporters are looking for expert sources to quote or interview. Providing this need can help you secure backlinks to your website. Help A Reporter Out (HARO) and support a B2B writer are two platforms where you can pitch your interests.
8. Simplify your website architecture
How easy is it to navigate your website? How many steps will a customer take to get to the product page from your homepage or a random blog post? And how many steps from the product page to the checkout page?
These are questions related to your website architecture, and technical SEO can give you all the answers. The more accessible customers can quickly get what they want, the more likely they'll buy and not bounce.
When setting up your site structure, two rules are essential to keep in mind:
Keep it simple and scalable
Keep every page not more than three clicks from the home page.
Simplicity is the game. Customers should not have to run in circles to get what they want. Also, your site structure doesn't have to change when adding a new page or section.
You can add a sitemap to your store to show the simplicity of your website architecture and help customers with navigation.
Add a sitemap
A site map is a page that contains links to the files and pages on your site. It makes it easier for visitors to see the whole picture at a glance quickly.
It shows details of your website: the pages, categories, subcategories, products, blog, other sections, and all contents within each area.
There are several site maps, but the HTML variant is ideal for eCommerce websites as it provides more details to visitors.
You can set up one for an online store using Google's Webmaster Tools or other site map generators.
9. Use Schema Markups to Help Google and Users Understand Content
Another way to help Google understand what your pages are about and increase your overall website SEO is by using schema markups. They are HTML tags that give readers more information about the content of web pages.
Schema markup displays vital product information to help customers quickly find the right product. The snippets may show price details, product availability, or customer review.
There are many different types of schema and snippets it produces, but the four classes you should consider for your eCommerce store include:
Review schema: it allows searchers to find product reviews before perusing your products and finally making a decision to buy. You can use the author and title fillers to add specific reviews from your website.
Product schema allows prospects to find new products in web queries by displaying product images or ads.
Price schema: prices of products are essential for customers to make a buying decision, and with price schema, you can display specific pricing of products or a price range.
Product availability schema: it shows the list of products available from your online store. The list includes details of the available products such as name, description, images, and price.
Bonus: Make Social sharing Easy
Social media platforms promote engagement and easy sharing of products. Customers can quickly use the like, comment, or share button to take simple actions that drive more conversation around your products.
These simple actions can impact your SEO by increasing brand visibility, creating backlink opportunities, and driving more organic traffic to your store.
So, when producing content for your blogs or writing a product description, you should also find ways to create social media tit-bits from such content. You can also curate social media content ideas and schedule for automatic publishing.
Tools such as Buffer, CoSchedule, or Missinglettr can help you curate content, schedule, and post automatically across your social media accounts.
Best Ecommerce SEO Tools For Beginners
Without the right tools, attaining excellent SEO results for your eCommerce store is impossible. Here are some popular and efficient SEO tools to check out.
Google analytics
This is an essential tool for every eCommerce store. It provides numbers and insights you need on web traffic, customer behavior, and SEO targets. You can also create metrics to track views and conversions from your web pages. It is free and easy to use.
Google Search Console
Search Console is a webmaster tool that allows you to see the performance of your pages and the queries your site ranks for.
Ahrefs
Ahrefs is an all-in-one SEO software for small and large businesses. It provides keyword suggestions, search volumes, difficulty, competitor insights, and how several other top sites rank for each keyword. You can also analyze link profiles and your overall SEO performance.
Screaming Frog
Technical issues can be a significant SEO factor for many eCommerce sites. But with this tool, you can systematically audit your area and discover any technical problem such as duplicate content, missing meta descriptions, links, and thin content. It has a free version with many useful features, but if you have a large store with more than 500 URLs, the premium version may serve you better.
Raven Tools
This is an all-in-one SEO tool kit. You can use it for website audits, competitor research, link building, keyword checking, and writing marketing reports. The latest version by TapClicks offers more intelligent features for increased insights, visibility, lead generation, and sales.
A Final Word on Ecommerce SEO
Now is the time to implement. Of course, there are many other strategies, but with these, you are ready to optimize your site for search engines and boost sales.
No matter how many articles or guides you read, the strategies will not implement themselves. You must take action to see the tremendous results of ranking high on SERPs. (Or, if you don't have time, find a marketing agency to take care of this for you.)
The more you invest in SEO, the better brand visibility, quality lead generation, and better ROI on all other marketing efforts.
And as the results start to trickle in, it is good to remember that SEO is a continuous effort. Getting to the top page is just the start; staying there and building more brand loyalty should be your ultimate goal. And with the strategies in this article, you can achieve all that and more.