Nowadays, everyone regulates most activities that make up their daily schedule. For example, when it comes to driving a car, starting a business, or investing money, people are expected to abide by a predetermined set of guidelines. But when it comes to completing these responsibilities, disobeying the rules will inevitably lead to chaos.
Similarly, in the case of content creation, it also appears that rule-making has been thrown out the window. The Content Marketing Institute reports that seventy-two percent of brands admit they cannot manage their content in a planned manner.
This indicates that content creation is still a lawless, unregulated free-for-all for 72 % of brands, with no control and no accountability. Therefore you must need proper content governance to avoid this chaos. Furthermore, with the help of content governance, you can modernize and optimize their content, ensuring that you see the maximum potential return on investment from their content marketing efforts.
This article will explain the fundamental distinction between content governance and content strategy and how headless CMS may assist with content governance. But before we get into it, let's spend some time discussing what "content governance" is and why it matters.
Let's dig into it!
What is Content Governance?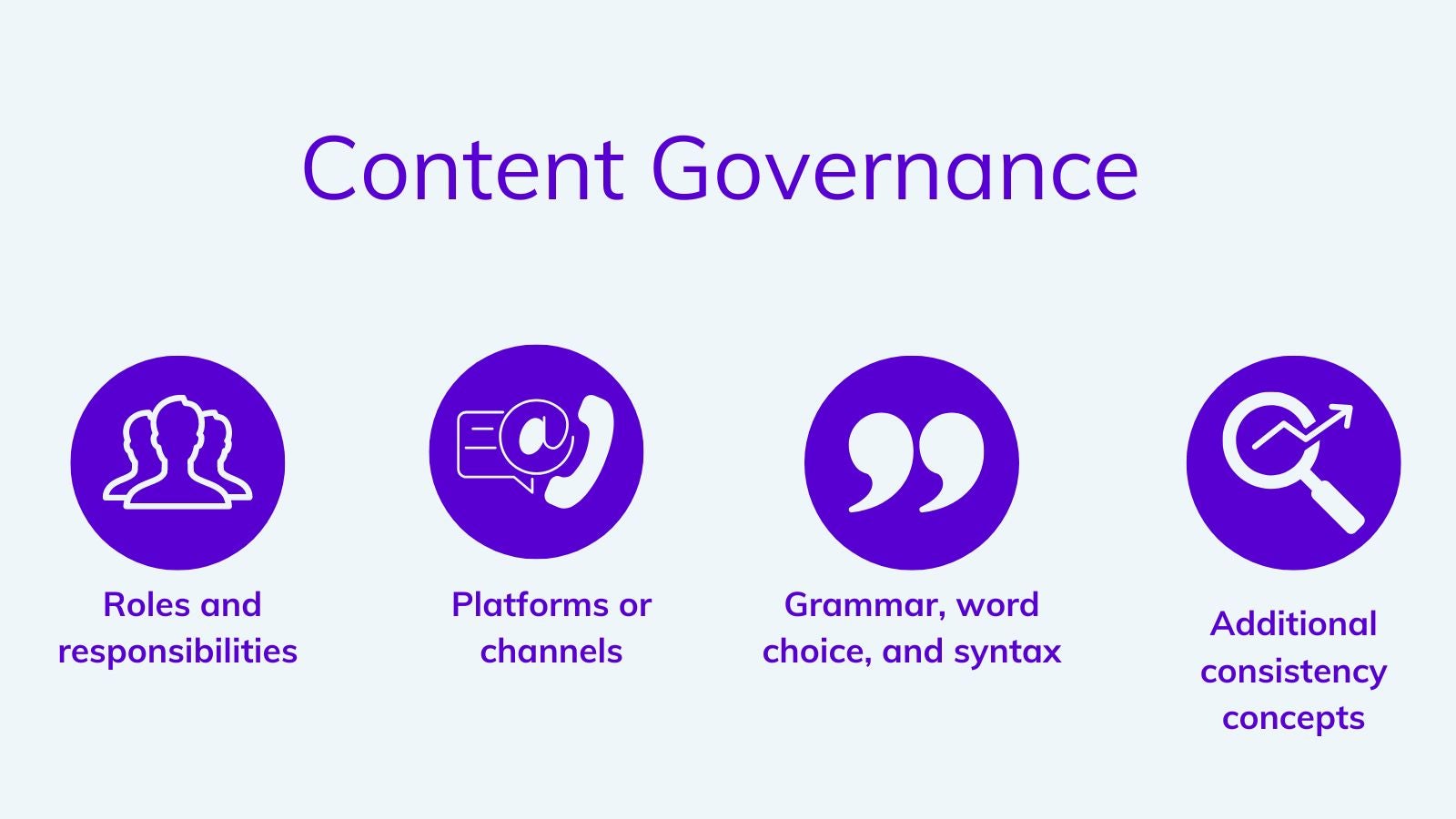 Content governance is the framework for planning, creating, and distributing content. It is a set of protocols that establishes content objectives, outlines how content should seem, feel, and act, and allocates ownership to individuals inside the company.
Content governance ensures that all content operations are adequately managed from top to bottom. Airfocus CEO and Co-Founder Malte Scholz explains what this means: "It involves writing down everything, from the individuals who execute the work to how the task is carried out." This is the most critical step in determining who is responsible for what and how they contribute to content development, distribution, and promotion.
Moreover, you should be able to identify how to build your content strategy, who is responsible for different areas of content creation, and how success will be measured by referring to their content governance plan.
Content governance's purpose is to ensure coherence in the content produced by whoever is doing so. It should include the following:
The roles and responsibilities involved in the creation of content

Platforms or channels via which you create and distribute content Plans for how frequently content will be updated moving forward

The principles of grammar, word choice, and syntax, in addition to more precise instructions on how the brand should sound, are all included in the brand voice and tone style guides.

Additional consistency concepts include SEO best practices, article length, proper formatting, and product messaging matrixes.
Why does it matter?
In the modern age, content rules the world. As a result, there is more content than ever before, and everyone can generate and distribute it on various platforms with the ability to reach a worldwide audience.
The need for content governance is a byproduct of the effectiveness of content marketing. When brands just produced a few pieces of content each month, there was no need for rules and procedures surrounding content development because there wasn't enough of it being produced.
However, modern companies realize that content marketing is the key to increasing brand exposure, engagement, and lead generation. As a consequence of this, they have begun producing more content than they ever have before. Even though this is a positive development, it does provide some new obstacles, including the following:
There are many different platforms on which you can share your content. So how do you determine which ones are appropriate for your brand, and how do you plan to create content for them once you've selected them?

As the demand for content grows, so does the number of people you need to employ to produce it. As a result, duplication of effort and less consistency are possible outcomes.

People from all around the world are visiting your website. As a result, you'll need to have your text translated to target those audiences.

The sales team needs to sell papers; however, the product team demands copies for the support center. How will you prioritize, organize, and respond to these requests on time while still meeting all of your other content obligations?
Therefore you must have a clear content governance framework to avoid chaos in your marketing department.
Difference between Content Governance and Content Strategy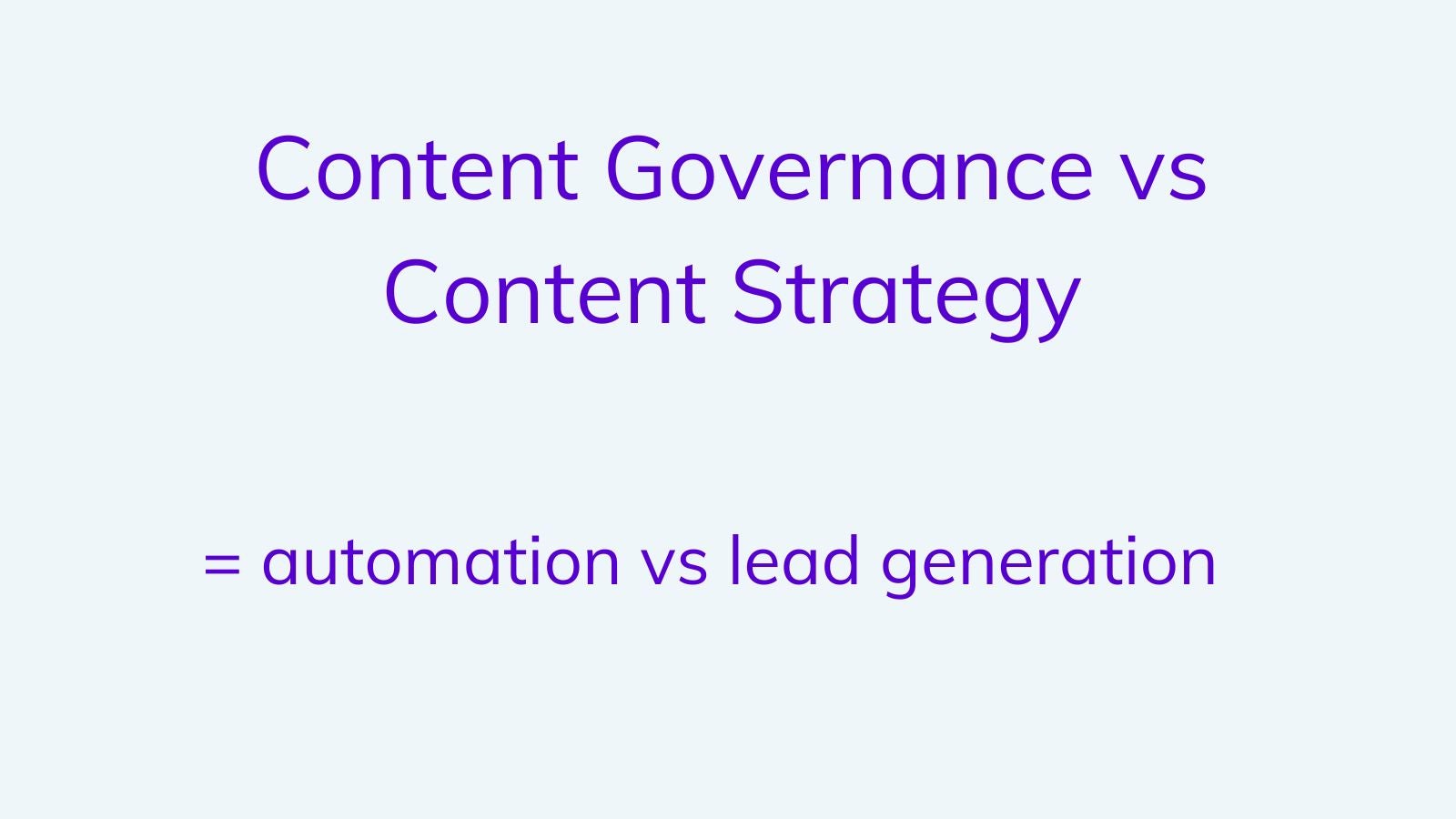 Content strategy is one of the most critical aspects of any marketing strategy is determining who, what, where, when, and how you will interact with your target audience through your content. It's more than just a list of formats and topics. It comprises buyer personas, path maps and editorial calendars, audits, and content governance.
On the other hand, Content governance is a set of principles and manual or automated quality control methods that ensure that every piece of content you create and post is on-brand, correct, and of high quality.
Every content strategy relies on it as its foundation. It is possible to manage content throughout its lifecycle, from conception to consumption, with the help of a governance strategy. Similarly, it ensures that all of your content assets are in line with your company's objectives and help meet your business goals.
Content marketing strategy Objectives
Content strategy is a comprehensive approach for creating content that supports the company's core goals such as social media content and blog posts.

The higher-level planning procedure is known as content strategy. However, content marketing is about developing, publishing, and selling content in the most practical sense.

Your content plan should include

SEO

because it helps you determine your audience's search habits and amplify the information you produce.
Content governance Objectives
Make sure every content project has some structure.

Determine the roles and duties that each stakeholder will hold.

Make content pipelines and procedures as detailed as possible.

Determine the criteria surrounding the material.

Improve productivity across the whole content development process.

Enhance the overall quality of the article.
Advantages of Content Governance
As you already realize that content governance has the potential to provide you with many content workflows. However, what does that particular arrangement look like? The following is a list of advantages that come with having a content governance framework in place: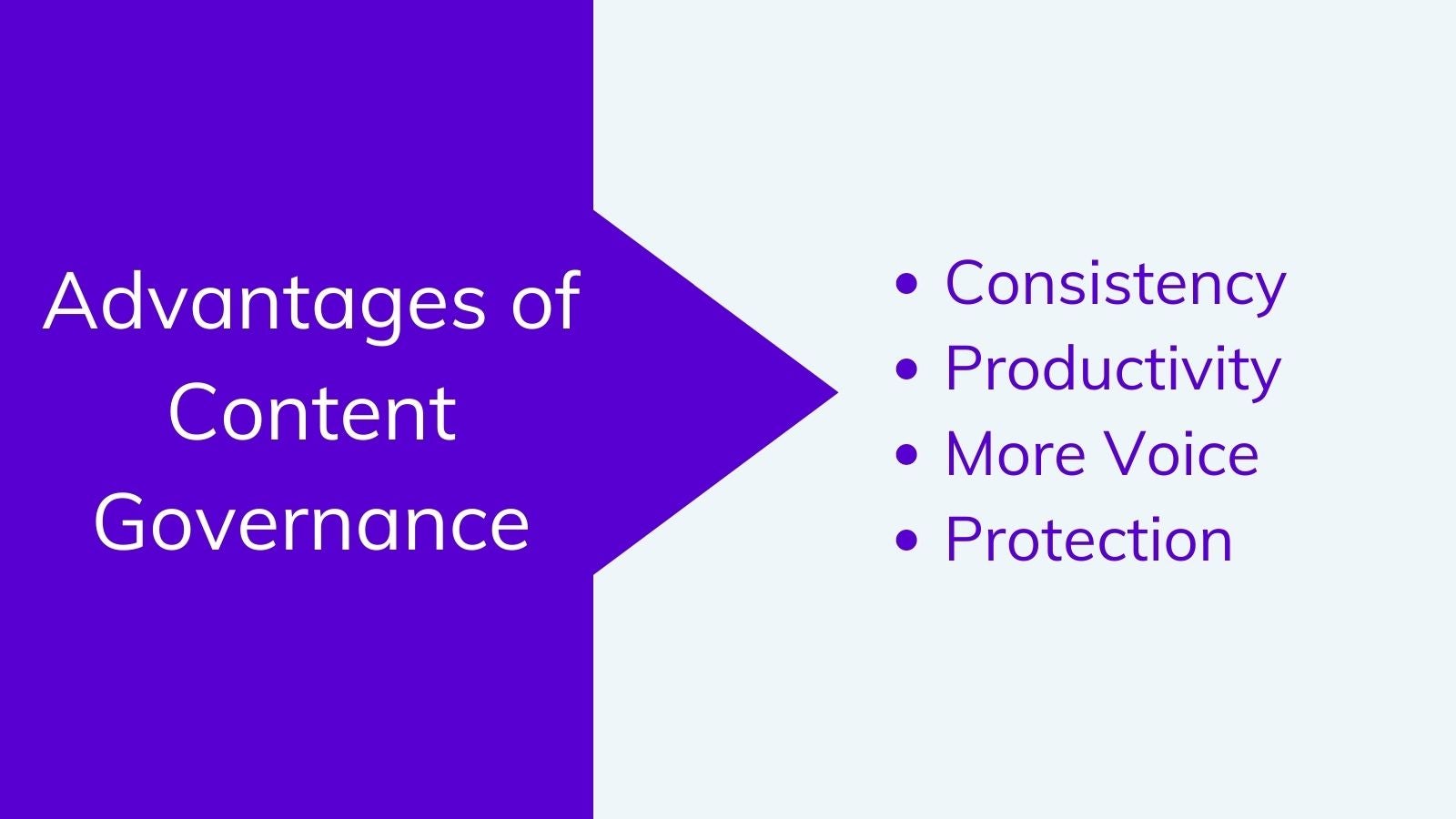 Consistency
You want potential clients to have a specific reaction whenever they consider purchasing your product or service. If each article uses a different writing style, tone, and word choice, then accomplishing this goal will be impossible. This issue can be circumvented with the help of content governance, which establishes the guidelines according to which each piece of content must be produced. This way, your content will have the same tone and style throughout.
Productivity
Each individual of the content team should be informed, through a content governance strategy, not just on what they should be creating but also on how they should be doing it. This results in fewer nasty draughts and more extended corrections, allowing more time to develop new material.
More Voice
It will be easier to incorporate subject matter experts (SMEs) from outside the marketing team in the content production process after rock-solid protocols have been implemented for how content is developed. Therefore, your content governance plan should detail how other stakeholders can participate in conceptualizing, producing, and disseminating content.
Protection
If you have clear policies and procedures in place, it will be much easier to avoid any embarrassing blunders or mistakes in the content you produce.
As a result of having a set of criteria to follow, it is much easier to receive the go-ahead for something to be made public, thanks to content governance.
People who are involved in the Governance Process
Before embarking on your road toward governance, you ought to consult a few key stakeholders. This is necessary, although there is no one tried-and-true method for developing an effective content workflow and content governance plan. Let's have a look at some of the people who are involved in the process of governance:
Salespeople
The Salesmen are aware of the customers. Therefore, they must be a part of the governance process to ensure that each component speaks directly to the customer.
Content writers and editors
Writers and editors are the other ones who work together to guarantee that every piece of content is error-free and published on time.
The marketing team's job is to manage the content lifecycle from beginning to end and decide which content will be released.
Experts in the field
Writing specialized content necessitates the involvement of subject-matter specialists who can verify that the information you present is accurate and on target.
Best Practices for Content Governance
How can you make the most of your organization's benefits from content governance? Below are the following things you need to consider:
The first one is to be careful. It's not difficult to put together a content governance strategy, but it necessitates the involvement of someone invested in its success. Even though it's necessary, thinking about governance isn't the most exciting aspect of a creative communicator's day. To succeed, you must identify people who care about the subject matter and who will continue to care about it."
Secondly, you need to create a centralized location for storing content. It's essential to remember that the scope extends beyond what you see on the Internet. In my operational mind, I believe that a single team should be responsible for all content. Consistency and oversight of maintenance can be ensured by this method.
Lastly, you need to have transparent communication regarding the procedures, and you should make use of a program that manages processes. A content management system is an absolute if you plan to accept contributions from third parties.
How does Headless CMS Help with Content Governance?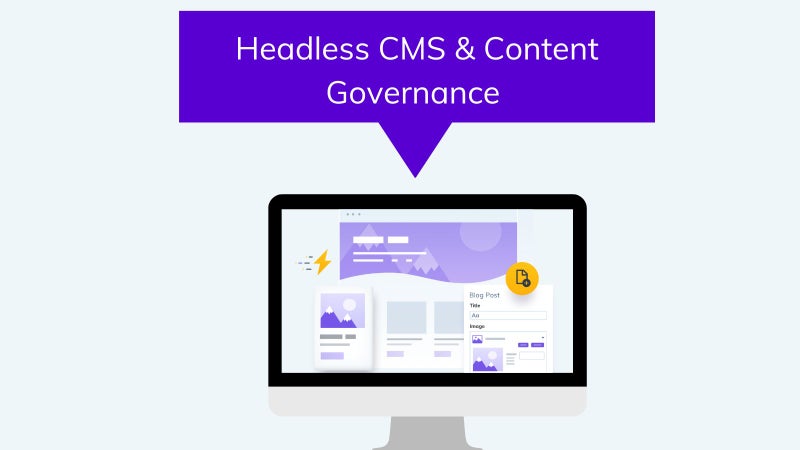 The most critical content objective for C-suite executives and business owners is to ensure that every component of your organization, from subject matter experts to marketers to content teams, unlocks the potential of timely, unified content.
Headless CMS provides the tools necessary to empower your stakeholders, guarantee the content's quality, and facilitate active content governance. In addition, when using a CMS, Collaborators can create, author, and most crucially own the content they produce.
Content blocks, static content, documents, photos, and contact forms can be assigned ownership through a headless CMS. Additionally, CMS includes granular permissions that allow you to classify stakeholders into roles and divide your websites into separate parts for different contributors.
By utilizing a headless CMS, you can guarantee that your content will receive the necessary approvals. In addition, you can manage your content policies, archive your content, and handle versioning and history to ensure that you can always return to an earlier document version.
In addition, headless CMS, such as Agility CMS, comes with a pre-defined list of sub-actions that can be used as steps in the content approval process. You are free to choose any sub-actions, and you can carry out the workflow activity in whichever order you find most convenient. You can also determine how content goes through your system, from the time it is initially created through publishing and even to the point where it is archived, deleted, or otherwise disposed of using the CMS, which also functions as a content governance system.
A headless CMS might allow you to ensure that your firm has implemented sound policies for content management.
In short, if you plan to implement content governance, headless CMS can give you personalized insights about the effectiveness of your content marketing, which can assist you in determining where you should concentrate your efforts.