Content marketing is a process through which you create and share valuable content with your target market with the goal of nurturing them into leads and selling to them.
It's one of the best ways for today's business owners to promote their businesses and reach out to new clients.
However, in order to be successful with your content marketing, you need plenty of tools and resources to help you in the process. But, there are so many choices out there that it can be tough to find the right one for your needs.
This blog post mentions 13 of the most popular tools for content marketing success, including SEO tools, writing assistants, and more.
1.
Happyscribe
: audio to text converter
Do you want to turn your podcast, interviews, recorded meetings, and other audio files into text? Whatever your goal, Happyscribe can help you achieve it.
The interviews, podcasts, and business meetings often include invaluable information you want your audience to take advantage of. Audiences prefer quality content, and these sources are the best ways to bring that.
To help with your content marketing's success, Happyscribe's well-trained AI can convert audio recording into text transcript as soon as five minutes.
Happyscribe also provides a human-made transcription service claiming 99% accuracy with 24 hours turnaround time for those not on a time crunch.
One of the concerns in similar processes is file size; many tools specify a size limit for uploading files, and sometimes your file's size doesn't fall in that range. Happyscribe, fortunately, has developed a website mechanism to accept files of any size and length to cater to everyone's needs.
Pricing
AI transcription:

€0.20

per minute

Human-made transcription:

€1.70

per minute
2.
Murf.ai
: voice-over google slides add-on
Murf.ai converts text into audio with the help of a well-trained AI voice generator with many different voices and languages, making your content reach and help the masses.
Video content is sometimes more helpful because it helps better explain the matter than textual content.
For instance, when explaining a new product or service, you may want to create video content because 69% of people prefer a short video explanation to learn about new products and services.
Murf's voice-over google slides add-on will make this process easier.
Pricing
Free:

$0

per month

Basic:

$13

per month

Pro:

$26

per month

Enterprise: starting from

$83

per month
3.
Engati
: AI chatbot and live chat platform
You can level up your content marketing by deploying an AI chatbot.
Out of the many applications of chatbots, entertaining the audience's queries is just one. Learn more about the different types of chatbots and their applications here.
Engati lets you design a personalized chatbot according to your business needs.
Pricing
Starter: free forever

Professional:

$79

per month

Business:

$249

per month

Enterprise: custom pricing
4. Agility CMS: Headless Content Management with Page Management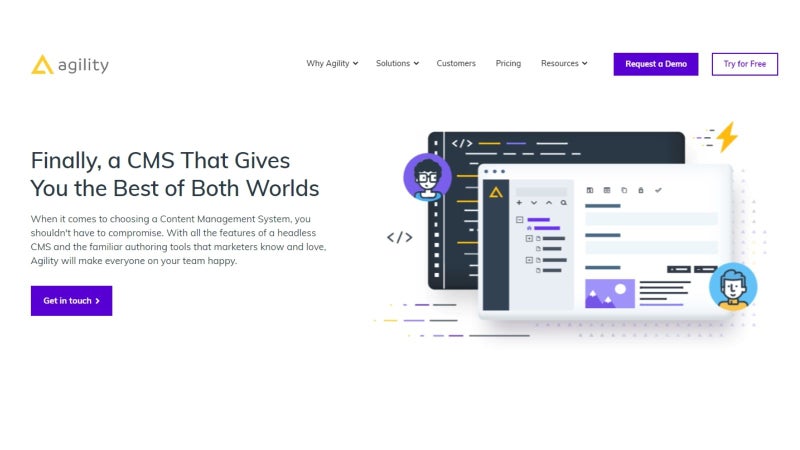 Today's marketers need to be able to quickly create, publish and manage content across a growing number of digital channels with a modern, headless content management system. Agility's intuitive UI and familiar authoring experience make it easy for even non-technical teams to deliver exceptional omnichannel experiences.
Agility CMS checks all the boxes for marketing teams. They are a cloud-based tool that offers powerful personalization tools and an extremely easy-to-use interface that helps not only companies but also brands by keeping the user experience consistent.
These are some reasons why marketers love Agility CMS:
Quick Set-Up- Agility CMS reduces the dependence on developers because they're usually ready as an out-of-the-box solution.

Ready To Integrate With Other Software- Marketers use a myriad of different platforms to get their job done. A hybrid CMS is the solution because it's easy to integrate with third-party platforms and complementary services.

Cloud-Based- Hybrid CMSs are usually cloud-based or cloud-ready. That means that every member of your team can make changes and edit content in real-time without stepping on each other's toes.

Enhanced Collaboration- Hybrid CMSs create a bridge between marketers and developers. Hybrid architecture makes it possible for both teams to work independently, but still remain in sync to create digital experiences that delight customers.
Developer Edition: Free

Business: $900 per month
Pro (most popular) $1900 per month

Enterprise: custom pricing
5. Google Docs: online document creator
Today, employing a single person may not be sufficient to cater to your business's content marketing needs. There must be multiple minds working collaboratively to help you succeed.
For instance, you may want to employ a writing expert and an SEO expert to work collaboratively. Together, they can provide a great piece of writing that will have not only the required quality but also the ability to outrank your competitors in the search engine.
To facilitate this collaboration, we recommend you use Google Docs. Google Docs lets you share access to a document with multiple people, and they can all work on it simultaneously. In addition, the team can comment, edit, add, format, and more.
What makes Google Docs better than many of its substitutes is its stringent eye over grammar. It automatically detects the grammatical errors in your document and suggests solutions. Also, most of the time, the suggestions are accurate.
Pricing
6. Grammarly: editor and proofreader
Errors are inevitable, but they will repel your audience if your content has grammatical or structural errors.
To save you from reviewing the content manually, which also comes with the risk of overlooking some errors, we recommend you use Grammarly.
Grammarly checks your content for clarity, conciseness, engagement, and delivery.
What's more, Grammarly asks you about the tone you want to set in your content and provides suggestions accordingly.
It also rates your content for readability so that you know if there's still room for improvement. Combining all the features of Grammarly, it is a powerful tool that ensures you are outputting quality content.
Pricing
Free:

$0

per month

Premium:

$12

per month

Business:

$12.5

per member per month
7. CoSchedule: content scheduling tool
CoSchedule is a publishing planning tool that makes scheduling blog posts and other types of content more effortless than ever before.
With CoSchedule, you can set up editorial calendars and publish your posts without having to worry about linking them together and making sure they integrate with your website design and marketing strategy as a whole.
If you're trying to make publishing easier with all the other aspects of your business, then this is the perfect solution for you.
Pricing
Free:

$0

per month

Pro:

$29

per month

Business: custom pricing
8. Google Analytics: a data analysis tool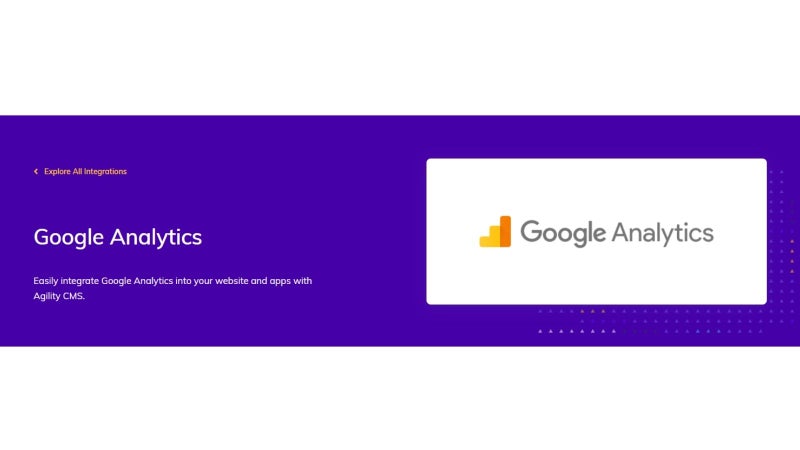 Google Analytics is one of the most popular tools for any digital marketing strategy. It provides an in-depth overview of all your website's data, including traffic sources, keywords, and more.
This tool also makes it easier to create reports that are easy to understand and share with clients or investors. You can break down your data into specific categories to easily compare one metric to another.
Google Analytics is also great for content marketers because it helps you understand how people are engaging with the content you publish online.
You can find out what time of day your audience visits your site or whether people are reading certain parts of your content more than others. This will help you make adjustments based on what's working and what isn't.
Pricing
9.
Buffer: content scheduling tool
Buffer is a great application to use if you're trying to schedule your content. It helps you plan out what content will be posted when, so you don't have to worry about it.
You can also use Buffer to share content on social media, so you don't have to do the posts manually. This saves a ton of time and ensures that your posts are consistent with each other.
Pricing
Free:

$0

per month

Essentials:

$5

per month
HubSpot is a tool that's dedicated to helping companies achieve success. One of their main focuses is on content marketing. They offer a wide range of content management tools, which are great for generating leads and promoting your business.
HubSpot has an innovative CRM system that integrates with all aspects of digital marketing. This CRM system will track everything from customer data to conversion rates.
Pricing
Starter:

$23

per month

Professional:

$360

per month

Enterprise:

$1200

per month
11. Hootsuite: social media management tool
Hootsuite is a social media management tool that will help you schedule posts, share content, and track the success of your campaigns. It's easy to use, especially for those who don't have much experience with social media marketing.
This tool will help you manage all of your social media accounts from one dashboard. You can schedule posts for Instagram as well as Facebook and Twitter. It also allows you to measure how well your content is performing by tracking likes, shares, comments, retweets, and more.
Pricing
Professional:

$49

per month

Team:

$129

per month

Business:

$739

per month

Enterprise: custom pricing
12. Mailchimp: email marketing tool
Mailchimp is a popular email marketing tool that allows you to send newsletters and other email content to your consumers. Mailchimp is a great way to engage your audience by letting them know about your latest products, offers, and promotions.
Pricing
Free: Starts at

$0

per month

Essential: Starts at

$11

per month

Standard: Starts at

$17

per month

Premium: Starts at

$299

per month
Zapier is a tool that connects your apps to simplify the way you work. You can use Zapier to connect Google Sheets, PayPal, Gmail, Slack, Shopify, and more.
When you need to complete a task in one app but don't have time to do so, Zapier will perform the task for you in another app.
For example, if you were building an email campaign but had to stop halfway through to take care of something else, Zapier would send out the emails for you when it detects changes in other apps like Gmail.
If someone replies to one of your emails on Gmail with questions or feedback about your product or service, Zapier will automatically update the spreadsheet with that.
Pricing
Free:

$0

per month

Starter:

$19.99

per month

Professional:

$49

per month

Team:

$299

per month

Company:

$599

per month
Conclusion
With the right tools, content marketing can be a powerful way to reach your target audience and grow your business.
There are so many tools out there to help you with your content marketing strategy. But how do you know which ones are the best for you?
In this article, we have compiled a list of our favorites to help you get started. You can use any of these tools independently or combine them to create an even more powerful content marketing strategy.
Thank you for reading; we hope you will be able to create a successful content marketing plan with the help of these 13 tools.