Customer engagement is a vital metric that determines how well your website is performing. Simply put, it tells you about the following aspects of your website:
Are your subscribers reading your website content?
Are they clicking through your call-to-action?
Are they buying your products or services?
If the answer to any of the above questions is no, it's time you take concrete steps to boost customer engagement on your website.
This post will cover proven tips and strategies to help you engage your website customers and get the following results:
Improve conversions
Accelerate sales and revenue
But, before we move further, you must know the basics of customer engagement. Let's dive in.
What is customer engagement?
As the name itself suggests, customer engagement refers to the interactions that take place between your brand and your customers- it is all about maintaining your prospect's interest in your product or service.
Advantages of customer engagement:
1 | Long-term and healthy customer relationship
A top-notch customer engagement strategy can play a critical role in increasing the loyalty of your customers. Regular interaction with your customer on topics that are meaningful to them can help you connect with them on a personal level. As a result, your subscribers don't the only thing that you care for them but will also opt for your brand when they make a purchase.
For instance, if you run an email marketing company and offer your prospects free e-books and guides on how to ace their email marketing strategy, they won't only look forward to the consistent value you provide to them through relevant content, but will also choose you when they have to buy email marketing solutions for their business.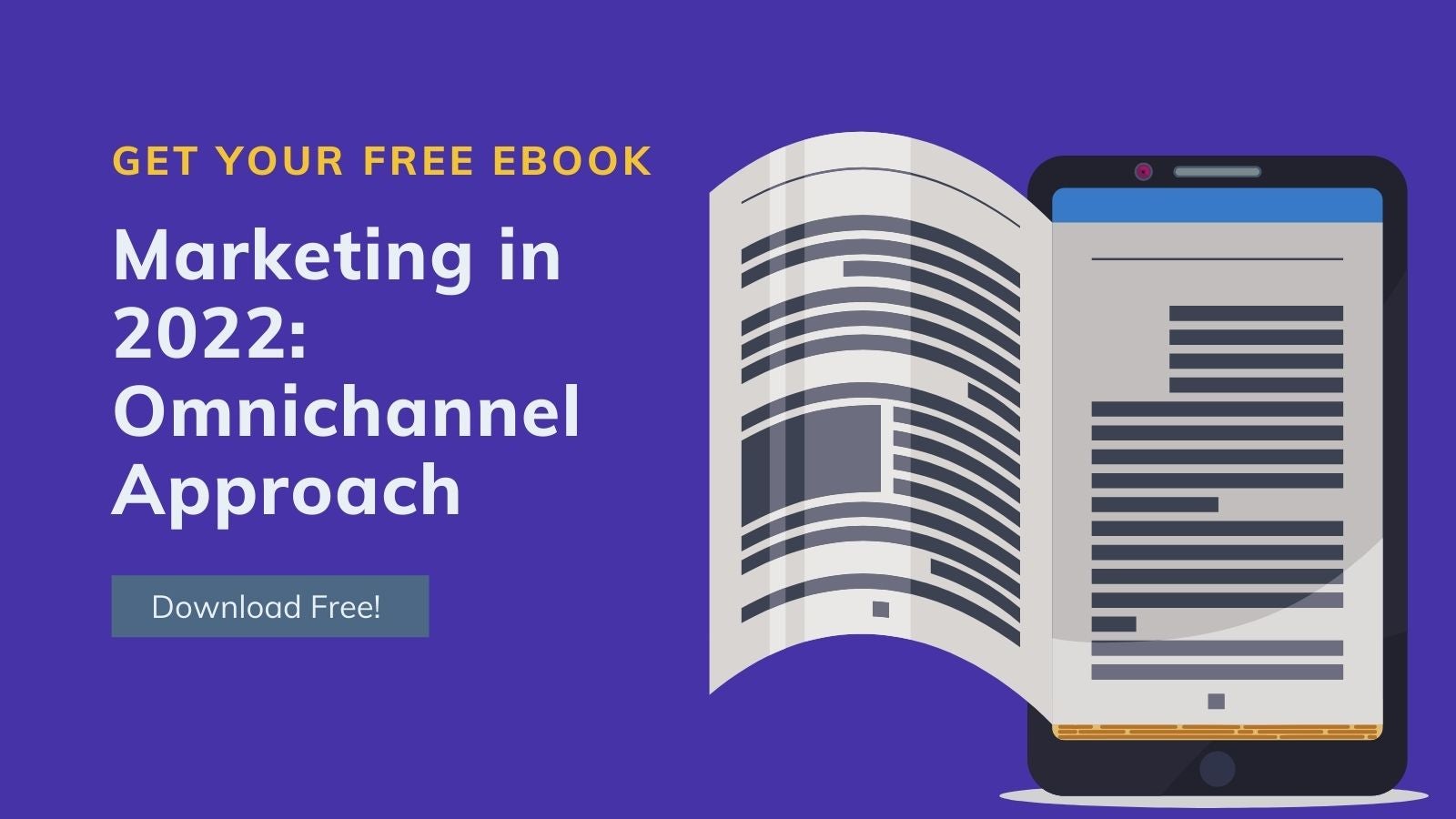 2 | Better customer retention
Did you know attracting a new customer can cost you five times more than retaining an existing customer? In fact, according to Bain & Company's research, increasing your customer retention rates by 5% can accelerate your profit by 25% to 95%. That's huge.
As mentioned already, the best way to retain customers is to keep them engaged with consistent value and relevant content. Let's take a look at few ways that can help you in easy customer retention
Explain the features of your products or services. For instance, if you have a cybersecurity company, let them know about the features of virtual private networks (VPN), Role-Based Access Control (RBAC), Firewall, and more.
Let them know how your products or services can benefit them in the long run. Continuing from the example above, you can send your prospects newsletters about how VPN provides end-to-end encryption to keep the transfer of critical data between employees and organizations safe from data breaches.
Update them about the latest trends taking place in your sectors.
Identify their problem areas and provide effective solutions.
3 | Improved cross-selling and up-selling
You can collect the data pertaining to your engagement campaigns and analyze it for a better understanding of your customer's wants and needs. This, in turn, will help you segment your customer base on the basis of their preferences resulting in:
Better campaign personalization.
Improved product/service recommendations to your subscribers.
More sales-related cross-selling and up-selling.


4 | Access to new subscribers
By offering relevant and consistent personalized content to your subscribers, you are not only creating your brand's credibility but are also encouraging them to connect with you.
For instance, if you are sending your subscribers valuable email newsletters regularly, you can include a strong call-to-action within it and encourage them to take action.
Following are the key takeaways from this email:
With Covid-19 lurking around, Canva is ensuring that it brings awareness among its subscribers to stop the spread of the disease.
It subtly leverages this for improving its brand identity by asking people to create a poster and spread awareness regarding the pandemic. It displays a step-by-step process for creating the poster.
It also gives its subscribers the option of choosing from a variety of templates.
With such relevant content and strong CTAs, there is no doubt that Canva will increase its subscribers base significantly.
5 | Reduced purchase cycle
Customer engagement keeps your brand's name fresh in your customer's minds. As a result, everyone will want to try your brand when they decide to buy a product or service, thereby reducing the total purchase cycle.
6 | Increase in the number of loyal customers
Continuous engagement with your customers will help you acquire loyal customers who are likely to recommend your brand to others. As a result, you will not only be able to grow your online community organically but will also see your customers turning into your brand ambassadors.
7 | Better customer service
A brand that offers impeccable customer service witnesses repeats purchases from 93% of customers. So, make sure to devote sufficient time and resources to meet your subscribers' customer service requirements.
Customer engagement gives you a chance to keep in touch with your subscribers consistently, not just when they have an issue. It also lets them connect with you instantly if they have a concern.
With such immense support from a brand, your customers will feel valued, thereby leading to quick customer gratification.
How to analyze customer engagement?
You need to analyze the following Key Performance Indicators (KPIs) to measure your website's customer engagement.
Average visit time of the subscribers
This metric shows you how long a customer stayed on your website. If a user visits your website for purchase and stays even after completing the purchase for exploring your website, it means they are engaging with your content, thereby increasing your user engagement rate.
Open and click-through rates
While open rates give you an idea of how many unique visitors opened your website, click-through rates tell you how many customers interacted with your website. Simply put, these two KPIs give you an overview of the response of your customers towards your content, products, and offers.
If a customer visits your website and leaves without being navigated to another page, they have 'bounced' from your site. The higher the bounce rate, the lower will be your customer engagement rate and vice versa.
Forms are a great way of collecting relevant customer data. In fact, it can even help you gauge customer engagement.
Repeat website visits and recurring purchases
Your brand is going to be on the top of your actively engaged customer's mind. Therefore, if your customers are visiting your website repeatedly to consume your content or make a purchase, it is an indicator that your website is gathering a good customer engagement rate.
Reviews and testimonials from customers play a pivotal role in helping how your customers are perceiving your business. Are they liking your products and services? Do they find value in the content you are posting on your website? These are a few of the many questions that you can get answers to from customer feedback.
Reviews provide a clear understanding of how your subscribers are interacting with your brand and the engagement rate as well.
Best practices to improve customer engagement
Let's get started with a few strategies that will help you accelerate your customer engagement like never before.
Decrease page load time
Page load time is the average time a website takes to appear on the screen completely. A high page load time can decrease your customer engagement and vice versa.
Imagine visiting a website that looks attractive and user-friendly. You want to explore it and hence click on a link but, the website doesn't load so you consequently leave the website. As a result, with every additional second of load time, the website conversion rate drops by 4.42 percent on average.
Also, you must know that the probability of bounce rate increases by 32% if the page loading speed goes from 1 second to 3 seconds. Take a look at this data:
The page loading speed can make or break your website's credibility. Here's how you can decrease your website's page load time and improve your customer engagement.
Analyze page loading speed with the help of Google's page speed insight tool.
Reduce the file size of your images and videos through compressing and lazy loading.
Steer clear of redirects.
Cache your website regularly to reduce the Time to First Byte (TTFB).
Work towards CSS, Java, and HTML minification.
Incorporate seamless linking structure
Internal linking doesn't only improve your SEO ranking but also makes site navigation easy. Further, it will help increase website page views while minimizing bounce rates.
Take a look at how you can leverage internal linking to improve customer engagement:
Make sure every link has a relevant anchor text attached to it. For instance, if you run an email marketing agency and post a blog on your website on the topic "how to nail your cold email strategy", you can use your post on "cold email subject lines" for internal linking.
Keep your links precise, to the point, and relevant.
Avoid over-stuffing your website content with links. It can annoy your subscribers and search engine ranking simultaneously.
Show relevant and related content
This strategy is somewhat similar to internal linking. By showing related content at the end of each page, you are attracting your user's attention.
After all, you are giving them the opportunity to garner more information about the topic they were already exploring on your website. As a result, it will increase your website's customer engagement.
Facilitate easy website navigation
Imagine a customer visiting your website and not being able to find something they are searching for. You will end up having a high bounce rate and low user engagement- make sure your website navigation is clean.
Take a look at how Agility CMS has made navigation seamless for its customers by categorizing its navigation menu. Whether a user is looking for the solutions provided by Agility CMS or wants to know about its pricing structure, they can find everything right in front of their eyes.
Make your writing conversational
The way you write on your website can increase or decrease your customer engagement. Writing in a fun and conversational tone is more effective for engaging users.
Leverage responsive design
Responsive websites help both desktops as well as mobile users to browse your website seamlessly. So, it is important that you include a responsive website design. Here are few key aspects of a responsive website:
Develop a mobile-friendly website.
Keep the navigation simple. A few elements can look stellar on a desktop but might look cumbersome on a smartphone.
Switch to a Headless CMS
Content plays a great role in increasing the user engagement of your website. This is where a content management system (CMS) can come in handy. It lets you enter the content through a backend and facilitates its output through a frontend.
However, Traditional CMSs, like WordPress, are only feasible when managing a single channel. If your business has multiple functional websites, you should choose a headless CMS.
Let's take a quick look at its various benefits:
It is flexible. With its API-driven approach, you can create your own frontend. You can also create your website without any proprietary development issues.
It facilitates faster completion of projects by helping you reuse or combine your content with other presentations.
You can smoothly and securely incorporate a headless CMS into your existing business system.
Since headless CMS is user-friendly and doesn't require much technical know-how, you don't need to hire expensive developers to create functionality. You can do it yourself.
Discover how Agility CMS has helped increase engagement and retention for top e-commerce enterprises: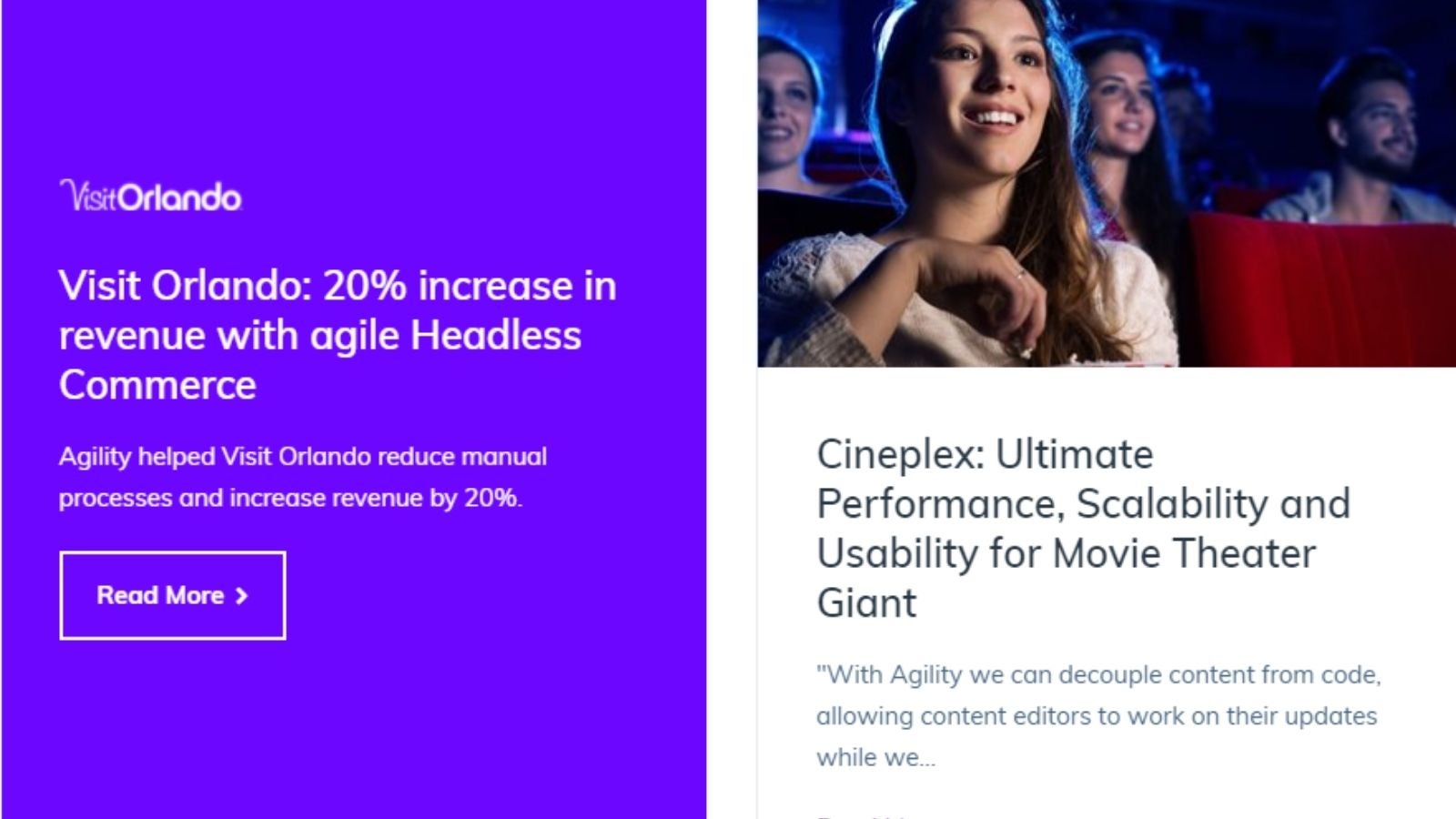 Include a search box
People often visit a website in search of a product, service, or a particular piece of content. To make their search easy, incorporate a visible search box. It will assist your visitors in easily finding the information they want. As a result, user engagement will improve.
Entice customers with contests
You can improve your website's performance by creating contests and promotional giveaways for your customers. For instance, you can encourage your customers to write a review for your product or service and reward them in the form of coupons, free ebooks, discounts, and gift cards. Rewards will help you to promote your content and entice users to stay on your website for a longer time, increasing your customer engagement.
Include a live chatbox
Having a live chatbox on your website's homepage will help users connect with you instantly. Add a name and a photo to your chatbox to make it more human.
A quick tip: If you run an e-commerce business, you can also leverage e-commerce tools such as SendX to facilitate seamless communication with your customers.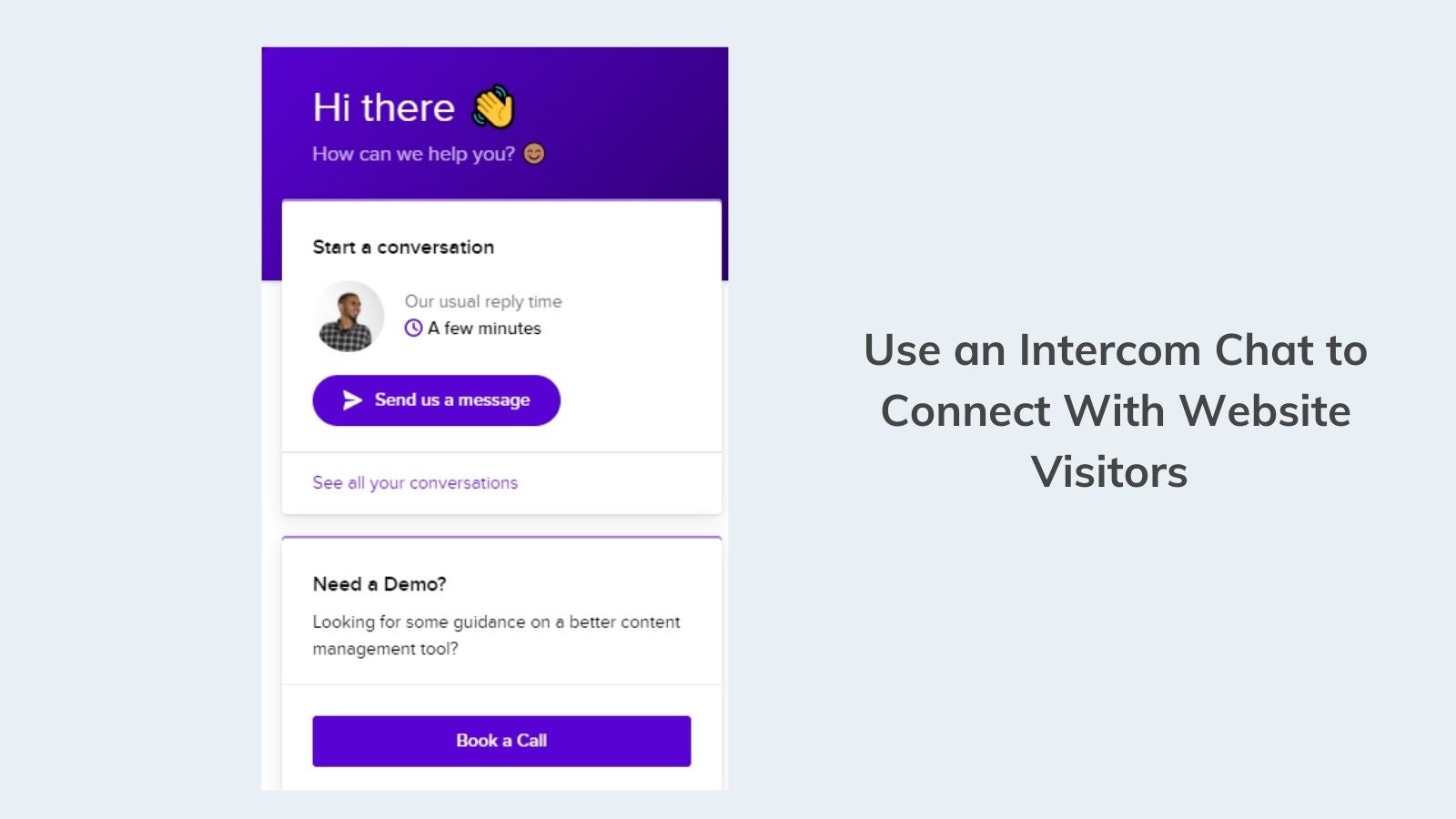 Work on customer segmentation
You can increase your website's user engagement by segmenting your customer base into specific groups and creating buyer personas. The criteria for segmentation include age, gender, demography, sales funnel position, purchase history, browsing history, and more.
Here's how you can use segmentation to increase customer engagement.
You can display such products and services on your website's homepage that are relevant to a particular age group.
If a customer is browsing a product/service, you can recommend those products to them by taking into account their browsing history.
Pro tip: Along with the segmentation, leverage agile project management to give your customers products that they will love.
Make your CTAs stand out
CTAs are buttons that encourage users to take an action. You can entice customers to subscribe to your newsletter, join a membership, buy a product, download a digital brochure, comment on your post, and more through a compelling CTA.
In other words, CTAs if placed properly can help you increase your website engagement considerably. Here's an example:
Provide self-service tools
Your approach towards solving customer issues can increase your customer engagement. You can also provide self-service tools to help your customers solve their issues themselves.
Few of the many self-service tools include:
Frequently asked question (FAQ) section.
How to do guides.
Price quote request forms.
Wrap Up
Your website can be your go-to channel for increasing your business's sales and revenues. All you need to do is analyze your customer engagement and implement effective measures to boost it.
For increasing user engagement, you should try minimizing your website's page load time, including proper linking structure, and display such content that's segmented and relevant to your subscribers.
Learn More:
What is a Headless CMS Sytem? | Agility CMS
What Are The Benefits of a Headless CMS? | Agility CMS
Page Management for Content Marketers - With Agility CMS


Author Bio
Surya Ranjan is a content marketer and handles marketing at Outsourc. He is always on the lookout for new optimization strategies and loves to create actionable content.