Content management systems (CMS) offer businesses great control over website content, functionality, and design. The flexibility, ease of maintenance, and excellent support CMS provides help businesses achieve digital goals.
Content management systems allow businesses to create and manage websites with the help of a human-friendly interface without needing a web developer. However, considering the plethora of content management systems available today, choosing the right one for your business isn't easy.
This article will discuss the top 11 features a sound content management system must offer its users.
Key Features Every CMS Must-Have
User-Friendly Interface
The admin dashboard plays a crucial role in simplifying business operations. The CMS you opt for must offer an intuitive dashboard that helps them manage content production and distribution activities without breaking a sweat. These activities include scheduling content publication, tracking visitors' comments, installing various plugins, reviewing the performance of the content, and more.
A unified dashboard gives users a bird's eye view of the content workflow and streamlines content production by reducing complexities. It also facilitates team collaboration.
Modules and Page Management
A CMS theme or module determines the overall appearance of a website. It is a collection of code files and visual assets that helps businesses deliver a consistent look and feel of their brands across the website.
Depending on the type of business, you can build a module or theme that depicts your brand. The layout of these web pages can also be saved, allowing you to streamline the layout designing process every time you publish a new page or article.
Content Editor/ Rich Text Editor
Content creation is in itself a time-consuming process. High-quality content that lists facts and good examples and optimizes the same for SEO is critical to business success. Most businesses today wish to have powerful content editing tools in their CMS to save time on content publishing.
Competent content editors help businesses compile and present their content on their websites in less time, allowing them to use that time for content creation. From blog posts to landing pages and contact forms, content/ rich text editor editors help businesses publish different content types without any hassles. The CMS you choose must allow you to add content, images, videos, forms, CTAs, code snippets, and more to your website in just a few clicks.
Content Staging Tools
To keep up with the rapidly-changing design and content industry trends, businesses ought to make frequent changes to the website design while ensuring that the new design enhances the user experience.
However, many businesses are compelled to pull down their website while making these significant changes. This potential website downtime could cause a bad experience for website visitors. Hence, companies must invest in a CMS that allows them to stage the content and preview the website before release.
A content staging site helps businesses test out the changes and ensure the website works smoothly before releasing the changes on the live website. This ensures the website is free from bugs and delivers a consistent experience to visitors.
Content Editing and Publishing Tools
The content strategy for any business is no longer about publishing articles on the blog and creating static website pages. It involves different types of content, such as long-form articles, blog posts, short content pieces, landing pages, eBooks, and podcasts that need to be thoughtfully published.
A CMS with excellent publishing tools helps businesses manage content strategically by following their content calendar. With features such as one-click publishing, scheduler, and more, companies have the utmost flexibility to choose when the content goes live.
For example, suppose you are running a seasonal promotion on the website. In that case, you can leverage the page expiration feature that unpublishes the said page automatically and redirects the visitors to another page after its expiration. The amount of control this publishing tool offers helps businesses streamline their content publishing efforts and create a seamless experience for website visitors.
Built-In SEO Tools
Search engines constantly change their search algorithms, affecting business rankings. Hence, effective on-page search engine optimization thus becomes the need of the hour.
A CMS with built-in SEO capabilities will help businesses ensure their websites follow the SEO guidelines while improving their chances of ranking on the search engine results page. It will also help companies to optimize their content by adding page titles, meta descriptions, alt tags for images, and more by providing relevant suggestions.
The built-in SEO tools also generate sitemaps automatically, ensuring search engines crawl the website and index all its pages.
User Management
Regardless of the type of business, a team generally works on any website. There are content writers, editors, designers, content managers, SEO specialists, and others who work together to achieve the goals of the content team. Hence, controlling who can access the content and back end of the website is critical to prevent mistakes.
The CMS you choose must offer excellent user management capabilities. It should enable you to add and allocate your team members role-based permissions. For example, a content writer should have access to create and edit posts on the website, while an SEO specialist must be able to view and manage the entire site content.
Choose a CMS solution that allows you to allot role-based rights to the team members. It must also offer the flexibility to add more users and expand the team per business demands.
Scalability
With many companies adopting omnichannel marketing strategies, delivering content to different channels, such as websites, social media, landing pages, email newsletters, and more, becomes essential. A headless CMS helps you provide content to various channels, interfaces, and devices efficiently, without any hurdles.
By separating content elements from its presentation, a headless CMS offers a 'create once, deliver anywhere' type of functionality. It helps businesses scale their content distribution efforts by allowing them to add new channels to the system and load the existing content on the same effortlessly.
If you are looking for a CMS that helps you reach customers across many digital channels, using a headless CMS offering multichannel scalability would be beneficial.
Third-Party Integrations
Not every CMS is designed to carry out everything a business could need in-house. Hence, it relies on robust third-party integrations to carry out specific tasks in the content workflow. These integrations facilitate seamless data flow between applications, helping businesses craft an excellent content strategy. CMS vendors that are built for enterprise-grade content will often have marketplaces with native apps pre-built to enable your composable stack, for example, Agility CMS; View Our Integrated Platforms & Integration Partners
Security
Although technology has simplified operations for many businesses, it has also put them under the radar of cyber attacks. Cyber crimes, such as data breaches, email fraud, financial fraud, cyber extortion, and more, have increased exponentially worldwide. Many businesses are investing in cybersecurity to protect their companies against cybercrime. Understand what built-in security features the CMS offers, such as SSL certificate, firewall, CDN, vulnerability and security scans, and more. Choose the one that offers maximum security and evaluate the work needed on the website to achieve the desired security standards.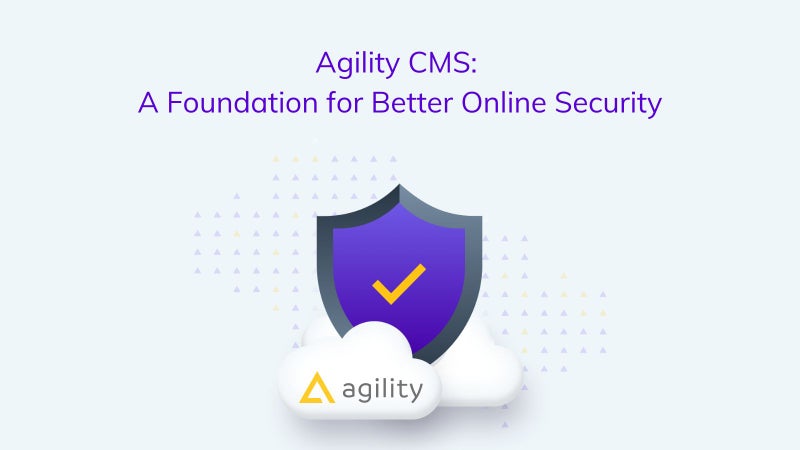 Customer Support
Customer support is another essential aspect when choosing a CMS for your organization. This is true, especially if your company does not house a dedicated IT team.
Most open-source CMS, such as WordPress and Drupal, do not offer any support. Businesses must tap into their extensive documentation or the engaged community to find the answers to their queries. The issues could take weeks to get resolved. However, CMS like Agility CMS offers businesses world-class support, consultation, and training to bring their website to life.
Choose a CMS that offers priority support to its users based on the complexity of the issues they face.
Agility's Headless CMS: Elevating Content Management Excellence
Agility's Headless CMS goes above and beyond in redefining the CMS landscape, setting new standards for digital capabilities. An intuitive admin dashboard simplifies content production and collaboration, seamlessly blending visitor interaction tracking and plugin management. Its customizable modules and themes ensure consistent brand representation across devices, while the powerful content editor streamlines diverse content creation. Agility's CMS stands out with content staging tools that eliminate downtime during updates and enable seamless user experiences.
Built-in SEO tools optimize content for search engine visibility, complemented by user management features that facilitate smooth collaboration among team members. Its scalability caters to omnichannel strategies, while third-party integrations facilitate data flow and customization. Security is paramount, evidenced by SSL certificates, firewalls, CDNs, and vulnerability scans. Beyond its feature-rich platform, Agility's CMS offers unparalleled customer support, consultations, and training, ensuring businesses confidently navigate challenges. Agility's Headless CMS emerges as a transformative force in content management, propelling businesses toward digital success with innovation and reliability.