Power Up your JAMstack Development: Editor Experience Tools with JAMstack and Headless CMS
Webinar
Sep 24, 2020
4:00PM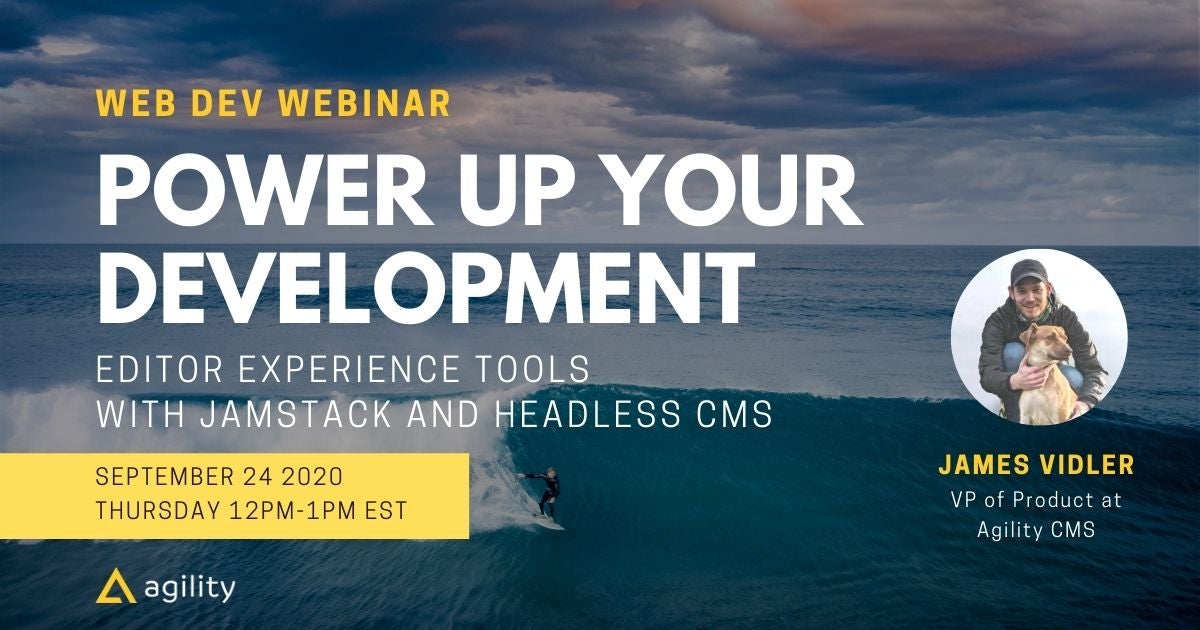 Does your customer constantly requests alterations to existing pages?

Going on and on in email chains with your customers just to get some basic content updated?

Trying to learn JAMstack and Headless CMS but feeling overwhelmed and need to get going faster?

The main benefit of headless CMS is that it provides a much more flexible and efficient way to maintain a sophisticated content architecture across multiple digital properties.
JAMstack represents a new way of developing software based on build-time and client-side rendering, that doesn't depend on web servers for outputting websites and apps.
Headless and JAMstack worlds are powerful web dev tools but not the most editor friendly which means more hand-holding and time-consuming tasks for developers.
When building your JAMstack site, you need to consider the Editor Experience. How will users manage their content, their pages, and how they will preview changes - independently from you!?
These are common problems in the JAMstack and Headless world.
Using the headless CMS's EX Power Tools, you can
Be more productive,

Write better code,

Have happier clients and users!
In this webinar, we will show you how you can use a Headless CMS EX tools within the JAMstack ecosystem to effectively create Lego pieces that editors can use to piece together their content creations:
Page Management
Most headless platforms eschew the concept of "page management." But let's not forget that the main anchor for online content is your website. Page Management saves both editors and developers a tremendous amount of time and effort.
Content Modelling
Content Modelling helps more users contribute and to build their architecture up to 5x faster! The main goal here is simplifying and streamlining the editorial experience through the UI.
What you will learn:
How to support different content use cases using Headless Content Management within JAMstack ecosystem

How to spend more time developing your skills and building efficient, re-usable code

How to use Content Modelling and Page Management with JAMstack using Agility CMS
Who should attend?
Fullstack web developers
JAMstack enthusiasts
All who needs to save their precious web development time and get more done


Host: James Vidler, VP of Product, Agility CMS. James has been building websites for the better part of a decade and currently leads the product team at Agility CMS. He's high on JAMstack and its promise for a faster web. On the side, he's also a Virtual Reality developer and publisher.
Agility CMS is a headless CMS that allows users the unparalleled flexibility, speed, and responsiveness that comes with an API-first CMS and hybrid features like Content Modelling and Page Management.
Back to Event Listing
Take the next steps
We're ready when you are. Let's chat about your problems. Let's find the solution.