The demand for content marketing across various channels introduced headless CMS to ease content management using modern designs over a microservice architecture to improve your digital existence on the web. When the headless CMS market first came to fruition, it was highly targeted towards developers. Today, the market has evolved, realizing that marketing departments are the authors and drivers of digital experiences. Understanding how headless CMS impacts your entire team, beyond developers, showcases the powerful movement from the monolithic architecture of the past towards the future of composability.
What is a headless CMS?
Headless CMS is usually known as "API-first," unlike a traditional CMS, doesn't dictate how content is conferred to consumers of your digital experiences. A headless CMS is like a stand-alone CMS that handles the backend only. The content is authored within the backend and delivered to website visitors through an API like REST or GraphQL APIs.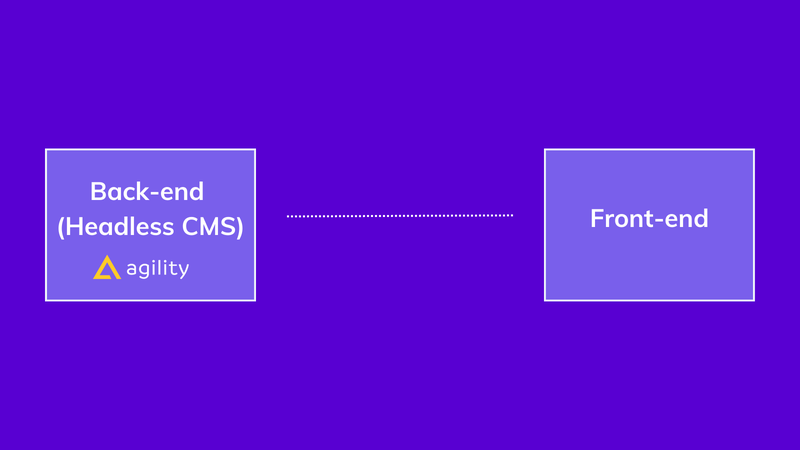 The headless CMS is not coupled to a theme; it is separated from the design, so you create a website without a pre-determined template. Some suppliers of this content management system conjointly promote it as a website, service, content hub, or content infrastructure.
What are the benefits of headless CMS for your marketing department?
Not only does a headless CMS decouple content from a pre-designed theme, but it also offers technical business and marketing benefits.
In the dynamic digital sphere, where customer engagement and seamless content delivery reign supreme, the emergence of Headless Content Management Systems (CMS) has marked a paradigm shift in marketing strategies. Let's delve into the myriad ways in which this cutting-edge technology is reshaping the landscape for marketers and businesses alike.
Unmatched Agility and Speed:
The decoupling of the front-end and back-end in a Headless CMS enables marketers to deliver content swiftly, ensuring an agile response to dynamic market demands. With this enhanced speed, businesses can stay ahead of the competition, catering to the ever-evolving needs of their audience in real-time.
Versatility for Multichannel Content Delivery:
Gone are the limitations of traditional CMS platforms. Headless CMS empowers marketers to distribute content seamlessly across a diverse array of channels, from websites and mobile apps to IoT devices, ensuring a consistent brand experience regardless of the platform.
Hyper-Personalization at Scale:
By harnessing the power of customer data, marketers can create personalized content experiences that resonate deeply with their target audience. This hyper-personalization fosters stronger connections, leading to improved engagement and higher conversion rates.
Seamless Integration for Data-Driven Insights:
The seamless integration capabilities of Headless CMS with various marketing tools, including CRM software, analytics platforms, and marketing automation tools, enable data-driven decision-making, empowering marketers to optimize campaigns effectively.
Consistent Brand Experience Across Touchpoints:
Centralized content management ensures a consistent brand experience across all touchpoints, fostering brand loyalty and trust among consumers. This consistency reinforces the brand's identity and resonates with the audience, establishing a strong and recognizable presence.
Effortless Content Management and Updates:
With Headless CMS, managing and updating content becomes effortless. Changes made in the back-end are instantaneously reflected across all channels, eliminating the need for redundant and time-consuming manual updates, and streamlining the content management process.
Empowering SEO Performance:
Marketers gain greater control over content structure and presentation, enabling them to optimize content specifically for search engines. This enhanced control translates to improved SEO performance and greater online visibility, driving more organic traffic to the brand's platforms.
Robust Security and Enhanced Performance:
The separation of the front-end and back-end ensures enhanced security and performance. Regular updates and security patches can be applied seamlessly, minimizing the risk of vulnerabilities and ensuring a secure environment for content delivery.
Cost-Effective Scalability and Maintenance:
Headless CMS proves to be a cost-effective solution in the long run. It requires minimal maintenance and facilitates effortless scalability, reducing the need for extensive development efforts when implementing changes or introducing new features.
Efficiency through Streamlined Workflow:
By offering a flexible workflow, Headless CMS allows marketers to focus solely on content creation. This streamlined process eliminates the complexities associated with managing multiple platforms, enhancing overall productivity and efficiency.
Embracing the transformative power of a Headless CMS is no longer just an option; it's a strategic imperative for businesses looking to thrive in the digital age. By leveraging its capabilities, marketers can redefine their approach, delivering unparalleled content experiences and forging lasting connections with their audience. As the digital landscape continues to evolve, integrating a Headless CMS becomes the cornerstone of sustainable and impactful marketing endeavors.
The Potential Downside of Headless CMS
Headless CMS have a massive benefit to marketing teams for performance and SEO, but workflows with development teams cause massive hindrances. The common predicament marketers face is not being able to make content updates without heavily relying on their development teams, who quite frankly, would rather be working on other projects and have a massive list of bug bashing, feature development and tickets to attend to.
When marketers have to rely on developers to do their content, it can create massive friction and an overwhelming workflow. As a marketer myself, I can attest to the fact that for devs, the marketing requests are more often than not the last priority on their list.
So what's the solution?
Headless CMS With Layouts
With layouts, marketers have control over the taxonomy of their content, wherein they can control the components on each page. Launching and running their campaigns, landing pages and websites is easy without asking a developer to create every piece of content for them.
Agility CMS is the ONLY headless CMS on the market to provide this functionality.
You can learn more about how layouts work here: Manage layouts & content- Agility CMS guide | Agility Docs
Does this Mean Devs Won't Be Involved?
Not at all! In this age, we need marketers to be MUCH more technical than they were say a decade ago, but we will leave the coding to the experts. With Agility CMS, the components are developed by developers based on the requirements of their marketing teams. From there, marketers can able to plug and play different components into their layouts do develop and launch quickly. This enables the fastest approach to launching and maintaining their campaigns.