From marketing to sales, customer success to research and development, every business department has a set of tools it relies on to meet its needs. These tools are often unique and based on the various goals of each department, and team within the company.
For example, marketing teams use automation tools to filter leads and measure conversion. Sales teams use CRM to optimize their funnel and hand off new customers to the customer success teams to improve their customer experience management practices.
A content management system (CMS) serves as an anchor for all these different tools, enabling each of them to work in sync with each other. A CMS centralizes customer data and creates a connected customer journey. With a CMS at the front and center, companies can form a digital experience platform composed of many different moving parts working together.
This article talks about digital experience platforms, their benefits, and the role a DXP has in marshalling digital transformation.
What Is a Digital Experience Platform?
Gartner defines the digital experience platform as "an integrated set of core technologies that support the composition, management, delivery and optimization of contextualized digital experiences."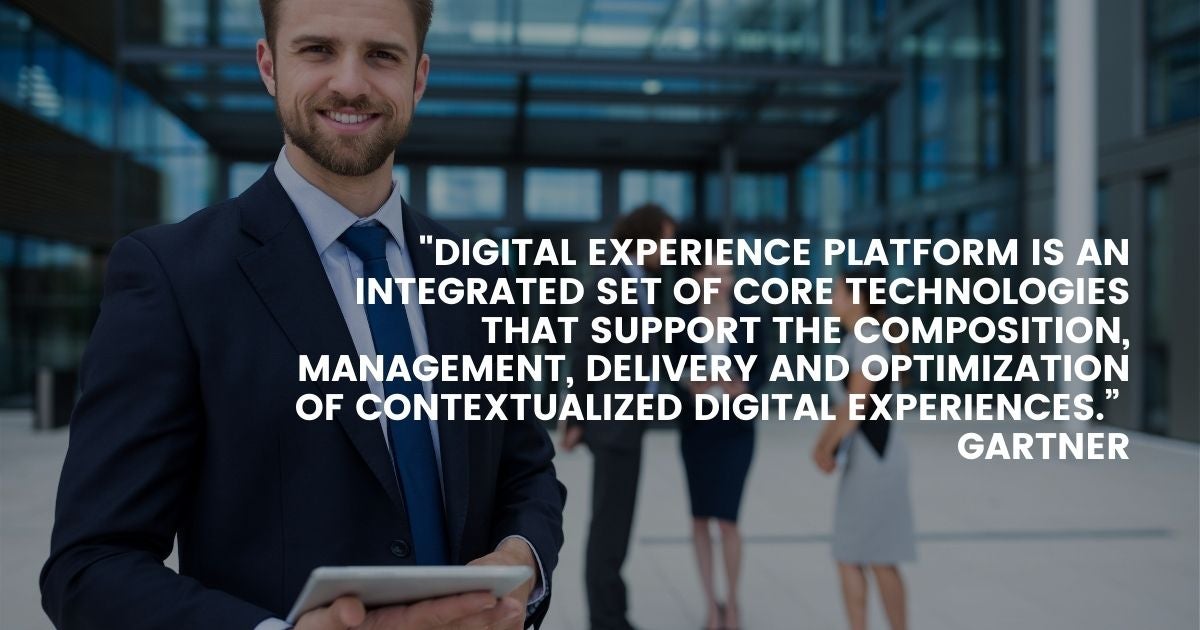 Let's dissect and analyze each term that composes Gartner's definition to find what a DXP truly is:
Core technologies: This term refers to all the solutions that make up your toolbox—CMSs, ERPs, Marketing automation tools, eCommerce providers, and so on.
Integrations: The DXP concept leverages APIs and GraphQL to interconnect different tools.
Support: Support is an umbrella term that encompasses content creation, management, delivery, and optimization.
Digital experiences: A digital experience is every interaction between a user and an organization. A digital experience can be an article, a video, a text on digital signage, a website or an app.
A CMS is at the heart of any DXP as they enable companies to make use of different software tools, from an eCommerce platform to a digital asset management tool to a CRM. DXPs come in two main ways, as monoliths and as best-of-breed platforms.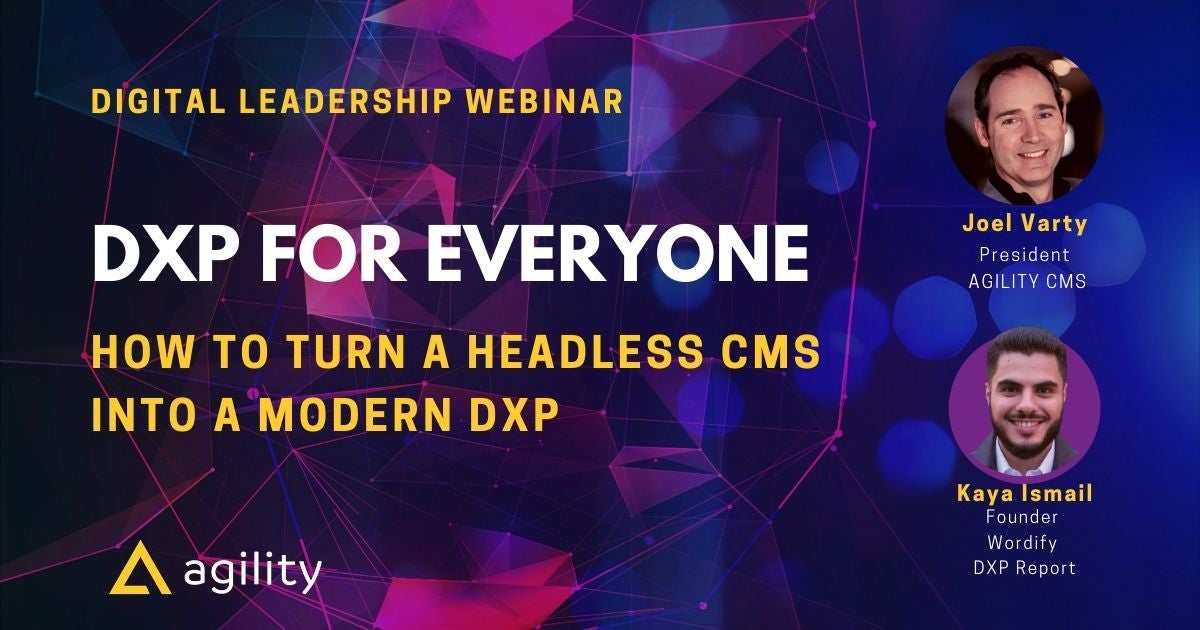 A DXP enables companies and enterprises to build, deploy, and iterate content in different forms for websites, portals, mobile apps, progressive web applications, and IoT-powered devices.
On the other hand, a monolith DXP, or an all-in-one platform, offers a single platform that integrates all these functions into one single platform. However, monolith DXPs tend to be more expensive and come with more features than many organizations need. The opposite is also possible and chances are that they might lack a feature you need.
An organization that opts to use a consolidated DXP platform ends up with an extended rollout period, increased costs, and a slow website, which is why modern DXPs have arisen as a way of reducing costs and deliver a better customer experience.
Modern DXP Explained
A modern DXP uses a Headless CMS and its APIs to combine and coordinate applications. It works as a neural center that integrates content management, eCommerce, marketing, search and analytics, personalization, collaboration, and workflows.
A modern DXP solves the roadblocks to digital transformation because it enables you and your company to retain the tools you know and love. A modern DXP enables businesses to follow the best-of-breed approach and use different tools to create a modular toolbox or tech stack that's unique to your needs.
However, instead of thinking of the elements of DXP as a hub with spokes and connections, let's think of it as a recipe. For example, if you want to implement a website that allows your marketing department to capture leads, you probably need the following ingredients:
Web CMS: Manage the content on your website.
Website Hosting: A place to host your website.
Marketing Automation: A tool to store and process the leads captured from the website.
If you follow the modern DXP approach, you can easily integrate another tool into this stack or maybe remove one and replace it with another as long as you're using an API-first CMS.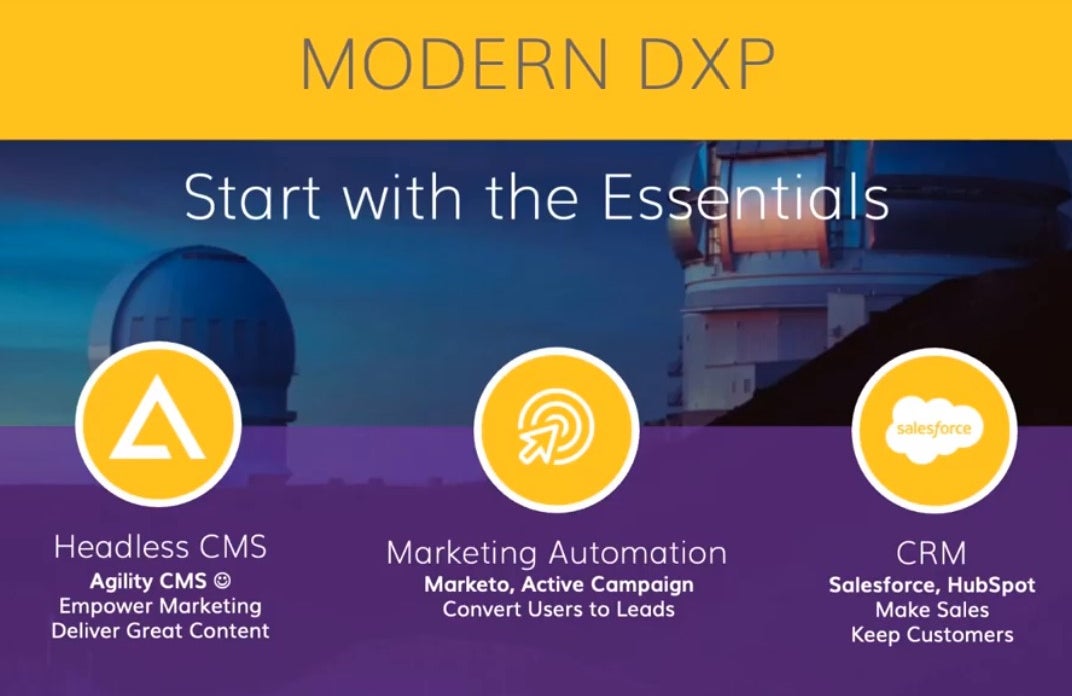 Plus, a modern DXP enables you to scale as you go, which means that you won't have to pay for features you don't use or for hosting you don't need, which is one of the main drawbacks of traditional DXPs. Traditional DXP platforms often aren't sold with the notion of being able to easily add on the ingredients for a solution as needed.
A vendor might show you a platform with the features you need, but with several you don't. You then pay for the whole set and end up spending much more money than you would with a modular digital platform.
Here's an example tech stack that would compose a best-of-breed DXP for an eCommerce store:
CMS: Agility CMS
eCommerce Platform: Shopify
Web Hosting: Netlify
Marketing Automation: Salesforce
Web Analytics: Google Analytics
A/B Testing: Google Optimize
All of these tools can be integrated together and work in sync with each other, with Agility CMS serving as a bridge between all of them.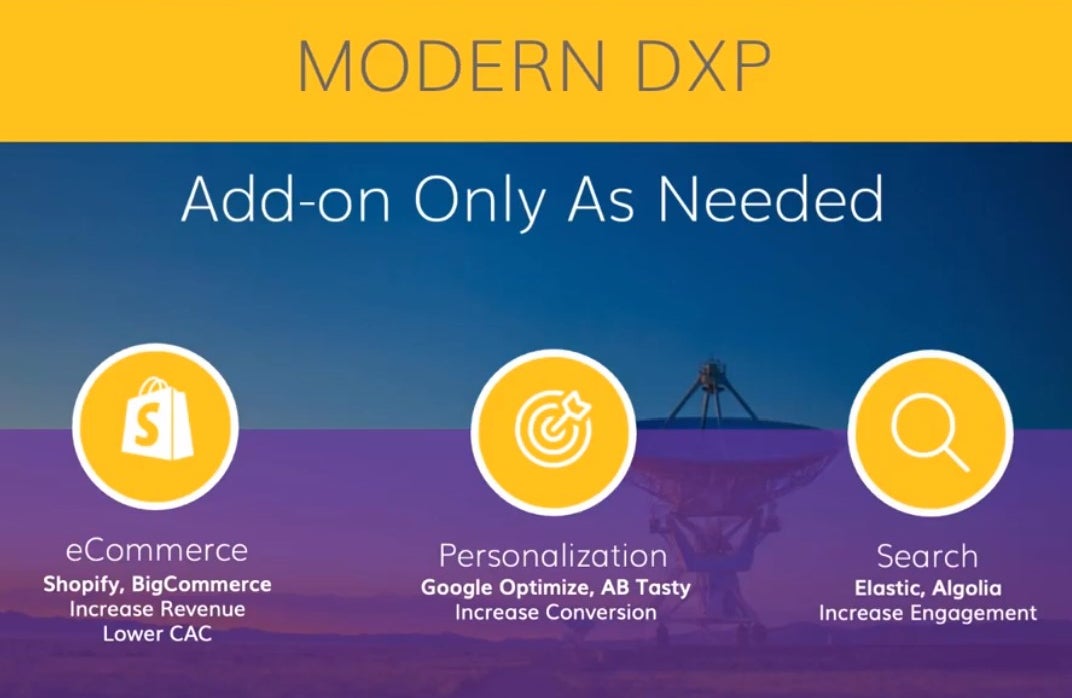 When Do You Need A DXP?
Like most things in life, it depends. Whether or not you need a DXP depends on your digital maturity. Suppose you're at an early stage, and you're not planning to start omnichannel marketing initiatives across many digital touchpoints and digital channels. In that case, you might be well off with a CMS platform.
The thing is, not every CMS out there will enable you to unlock —or even harness— the power of a DXP.
However, suppose you feel like you want to go above and beyond. In that case, that you want to enhance every customer interaction and provide a personalized experience for every visitor, an API-first, headless CMS is a must.
A modern CMS enables cloud deployment, leverages API for top-notch integrations, eliminates redundancies, and gives you a centralized, single source of truth for all your data. Without one, your journey towards digital transformation might not even leave port.
However, with only a CMS, you will have limited visibility over your customers. You might have a fully functional website, but you'll lack the other capabilities that come with turning your standalone CMS into a DXP.
All in all, whether or not your company needs a DXP depends on what you want to achieve, but if you want to disrupt your operations and future-proof your company, a CMS is the building block of a DXP, and you need to choose one that helps you stand out from the competition.
Here's a brief questionnaire you can use to help determine whether you need a DXP:
Are digital channels such as mobile, web, social media the preferred ways your customers have to interact with you?
Is social media important to you and your business?
Do you make use of location-based services or offer location-based products?
Do you have teams from different departments collaborating with one another?
Is your data scattered across multiple platforms?
Is your company undergoing or will undergo digital transformation?
If you've said "yes" to more than half of these questions, you need a DXP.

The Benefits of a Modern DXP
With a traditional DXP, you are using the features, and the functionalities built into this particular DXP product and rely on support from the software provider. Yes, there is a benefit of simplicity in this, but it also limits your options to only CRM and Marketing Automations built-in into the product.
In other words, you are stuck with what that particular solution has to offer. However, with the modern DXP approach, you integrate (and iterate your integrations!) to meet your exact needs. As the market evolves and new solutions emerge, you can always upgrade your DXP set up.
But flexibility is only one of the benefits of having a modern digital experience platform. There are many other things a Modern DXP can help companies with. Let's take a look at them:
Best-of-Breed Approach: Marketing Automations and CRMs
With the best-of-breed approach, you select the best modern software products for your company and integrate them with your API-based CMS —and your perfect modern DXP is born. Most Headless CMSs in the market are fully integrable with other third-party Marketing Automations and CRM tools, so you get the centralized hub to build every part of your stack granularly rather than searching for an all-in-one solution.
eCommerce Integration: Headless Commerce
Modern DXPs can integrate different third-party software to improve the performance and productivity of any eCommerce store. With tools like advanced testing and personalization, brands can tailor individual shopping experiences, enabling marketers to get data from every visitor across multiple touchpoints.
The Headless commerce architecture is similar to headless CMS architecture in the sense that a headless commerce solution can store, manage, publish, and pull content from other applications headlessly. In other words, you can pull in content from anywhere and push it out to any front-end.
With commerce in the equation, retailers and wholesalers can benefit by extending their experiences and products to new channels. Whereas a legacy CMS couldn't display products and complete checkouts on a digital sign or smartwatch, a headless commerce solution can.
Future-Proof
Developers and marketers are under pressure to meet the needs of customers, especially those who expect consistent omni and cross-channel marketing across every touchpoint. The good news is that the modern DXP approach is advanced enough to accommodate and integrate the changes in both the technology and organizational landscapes. Also, if you choose carefully, you will get a platform that will accompany and support your company through its life cycle.
Visibility
While most CMSs in the market offer analytics and dashboards, you can integrate Headless CMS with any advanced analytical tools. This Modern DXPs go beyond simple analytics. They show customer data and all the associated information on a digital interface where workers can see everything at a glance, allowing them to make informed business decisions by bringing together all digital channels with the internal operational systems.
Customer-Centric Approach
One of the major benefits of a Modern DXP is that it can help you build a better brand identity and connection with your customers. With a Headless CMS in heart, you not only get a robust system that does your bidding but also a solution where you can build content for a specific customer profile.
Marketer-focus
Marketers are continually finding ways to deliver their content in the best way possible. However, this can be a gargantuan task in a siloed environment. Modern CMS-based DXPs prevent these silos and make it easy for marketers to create integrated experiences with agility and autonomy.
Cloud-based
The major benefit of the cloud for modern DXPs is that headless CMSs enable different team members to make changes and edit content in real-time without damaging what the rest of the team members are creating.
Enhanced Collaboration
As we said before, modern headless CMSs are designed to be simple to use for marketers. Still, they also foster collaboration between the marketing team and the developers because it serves as an environment where both parts of the content equation can work together to delight the audience with unique content.
The Role of a Digital Experience Platform In Digital Transformation
Digital transformation spans both the user experience and the core of the operations of a business. Building a great website that satisfies customer expectations isn't enough to account for digital transformation. Digital transformation requires processes to be rehauled and reoriented, so they focus on the customer experience.
Thus, from a DXP standpoint, digital transformation means delivering more than the basic experience. It means delivering personalized experiences, more advanced workflows, modularization of services, omnichannel marketing, and decoupling content from presentation.
Ideally, for a DXP to help you in your digital transformation journey, it needs to have both operational and marketing capabilities to gain a unified view of customer data and interactions so you can stay one step ahead of your customers and be always delivering.
Are You Ready for a Modern DXP?
The playing field is changing, and traditional CMSs and DXPs won't be able to cut through the noise simply because they aren't equipped for a post-IoT world, nor are they easy to use with new and emerging front-end technologies.
Modern DXPs built around headless CMSs give you a centralized hub where you can connect all the tools you need to build timely digital experiences that will delight your audience, developers, and marketers.
Modern DXPs give you all the tools developers need to build the best architecture while giving marketers the ease of use they require to respond to what the audience demands. With a hybrid approach, you gain not only flexibility but you're also future-proofing your business and building a solid foundation that will guide you through the digital transformation.
If you want to know more about the role of a digital experience platform in a company's digital transformation, join us for a digital transformation workshop. Joel Varty, President of Agility CMS and Kaya Ismail, founder of Wordify, discuss how the DXP approach can help you save time and money in your transformation journey. Access: Modern Web: The DXP Transformation.
Keep Reading
If you want to learn more about Headless CMSs, make sure you read these articles: