The marketing landscape is not simple anymore. Omnichannel marketing, hyper-personalized customer experience, and search engine rankings have steeped marketing curves.
Therefore, marketing without technology is impossible. You need tools to understand your audience, generate leads, analyze marketing campaigns, and more.
In short, to drive maximum marketing ROI, you need tools.
Today, the MarTech industry is a booming area, growing at a CAGR of 19.1% from 2022 to 2030. However, you can't just randomly select marketing technology and expect results.
It would be best if you had a proper MarTech stack and plan to grow your business. And this guide will walk you through the entire process of building your marketing technology kit. So, let's dig in.
So, What's Exactly MarTech?
MarTech or marketing technology are tools marketers require to perform several operations like monitoring, planning, etc.
These tools are time-savers and help to improve product time values. Not only the digital marketers. But non-digital marketing teams can also use marketing tools to automate their operations.
According to Statista, CMOs in North America, Germany, France, and the UK have allocated 26.6% of their budget to marketing technologies.
Why Do I Need to Invest in Marketing Technology?
You need marketing technologies for everything today. From planning your social media marketing campaign to creating a content marketing strategy, you need MarTech to achieve maximum results.
However, investing in marketing technology is essential to:
Boost revenue
Automation allows you to complete your marketing operations faster and easier. Tools help to streamline your marketing and sales data so you can design personalized marketing campaigns and monitor them in real-time. Besides this, marketing automation reduces manual efforts and errors, leading to better utilization of your resources.
According to Forbes, businesses that use data see $430 billion in productivity. So, marketing automation can boost your team's productivity, leading to higher revenue.
Support personalization
Personalization is not an option for marketers today. They have to adopt personalization to improve conversion rates and enhance customer experience.
According to a McKinsey survey, 80% of respondents prefer personalized experiences from their retail brands, thanks to pioneers like Amazon and eBay.
And personalization without tools is impossible. First, you need data analytical tools to gather information about your targeted audience. After that, you need analytical and marketing tools to target your potential customers based on their needs and preferences.
Deploy advanced marketing strategies
Do you want to experiment with different marketing strategies? Do you wish to deploy an account-based marketing strategy in your organization?
If so, you need marketing technologies to identify potential accounts in your sales pipeline. Further, tools are required to understand individual accounts' position in the sales funnel and design marketing strategies to nurture them.
Why Do I Need MarTech Stack?
So, it is established that MarTech is essential today. But which marketing technology is suitable for your business?
An annual study shows that 9,932 MarTech solutions are available between 2011 and 2022. And the number is constantly growing.
Finding the best marketing solution among many great software and tools is challenging. You will feel confused and overwhelmed.
Thus, you must create your MarTech stack based on your business requirements. Then, evaluate marketing strategies, targeted marketing channels, and budget to select the best marketing technology stack.
How to Build Your MarTech Stack?
Building a marketing technology stack is a technical process. First, you must understand your business goals and marketing objectives to select the best technologies. Besides this, several internal and external factors go into building a MarTech stack.
So, follow these steps to build your custom MarTech solution: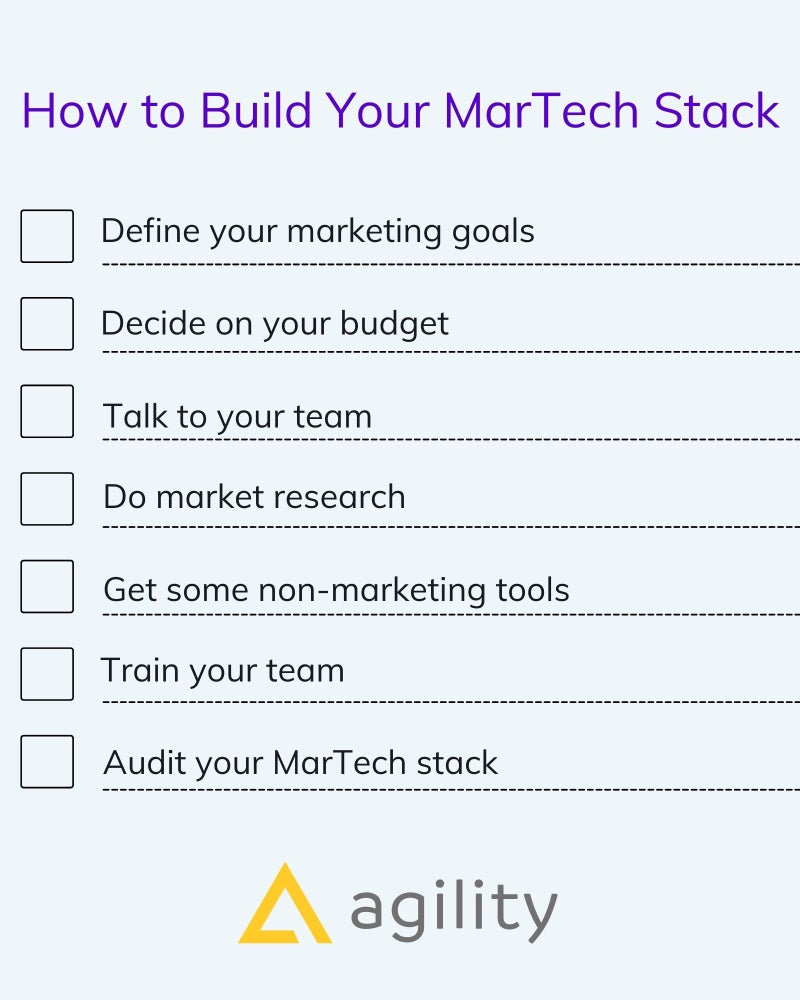 Step 1. Define your marketing goals
Foremost, you have to define your marketing goals. What do you want to achieve with your marketing campaigns? What type of marketing channels do you plan to target? How fast results do you want to achieve?
These are some basic questions that you have to answer before selecting the marketing technology.
Suppose you want to improve search engine ranking and drive organic traffic to your website. In that case, search engine optimization will be your marketing strategy. Therefore, you need to get tools to help you improve your SEO score. So, your MarTech stack will include:
Tools to analyze your current SEO score or website ranking like SimilarWeb.
Software to find relevant and high-performance keywords like Keywords Planner.
Tools like Google Analytics or Google Console monitor your growth and traffic ratios.
Step 2. Decide your budget
Marketing tools are today available in a wide price range. Today, you can get free marketing tools and a couple of hundreds worth of marketing solutions.
Therefore, you should sit together with senior management and create a dedicated budget for marketing automation. Apart from your overall marketing budget, you need a separate budget to acquire the right tools and software to support your marketing campaigns.
You might only spend your marketing budget without a proper plan on tools. This will leave you less room to hire employees and freelancers to implement your marketing strategy.
Therefore, you should adequately allocate your marketing budget to automation, human resource, and other miscellaneous expenses.
Step 3. Talk to your team
Afterward, you should sit with your marketing team and ask them about their day-to-day challenges. You should ask them which task takes the most time and which they prefer to automate.
This conversation will help you understand your marketing team's challenges, daily struggles, and weak points. With this knowledge, you can select the right tools to help your marketing teams become more efficient and productive.
For example, a HubSpot report states that 60% of marketers find lead generation a challenging task. If lead generation is challenging for your team, too, you can build a MarTech stack to support the lead generation process, such as:
Lead scoring tools to identify, track, and qualify your leads.
Lead nourishment tools to nurture leads in the sales funnel.
Content management software creates content for prospects based on their position in the sales funnel.
Step 4. Do market research
Now that you have a marketing objective and budget in order. The next step is to do market research and find suitable tools within your budget.
As we have already established, the marketing technology sector is massive. There are several marketing solutions available in different categories. Therefore, you should run proper research and review each product before adding them to your MarTech basket.
So, you should start your research with Google. Enter the keywords related to the products you are looking for, and infinite results will come on your screen.
Let's say you are looking for social media management tools. Then, type "social media management tools" in the search field and create an Excel sheet.
Now, go through each social media management tool website and record primary data about them in an Excel sheet like price, ratings, customer reviews, etc.
At least review 20-30 products and compile a comprehensive Excel sheet. After that, you should narrow down products based on your budget, marketing objective, and other factors.
By the end of this process, you will find 4-5 best software to manage your social media or other marketing operations.
To make your research more compelling, you should check out third-party customer review websites to understand the software better. For software reviews, you can check websites like Capterra, G2, TrustPilot, etc.
Step 5. Get some non-marketing tools
Apart from marketing tools, you should also include some non-marketing tools in your MarTech stack. You need several other tools to streamline your marketing team, meet project timelines, communicate with your customers, and so on.
Some of the essential non-marketing tools that you must get are:
Time tracking software to better manage your marketing team's schedule and help them meet deadlines.
Productivity tracking software boosts your employees' performance and weeds out non-productive workers from your team.
Project management software is essential for remote teams to collaborate in real-time and deliver projects on time.
Communication tools, cloud data management software and many other tools are required to run marketing operations seamlessly.
Step 6. Train your team
Now, you have purchased marketing tools for your team. But, don't just throw these tools at your employees. Your employees are marketing experts; they are not tech geniuses.
So, there is a huge possibility that your employees might get overwhelmed after exploring your high-tech marketing software. This, in return, can scare your employees and influence their productivity.
Therefore, you should conduct a proper training session when introducing new marketing tools in your company. You can organize webinars, live training sessions, video tutorials, and other training material to help your employees.
In addition, don't leave your team alone after initial training. Constantly motivate your team to deploy new marketing strategies with the software so they can learn its features better.
Also, don't dumb your entire MarTech stack on your team once. Introduce marketing tools one by one to your team and let them soak one tool first, then move to another.
Step 7. Audit your MarTech stack
Finally, never sit idle on your MarTech stack. You need to monitor and analyze the impact of your MarTech stack constantly. You should focus on the productivity and efficiency that individual tools have brought into your organization.
If a particular tool is not delivering up to its worth, you can anytime remove it from your MarTech stack. There is no purpose in carrying dead weight in your marketing technology system. However, you better eliminate tools that are not delivering results and replace them with better-performing tools.
Must-have Tools in Your MarTech Stack
The MarTech stack for every business is unique based on its marketing objectives and goals. However, some tools are essential for marketing technology today. Some of these tools are:
Search Engine Optimization (SEO) Tools
If you have an online business today, SEO is essential for you. Without search engine optimization, you cannot rank your website on the first pages. And we all know web pages that don't rank on the first page are dead.
Therefore, you should get a powerful SEO tool to find relevant keywords, link building, track the performance of your keywords, etc.
Moz is a great SEO tool here. It has a vast industry-specific SEO, including Page Authority and Domain Authority, to improve your search engine ranking and online visibility.

Content Marketing Tools
Content marketing is one of the crucial digital marketing strategies. It helps improve search engine ranking, establish brand authority and make your business visible online.
Content marketing is a complex strategy involving several elements like blogging, social media marketing, etc.
Thus, you need tools to plan, create, distribute and manage your content. For example, ContentGrow is the perfect marketplace for companies looking for professional writers and journalists. This platform allows you to manage and hire content creators suitable for your business needs.
Customer Relationship Management Tools
It is essential for marketing teams first to understand their customers to create content for them. Therefore, CRM software is a vital marketing toolkit for modern businesses to understand customers and manage their databases. The software also helps establish better connections with your customers and provides a high-quality customer experience.
Even freelancers and solopreneurs can benefit tremendously by using a CRM tool to manage their customers and enhance customer experience.
The CRM software market is buzzing today. There you can find many excellent customer relationship software. But, two pioneers in the field are HubSpot and Salesforce.
Both software has a wide range of customer relationship management and marketing solutions. They are highly customizable and easy to use. In addition, HubSpot even offers a free version to small companies.
Social Media Marketing Tools
Social media marketing is another vital marketing strategy today. You need a significant presence on social media platforms to make your business visible online and establish your unique brand.
Several dedicated and comprehensive social media marketing software are available for different operations. For example:
Buffer or Hootsuite are perfect tools to schedule your social media postings.
Canva, Vectornator, and Adobe Photoshop are tools to design your social media content.
Facebook Ad Manager allows you to run and manage social media ad campaigns.
Buzzsumo is an excellent tool for creating relevant and engaging content.
Sprout Social, SocialOomph, and Social Status are MarTech tools to monitor and track your social media posts.
Email Marketing Tools
Email marketing is very much alive and kicking. According to an Econsultancy survey, marketers rank email marketing as the most performing channel, even more than SEO.
The market is flooded with several email marketing tools like Mailchimp, SendPulse, Drip, and many more. Mailchimp offers free services to up to 2000 email subscribers.
However, you should get email marketing tools that allow you to:
Target specific subscribers
Monitor emails
Personalize email content
Send follow-ups, etc.
Let's Plan Your MarTech Now!
MarTech is an unavoidable topic today. Unfortunately, you simply cannot perform marketing operations with tools.
Thus, monitor your business needs, marketing goals, and budget to build a thriving MarTech stack. Also, run proper market research to find the best marketing tools to run various marketing campaigns to grow your business.
That's it for now! Go and work on building your custom MarTech plan.