Digital transformation is already happening and affecting almost every business area, including marketing and sales. Many traditional strategies do not seem to be effective anymore as the preferences of the target audiences have also changed due to digital transformation. Therefore, keeping your business and content strategy framework in perfect alignment with the digital transformation pace is wise.
In this post, you will read about the future of content marketing, the effects of digital transformation on content marketing, and how to adapt your content marketing strategy to digital transformation.
What is Digital Transformation
Before anything, let's first know what digital transformation is in business.
The act of employing digital technology to build new and more efficient business processes, cultures, and customer experiences to satisfy shifting business and market requirements is known as digital transformation. Digital transformation in business refers to this restructuring and change of the company and its workflows in the digital age.
With digital technology, you can rethink how you conduct business and interact with customers. Companies aligned with digital transformation have transitioned from a traditional working style to a modern one. Virtual calendars, invoices, sheets, or smart apps have replaced physical paper and forms for managing a business. Or long customer service calls have been replaced by online chat systems and chatbots. Another example is the replacement of traditional project management methods with agile project management tools.
The list can go on, and it is no wonder if we see further transformations in the near future. Therefore, it is of critical importance if you adapt your business to digital transformation.
Why Should You Care About the Future of Content Marketing?
Well, the content is king; everyone who has succeeded in the business knows that. When you take your business online, the content, above all other technical factors, can bring more leads to your business. You can grow your brand visibility with appropriate content and meet the needs of your target audience simultaneously.
However, search engine algorithms are constantly changing due to new technology brought by digital transformation. This means that you should always check for the latest changes and update your search engine optimization strategies so that you would still have the same or better visibility.
If you ignore the future of content marketing, you likely lose your audience. Such an incident can negatively affect your sales and marketing efforts. Therefore, you need to search about the future of content marketing, the predictions of possible changes, and the preferences of your target audience.
How will Digital Transformation Affect Content Marketing?
This part of the post will familiarize you with the recent digital transformations in content marketing and the modifications that will take place shortly. Knowing about these transformations helps you optimize your website to satisfy your target audience still.
1. Advanced Voice Search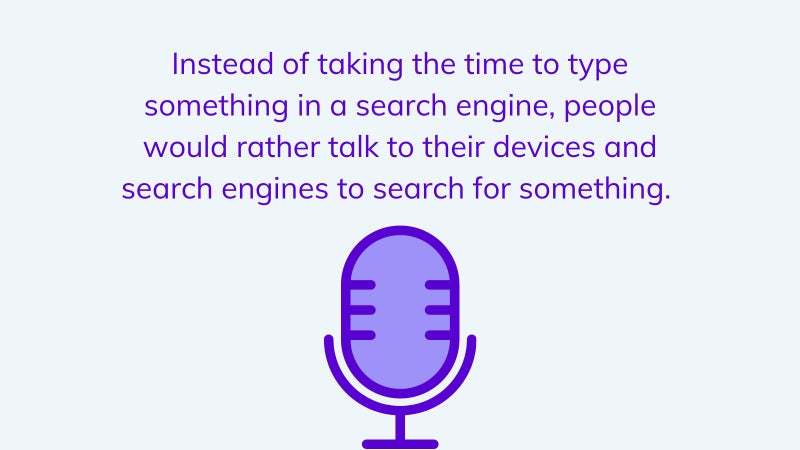 The very first reason why digital transformation is happening is that more simplicity and facilitation in processes are needed. People want to spend less time doing the same job and save their spare time for other things. One of the changes regarding this need is the advanced voice search. So, instead of taking the time to type something in a search engine, people would rather talk to their devices and search engines to search for something.
Let's face it; people like the idea of voice search unless they love writing or are pure introverts! Other than these two cases, the concept of advanced voice search technology has been welcomed. Advanced voice search is a great move forward in tech and business. Searching using voice is 3.7 times faster than searching by typing words. According to Google, 55% of teens and 41% of adults use voice search daily. These numbers show that people rely on voice search during the day, which gives them room for multitasking. They can search for something by only talking to their device while doing something else and save time.
Knowing this, you can now optimize your website for advanced voice search on mobile devices and desktops if you have not already. Some of the things you can do for this optimization is to use long-tail keywords and use questions instead of mere headings for your paragraphs. This can make your content available to search engines when your audience search for your keywords using voice search.

2. AI-Powered Ads
Another digital transformation in content marketing is using Artificial Intelligence (AI) in advertising. It refers to the emulation of human intellect in devices designed to act and think like people based on the data provided to them. They make better decisions in the future by using the data from the past.
AI in advertising means the data would be analyzed and used for the intended audience. In other words, your ads would be personalized for a group of audience who has shown interest in your products or brand in the past. It can be said that AI helps your business by increasing the relevancy of your ads to its intended audience by analyzing their demographic data, interests, online behavior, etc. In addition, it can improve customer segmentation, customer experience, conversion rate, customer retention rate, return on investment (ROI) of the ad, and budget optimization.
That is the difference between sending out thousands of paper ads to an unknown audience in a traditional business and AI-powered ads in a modern business. You limit your target audience, but you increase the number of conversions because you are reaching out to the right people who need your products and services or are interested in them.
Considering the benefits of AI-powered ads, it is quite smart to open your business to this technology and use AI and extensive data analysis in your advertising strategy. Knowing the intended audience can help you create more personalized content for your ads that can significantly affect their efficiency. Remember that you should never underestimate the impact of personalization.
3. Social Media Algorithms
The following digital transformation in content marketing is the emergence of social media algorithms. Social media algorithms allow users to sort their news feeds based on relevance rather than posting date.
The possibility that a user will want to see a piece of content is used by social networks to choose which content appears first in their feed. Most social media feeds exhibited posts in reverse chronological order before implementing social media algorithms. In other words, the most recent posts from accounts a user was following used to appear first. But with the performance of social media algorithms, posts appear in a more personalized way based on the online behavior of people on social media.
A very tangible example is similar video recommendations on YouTube. You watch a YouTube video titled 'Office series bloopers,' and you keep getting notifications relevant to The Office series for the next few days.
Social media algorithms are helpful to your business if you consider them in your social media marketing strategy and, therefore, your content marketing strategy. For instance, you can run social media ads for a specific group of audience that you are sure are interested in your business. Then, you optimize the content of your ads for that group and launch your ad.
4. AR Experience
Augmented Reality (AR) is another digital transformation trend in business that you can use in your content marketing strategy. With AR technology, volumes of data and analytics are transformed into visuals or animations that are superimposed on the physical world. Since it may be hard to understand, let's give you an example of AR.
Many makeup and beauty brands use AR technology to allow their online buyers to try on lipstick or other beauty products virtually to see if they like the color on their faces. The screenshot below shows how Kiko Milano uses this technology:
Depending on your products or services, you can resort to AR technology to make it much more enjoyable. Many people do online shopping, especially after the pandemic, but with AR, they can do the shopping more comfortably.
5. Visual Content and Videos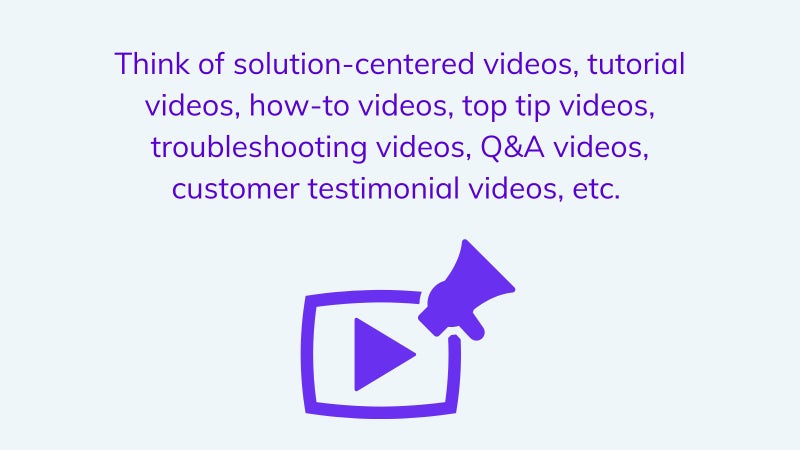 With all the transformations in our world. You should be aware that time is the most critical asset of modern people. Therefore, including visual content and videos in your content marketing strategy is crucial. Think of solution-centered videos, tutorial videos, how-to videos, top tip videos, troubleshooting videos, Q&A videos, customer testimonial videos, etc.
Remember, however, that the length of your video should be appropriate. This means that it should not be too short that does not provide the answer to the viewer, or too long to bore them. Also, their length should differ depending on which platform you share your videos. For instance, if you are sharing a video on Instagram, it is better to keep it as short as one minute or less. Or, if you want to share a video on YouTube, it is recommended that it does not exceed 2 minutes.
Note that we are talking about business video lengths. So if you see successful TikTokers and YouTubers with much longer videos, that is a different story. Entertaining video length cannot be the same as business video length.
You should also consider creating other visuals such as tutorial screenshots, graphs, infographics, meaningful pictures, etc. These visuals help your audience get the gist of your topic and find the solution to their needs without going through the entire textual content. Plus, which one do you enjoy most: a piece of newspaper-like content or content that encompasses a combination of texts and visuals? Yes, that is true!
How to Adapt your Content Marketing Strategy to Digital Transformation?
So, as of now, you know about digital transformation and its importance and benefits, and you have learned about some digital transformation trends in content marketing.
You can start by optimizing your content marketing strategy. You must realize the importance of having a comprehensive content plan so that every team member knows about the new strategy. Then, you can chat with your team of developers and data analyzers to discuss how you can implement the recent digital transformation technologies on your website and social media platforms.
Using Agility as your content management system is a great way to stay on the same page with your content team members. Unlike most content management systems, agility approaches organizing and delivering your digital content in a fundamental, content-first approach. This is so that it can create better experiences and save you time and money by focusing on content early in the design process.
Conclusion
Let's end our discussion with a saying by John Chambers, CEO of Cisco Systems: "At least 40% of all businesses will die in the next ten years… if they don't figure out how to change their entire company to accommodate new technologies." It is up to you to get on the wave of digital transformation or sit back and watch the others ride