CIOs have been trying to figure out how to show the value of corporate technology for as long as the profession has existed.
Some measures, like internal rate of return (IRR) and economic value added (EVA), have been used with mixed success. But two stalwarts remain return on investment (ROI) and total cost of ownership (TCO).
What is TCO?
According to Gartner: Total cost of ownership (TCO) is a comprehensive assessment of information technology (IT) or other costs across enterprise boundaries over time. For IT, TCO includes hardware and software acquisition, management and support, communications, end-user expenses, and the opportunity cost of downtime, training, and other productivity losses.
In simpler terms, TCO is the purchase price of an asset plus the operation costs —the comprehensive cost of obtaining, deploying, and maintaining a software solution throughout its lifecycle.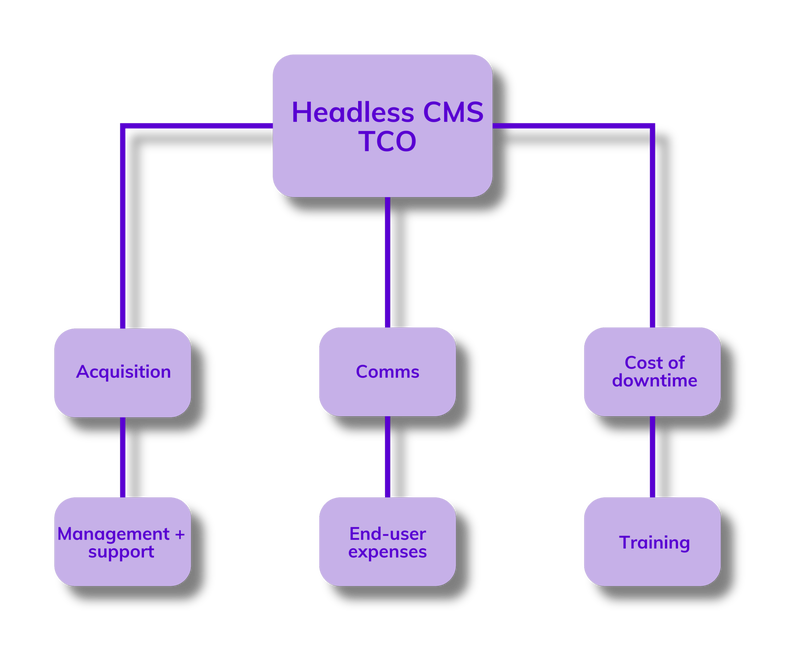 The most basic premises of a TCO analysis are intuitive –it makes sense to consider how much money something costs over the long term instead of only how much it will save you in the short term.
This is a no-brainer, and when choosing among software alternatives, enterprise companies know better than to look only at a platform's short-term price –or purchase price. But sometimes even the savviest exec can be blinded by the siren song of a promising technology to find it didn't fit their operations. This is costly and pretty demoralizing.
Execs and industry leaders should also consider its long-term price —the long-term costs and expenses incurred during the product's useful life and ultimate disposal. The item with the lower total cost of ownership can be the better value in the long run.
Employing a more structured TCO analysis can help uncover hidden aspects of the decision and assist in identifying important areas that previously went unconsidered and clarify the priority of the decision within an organization.
Assessing the total cost of ownership means taking a birds-eye view and honing in on the software product you want to work with and the operational value over time to not only estimate the cost of known problems but also predict unknown problems that might be discovered later TCO analyses help businesses understand the risk.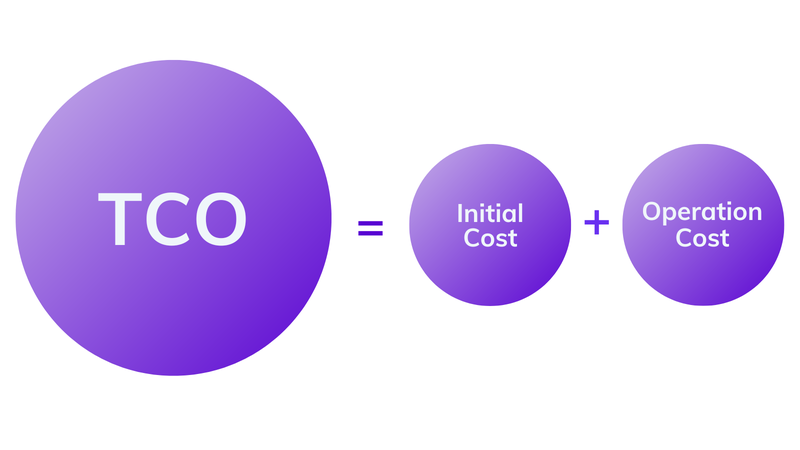 What is TCO in Cloud Computing
In the context of cloud computing, TCO includes the costs of:
Infrastructure: The cost of the cloud infrastructure used to run your applications and services. This includes the cost of computing, storage, and networking resources.
Software: The cost of the software used to run your applications and services. This includes the cost of licenses, subscriptions, and support.
Operations: The cost of operating your cloud environment. This includes the cost of staff, tools, and processes.
Migration: The cost of migrating your applications and data to the cloud.
Security: The cost of securing your cloud environment. This includes the cost of security controls, tools, and staff.
TCO can vary significantly depending on the specific cloud computing platform and the organization's needs and requirements.
However, cloud computing can generally offer a lower TCO than traditional on-premises IT infrastructure. Cloud providers can offer economies of scale and a pay-as-you-go pricing model.
Here are some tips for calculating the TCO of cloud computing:
Identify all of the costs involved: This includes both the initial costs and the ongoing costs.
Gather accurate data: This should be based on the specific cloud computing platform you are considering, how you plan to use it, and your organization's IT infrastructure.
Use a TCO calculator: Many TCO calculators are available online to help you estimate the TCO of cloud computing.
Why TCO Matters for Headless CMS
When choosing a new CMS, it's important to consider more than just the upfront costs. The total cost of ownership (TCO) is the total amount of money you'll spend on a CMS over its lifetime, including licensing fees, hosting costs, and maintenance costs.
Headless CMSs can be a good option for organizations that want to save money on TCO. That's because headless CMSs require less hosting and maintenance than traditional CMSs. They also give you more flexibility in building your front end, saving you money on development costs.
Of course, the TCO of a headless CMS will vary depending on your specific needs and requirements. But in general, headless CMSs can be a good way to save money on the total cost of ownership.
Here are some additional factors to consider when evaluating the TCO of a headless CMS:
The type of content you need to manage: Headless CMSs are best suited for organizations that need to manage a wide variety of content, such as text, images, videos, and interactive content.
The size and complexity of your website: Headless CMSs can be a good choice for organizations with large and complex websites, as they offer a high degree of flexibility and scalability.
Your IT infrastructure: Headless CMSs require a robust IT infrastructure, so you must ensure that your organization has the necessary resources.
The Arguments for Going Headless
Here are some of the reasons why headless CMSs can have a lower TCO:
Less hardware needed:
Headless CMSs do not require as much hardware as traditional CMSs, because they do not need to render the content on the same server as the CMS. This can significantly save hardware costs, especially for large organizations with high-traffic websites.
SaaS pricing model:
Headless CMSs are often licensed on a pay-as-you-go basis, leading to lower software costs than traditional CMSs, which are often licensed per user.
Lower hosting costs
Headless platforms can be cheaper than traditional on-prem implementation when coupled with serverless hosting.
Less maintenance:
Headless CMSs are often easier to maintain than traditional CMSs because they do not require as much customization. This can lead to lower maintenance costs, especially for organizations with limited IT resources.
Flexible development:
Headless CMSs give you more flexibility in building your front end. This can save you money on development costs.
Lower support costs:
Headless CMSs are often supported by a wider range of developers than traditional CMSs, which can lead to lower support costs.
Take a look at this table for a quick cost breakdown:
| | | |
| --- | --- | --- |
| Cost Category | Traditional CMS | Headless CMS |
| Acquisition Costs | On-premises software license, hardware, hosting | Subscription fees, API calls |
| Implementation Costs | Development, integration, consulting services | Development, integration |
| Operational Costs | Hosting, infrastructure, maintenance, support, content creation and management, upgrade costs, downtime costs | Hosting, infrastructure, maintenance, support, content creation and management, upgrade costs, downtime costs, decommissioning costs |
| Intangible Costs | Vendor lock-in | Flexibility vs. complexity, developer dependency |
Factors in the TCO for Headless CMS (and questions to ask vendors when deciding on a CMS)
Here's a breakdown of every factor you need to take into account when doing a TCO for a headless platform and which questions you need to ask your vendor:
License costs
What functionalities come with the platform?
Will advanced functionalities cost more?
API and locale costs
How many API calls do each tier support?
How much do API calls cost?
Do you throttle API calls?
Are locales free?
Content-related costs
Do you charge based on the amount of content we have?
How do you manage content relationships?
Hosting
Which hosting options do you support?
Do you support serverless hosting?
Can I bring my hosting with me?
Non-recurring fees
Do integrations cost extra?
Can I get custom features?
Do you offer professional services?
Support
What kind of support do you offer?
Does support cost extra?
Do you offer 1-on-1 support?
Training
Do you offer free training?
Does training cost extra?
Developer costs
How many developers do I need to work with this platform?
How complex is it to implement the platform?
Flexibility and scalability of the platform
How adaptable is the CMS?
Will I need upgrades shortly?
How scalable is the platform? Show me examples
Developer experience
How strong is your documentation?
How well-documented are your APIs and SDKs?
How easily can I bring over my tech stack to this platform?
Vendor's commitment to innovation
Do you have an R&D budget?
How does your roadmap look?
Which features do you have in the pipeline?
Headless CMS TCO Example: Open GI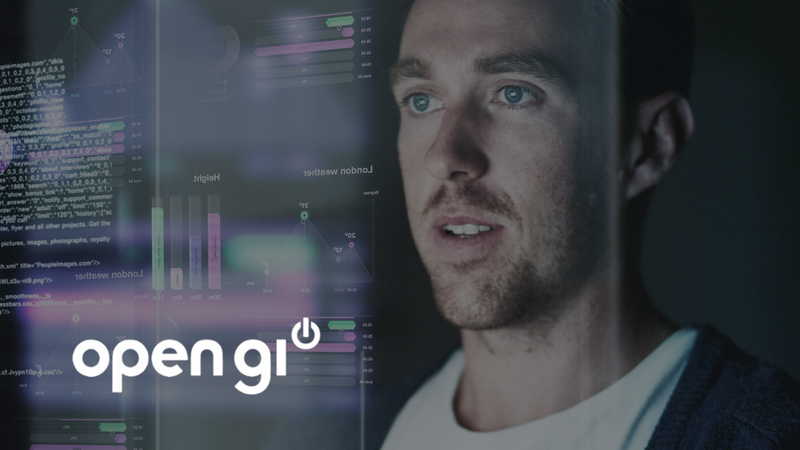 Open GI is a leading technology provider supporting the general insurance market throughout the UK and the Republic of Ireland. Their software is trusted by brokers, insurers, Managing General Agents (MGAs), and underwriting agencies.
Open GI needed help with a legacy configuration system that required a lot of development input. However, since switching to Agility CMS, they can now alter website configuration and deploy within minutes without developer input.
Agility CMS has reduced Open GI's overreliance on developers. Configuration changes that required deployment through release pipelines by IT staff and developers can now be managed in Agility, delivering real-time cost savings on minor configuration changes.
This led to 1,000s of hours saved on development time, which the respective cost cut entails. You know how expensive good developers are, and by saving that much time, Open GI managed to save six figures a year, freeing the budget for marketing, sales, and development initiatives.
Read more: Open GI Gives Developers Back Their Time With Agility CMS
Improving Your ROI with Headless CMS
All in all, your best choice will depend on your specific needs and requirements. A headless CMS may be a good option if you are looking for a cost-effective and flexible solution.
The cost of a headless CMS can vary depending on several factors, including the vendor, features, and functionality you need. It is essential to consider these factors when deciding whether to use a headless CMS.
But don't just focus on the costs. Think also of the benefits of going headless. Flexibility, scalability, developer-friendliness, commitment to innovation. These benefits can outweigh the costs in the long run, especially for businesses that need a platform that can grow with them.
If you are considering using a headless CMS, it is important to research and compare different vendors to find the best fit for your needs. You should also get quotes from multiple vendors for the best possible price.
Enhance TCO and Boost ROI with Agility CMS
When it comes to maximizing ROI and optimizing TCO, Agility CMS stands out as a game-changer.
If you aren't using Agility, sign up for a free trial and follow along with this tutorial:

Here's how Agility CMS can help your organization make the most of your content management investment:
White Glove Service:
Agility CMS offers a unique white glove service that goes beyond traditional support. With a team of dedicated experts at your disposal, you'll receive personalized assistance throughout your journey, from onboarding to ongoing optimization. This service ensures you're making the most of the platform's capabilities while minimizing downtime and operational hiccups.
Transparent Pricing:
Transparency is at the heart of Agility CMS's approach to pricing. No hidden fees or surprise charges – you'll know exactly what you're paying for. This transparency simplifies your budgeting process and helps you accurately calculate TCO, making forecasting and managing costs over the long term easier.
World-Class Marketplace and Partnerships:
Agility CMS maintains a robust marketplace of integrations, plugins, and extensions developed by Agility and its trusted partners. These offerings allow you to customize and expand your CMS functionality according to your unique needs without the headache of extensive development work. Leveraging partnerships with industry leaders ensures you work with reliable, innovative solutions that enhance your ROI.
Agility CMS empowers businesses to focus on growth and innovation rather than worrying about technology constraints and operational costs by aligning its services with the core principles of a low TCO and high ROI. The white glove service, transparent pricing, and strong marketplace partnerships collectively contribute to a smoother CMS experience that maximizes value and minimizes unnecessary expenditures.
When evaluating a CMS solution, it's important to assess the upfront costs and the long-term implications on TCO and ROI. Agility CMS understands the significance of these factors and offers a comprehensive package that saves money and propels your organization forward. With Agility CMS, you're not just investing in a platform; you're investing in a strategic partnership that aims to fuel your success in the digital landscape. So, make a choice that aligns with your immediate needs and sets the stage for a prosperous future.