Your marketing team may not depend solely on cookies for user data, but they are a part of your information-gathering strategies. Current and upcoming changes to Google will disrupt how you use cookies, and it's something your marketers and their affiliates need to know.
The Phasing Out of Third Party Cookies
Third-party cookies are a marketer's friend. Cookies collect a lot of usable data on everything from sales trends to consumer activity.
It's not new for web browsers to block third-party cookies. Firefox and Safari have since 2013. However, Google Chrome is now announcing its browser is starting to do the same in 2022, along with Apple for its mobile device users.
With Chrome accounting for over half of internet users worldwide, the loss of this data is concerning marketing teams.
Marketers worry about being able to track the right data and the impact to their digital asset management. Business owners are concerned about a potential increase in their advertising budgets. Even with the latest cookie disruption, marketing teams can still get the right consumer data.
Not only do they have plenty of tools to utilize, but not all cookies are going away. Even third-party cookies will still have a presence. Here are a few things your team can do to stay ahead of the competition.
No More Giving Cookies Away
Marketers are familiar with privacy laws concerning consumer data. Violations often result in steep penalties, along with a noticeable loss in consumer trust. Regulations are limiting their uses to prevent data breaches on third-party cookies.
Websites using cookies must get consumers' consent. Visitors must agree and accept all cookies, and this is when marketers and third-party advertisers are running into problems.
Cookie Transparency is Key
By making your cookie use transparent to consumers, you can meet industry privacy standards. Being transparent also gives consumers a sense of trust in your brand.
Pop-up tabs at the top or bottom of the page let consumers choose which cookies they want active on the site.
Getting visitors to choose first-party cookies usually isn't a problem. Most visitors want a smooth and intuitive experience on a website and will accept the cookies. Third-party cookie acceptance is harder, and it can leave your affiliate marketers feeling left out.
The most effective way to increase acceptance is by optimizing cookie consent.
How to Optimize Cookie Consent
Optimizing for cookie consent starts with four basics. These tips can help reduce bounce rates and increase your third-party cookie acceptance.
1. Optimize Your Consent Banner
Your website's layout has an immediate impact on visitors, and it extends to your cookie consent banner. The text, layout, and colors should be visually appealing and draw readers' attention to the 'accept' tab.
The goal of the banner is to reassure consumers you value their privacy while also assuring them it's okay to accept your third-party cookies.
2. Clear Banner Heading
A clear banner heading catches consumers' attention and can move them away from clicking 'decline".
The wording is important. Try using words like 'you' to show the consumer is the one managing the cookies. You can also substitute the phrase 'manage cookies' for 'reject'. Consumers like knowing they can make additional choices beyond simply accepting or rejecting all cookies.
It's also a good idea to run AB testing on the banner text. The tests help ensure the wording and tone match the company's brand.
Don't be afraid to be creative with the banner as it is a practical way to encourage visitors to accept all cookies.
3. Consent Box Format
The format refers to how the consent box closes. You do not want it to close automatically. It eliminates the consumer's ability to make a choice. Inserting 'accept' and 'manage cookie' buttons stops the pop-up from closing, but where should you place the tabs.
What works for a competitor may not be your best solution. Your best option is by trial and error. Try inserting the tabs at the top or bottom of the pop-up. Some marketing teams have more success with the consent tab in the center of the banner.
4. Make Your CTA Visible
A CTA (call to action) is a prompt that encourages consumers to take the next step. In this case, it's accepting your third-party cookies.
Your CTA in the pop-up is the 'accept' and 'decline' tabs, and you want them to stand out from the rest of the text. Using bold text is one option. You can also color in the tab fields. Use bright or bold colors to catch visitors' attention. Stay away from dull or darker shades. They can turn visitors away from your site.
5. Measure, Learn and Optimize for Acceptance
Certainly, accepting or rejecting the cookies is every visitor's own decision. If they truly feel like they don't want to share any of their data or activities, let them be.
However, the majority of your visitors won't care. And it's your marketing team's job to get these 'meh'-sayers to accept the cookies.
Treat your cookie consent form like a conversion optimization journey. Your cookie consent tool should be able to give you analytics about how well a design or a copy works in terms of getting acceptance from visitors. The cookie consent optimization would be a natural part of a high converting website.
This might be a rigorous journey of AB testing, tweaking, segmentation and experimentation. But we're talking about valuable user data which you can use for personalization, targeting and understanding of your users' behavior. In digital marketing, data is gold. That's why it's important to optimize for cookie consent.
6. First Party or Third Party Cookies
First party cookies are stored directly by the same website, which you're visiting. First party cookie means that the website itself is collecting demographic and behavioral data about its visitors.
For eCommerce sites like Amazon, the first party cookies provide a real convenience for the users. It allows automatic sign-in, personalized suggestions, browsing history and shopping cart. All of which offer a lot of personalized convenience.
Third party cookies, on the other hand, are usage or channel attribution or tagging data that would be sent to another website. They could be for online advertising purposes or affiliate tracking codes.
Make First-Party Data a Priority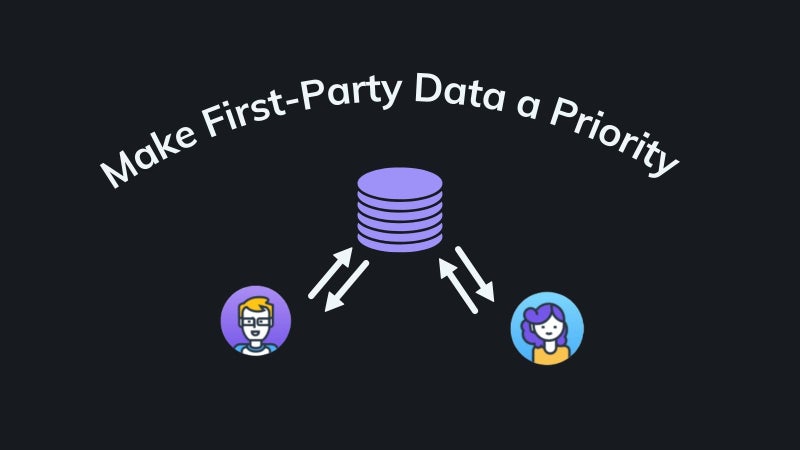 Third-party cookies are slowly phasing out, but marketers and affiliates still have data-gathering resources. First-party cookie data will become a priority, and some marketing teams are including it in their strategic management plans.
First-party data supplies marketers and affiliates with consumer behavior trends across the site. The cookies can also track users across their various devices. Encouraging visitors to create accounts on your website is one way to start taking advantage of first-party data.
Your website design plays a role in encouraging visitors to create user accounts. You want to follow current trends, but you also want a design that stands up over time. Web development trends are constantly changing, which is where software tools, like cookie consent manager are helpful.
Whether you're incorporating AI technology, push notifications to boost sales, or improving data security, web development software programs have the tools your marketing team needs for successful campaigns.
Creating a Plan and Preparing Your Marketing Team
If your marketing team operates purely on gut feeling and makes decisions based on emotions, then the cookie disruption probably won't affect you from a data gathering perspective, just from the compliance perspective.
However, if your marketing team relies on data to make marketing decisions, then you want to make it very clear to everyone where that data is coming from and how you need to protect it.
An excellent way to align your marketing team is to organize webinars to communicate this clearly to everyone. It would be most effective to actually show the data sources and how the data flow happens. By using the best webinar software, you can easily screen share and broadcast your message internally.
Another key action to take is to set a responsible person. Someone whose responsibility would be to track and optimize for the cookie consent acceptance. But first, they have to deeply understand the impact of the problem.
Key Takeaways for Preparing Marketing Teams
The fundamental necessity is for your marketing team to understand the impact of the cookie disruption. They need to clearly understand the problem and how it affects the data gathering and making marketing decisions.
Of course, the insurmountable challenge is to be compliant with the GDPR regulation and data gathering for your European visitors and customers.
Once you've achieved that, it's time to set the goals regarding first party cookies, third party cookies, affiliates and tracking. Set measurable goals.
Ensuring your marketing team has the necessary tools to meet the latest cookie disruption is key to their success. Equip your team with the know-how and the tools necessary to measure, learn and improve.
Only then your marketing team can start experimenting and improving the cookie acceptance rate.