Each year, more and more users consume web content on platforms other than computers. Mobile, IoT devices, gaming consoles, and smartwatches are now becoming the norm, and monolithic CMSs simply cannot keep up with the changing trends. This has created the need for a paradigm shift in how enterprises and brands deliver content to its users.
Around 2015, the term 'headless CMS' made its breakthrough around the world. A quick look at Google Trends shows how, slowly but surely, the growing importance of headless CMSs in the era of omnichannel marketing.
The breakthrough of the headless CMS shouldn't come as a surprise. The ability to send content to different channels from a central database is a must for companies with omnichannel customer journeys. Also, the separation of content and presentation helps teams come up with new ideas of how to improve their customer experience across channels.
At Agility CMS, we see going headless as the next logical step that will lead us --and you-- to a better content management future. With the headless approach, content structure and architecture become more flexible. Also, since the content is treated as structured data, editors can work in-sync to deliver better digital experiences.
In our case, we got an early start in the headless ecosystem, which has placed us in a unique position to offer value, experience, and innovation to our users. In this article, we go deeper into the history of Agility CMS and what makes us the oldest, yet newest, headless CMS in the market.
The History of Agility CMS
Ten years ago, the mobile channel was the new kid on the block, disrupting content delivery. Nowadays, the disruptions are happening much more quickly, with new devices and channels appearing every year, changing the playing field and presenting new challenges for the traditional CMS. As the paradigm shifted and users demanded new, better CMSs, we've adjusted as well in order to face these changing trends.
Agility CMS' origins date back to 2002 when Jonathan Voigt and Michael Assad founded a web development consultancy firm Edentity. After a few years of growth, their focus changed to content management products and services.
Behind Jon's back here at the conference booth, you can see an illustration of the very first model of the "content hub" - Headless CMS architecture that will soon become an Agility CMS.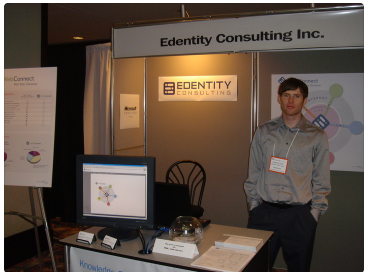 In 2005, Joel Varty joined the team and brought years of experience in product management, helping the company transition from a consultancy firm to a full-fledged CMS.
In 2005 the first version of Agility CMS was launched. It was a SaaS-based decoupled CMS, and it was hosted in our private cloud. We only had a Microsoft .Net SDK at that time, but the APIs were already available for customers. The first real API-first, Headless CMS was born – Agility CMS.
Between 2005 to 2017, Agility CMS brought on many Fortune 500 customers and added advanced enterprise-grade features. Throughout this period, Agility grew two main divisions within the company: the product division built and supported the Agility CMS software; and the Services Division, an expanded development shop to implement solutions for customers. Having both divisions gave Agility a huge advantage: it eliminated the disconnect and and allowed us to learn what customers actually require.
In 2010, the entire platform was migrated to Microsoft Azure, and the company became an Enterprise Azure Partner, Gold Certified Microsoft Partner.
In 2016 the company went through a compete redesign and we moved away from a beloved cat logo to a yellow triangle. The new Agility was launched.
In 2018 the Services Division was sold, and the company focused on making Agility CMS the best CMS in the industry.
As the company refocused as a SaaS business, we've since moved to what's become a well-known approach: an API first SaaS platform, hosted on Azure cloud. The offering has evolved, but it still adheres to the same things that made it a great choice for customers way back in 2005.
What Makes Agility CMS The Newest, Oldest Headless CMS
Back in 2005, after a series of discussions between Joel Varty, Mike Assad and Jon Voigt an idea began to form. They envisioned a more centralized way of managing content so that every new customer or partner didn't have to install or upgrade code.
Yet, such a product didn't exist in the market at that time — so they built it. The content delivery mechanism was a Web Services/SOAP API, using XML, and the computing power came from custom hosting.
While this doesn't constitute a headless CMS and SOAP has been deprecated in favor of REST and GraphQL, at the time, SOAP was highly extensive and enabled a great deal of modularity, two concepts that embody headless architecture as we know it today.
Ever since we envisioned what was to become Agility CMS, we aimed at focusing on helping users create great content, all. In contrast, developers could focus on creating the best presentation and experience for any device. We understand that every channel and device has unique needs, and by making sure that users can tweak content delivery, we will optimize the overall user experience, something not every CMS out there is capable of doing.
Agility CMS In Action
API-Driven
Agility developed the first API-driven headless CMS in the market in 2003. Ever since, APIs have been the foundation of our CMS. We offer users a real API-driven CMS with API technology right from the start, allowing users to integrate it with almost every tool in the market, allowing a best-of-breed approach to software development.
Agility CMS' headless API-driven architecture also allows seamless integration with Gatsby, and enables the use of GraphQL.
Content-First Approach
A content-first strategy implies considering content early on in your projects. This approach puts content creation and delivery at the forefront to reduce delays in the content creation process. In this approach, content isn't separated from the design process. Instead, it helps map user journeys and establishes a brand and product story before creating the website, reducing the constraints that the design-first approach possesses.
Agility CMS' content-first approach emphasizes collaboration and aims at building a logic structure of how content is presented. This empowers marketers to build a site that talks to the customer and reflects its pain points better.
Low-Code
While most traditional CMSs often leave businesses stranded when it comes to customizing and managing a system on their own, low-code development reduces the need for developers and empowers marketers and business users to develop and deploy digital experiences on their own.
Similarly, a low-code platform like Agility CMS facilitates collaboration between marketers and developers, freeing the latter to focus on building the architecture and the business logic, increasing the overall efficiency across the organization.
Future-Proof
As we head into 2021, it's time to think even further into 2025 and 2030. This means thinking about the best technology choices for your business. When it comes to a CMS, future-proofing entails streamlining and automating workflows and operations. A hybrid headless CMS like Agility CMS offers users the ability to adapt to the changing market needs and integrate with the latest technologies without implying an extra cost.
Today, Agility CMS's mission is to create a world where you never need to rebuild your website from scratch. With timeless content architecture and a powerful tool kit, Agility CMS enables teams to evolve and improve page-by-page.
Our SaaS model is designed to make things easier for users, leveraging the cloud to deploy new solutions quickly. By the same token, Agility CMS helps users save money as they scale, bringing a tailor-made solution to the table.
Omnichannel-ready
Headless CMSs enable users to build experiences beyond desktop and mobile. It has also made it possible for developers to integrate a CMS to the tech stack of their preference to speed the development process. Also, thanks to the JAMstack architecture, CMSs can create websites and distribute them to different channels and environments, enabling teams to build a single digital experience and distribute it across channels and environments.
Agility CMS: Experience and Artistry Combined
We offer you the reliability of a company that's been around for almost two decades, and that's still going strong, a huge community of developers from whom to seek knowledge, and a network of partners designed to make things easier for you.
Our product is growing stronger every day, and we keep on adding new features and functionalities to make it faster and agile enough, so users never feel left behind in the changing digital world. If you want to learn more about Agility CMS and how it helps business, read our guide: How To Choose The Best Headless CMS For Your Brand (2020 Edition).
Check out our Pricing and packages with Unlimited users, content items, and content definitions, or Try our JAMstack starters for FREE.