In the early days of the web, anyone with little knowledge of HTML could build and deploy a website.
However, as websites became more complex and interactive, the technical skills required to build and maintain them became more specialized - technical specialists dealt with the nuts and bolts of the site, and content specialists focused on the text, visuals, multimedia, and other visitor-facing elements of the site.
Still, there was a problem: As sites grew and more content specialists were added to the team, it became necessary to collaborate on the content, implement review and approval workflows, and maintain multiple versions of the same content items.
What is a Content Management System (CMS)?
The solution was the content management system (CMS) - a software application that enables website owners to maintain, high-quality, impactful content while shielding the content specialists from technical considerations.
These days, dozens of CMS solutions are available, with a wide range of features, functions, price points, and support models.
A CMS enables:
Version control of both content objects and website code
Audit trails showing who changed what and when
Review and approval workflows
Page previews
Deployment of approved components to a test website or directly to the production site on the hosting service.
What is Netlify CMS?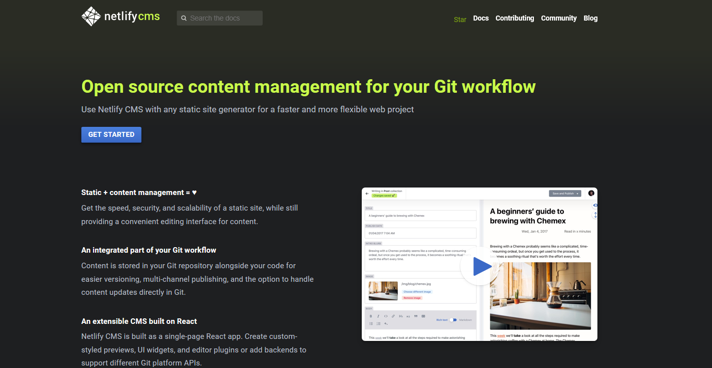 Among the more popular choices is Netlify CMS. What is Netlify CMS? It's an open-source CMS application that works with the popular Git repository system that is widely used by software developers for source code control and management.
Git provides the underlying storage, version control, and workflow functionality, and Netlify provides a user-friendly interface for content wranglers.
Netlify functions include:
Kanban-style visual workflow control
Easy-to-use WYSIWYG content editor
An extensible platform that enables the development of custom previews, user interface controls, and plugins
Content management models that decouple the content from the frontend

Reviews of Netlify CMS are positive in general, led by the fact that it's open-source and therefore has low startup costs. Its intuitive user interface and ease of use are also well regarded.
Top Netlify CMS Alternatives
Despite its advantages and popularity, Netlify suffers from some shortcomings, such as:
Poor documentation
Spotty community-based support
Tricky or complicated setup
Together, these shortcomings can make implementing Netlify CMS difficult, and it's worthwhile to consider some alternatives.
Netlify vs. Butter CMS
Netlify can be tricky to set up, compared with Butter CMS, which can be configured and deployed to content specialists with minimum trouble. Although Netlify has an advantage over Butter in its workflow user interface, Butter CMS has special features that Netlify lacks, such as:
Flexible content modeling
Content scheduling
Multi-site management for custom domains
Netlify vs. WordPress
WordPress is classified as a "traditional CMS," meaning that it is part and parcel of a WordPress website, whereas Netlify is a "Headless CMS," which can be used for any kind of site. Thus, Netlify CMS vs. WordPress is not exactly an apples-to-apples comparison. Unlike Netlify, WordPress is optimized for WordPress-based sites and WordPress functionality. Because it's built-in, WordPress CMS is an easier choice than trying to configure Netlify as a CMS for a WordPress site.

Netlify CMS vs. Contentful
Contentful is a general-purpose CMS for all types of digital content and all delivery platforms (including digital signage and mobile apps), not just websites. Unlike Contentful, Netlify is designed specifically for web content and lacks some of Contentful's advanced security, localization, and internationalization features.
The Agility Difference | Netlify vs. Agility CMS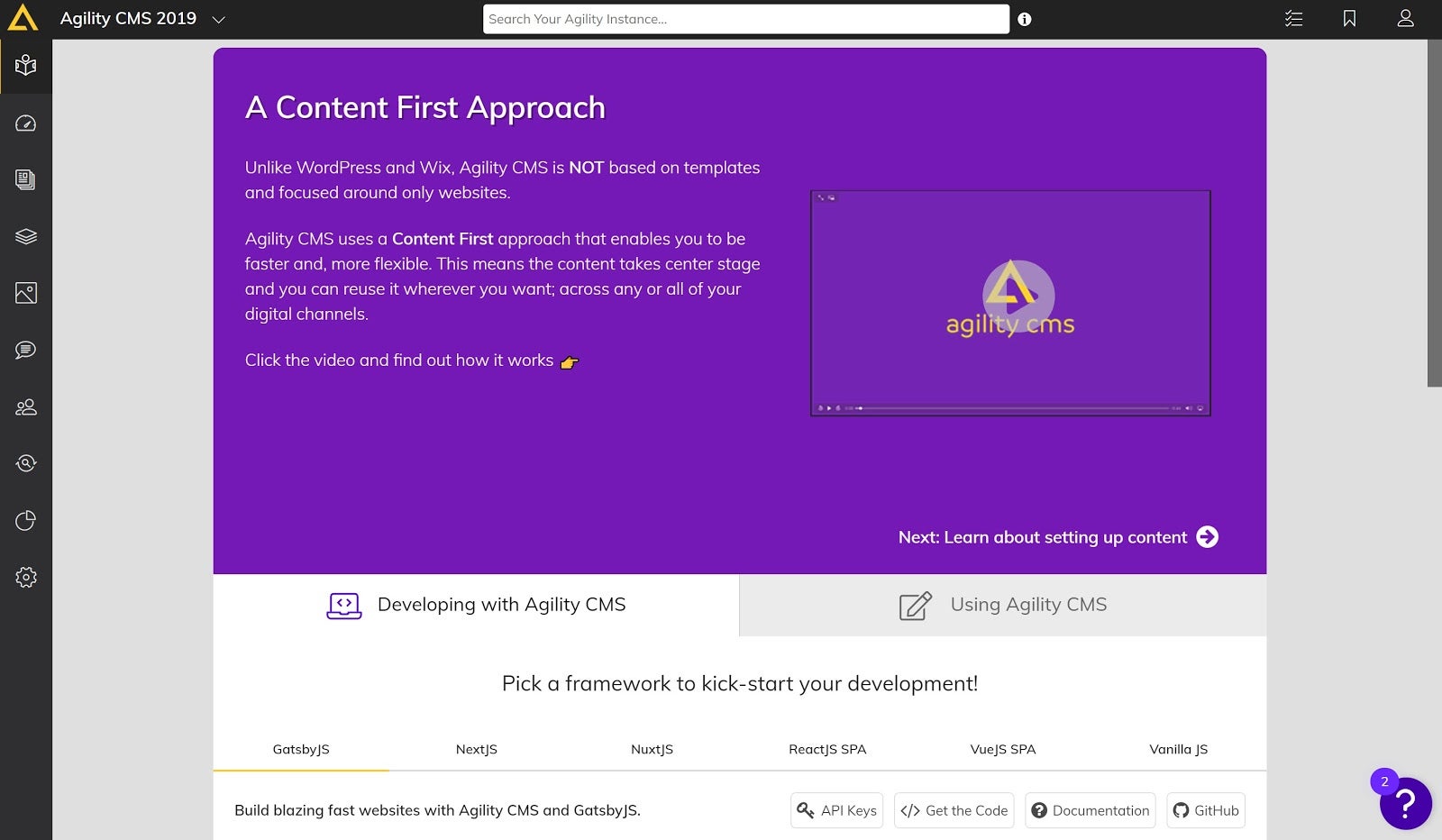 All of the CMS systems mentioned so far have their advantages as well as disadvantages in comparison with Netlify. One of the best and most advanced alternatives to Netlify is Agility CMS, a software-as-a-service (SaaS) CMS solution available in Microsoft's Azure cloud environment.

Like Netlify, Agility is a headless CMS that is compatible with any front-end system and any coding language. Unlike Netlify, Agility is a SaaS-based system that leverages the advantages of cloud computing---in particular, its capability for automatic scaling of both storage and compute resources when needed.

Agility CMS has a number of advantages that distinguish it in the crowded CMS market. For starters, Agility is optimized for speed---not just in the web-based content editing and management application with its fast page load times, but in getting the content from the CMS to your production website.

Agility's content development interface enables management not only of content objects but also pages and site maps, enabling marketers to control page layout and site architecture as well as the content. Agility's page management system enables smooth and intuitive management of pages and navigation.

Further, Agility was designed with both developers and content wranglers in mind. Developers will find it easier to develop, test, and deploy website code, and content specialists can manage a wide range of content types without coding.
Lastly, unlike Netlify's community-based support model, Agility provides world-class service and support, with dedicated consultants and training resources to help with everything from simple tips and implementing best practices to consulting on-page architecture.
Give Agility a Try
If your website management landscape is a patchwork of different code and content repositories, content editors, and software development kits, give Agility a try.
A robust CMS is vital to your ability to take control of your content and code, and Agility can bring everything into one cohesive, integrated, scalable CMS solution.
You can request a guided demo, set up a free trial account for a hands-on experience, or both. With Agility, you won't look at CMS the same way again.
Keep reading:
WordPress And Its Alternatives: Headless CMS
Agility CMS vs Contentful: Which CMS is Right For You?
What is Sitecore CMS and its competitors?