The customer experience (CX) has become the most exciting business opportunity around. Why? Because customers are willing to spend more when they get a great experience. In fact, 86% will pay extra if you make them feel good when they use your products or services.
To give them the feels, you need to strike a careful balance between knowing the right moves to make and when to make them. Too little could lose their interest and too much could leave them overwhelmed, disinterested, or even harassed.
"Simplicity is the ultimate sophistication" – Leonardo da Vinci
In this article, we'll show you how to simplify your Customer Experience to ensure success in this growing area. Most of the time, that starts with driving simplicity through your customer journey.
Before we begin, there is one caveat – we shouldn't confuse the need to simplify with being simplistic. So, now that we're clear on that, let's kick off with a recap on CX followed by what a good customer experience should look like.
What is Customer Experience (CX)?
Successful customer experience starts with asking yourself the following:
Who are your customers?

What do your customers want, need, or expect from you?

How can you try to understand them better?

How can you attempt to surpass their expectations?
If you already have a good grip on these areas, that's great. Instead, focus your attention on the next phase - how to look after the customers you already have.
When it comes to boosting sales, many enterprises spend more time than they should on acquisition. But if existing ecommerce customers are 9 times more likely to convert, it sets a business up to fail. And when 65% of consumers say getting their needs met is the most important factor, good customer experience means finding out what they are and then meeting them. If you don't, you could end up wasting your time and money on too many new ones.
What should a successful Customer Experience (CX) look like?
So, what should you be doing to create a successful CX?
First off, make data your best friend. There are many ways to collect it, and in its most simple form it can start with customer feedback surveys. With such high open rates, SMS text messaging is a great way to get the responses you want.
Make sure you're also making full use of data analytics software. Are you monitoring mobile use and running A/B tests on your marketing techniques, for example?
You should also be benchmarking against your competitors. What recent campaigns or innovations have they launched? What worked for them, and how could you do something better or different?
Next, get familiar with the buyer's journey. Often referred to as the customer life cycle, this is a framework to understand the emotions behind your customers' decisions. As the principle funnel for new sales, your buyer's journey should provide you with an insight into the process of conversion.
But, since customer experience is about keeping those you've already got, in this article we'll review how to build a simplified customer journey. And your journey needs to be simple because overcomplicating or overdoing it could turn your customers off. Preparation is key, and by overpreparing, you'll be better able to see what's really needed or not.
"A fool-proof method for sculpting an elephant: first, get a huge block of marble; then you chip away everything that doesn't look like an elephant" – George Bernard Shaw
How to build a customer journey as the foundation to a simplified Customer Experience (CX)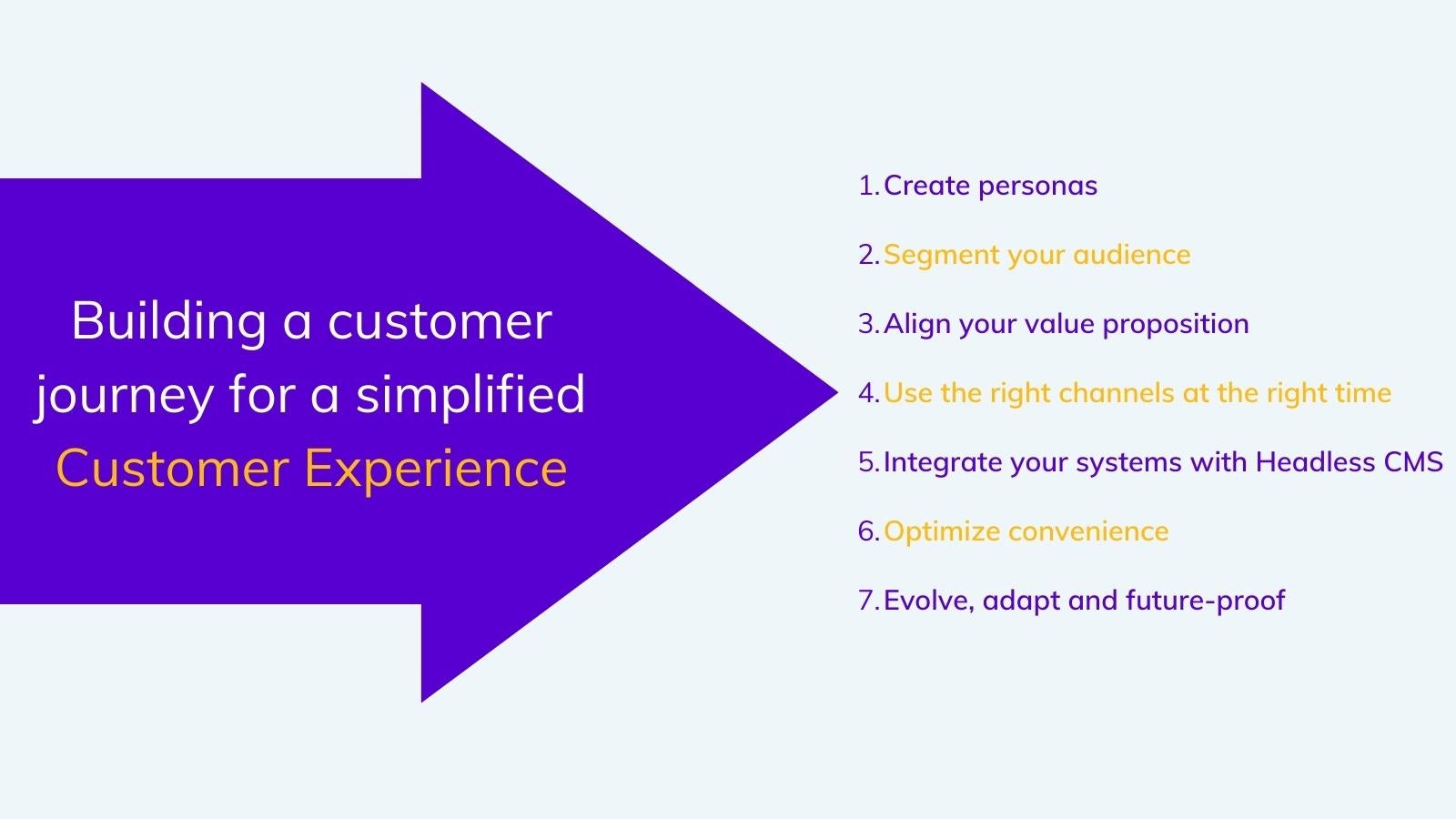 Simplifying your CX starts with a simplified customer journey.
That's why we've outlined 7 steps you can take to create one:
1 | Create personas
Now that you've got a grip on how to analyze customer behavior, use your data to create a set of customer archetypes or personas. In simple terms, customer personas are fictitious characters that model the key traits of your typical customers.
For example, Customer A—let's call her Mia—identifies as female, is in her early twenties, uses social media every day and loves to interact with your brand. What Mia lacks may be the purchasing power of Customer B—Laura—who sits in the 40-55 age bracket. Laura will spend more but may need plenty of trigger points before becoming engaged.
By creating customer personas, you'll be better able to understand the emotional motivators of your typical customers. Use this to plan the key aspects of your customer journey.
2 | Segment your audience
As a marketing technique, audience segmentation is different from creating personas.
Audience segmentation groups together different sets of audiences. This is a traditional method to target audiences within a 'segment' based on the similarities in that segment's buying habits.
In practice, that could mean planning your outreach to a particular demographic segment based on something like age or gender. By taking this approach, it should be easier to sell your product to large segmented groups based on their average buying habits.
Creating segmented groups will also allow you to keep your marketing touchpoints simple.
3 | Align your value proposition
A value proposition is an important set of words for any organization that seeks to engage with the external world. Your value proposition should be clear on the 'why' behind your business. In other words, why should somebody buy, invest, engage with or use your products or services?
For example, rather than stating 'our vacuum cleaners run on three high-speed settings', you should say 'our vacuum cleaners operate at high-speeds, which saves you time so you can focus on the things that matter'.
Aligning your value proposition to meet customer expectations will be easier with a set of personas. So, by this point, you should know who your customers are, what they need, and how you'll meet those needs.

4 | Use the right channels at the right time
If you're an ecommerce trader, providing an omnichannel experience is a must. In practice, that means reaching customers where they spend their time, across every available platform or outlet. Where this differs from a multi-channel approach is that your focus is on the customer and giving them a seamless experience.
Say they've checked Instagram using their phone and come across your carousel of products. They may not order straight away, but if they see the same products advertised when they move to Facebook, Google, or even in an offline store, they'll be more likely to convert. Striving for an omnichannel experience will pay off, too, where shoppers who buy from you using offline and online channels have a 30% higher lifetime value.
5 | Integrate your systems with Headless CMS
Providing an omnichannel experience relies on the back-end technology to deliver it.
This is where a headless CMS can make a difference. By providing a content-first approach, a headless CMS can enable your journey to focus on giving customers the information they're looking for.
Also, the accuracy and security of your customer's data is not only critical to great customer experience but is a legal requirement. How you handle data matters. Headless CMS offers multiple advantages over traditional CMS like WordPress.
By integrating your CRM with a headless CMS, you can also simplify how you manage data, which will help with what we'll talk about in the next section.
Learn more: Benefits of Headless CMS vs a Traditional CMS
6 | Optimize convenience
When 83% of consumers say convenience is the most important factor in the buying process, your journey must make things easy for them.
When creating an omnichannel experience, make sure to personalize your customer conversation channels. Automated SMS and email channels can do this, but you should also integrate this across all your conversation channels, such as chatbots.
At all times, your customers should feel appreciated for who they are. Automating rather than outsourcing the customer support experience will also make it easier to deliver a convenient, omnichannel experience.
7 | Evolve, adapt and future-proof
To state the obvious, what happens in the future is impossible to predict. By keeping your customer journey as simple as possible, you'll help yourself be agile to any unpredictable events.
Whatever happens in the world, you're building your business for a positive future. From the start, make sure to integrate this need for agility into every aspect of your customer journey.
Adapting your customer experience to show that you care about the wellbeing of your customers will also go a long way. By identifying the changing needs of customers you can be ready to meet them, particularly as the world adjusts to the challenges of COVID-19.
Closing thoughts
In a complex landscape, keeping things simple isn't always easy to do.
Customers are looking to retailers to make buying from them easy. To achieve this, retailers should create omnichannel experiences based on simplicity, not only in the experience for the customer but in how they deliver them.
This could be best summed up by the late Steve Jobs, who knew a thing or two about how to simplify your customer experience.
"Simple can be harder than complex: you have to work hard to get your thinking clean and make it simple. But it's worth it in the end because once you get there, you can move mountains." — Steve Jobs