In the past ten years, E-commerce has become an indispensable facet of retail businesses, increasing from 6.4% of total sales in 2010 to 16.0% of total sales in 2019. As the value of E-commerce increased, businesses began investing more resources into this industry and researching methods to improve its ability to attract consumers. One particularly effective means to reach consumers is through engagement with a brand's online personality.
In fact, consumer engagement with a brand can improve a customer's order size anywhere from 5%, up to an incredible 85%. The impacts from improved consumer engagement don't end with an increase in order size, it also has been shown to improve a company's ability to upsell, consumer loyalty, and even improve customer reviews. Consumer engagement is projected to play an increasingly important role in E-commerce, so here are a few ways that businesses can improve their consumer engagement.
1 | Streamline Content Management
Marketing teams are extremely important and have the ability to directly influence consumer engagement with a brand. One of the most commonly used tactics to improve consumer engagement is through Content Marketing (read our 6 Content Marketing Tips for 2020).
Curating, scheduling, posting, and managing such content in general takes up a lot of time due to the necessity of coordinating efforts across multiple channels and outlets. This process in itself can become very confusing and burdensome before even taking into consideration the interdependence of other teams, or duties, such as public relations and analytics. The more time spent on Content Strategy and managing content, as well as time spent generating reports and optimizing landing pages, the less time that can be dedicated to developing and curating different tactics.
Consumer engagement is like a battlefield of different companies all vying for the same individuals' attention, and the only way to win is with content that is fresher and more creative than the competitor's. This reason alone is why the time spent managing content and generating reports comes into scrutiny and almost always leaves room for improvement. The simplest way to implement an effective change is to cut down processing times and streamline content management. Opting for a content management system that has codeless Authoring Tools like Page Management helps to streamline marketing efforts. By freeing teams from the binds of cross-channel content management, they will be better positioned to invest in developing and implementing new tactics to outpace the competition and ultimately boost the engagement of consumers.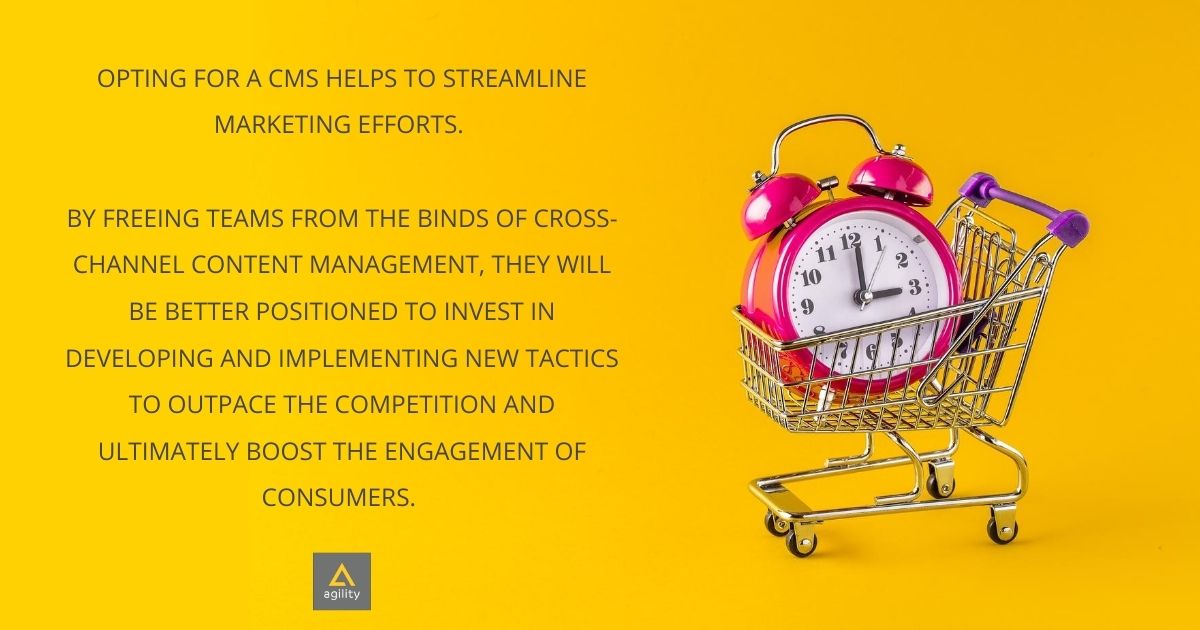 2 | Automate Customer Support Services
Customer support services are a fantastic way to increase consumer engagement, yet it is an aspect that is neglected by a significant number of businesses. This 2014 study found that 43% of businesses outsource initial complaint handling. That's nearly half of surveyed companies that fail to handle initial complaint processes in-house, which results in a disconnect from a brand and its strategy, as well as a decreased quality of service. In order to boost consumer engagement, it's significantly more important to focus on a resolution with a positive experience, rather than simply focusing on a sheer number of closed support tickets. Customer satisfaction far surpasses the numbers game because consumers want to be valued for their thoughts, feelings, and opinions. Personalized experiences and attention to the individual can secure brand loyalty and even create advocates for a brand. The consumer's experience with a brand is far more impactful than a resolved support ticket.
Many companies are tempted to outsource their customer services due to benefitting from decreased personnel costs, increased coverage, more language options, and shorter response times. With these benefits, however, brands often sacrifice personalized experiences resulting in the above problems of decreased service quality and disconnection between a brand and its strategy. The effective alternative to completely outsourcing customer services is to instead automate these commonly outsourced business processes. Not only does leveraging the technology to automate processes secure all the benefits of traditional outsourcing, but it also allows for customer service representatives in-house to focus on responding to customers personally with a speed that can prevent a disconnect between brand and strategy. This greatly adds to the chance of positive consumer experience and as a result, an increase in repeat business, word of mouth, and ultimately, consumer engagement.
3 | Enable Consumer Participation
Fostering consumer engagement is one of the most powerful ways to widen the scope of your marketing campaign. Some of the best marketing strategies employed were done using content that the target audience themselves generated, known as "UCG" or "User Generated Content." Made.com launched one campaign called 'Design Your Happy Place' with the hashtag #MADEdesign, which encouraged fans to submit images of their happiest living quarters that utilize Made.com's furniture. The campaign offered users the chance to appear on Made.com's social media and led to users submitting content that the company could then repurpose themselves. All while their follower-base advertised the company to people otherwise not following Made's Instagram account, greatly expanding their effective audience. Another group of brands that utilized UGC marketing to relative success during the international summer lockdowns of 2020 are museums, such as The Royal Academy of Arts with their daily doodle challenge. The challenge encourages followers to submit images relating to the daily prompt, but the consumer engagement doesn't stop there; submissions that the twitter account particularly enjoys are retweeted for the museum's followers to admire.
UCG isn't the only way a brand can encourage and enable its audience to interact directly. The former manager of one museum's twitter account, Adam Koszary, has a history of utilizing colloquial terms and phrases that have been adopted by the online community, such as in a tweet where he referenced a sheep as an "absolute unit," on behalf of The Museum of English Rural Life. Adopting colloquial language is a recent trend on social media that can arguably be traced back to the official SEGA twitter account in December of 2011. Most recently, this trend was popularized by Wendy's twitter account in January of 2017 when it first began to give sassy retorts to other twitter accounts. Lately, it can feel as though every brand is adopting a satirical attitude. For the successful employment of this tactic, brands must carefully tread the line between being laid-back and relatable enough to garner the attention of the world at large, yet remaining respectful and aware of world affairs to avoid making insensitive comments. Such blunders utilizing this tactic can cause an incredible media uproar which might be powerful enough to permanently damage a brand's identity. The point being that the better a brand relates to its audience, the wider that audience often becomes.
Improving the engagement of an audience is not an easy task for any company, especially for a newer or smaller company. Utilizing some of the strategies mentioned above could help your brand grow its audience and improve overall sales. Establishing a marketing campaign that truly resonates with the target group in combination with the right technology can help to boost consumer engagement and awareness of a brand.
Keep Reading:
If you want to learn more about Headless CMS, make sure you read these articles:
About the author:
Marie Johnson is a UX Designer with a passion for tech and writing. She's been writing for as long as she can remember and has dabbled in almost every genre, from science fiction to poetry