Customer experience (CX) is the end-all-be-all of every brand. And with the pandemic still forcing marketing actions to be mainly online, it's only logical for CX to be online as well.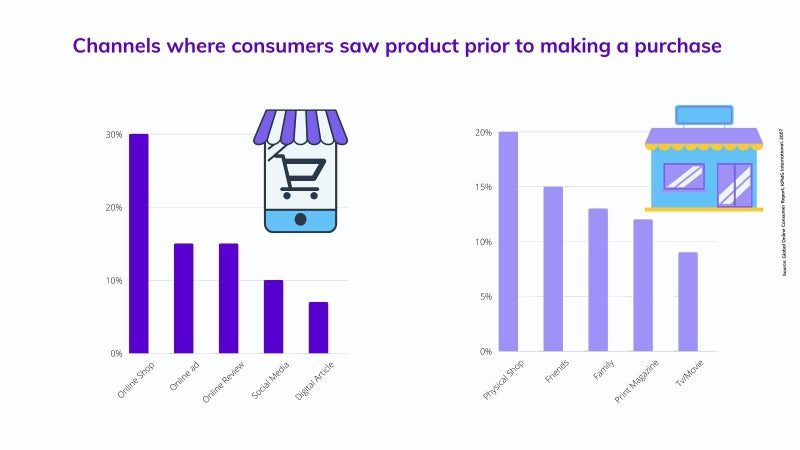 Evidently, a consumer's first contact with your brand or product is online rather than offline, making a great content experience and a clear marketing message imperative for digital marketing.
While consumers experience a product and a brand with a digital-first approach, they're also a little wary of marketing messages, mainly email marketing messages. This was to be expected if one considers the email blasts of the past and the unsolicited marketing messages consumers still receive daily.
The solution is for marketers and brands to create relevant marketing messages that will resonate with their customers. And this is where CX email marketing comes in.
Customer Experience Email Marketing: A Definition
Customer experience is used to describe the feelings your brand and marketing messages elicit when users interact with them.
This is why CX needs to shape email marketing messages. In simple terms, CX email marketing describes the email marketing messages that can boost Customer Lifetime Value (CLTV) by being timely, relevant, and cultivating loyal relationships between businesses and customers.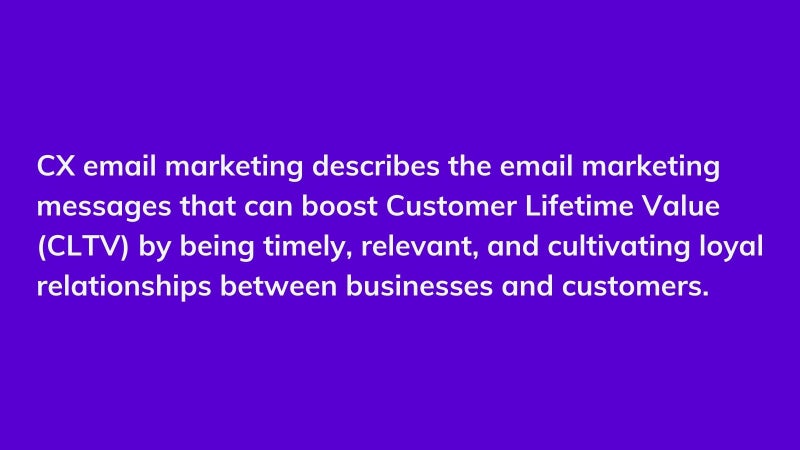 To create timely and relevant messages, marketers need to be aware of all stages in a sales funnel and create content that will nurture leads, rather than just be centered around sales.
Using automation tools like Moosend to create email marketing campaigns, triggers to create content that will feel like a natural continuation of the users' actions, and data to ensure that the marketing message of the brand will be exactly what the recipients need to see is a marketer's bread and butter. But in 2022, with a highly competitive digital and email marketing landscape, you will need more.
Highly customizable email templates and custom fields with dynamic content are also parts of a powerful email marketing strategy that can boost customer experience.
As with every situation, happy customers are those who keep coming back to your brand and are willing to spend more and spread the word when it comes to your brand, helping you with word-of-mouth marketing.
But how can you implement data in email marketing and craft the perfect email that boosts customer experience? More importantly, how can you shape customer experience through your product and email marketing messages by using data?
Customer Experience Through Goals and Tools
The first thing you're going to need would be to set goals that are SMART: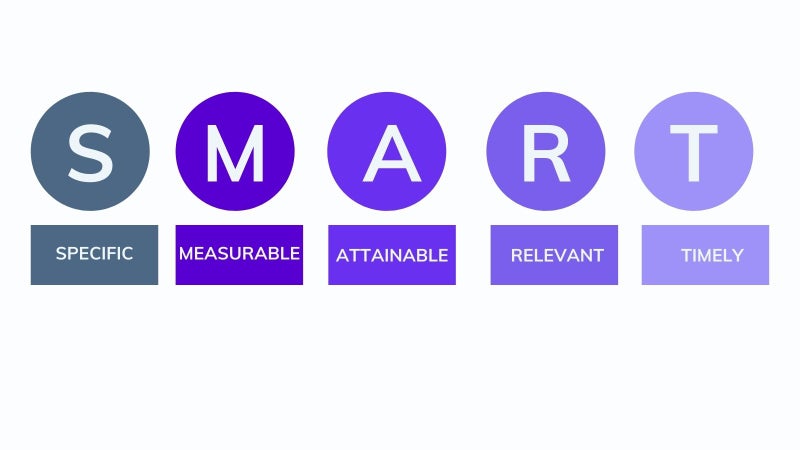 Your goals will give you a clear outline of what your marketing efforts should entail and a method on how to improve digital content, and what email marketing actions will lead users down the funnel.
After all, CX email marketing is there to show how you can nurture leads, educate existing and potential customers, and lead them down the funnel more gently and effectively.
The ideal email marketing campaign that boosts customer experience should be personalized, customer-centric, and helpful enough for your customers to remember your brand as one that can improve their quality of life, not one that is looking to sell a product.
Remember to include little elements that make a big difference by allowing users to complete their actions with minimal effort. This could be as simple as a link to your social media and reviews users have written about your brand or as complicated as an integrated FAQ section.
Such elements can answer the main "Why" question with minimal effort. Why should users pick your brand over a competitor?
Personalization also plays an integral role in CX email marketing and puts the customer in the center of all marketing actions. Just use your data and look into customer behavior to see what makes them tick. After that, create email marketing campaigns that will grab users' attention.
Super Pro Tip: The "Hi, [First Name]" format may be a personalization technique, but it's not as attention-grabbing as it used to be. This is why you need the triggered emails and custom fields mentioned above. That way, you'll be able to create content that will change according to the user viewing it. Invest in a tool that can give you weather-based automation triggers to sell highly relevant and personalized items that could differ according to location. And, of course, use sales automation tools that will make repetitive sales tasks flow quicker and easier.
Customer Experience Emails Don't Sell
This may be a contradictive statement, but it's the truth: CX email marketing is about educating leads and giving them options to achieve their goals as individuals.
That being said, having the customer's experience as the main focus of your email marketing message will make your marketing messages feel valuable, helpful, and relevant to the user. Remember, your customers don't appreciate feeling like they're out of options.
So, instead of creating email marketing campaigns with one specific option, try to understand the various stages of a sales funnel and how you can lead users down a specific path.
For example, if you want to boost your customers' Average Order Value (AOV), you can use the power of incentives or waive the shipping fee for a specific order value.
If you want to give your customers a better experience with your product, you can create an email marketing campaign that will have more to offer than just the product you'd like to promote. Your content would convert best if you decided to showcase how various products work together, and try to upsell or cross-sell, instead of sending multiple email marketing campaigns for multiple products.
Another thing you could do would be to offer content in tandem with your product. Promote a specific product and implement a video or a blog post link that shows how it works. That way, you'll answer the "Why you?" question much quicker and easier than just talking about your offer, and you'll boost a customer's experience with your brand.
Don't Use Nameless" From" Addresses
Sending your email marketing campaign from a "noreply@yourbusinessname.com" address is not ideal when it comes to shaping a meaningful customer experience through your email marketing campaigns.
In 2022, more than most users are very much aware of non-personalized email blasts that used to be sent from such addresses. But in 2022, brands need to learn to work smarter and allow email marketing to work as a plain email would. This is achievable through a personal "From" address that enables the user to reply and open a dialogue.
Putting a face to the brand's name and allowing users to connect with your brand on a personal level is essential for CX email marketing and email design in general. The same goes for emails giving honest reviews and customers talking about your brand online. Your brand will need to address both the negative and the positive comments in a non-robotic, highly personal, and personalized manner.
By creating customized content and giving your users the opportunity to reach out to a person instead of a generic email address or a chatbot, you're essentially showing a human face that will raise your CTR, improve CX, and strengthen your authority online.
The Takeaway
All of the above tips would be nothing without pinpointing crucial steps along the customer journey and setting up content that will be created, curated, and triggered to meet the users' expectations.
This can only happen through great use of data and understanding your customer personas as well as your product - if not better.
And lastly, boosting customer experience through email marketing is nothing without knowing what the right message is and what will make your users open your email. To nail that, make sure to use A/B testing tools that will help you make educated decisions.