When deciding to build a new website, application, or digital experience, many businesses' first question is: what headless CMS should I choose?
Sue, comparing features is a start, but it's just as important to recognize that every company's needs are different and, accordingly, different headless CMS platforms will be best for different companies.
Furthermore, many brands get stuck on the question of open-source versus proprietary, opting for whichever avenue they have experience with. Or, they immediately narrow their shortlist down to headless content management systems that cater for their industry specifically. In both scenarios, we've found brands to be limiting themselves—and their options—for the sake of familiarity. In fact, going for a platform that isn't an obvious choice for your industry may lead to great ideas and new opportunities for growth that you hadn't considered.
The key when it comes to choosing a headless CMS is to understand your unique requirements and those of your customers and to pick a solution that can accommodate these. In this article, we bring you the top 10 questions you should ask yourself and your stakeholders before choosing the headless or decoupled CMS that's right for your brand's present, and future.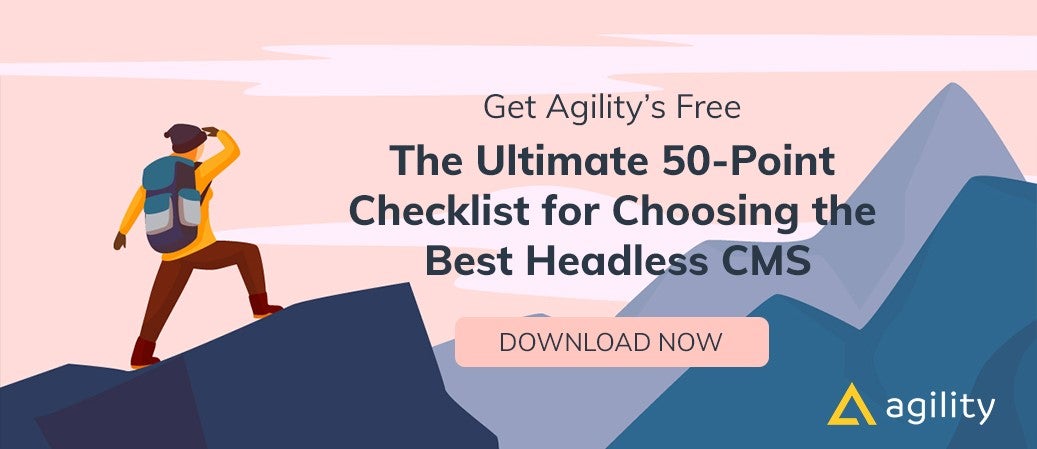 1. What's your budget?
The first question before you even begin your search for a headless CMS platform is, what's your budget? This will help you rule out whatever options are off the table from the very beginning and prevent you from wasting your time researching solutions that you will never be able to adopt.
Understanding the scope and size of your project, as well as of the CMS platforms available, is a good way of gauging what a reasonable budget may be.
Many CMSs now start with Free Trial and offer a number of pricing packages to fit your needs.
Is your organization paying too much for hosting, and licensing costs? A headless CMS uses a cloud-multitenant architecture. It eliminates the need for costly installations and upgrades to the hosting environment. We highly recommend this architecture because of its easy upgrades and security benefits.
For example, if a marketing department wishes to create a new series of product mini-sites, they can go straight into the CMS and start creating immediately without having to wait for developers to build CMS-based templates. This means your up-front cost is diminished because you can start with smaller solutions and then build your way up versus starting with one BIG install. It's always best to start small and then scale up as you need to. JAMStack approach can save you money because it allows you to update your website page by page instead of doing the full rebuild.
2. What is the purpose of your website (and your broader digital experience)?
Once you have budget considerations out of the way, the next thing you should consider is: what is the purpose of your digital system? Is it intended as a long-term business website, or are you building it for a short-term project?
This question will be important when considering your site's content architecture; if you're thinking long-term, your site should be built in a way that is flexible enough for any future developments, growth and use cases. This approach will help you avoid any future unforeseen costs brought on by a badly planned content architecture.
If, on the other hand, you're building a short-term site, you may want to put all your efforts into making the site look exactly the way you'd like it to look right now, potentially saving time and resources that you would otherwise spend planning your content architecture. Keep this in mind when choosing a headless CMS, as different platforms may be geared towards different timelines and take different approaches to content architecture.
Another aspect to think about in regard to your site's purpose is whether you're looking only for a CMS, or for a CMS provider. Are you just looking for a tool that your development team can use to build your site, or would you prefer a provider that is able to guide you through the process, to provide support and to maintain your site for you? These are questions to keep in mind, as they'll come with different costs and platforms.
3. What are your performance and integration needs?
The nature of your site will determine what your hosting and integration needs are and it's important to think of these in advance. Particularly online storefronts tend to be integration-heavy and often require scalable hosting options to prevent the site from crashing during high-traffic streaks.
Even if your site is not an online store, it is still important to determine first what your performance and integration needs are and then choose a headless CMS solution that can accommodate these. This goes hand in hand with planning your content architecture; as long as you've mapped out your entire site, you'll be aware of what particular integrations are needed. In the same way, thinking about your top use cases and expected traffic fluctuations will give you a better idea of what your hosting needs will be. Mapping all this in advance will help you make a better choice of which headless CMS to go with.
4. Which channels do you want a presence on?
Headless CMSes allow you to provide an omnichannel experience for your customers. This added flexibility offers an advantage as it means that the things can remain the same across multiple touchpoints within the customer journey. However, you do need to decide what channels will work best for your product or service.
Just because you can provide an omnichannel experience doesn't mean that you should do so. Spreading yourself too thin and trying to be too many places at once is a recipe for disaster, no matter the capabilities of your content management system.
At the very least, you are likely to have a web page or app with mobile capabilities. However, knowing beforehand which additional channels will work best for your audience, whether that be digital signage, smart speaker apps or something else entirely can go a long way. The channels you decide to be on will help to determine your overall marketing strategy, and your CMS needs to be able to provide a robust experience. The key to a great omnichannel experience is consistency. You can't just have a presence on a platform; you also need to be able to personalize the experience on different platforms.

5. What are your internal resource capabilities?
Once you've established your integration and performance needs, it's time to think logistics. Who will actually build and maintain your website? Do you have in-house developers? Are your content editors technical or non-technical?
If you have in-house developers, keeping them in the decision-making process will be a key way to ensure that whatever headless CMS platform you choose uses programming languages that your developers are familiar with.
Many will agree that the biggest benefit of a headless CMS is how easy and fast it is to manage your content. The CMS implementation is cleaner meaning the CMS tool is purely for storing content and isn't cluttered with "stuff" that's irrelevant to business users and other resources that's development only.
You will also need to work with your development team, agency or CMS provider to ensure that the site is coded in a way that reduces content editors' reliance on developers as much as possible, especially if your content editors are non-technical. If every time you make an update to your website you need to rely on developers, you will waste precious time and resources, so make sure that your CMS allows you to do this.
6. Are you forgetting your marketers?
One of the issues with some CMS platforms is creating and editing the content is quickly done by non-technical team members, but, then the job of displaying the content in a visually appealing way is only possible with the help of tech-savvy developers.
Too often, going headless means sacrificing marketer autonomy and speed for developmental freedom and more channels. It would be best if you opted for a hybrid headless CMS that can offer both without compromise.
Developers want to spend their time coding new features and not fixing minor issues or updating content. The best CMS platforms make it easy for developers to set up proper structures and workflows for marketers and content editors to operate; empowering both the marketer and the developer to produce the best content.
7. How soon do you need your website?
What is your project timeline? Are you planning a long-term website and ready to wait a few months to ensure the site is optimal? Or do you need something quick within a few days or weeks?
If you need something fast, the best option may be to go for a pre-templated solution, although this will mean being quite restricted in terms of design. Picking a CMS that provides templates and that allows your team to quickly put a site together without relying on any external parties will be the best option.
If you're thinking long-term, focusing on ensuring your design serves your unique business needs, and not the other way around, will enable you to build a more effective site and, ultimately, a more valuable tool in the long run.
8. What are your security requirements?
Security is always a concern for businesses building new websites, although how much of a priority it is will depend on the nature of your company. The key is to ensure that your site has the necessary security measures in place, without hindering performance or user experience.
The general perception is that open source platforms aren't as secure as proprietary platforms, which isn't always the case. However, as a rule of thumb, make sure that the platform you choose can be made secure according to your unique needs and that it has the necessary certifications. Thinking about this in advance will prevent any unforeseen security hiccups along the way.
9. Is commerce part of your brand's future?
When deciding on which CMS platform you should use, you should determine if you plan to offer a commerce option in the future. The likelihood that you answer yes to this question is quite high as by the year 2040, as much as 95% of shopping will be facilitated by eCommerce.
That said, it is vital to go with a CMS that has robust commerce platform integrations and APIs that won't hinder headless commerce projects. There are several eCommerce platforms able to provide your customers with an online shopping experience, but they aren't all right for your brand. The best CMS gives you the flexibility to choose the right one for you.
Ecommerce happens over multiple touchpoints and channels and therefore falls under the same requirements for an omnichannel experience. Factors such as UX design play a crucial role in whether a customer decides to purchase from a particular brand or not. Also, many customers make purchases from brands that they resonate with, or that have a great story they can support.
Those brands that are successful when it comes to eCommerce have various content types that help to tell their story. They also provide international buying options and can deliver their content and products to any device from a web page to a kiosk screen, smartwatch or smart speaker. None of that would be possible without the right CMS.



10. Are you planning to scale and grow into new markets?
Not thinking far enough into the future is a big mistake we see brands making when choosing a headless CMS. If you plan to keep your digital presence small and local, then feel free to skip this point. If not, read on.
A headless CMS is only as good as its infrastructure. Without enterprise-grade hosting and content delivery networks (CDNs), your digital experience will become slow, difficult to manage, and near-impossible to scale when traffic spikes occur. Poor infrastructure will also hinder you when it comes to launching your website or app in new regions and continents.
To ensure your headless CMS can grow with you, be sure to choose one that's leveraging the cloud hosting prowess of leading hosting solutions like Microsoft's Azure or Amazon's AWS.


11. What features do you require?
Finally, when you have established all your above needs and determined a few CMS headless solutions that fit the bill, the best way to pick a winner is to look at their features. What are the main features that you need, and which platform best aligns with them?
This consideration goes hand in hand with your website purpose and project roadmap. By looking at what you'd like your site to deliver, you can establish the key use cases and user journeys and determine what features are appropriate for each. This applies to future use cases and journeys too: are there any features that you would like to implement later on in the future? Which CMS platform is best aligned to your long-term product roadmap or vision?
As the need to deliver content across multiple channels grows, a headless CMS is gaining popularity. Yet, many aren't sure of the differences between the various types of headless systems and how to choose the best option for their project.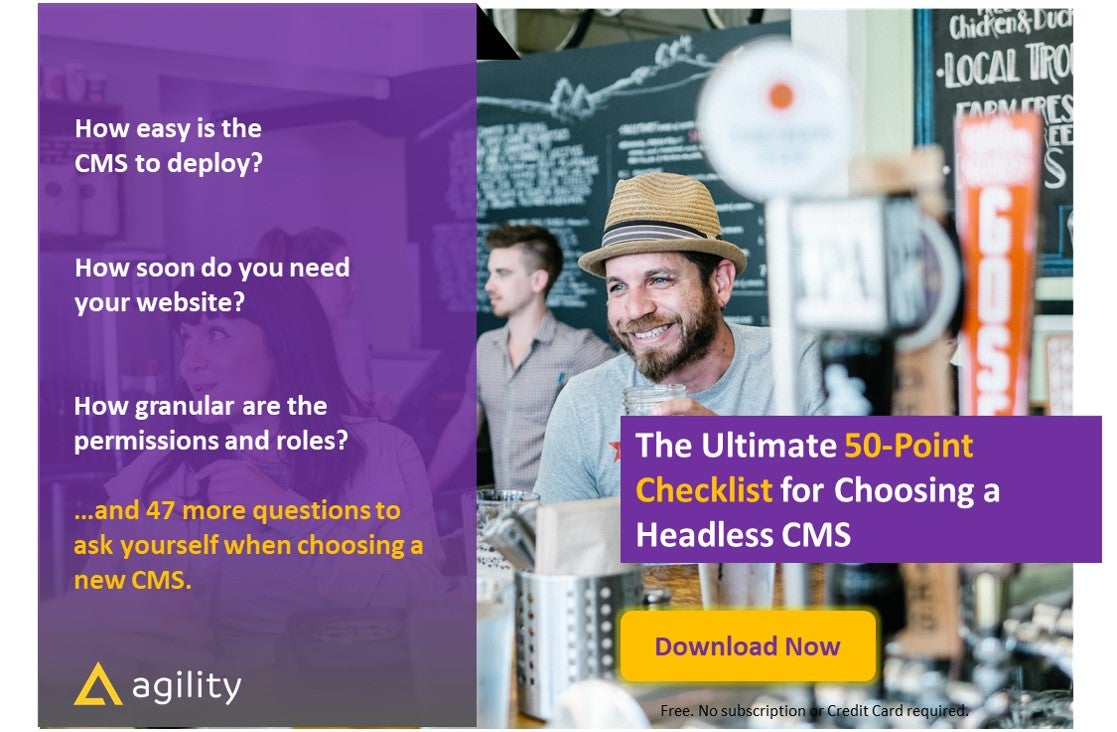 Why Pepsico, Visit Orlando, and Pret a Manger Chose Agility CMS
When we launched Agility CMS almost two decades ago, it was a decoupled CMS—or in other words, a headless CMS. It could, and still can, aggregate content in a central location before publishing it to any device or channel via APIs.
What's more, Agility CMS is JAMstack-focused (despite being totally framework agnostic!), Azure-hosted, and marketer-friendly. We are the only all-in-one headless CMS with features such as page management, user-generated content management, Ecommerce functionality, E-ticketing, and search. From Free to Enterprise and everything in between, find out how Agility CMS can revolutionize your digital transformation.