Headless CMS is somewhat of a buzzword, but it is much more than a fad. In fact, it can help your business execute content delivery across a wide range of channels. From web and mobile apps to chatbots, wearables, virtual reality, and much more, Headless CMS is something that those who operate in the content space need to be aware of.
Why? Because Headless CMS is an effective way to enhance the digital customer experience across your channels.
Digital transformation has become critical, especially over the past few years. An essential element of digital adoption is how content is produced, managed, and deployed, especially when dealing with multiple channels. Never before has it been this crucial to create an enticing omnichannel customer experience. Consistency and innovation are required to execute this effectively; this is where Headless CMS can help.
Whether it's driving innovation, adapting to emerging technologies, or enhancing your customer's experience with seamless interactions across their preferred channels, Headless CMS is something you need to understand and use. To help, we've created this article to explain precisely how Headless CMS can improve your brand experience, so read on for everything you need to know!
Understanding Headless and Decoupled Content Management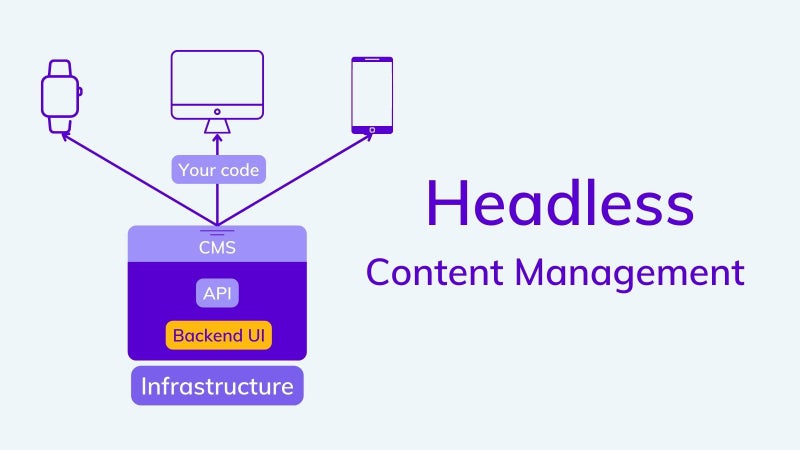 You may already know about traditional content management systems (also known as CMS), which allow businesses to create and share their content on a website or app. This convenient CMS will manage everything from creating, reading, and updating content to deleting it and how it is displayed.
Headless CMS differs slightly because it allows a business to manage content but is less worried about how it is displayed. You can use any front-end tool to present the content. A Headless CMS API will deliver the scope beyond just websites and apps to incorporate any channel.
This should be of significant interest to any business looking to deliver content to channels and devices outside the standard web browser. This is an exciting vehicle for substantial innovation and offers a fantastic opportunity to scale as new devices or media are adopted by potential customers. If your company is concerned with staying on the fringe of technology or trends, Headless CMS is a great way to ensure this without requiring significant time.
How can Headless CMS improve a brand?
Within a CMS solution is often an Application Program Interface (API) that can model and publish content for your business across any device removing the presentation layer. You can deliver the content through the API directly, wherever it needs to go.
Many functions are offered within this, which we will delve into below. This works to create more effective workflows so you can save time (and money). Just as a good Content Management System (CMS) can make running an e-commerce store easier, Headless CMS can be applied across any business function or type.
Headless CMS is the latest innovation that will assist you in delivering consistent, seamless digital experiences. This is critical to improving customer-brand interactions and considering the many devices and touchpoints available today. If you want to adapt to the latest technology while also improving your time to market, there is no better way to scale your efforts than Headless CMS.
A strategy that involves a Headless CMS solution can also drive innovation in previously unexplored channels.
Headless CMS makes it easier to experiment with things like game interfaces, apps, voice search, chatbots, wearables, and a multitude of IoT devices, all of which can improve omnichannel customer experieces; many whether you like it or not, these devices are becoming sales tools, and you need to be positioned to benefit from them and capture the potential customers that will be using them.
Let's look at the reasons why so many businesses are turning to Headless CMS as a content solution: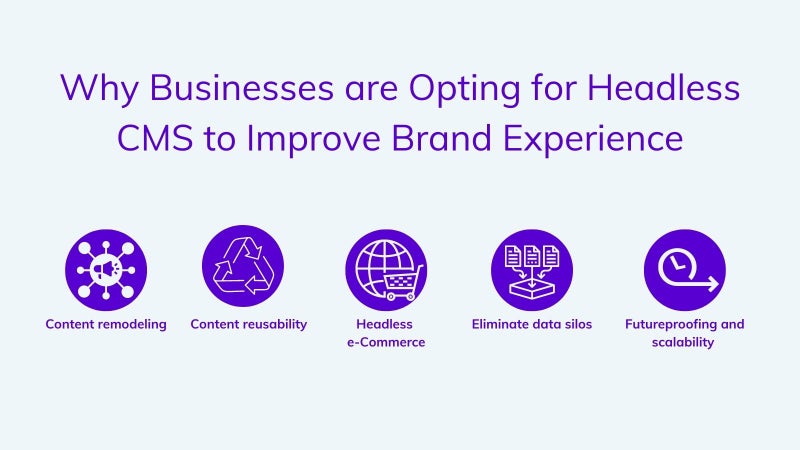 1. Content remodelling
The first advantage of Headless CMS is its ability to store structured content, which can be remodelled and aligned with different channels or devices, saving you significant amounts of time. Why is this useful? You likely have many other customers using various touchpoints to interact with your brand. Headless CMS can be beneficial to ensure you do not need to re-architect a platform, making publishing across different channels more straightforward.
2. Content reusability/optimization
The next advantage of Headless CMS to consider is content reusability. A Headless CMS platform will help you organize your content in one place and allow it to be reused per the use case.
For example, web content such as frequently asked questions can be turned into snippet-style information and reused as additional content to tailor conversational interactions over a different channel, like a voice interface. This means your content is multiplied and applicable past its initial intent.
You can try different approaches or create a range of content variants with which you run continuous tests across all your channels. This will help you gain a better understanding of your customer base while making it easier to optimize your content to suit their preferences.
3. Headless e-Commerce
As a front-end developer, you'll also love the benefits of Headless CMS. A big one is the ability to focus on designing intuitive and efficient user interfaces with just the APIs which can pass requests back and forth.
Let's say one of your customers wants to read reviews or place an order; the process will be seamless regardless of their device. Let's consider the following customer journey:
A customer searches for office equipment on Alexa
She then reads some reviews online about your products
A few days later, she decides to purchase the supplies from a contactless kiosk in her office
Headless CMS ensures a seamless experience for the customer across all of these touchpoints, creating an easier purchase journey. This can increase their trust in your company thanks to the very professional process they have experienced with you.
4. Eliminate data silos and personalize CX
​​Data silos can be an issue experienced by various business types (and sizes). With Headless CMS, you can avoid these by integrating data from a legacy system via a central location.
This means you will have all the data and content needed in one place. In some cases, you will have access to an interface that will connect to your CRM and zero in on data to drive campaigns, identify any areas that need more attention, and assist you in creating more personalized experiences.
As a bonus, if you publish the same content to different digital touchpoints, be they web, apps, or IoT devices, you can guarantee content parity and a uniform brand persona. All of this improves brand recall, helping you to form lasting relationships.
5. Futureproofing and scalability
In the digital space, it is essential to continually be aware of emerging technologies that may be able to help you design and innovate your customer experiences. Headless CMS is conducive to this as it offers flexibility via the front end when rolling out content campaigns that include various channels.
This timeframe can be reduced to days instead of weeks, getting you to market much quicker. With centralized content, the focus can be shifted to building presentation experiences across various devices and touchpoints. The APIs will handle the rest of the grunt work so you can scale quickly and facilitate a faster time-to-market.
These points exemplify exactly how Headless CMS can help you capture the attention of potential or existing customers at the right place and time. Scaling up your content strategy to encompass the many different devices and touchpoints has never been easier, thanks to Headless CMS.
Notable use cases for Headless CMS
Let's look at some situations in which Headless CMS can be of benefit. The following examples are use cases that would do well to utilize a Headless API option:
Separating content from your site's tech stack to move it quicker
JavaScript frameworks for Websites and Web apps
Native Mobile Apps
Improving an e-commerce stack with a quality CMS to assist your marketing team
Feature flagging your product to schedule releases
A configuration interface for a home automation solution
Managing content on an intranet
As we've discussed, Headless CMS delivers your content through an API, meaning content can be used on any available platform or technology, making it a powerful option for developers.
Finding the right headless CMS solution
Does the above convince you that your business should consider a Headless CMS solution? If so, here are some things to keep in mind to ensure that you find the right option:
Decide if you will be continuously producing content or working to a fixed schedule
Understand if you need a multi-language content delivery solution
Will you require maintenance and integration with other resources?
Detail and understand your technical and design requirements
Match your solution choice with the skill set of your development team
Assess how easy the solution is to deploy; will it require intensive onboarding?
Understand your budget
Would you like a commercial or open-source CMS?
Will you require control of your CMS code?
Do you have a team that can set up, manage, and tune a self-hosting solution?
Would a SaaS provider better suit your needs to manage performance issues, regulatory compliance, and more?
Finally, you may like to explore the option of a Headless CMS delivered via a Content-as-a-Service (CaaS) model. This will provide the advantage of building a complex omnichannel environment while ensuring your content is easily and readily available no matter which channels and devices are required.
Regardless of your choice, Headless CMS enables your marketing team to drive innovation via immersive technology while ultimately improving your customer interactions, which is a critical element of growing your brand online.