Although COVID-19 has caused great disruptions globally, the e-commerce sector has brought hope for the future. Since people are following mandatory social distancing policies, online shopping has got a massive boom.
This growing demand has uplifted sales in many e-commerce stores while others are still facing pandemic-related challenges. Problems like supply, delivery, and customer service are a few key concerns.
If you are also experiencing hurdles in your e-commerce business, do not worry. Today, I am going to share some valuable tips that can help in successfully running your e-commerce business. So, here you go: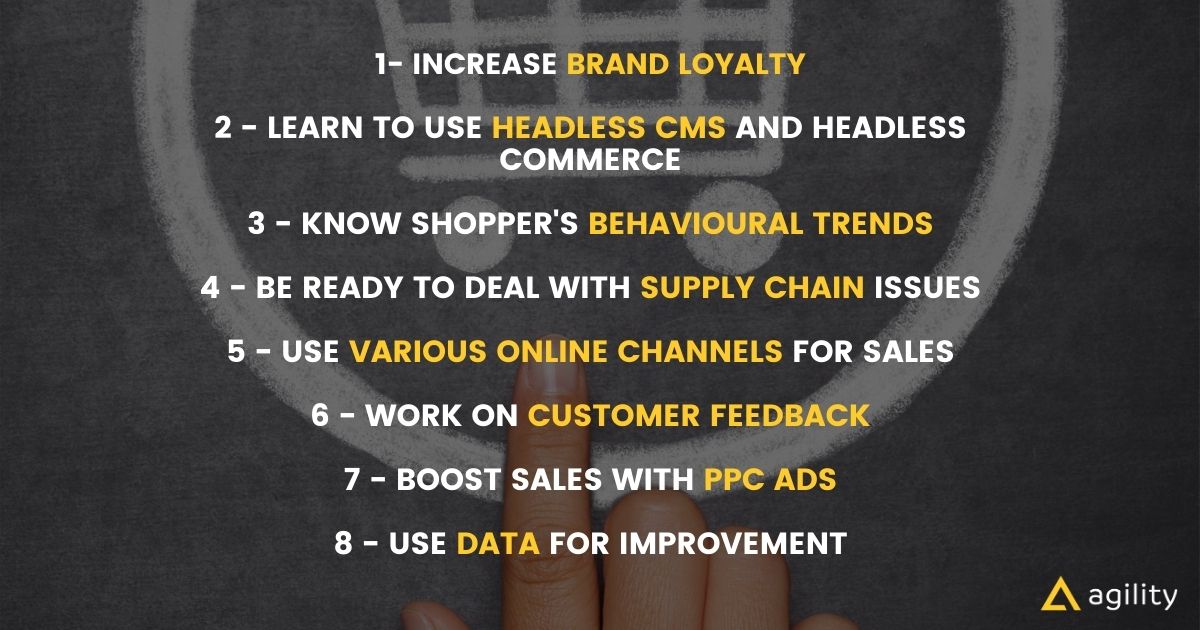 1-
Increase Brand Loyalty
Instead of investing time and effort in targeting new customers, plan out tactics for focusing on existing customers. I have learned this tip from digital marketing Houston TX. Things like retargeting and enhancing brand loyalty are effective in impressing the existing clients.
Let me share some more ways of increasing brand loyalty:
Focus on customization and promptness. Besides this, try to maintain your service quality across all online channels like a web store, social media pages, apps, etc.
Hire a proficient support staff for answering queries related to late deliveries and supply shortages.
Inform your customers about late or no delivery in restricted areas. Let every client know about government policies and new regulations.
Keep interacting with customers. A nice email or a short in-app message is ideal to stay in touch with the clients.
Win your customer's heart by offering add-on services like increased warranty or extended insurance time due to pandemic.
Create catchy, valuable, and useful content to help customers understand your products and delivery system.
Show seriousness in this difficult time. Try offering discounts and deals to highlight your support in this tough financial period.
2 - Bring Innovation and Growth with Headless CMS and Headless Commerce
Since the business dynamics are changing, from customer support and production to IT infrastructure and management, everything needs to be updated. In the current situation, the traditional CMS system is unable to fulfill the needs and demands.
Therefore, a headless CMS is required. Unlike a monolithic system, headless CMS helps adapt the business to rapid change and brings growth.
With a headless CMS, you can easily store and add content in one place. From here, the content can be used anywhere as it is connected with a RESTful API. Besides this, the system is ideal for enhanced security and cost-saving. It frees up your IT team, giving them time to prioritize other issues.
Additionally, some B2B businesses have experienced huge losses due to pandemic. Consequently, they transitioned into a B2C brand, which created issued in terms of customer demand, supply, and operations. Headless commerce is an ideal approach in this situation. It allows you to grow digitally from the ground and successfully target new markets.
Learn more how businesses adopt to new pandemic marketplace: 8 Tips to Keep Your Ecommerce Business Growth during the Coronavirus Era
3 -
Stay Informed About Shopper's Behaviour Trends
Since business dynamics are constantly changing, new trends are emerging every other day. Let us see some of the common trends:
Sales of luxurious items and home décor stuff declined the previous year.
Sales of nutritional supplements, medicines, and health-related products got a massive increase.
Tech-related products like webcams and laptops stayed high in demand due to an increase in e-learning.
Similarly, gaming equipment got high sales during the lockdown as people were confined at home.
Knowing about these trends will help you in focusing on high-demand products.
4 -
Create a Plan to Deal with Supply Chain Issues
Since many countries were practicing lockdown, challenges of the supply chain affected every other brand. To resolve these issues, you can take the following steps:
Keep coordinating with the suppliers so that you know about future delays.
Be ready to accept a higher price from a supplier due to recent changes.
Always keep some suppliers as alternates
Try to place a supply order beforehand
Maintain good relations with the suppliers.
5 -
Approach Various Online Channels for Sales
If a single web store is not enough to generate sales, you can use various other platforms. Try using social media channels or use third-party platforms for getting more sales. Here are a few extra tips for you:
Amazon can bring a dramatic boost to your business. Try putting your products on Amazon, use the best tactics, and consistently work hard on digital marketing.
Facebook needs no introduction. Millions of people are generating big bucks from this platform. Create a separate group, make a business profile, or start live videos to sell your products.
Visit Groupon to see how the site promotes the various brand by highlights the discounts and sale offers.
6 -
Work on Customer Feedback
Being a serious brand, you should understand the pain of your consumer. Use the following tactics to show optimum support and work hard to improve:
Regularly ask for feedback about new changes
Give incentives for feedback like discounts and free subscriptions
Ask consumers about their suggestions to improve your brand
7 -
Boost Sales with PPC Ads
Every other person is working from home these days. Consequently, the amount of time spent on the internet has increased greatly. You should also act smartly and increase your spending on PPC ads. Especially if you are dealing in a high-demand product like a house-hold or health item, PPC can be a winning game.
8 -
Use Data for Improvement
The more you use data, the better it is. Data monitoring helps know the impact of new changes. For instance, you can notice the traffic changes after a new discount policy and make similar strategies in the future.
Takeaway – Ecommerce is the Future of Business; Smart Tips Can Help you Capitalize on this Trend
In short, growing your e-commerce business in this critical time looks tough. However, some effective tactics can give impressive outcomes. Increasing brand loyalty, using headless CMS, keeping the customer updated, and planning to resolve the supply chain issues are a few tips.
Additionally, using a multi-channel strategy, investing in PPC ads, taking regular feedback, and using data are helpful strategies for online business growth. Though the time is critical, do not give up. Keep working hard and use the above strategies to boost your e-commerce sales in no time.
Author Bio:
Myrah Abrar is a computer science graduate with a passion for web development and digital marketing. She writes blog articles for ApCelero.
Read more:
Headless Commerce Explained: Definitions, Use Cases, and Roadblocks
6 Ways To Do Smart & Responsible eCommerce Marketing During Covid-19
How to start with Headless Commerce: Agility CMS, Next.js & Snipcart Tutorial