As a business owner, you probably use social media channels or paid ads to attract more traffic to your website. Nevertheless, research has shown that around half of your web traffic will still come from organic searches.
For this reason, you need to optimize your website to ensure steady or increased online traffic.
However, according to this article, optimization is no easy task.
There are two reasons for this: firstly, Google frequently updates its search algorithms, and secondly, the online actions of your competitors can have a significant impact. Despite these challenges, there is a tool that can help you achieve your SEO goals, and it is called headless CMS.
Why is headless CMS better than traditional CMS for SEO?
With traditional CMS, you need to set up the front-end and back-end functions with every new content-based experience you create. This can prevent marketers from keeping the content experience fresh as they will have to wait for the developers to complete their work.
By contrast, headless CMS allows the front-end (presentation) and back-end (repository) function to act independently of one another. Marketers can create and store content in the back end while developers and designers work on the presentation side.
Both groups work separately but in sync with a headless CMS platform to create optimized and engaging content.
What headless CMS features will you need in your SEO strategy?
API connectivity
To perform properly, a headless CMS often relies on several APIs. Ensure your Headless CMS is API-first.
Built-in marketing features
Your headless CMS platform should incorporate features that will enable marketers to manage content without learning and understanding program coding. You should be able to:
● Drag and drop content
● Edit texts
● Preview screens
● Comment
● Publish
● Set rules and permissions for protecting content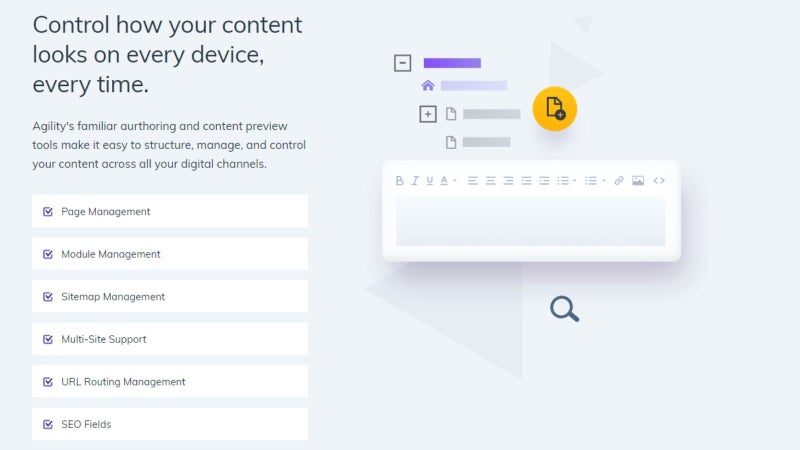 Canonical tags
Canonical tags inform search engines which of the URL versions they should crawl and present in the results. They also make it easier for search engines to recognize and understand your web pages.
Content delivery network (CDN)
You will need a reliable CDN that will enable your website to deliver content with a fast loading speed. Make sure your CDN vendor can fulfill this requirement.

Content modeling fields
Content models refer to their various types and how they relate to one another. For instance, a blog will have several content types with key elements.
● Articles have a title and body
● The author's page will contain a name and profile photo
Since content modeling is useful for marketers, you will need a CMS that can provide quick and easy editing access. This will also enable you to create search engine-friendly metadata.
In SEO, metadata provides search engines additional information about your content, helping it rank higher than competing pages.
Customizable URLs
Adding your keywords to the URL is good SEO practice. For this reason, your CMS platform must enable you to create, change, and add keywords to the URLs.
Which headless CMS and SEO best practices should you implement?
Canonical URLs and internal linking
Utilizing canonical URLs for duplicate content will let the search engines know which pages to prioritize.
Meanwhile, you should use internal linking to make your pages more authoritative and understandable to search engines.
Content
You can optimize your content and reduce bounce rates by providing your audience with informative, relevant, and engaging information.
Conversational and friendly content also tends to boost a page's search ranking.

HTTPS
You can assure search engines and visitors by upgrading your website security to HTTPS, a critical Google ranking factor. In addition, HTTPS websites add another layer of security and encryption and load faster.
Keyword research
The keywords you need are often the search terms people use to find your products and services. You can use various tools and services to find these keywords. The most popular is Google's Keyword Planner and Search Console.
Once you have identified the keywords, you should incorporate them into your content, including your headings and URLs. This will inform the search engines that the content is relevant to those keywords.
Knowledge graph
Google uses a knowledge graph to improve its search engine results based on the information it has gathered from multiple sources. You can contribute to Google's knowledge graph by sharing essential information about your company, such as:
● Operating hours
● Contact information
● Location and directions
● Customer reviews
This will also enable your audience to obtain relevant and up-to-date information about your company.
Metadata
Metadata is not visible to your readers, but it lets search engines know what your web pages are about. When writing metadata, bear in mind the following tips:
● Title tags should not exceed 70 characters
● The meta description should not go over 160 characters
● There should be no more than ten meta keywords per web page
● Meta robots can inform the search engines what to do with your page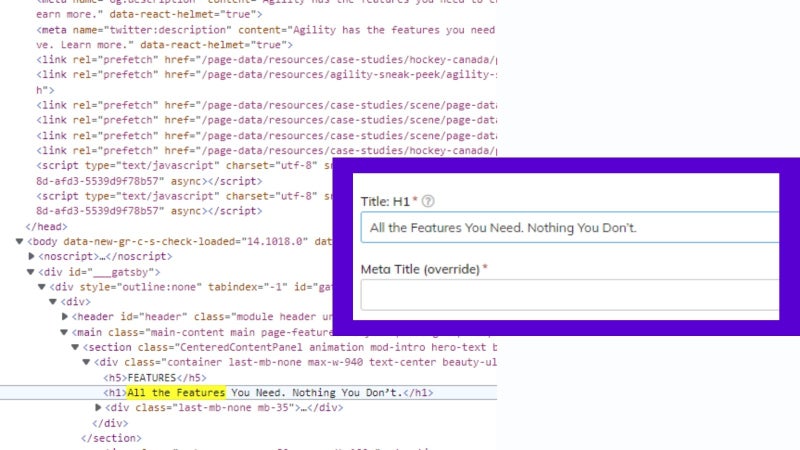 Mobile- and voice-ready
Mobile-friendly websites will be prioritized in Google's search results. To optimize your site's mobile experience, you should use HTML5 and not Flash.
In addition, there is no need to block images, or even CSS and JavaScript, as most mobile devices will support them.
Voice search is also popular, and its use will only grow. When optimizing content for voice queries, ensure it answers questions and does not simply discuss topics.
Images
Using images and media will help keep readers interested and encourage them to remain on your site for a longer time. Although large images and files may slow down your loading speed, there are image optimization techniques you can use to overcome this problem, such as:
● SVG or WebP format, if possible
● "Blur-up" tech or solid background color as a preview while the image loads
● Lazy loading, where the most important content is downloaded first and only when required
Structured data markup schema
A structured data markup schema will make it easier for search engines to understand and index your page. For instance, you could provide your contact information using structured data. You do not need to create the schema, as various ready-to-use structured data types are available at Schema.org.
Website audits
Regular website audits can help you identify areas in your web pages that need improvement with regard to optimization. You can use free tools such as Lighthouse or employ an SEO expert to audit your website and pages.
XML sitemaps
You should submit your XML sitemap to search engines such as Google and Bing to ensure that they will index all of your content. You will also need to resubmit your sitemap every time you update it. While many headless CMS solutions have tools to help you create a sitemap, plugins are available for free.
Conclusion
Headless CMS can significantly boost your SEO campaign, and it is ideal for distributing your optimized content across multiple platforms. However, you will still need to implement SEO best practices with headless CMS. You must also ensure a fast-loading website with search engine-friendly URLs, metadata, and content. Regular website audits, XML sitemap submissions, and using correct keywords are also essential SEO tasks. Finally, marketers can offer high-quality content experiences without waiting for developers to implement changes.