What exactly is content architecture?
Content architecture comes down to planning and preparing for the screens and workflows your editors will need and the options your designers and developers require to get their jobs done well. A content management system (CMS) embeds those screens, options, and workflows into steps and built-in functionalities. Roughly speaking, the series of steps and functionalities are the content architecture of the CMS; they are the building blocks and templates that make your CMS work for you. Or not work for you, depending on how well the content architecture adapts to fit your needs.
The benefits of having a well-designed content architecture include the following:
Improved navigation: Users may more easily find what they're looking for and comprehend how the site is organized when the content architecture is evident.
Better user experience: Users may find a website more user-friendly and pleasant if it is well-structured. Additionally, it might lessen uncertainty and irritation. Good content architecture makes it easy for your team to deliver site-wide updates across all your digital content. Performance updates can be tested, applied, and rolled back quicker and easier. New employees can start generating ROI quicker. It's easier for editors and designers to complete the work they need to do, which is suitable for the entire organization. The CMS is easier to manage and relatively inexpensive to add new features.
Better content management: By making the process of developing, updating, and maintaining a website's content simpler, content creators and administrators can more easily carry out their duties.
Information Architecture vs Content Architecture
The process of organizing and categorizing content in a way that makes it simple for people to locate what they're looking for and for search engines to interpret the content is known as information architecture (IA). IA comprises the creation of site maps, navigational systems, and other tools that aid users in comprehending how a website's information is arranged and related to one another.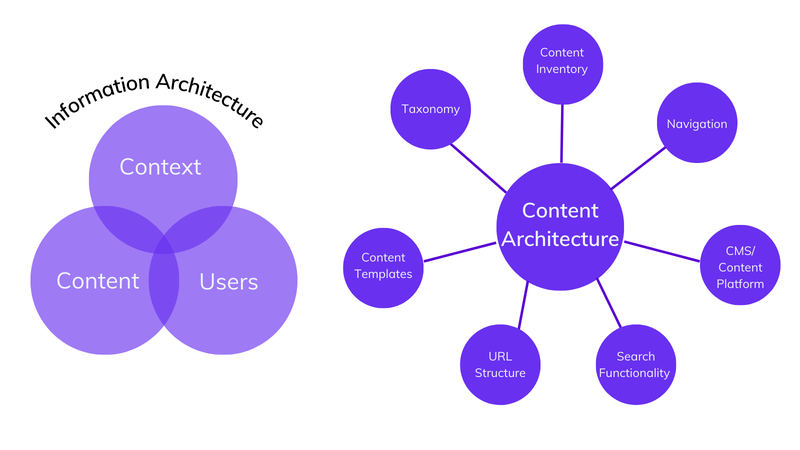 Contrarily, content architecture focuses on how a website's content is organized and structured. This involves choices regarding what information to publish on a website, how to classify and label it, and how to arrange it so that people may easily understand it. An effective content architecture makes a website's material well-organized, user-friendly, and easy to understand.
Components of Content Architecture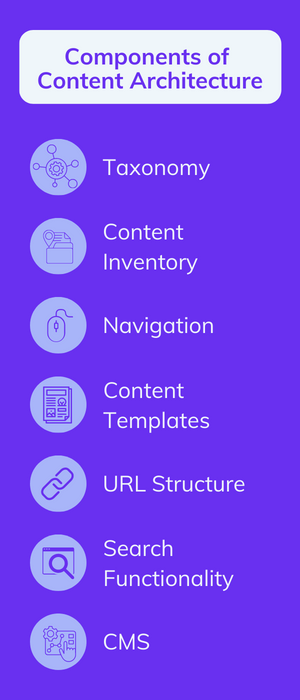 Taxonomy:
The classification scheme that divides content into sensible and practical divisions is called taxonomy. This makes it simpler for people to find what they're seeking and aids in understanding how various pieces of content relate.
Content Inventory:
A list of all the material on a website, including page titles, descriptions, and URLs, is known as a content inventory. This makes it possible to track and manage all content with ease and to verify that it is all accounted for
Navigation:
To help users navigate the website, there is a menu structure and labelling system. A clear navigation system is crucial to enhance user experience and make it simpler for consumers to find what they're looking for.
Content Templates:
These define the structure and format of the site's content pages. This promotes consistency and facilitates the creation of fresh content by content producers.
URL Structure:
The way in which URLs are organized reflects the relationships and hierarchies between various types of material. In addition to enhancing search engine optimization (SEO), a well-structured URL structure makes it simpler for search engines to crawl and index a site's content.
Search functionality:
A tool that enables users to rapidly find content on a website, such as a search bar or other search functionality. This is especially crucial for more significant sites with a lot of material.
CMS:
The software used to manage, publish, and update a website's content is a content management system (CMS). A content management system (CMS) can simplify maintaining a site's content and guarantee it is correct and current. Many traditional CMS vendors limit the proper use and implementation of the content architecture. The features needed by larger enterprises are more robust and unique. Companies are instead turning to Content Platforms, which are solutions built with Headless CMS architecture but go beyond the basic capabilities of a CMS to include intuitive integrations and superior content architecture.
How Content Architecture Impacts Content Strategies
Content architecture is essential to content strategy since it provides the structure for organizing and organizing the material on a website. A well-designed content architecture can greatly influence a successful content strategy by:
Supporting user objectives:
Creating the content architecture with the target audience's wants and objectives in mind makes it simpler for users to locate the information they require and complete the tasks they set out to do. Users will be more engaged and satisfied because of this, helping to establish trust and trustworthiness.
Increasing discoverability:
A clear and well-structured content architecture can increase the discoverability of information by making it more straightforward for consumers to find what they're looking for and for search engines to understand the content. This may result in higher search engine rankings, more visitors, and more exposure to the website and its contents.
Enhancing user experience:
By making it more straightforward for users to browse a website, find the content they need, and comprehend the connections between various pieces of content, a well-designed content architecture can improve user experience overall. This may result in better user engagement, more time spent on the website, and lower bounce rates.
Facilitating content management:
An effective content architecture can simplify managing and updating the information on a website, requiring less time and effort to maintain the website and guaranteeing that the content is accurate and up-to-date.
A scalable content architecture can support the expansion of a site and its content over time, making adding new content simpler and guaranteeing that it fits within the general structure and organization of the site.
How content architecture helps future-proof your Headless CMS
Well-designed content architecture considers the needs of the agency or in-house developers who will make changes to the Platform. It provides a stable foundation that makes it easier for your developers to do whatever you want them to do with a robust architecture that makes it easy for developers to isolate changes and track effects to mitigate those risks. Building in flexibility helps you avoid unnecessary expenses and allows you to invest in features that make you money.
How content architecture can help you choose the right Headless CMS for your needs
Skill sets, workflows, types of content, and future flexibility all play a role in choosing the ideal platform for you. Editors who have different coding abilities will want different options. It pays to consider your current editors' skill sets and the skill sets of the editors you may hire in the future. Your editors' workflows also matter - ensuring your headless CMS facilitates editor workflows helps avoid margin-punishing bottlenecks. The type of content you use (structured vs unstructured) will impact the type of content architecture you need and how easily you want to incorporate new integrations and future enhancements.
Why content architecture impacts the bottom line
When content architecture is designed well, it's easy for your editors and developers to have workflows optimized and make changes quickly and efficiently. Efficiency happens effortlessly, the end users are unaware of everything working smoothly together to deliver a fantastic experience, and margins stay high.
When done wrong, your editors may struggle, your integrations may fail, and it may be challenging for your developers to manage security risks and site-wide optimizations. The end results are expensive bottle-necks, missed deadlines, and customers who don't get what they came for. Inefficiency and mistakes pile together to punish your bottom line.
Using Agility CMS to Enhance Your Content Architecture
The ultimate advantage of good content architecture is increased margins and happier customers. The content architecture will always impact your customer experience; it makes up the 80% of customers don't see, which supports the 20% they do see.
Focusing on content architecture is, in essence, focusing on the 80%. Getting it tuned perfectly for your team is a great way to optimize content across all your digital properties, reduce expenses, and create happy customers - all the ingredients you need to deliver standout ROI.
Agility CMS, a headless content management system, significantly enhances content architecture by decoupling content and presentation layers. This separation allows for structured and organized content models with defined fields and relationships, leading to consistency and easier content management across various platforms. Multi-channel publishing capabilities can tailor content for different devices and channels, maintaining a centralized content repository. An API-first approach ensures content is accessible and allows for seamless integration with other systems, while workflow and collaboration tools promote efficient content creation and approval processes. Additionally, Agility CMS supports content localization, personalization, and SEO optimization, all of which contribute to a cohesive and effective content strategy for improved user experiences across the digital landscape.