Choosing a user-friendly CMS that's designed to be intuitive is the surest way of getting positive ROI.
Whether it's a content editor, marketer, or administrator, a CMS that is easy to grasp reduces the barriers to entry and empowers a wider range of individuals to contribute meaningfully to a business's digital presence.
From streamlining content processes to lowering training costs, from accelerating time-to-market to delivering optimized omnichannel content, each facet of the CMS contributes to a collective outcome: a high ROI.
This article zeroes in on how the user-friendliness of a CMS can directly impact ROI. We will explore how businesses can enhance their bottom line by delving into various aspects of CMS usability.
What Is a User-Friendly CMS Exactly?
A user-friendly CMS is a platform that prioritizes simplicity, accessibility, and intuitive design in its interface and functionalities.
It is tailored to accommodate non-technical users of varying skills and backgrounds, allowing them to efficiently manage and publish content without requiring extensive coding or technical skills.
A user-friendly CMS minimizes complexities and empowers users to focus on content creation rather than grappling with the system's intricacies.
The Anatomy of a User-Friendly CMS
Intuitive Interface:

The interface of a user-friendly CMS is clear, organized, and straightforward. Users can easily navigate menus, tools, and options, reducing the learning curve and minimizing confusion.

Drag-and-Drop Functionality:

The ability to drag and drop elements such as text, images, and multimedia simplifies content layout and structure, enabling non-technical users to create visually appealing pages.

Visual Editor:

A visual editor allows users to edit content visually, resembling the final appearance on the website, without requiring HTML or coding knowledge.

Responsive Design:

The CMS and the websites it manages should support responsive design, ensuring content looks and functions well on various devices, from desktops to smartphones.

Built-in Template Capabilities:

Pre-designed template capabilities cater to various styles and purposes, offering users a head start in creating attractive and consistent content layouts.

Media Management: User-friendly CMS platforms provide efficient tools for uploading, organizing, and embedding media assets, making it easier to incorporate images, videos, and other multimedia.
Workflows: Non-technical friendly content workflows ensure that content creation, editing, review, and publishing processes are organized, efficient, and aligned with a specific strategy or goal.
Why a User-Friendly CMS Matters?
With a user-friendly CMS, you don't have to be a developer to create and update content. It's like having your website's control panel simplified and organized for easy use. Say goodbye to the days of scratching your head over complicated technical stuff.
Everybody's Invited
It lets everyone join the content creation party, even those without super tech skills. Marketers, designers, and regular folks can all add their touch without breaking a sweat.
Flash-Speed Updates
You can change things up lightning fast. Imagine launching your latest idea right when it's hot off the press. No waiting, no delays.
Teamwork Triumph
Collaboration becomes a walk in the park. Everyone's on the same page, and content gets smoother approval flows.
Happy Visitors
The result? A website that looks amazing and is easy to use. Visitors stay, explore, and do what you want them to, whether buying, subscribing, or just getting in touch.
SEO Superpowers
Let's not forget about climbing the Google ladder. A user-friendly CMS often comes with built-in SEO tools, helping you get noticed by the right people.
Money Matters
Saving costs is the cherry on top. No need for endless training or pricey developer fees – your team becomes a self-sufficient content powerhouse.
The TCO of a Non-User-Friendly CMS
A non-user-friendly CMS' Total Cost of Ownership (TCO) can be surprisingly high, impacting financial resources and operational efficiency.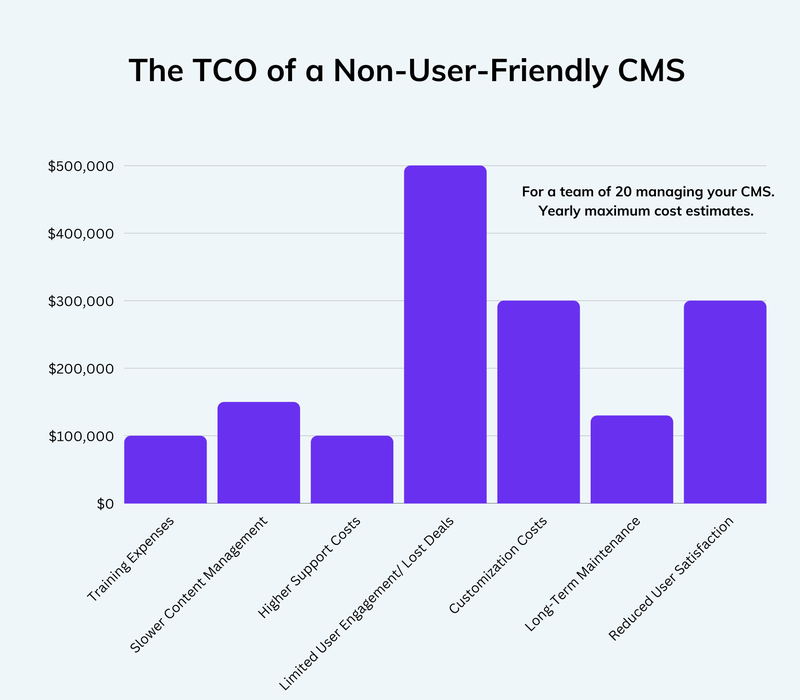 Here's a breakdown of how a non-user-friendly CMS can lead to increased costs:
Training Expenses:

Non-user-friendly CMS platforms often require extensive training for users to understand complex interfaces and workflows. The time and resources invested in training sessions, materials, and personnel can accumulate significantly.

Slower Content Management:

Difficulty in navigating a non-user-friendly CMS platform can slow down content creation and updates. This reduced efficiency can lead to missed opportunities, delayed campaigns, and a longer time-to-market.

Higher Support Costs:

Users needing help with an unfriendly interface will likely require more support and assistance from technical teams or customer support. This increased demand for support services can strain resources and increase operational costs.

Limited User Engagement:

Non-user-friendly interfaces can discourage user engagement. If content creators find the CMS software frustrating, they may only update the website occasionally, leading to stagnant content and decreased visitor engagement.

Customization Costs:

Businesses might hire developers to implement desired changes if a non-user-friendly CMS lacks customization options. Custom development is often cost-intensive and can lead to maintenance challenges in the long run.

Long-Term Maintenance:

A CMS that's difficult to use can lead to content inconsistencies and formatting issues over time. Maintenance costs increase as developers are required to fix these issues and ensure the website remains functional.

Reduced User Satisfaction:

A friendly CMS software can lead to frustration among content creators and administrators. This dissatisfaction can lead to turnover, affecting morale and increasing recruitment and training costs.
Why Should You Let Marketers Handle Your Content?
Employing marketers for content creation is often more cost-effective than hiring specialized developers for the same tasks. Marketers can focus on content, allowing developers to concentrate on technical aspects, minimizing wasted effort and costs.
Let's do a quick exercise below to assess the costs of having developers handle your content vs using marketers.
Developer Costs vs. Small Marketing Team Calculator
Step 1: Calculate Developer Costs
Average Annual Developer Salary:

$__________ (Enter the average annual salary for a developer)

Number of Developers:

_________ (Enter the number of developers)
Total Developer Costs: (Average Annual Salary * Number of Developers)
Step 2: Small Marketing Team Costs
Average Annual Marketer Salary: $__________ (Enter the annual average wage for a marketer)
Number of Marketers: _________ (Enter the number of marketers)
Total Small Marketing Team Costs: (Average Annual Salary * Number of Marketers)
Now compare these numbers and see why hiring marketers can be cost-effective.
CMS User-Friendliness Comparison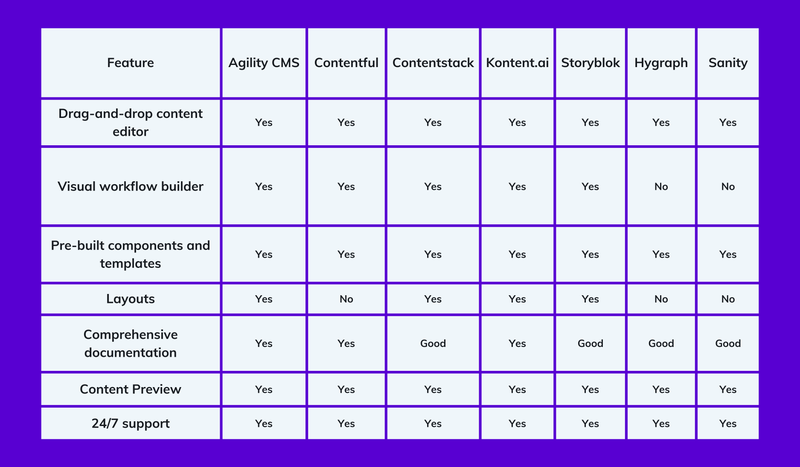 Cineplex: In Search for Evergreen Flexibility
Cineplex is a top-tier Canadian brand in the Film Entertainment and Content, Amusement and Leisure, and Media sectors. Cineplex welcomes over 70 million guests annually
Cineplex rebuilt the site on Agility's CMS platform in 2010 with the support of Agility's former professional services team, launching a new design and a bigger focus on online sales.
In 2014, Cineplex rebuilt the site again on top of Agility's flexible and intuitive CMS platform's codebase. This newest iteration has a responsive design and uses newer front-end and back-end technologies. With each rebuild, Agility's CMS allowed Cineplex to increase the site's scalability and optimize its hosting resources.
Read More: Cineplex Case Study
Agility CMS: The Friendliest Enterprise CMS
Agility CMS sets itself apart with an interface that is intuitive and remarkably user-friendly. Its drag-and-drop content editor, responsive design tools, and visual content previews streamline content creation, ensuring that even non technical users can craft captivating digital experiences.
The emphasis on content versioning and customizable templates further solidifies our user-centric approach, allowing users to manage their digital content easily.
Compared to other CMS platforms like Contentful, Hygraph, and Sanity, Agility CMS consistently shines as a leader in user-friendliness. It doesn't just provide features; it crafts an experience that makes content management a breeze for everyone involved.