In recent years, there has been a rise in the popularity of "headless CMS." In the realm of web development and the financial market, it is more than just a buzzword.
And it simplifies the process of delivering content to users, not only to developers but also to those who create content.
So it is no surprise that many of the world's major financial institutions are adopting headless CMS to boost their content marketing.
FinTech marketers are a unique breed responsible for a variety of tasks in addition to marketing campaigns.
These tasks include social media, advertisements, and content, leading consumers to the company's website and applications.
When it comes to FinTech, choosing the correct technologies to facilitate your marketing efforts is just as critical as designing a successful website that can turn visitors into customers.
FinTech companies require technology that combines user-friendliness, adaptability, and safety in a single package.
This is one of the reasons why a headless content management system (CMS) is so popular and ensures your website is always prepared for the latest technological advances.
This article will describe the role of CMS in the financial business as well as the benefits of CMS for the financial market and more.
What is Headless CMS & How Does it Improve Digital Experiences?
A headless content management system (CMS) functions differently than the traditional CMS that most FinTech companies are likely accustomed to using.
A traditional CMS is built on an inflexible architecture in which the frontend and backend systems are combined into a single solution- think WordPress. These solutions are typically avoided by fintech companies due to high-security risks.
On the other hand, a headless content management system disconnects the frontend presentation layer from the backend architecture, eliminating the need for a head.
Instead, the backend is responsible for storing and managing content and data, and it uses APIs to communicate with the various frontend channels.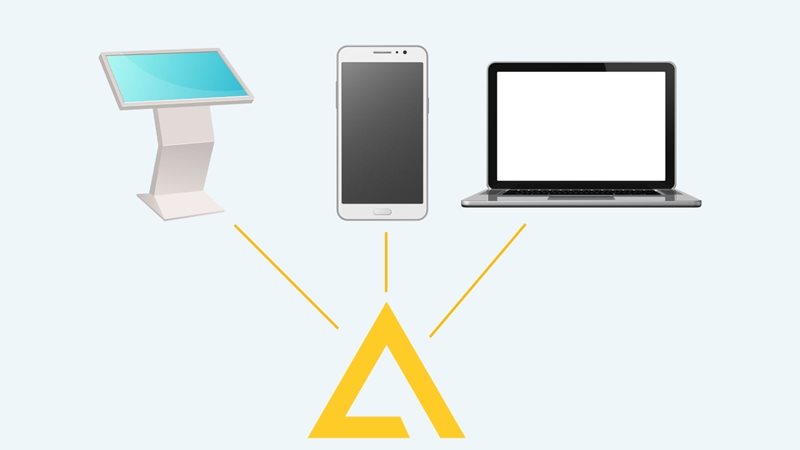 Consequently, content can be distributed across any channel, such as a website, a mobile device, a digital kiosk, or other locations. It also provides the safe solution and compliance required by fintech companies.
The more common solution that has been used by fintech in the past is legacy DXP/architecture.
Monolithic infrastructure has been regarded as the industry standard in finance for several years, particularly inside banks and other more established financial institutions.
Fintech companies have been the driving force behind digital transformation across the industry. The issue is the ability to adapt to new markets and consumer demands with outdated, complicated systems. Solutions such as Sitecore require a heavy investment in developers who are trained on the specific software. Marketers are completely reliant on IT teams to make content updates for customer journeys.
To mitigate this, Fintech leaders are moving towards composable DXP, with Headless CMS and the centre.
Key Points to Consider for FinTech Website
When considering whether it is time to move from a monolithic solution to headless CMS, consider whether these points are a current objective for your organization:
Enhanced security
A safe website is essential to avoid the blunders of the world's largest financial institutions. Keeping your customers' data safe must be the priority. For your firm to fulfill or surpass security requirements, your vendors must comply with standard regulations.
Focus on Your Smaller Markets
Creating website content that appeals to your chosen market segments and demographics is critical. Your technology should allow you to quickly develop content relevant to your markets around those issues, whether through a physical location, unique items, or both.
Build Trustworthiness
Since customers want to access their information anytime and from any location, websites must be lightning-fast. Don't just focus on optimizing your website's speed; make sure it is always available, no matter where you host it. Customers are more likely to use FinTech if they know the company they're dealing with is trustworthy and reliable.
High Ranking
FinTech firms must utilize SEO to their advantage. A high search engine ranking is critical when there is so much competition. In addition to being correctly indexed by Google, an SEO-optimized site is more likely to be found when potential customers search for products like yours online, thereby increasing your chances of sales.
What Are the Benefits of a Headless CMS for the Financial Industry?
Using a headless CMS for financial services comes with several advantages. Primarily, you may expect several increased efficiencies from this software. Read the below benefits: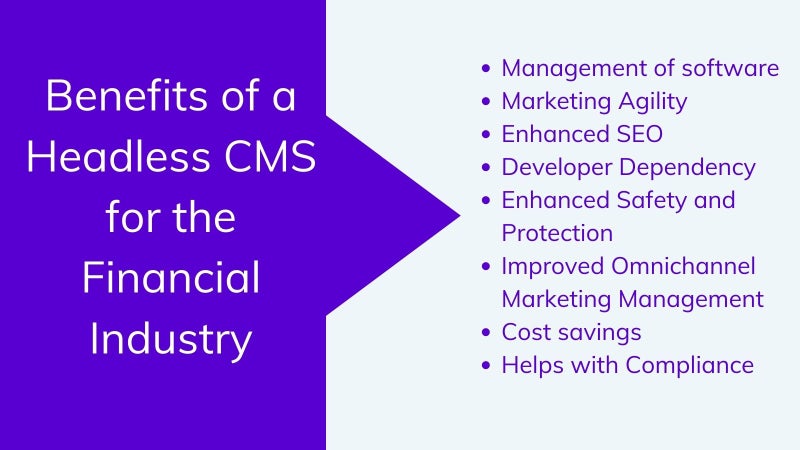 Management of software
A headless CMS has the potential to be offered as a SaaS product. A SaaS (software as a service) offering will, in most cases, reduce both total expenses and the number of headaches experienced.
SaaS platforms take care of software hosting, availability, security, and upgrades so that you and your development team don't have to deal with the burden
Marketing Agility
In most circumstances, having a headless CMS will make it easier to be agile in marketing. This technology makes it simpler to construct campaigns, establish landing pages, and distribute content to numerous locations, allowing teams to coordinate their Omnichannel marketing efforts better, resulting in more significant traffic and conversions.
Enhanced SEO
A headless CMS offers much more than search engine optimization (SEO). It gives the potential to improve both the efficiency of content delivery and the rate at which search engines index sites.
Developer Dependency
A headless CMS can either boost or diminish the productivity of developers. As a general rule, experts advise that you go with a platform that reduces the number of dependencies placed on your developers. This will allow them to devote more of their attention to product development rather than creating and upkeep endpoints and websites for the marketing department. This makes it possible to divide responsibilities better so they can focus on what they need to accomplish. It gives the marketing team the authority to do what it has to do: generate and publish content.

Enhanced Safety and Protection
A reliable platform like headless CMS is essential to minimize the risk of making the same errors as large financial services providers. In addition, it is critical to take measures to protect the personal information of your customers, particularly in this day and age, when the scope of rules such as CCPA and GDPR is expanding. For your company to reach or exceed the standards set for its level of security, your suppliers must comply with the relevant rules.
Improved Omnichannel Marketing Management
The management of Omnichannel marketing will be made more accessible by using this solution. Teams that need to handle content typically have many websites, iOS, and Android apps, online applications, and wristwatch applications. The efficiency of the marketing and the development teams is significantly increased when they have access to a single source of truth rather than managing content across many platforms.
Cost savings
This is more dependent on the system and the use case, but generally, a headless CMS offers a solution that saves money. However, adopting this tool could increase expenses due to the possibility of more development time and resources being required, in addition to potential costs related to the software's maintenance. While a hybrid CMS administers the software, it provides marketing teams and organizations with Agility, requires fewer development resources, and offers the advantages of both systems in a single, unified platform.
Helps with Compliance
As one senior content manager at a big financial institution acknowledged at a recent conference, companies should need to avoid the frequent situation where teams repeat rewriting. Instead, they are looking for a single source of information. But, of course, with the help of headless CMS, statements are generated once and utilized consistently, which encourages content reuse.
A headless CMS can reduce the amount of writing required by concentrating on creating reusable content. The statements and assets of financial institutions can be incorporated into their content through an authorized library. Information and messaging can be more effectively and consistently communicated when organized into established, standardized parts of speech. Content can be broken up into smaller components that have previously been reviewed and authorized before being assembled into a larger whole. However, only the change section will need a new compliance review if there are any products or regulatory modifications.
The management of third-party content is also made easier with a headless CMS. Third-party content can be integrated by financial institutions from trustworthy legal and financial information producers and government regulators. Financial institutions must be able to check for compliance before publishing it since they are ultimately responsible for the integrity of any third-party marketing content they use. Further, APIs allow a headless CMS to analyze and revise outside supplied content for compliance.
What can be built with Headless CMS?
Headless CMS is a popular approach for "Jamstack" websites that have high-performance standards and works well with static-site generators. It is also used for web apps, which are becoming increasingly common with the proliferation of current JavaScript Frameworks like React, Vue.js, Svelte, and Angular.
A headless CMS will not be aimed toward a page-based content structure that should be simple to construct but only be an option. If this is the case, you can control content for any product or service from the exact location, including voice assistants, digital kiosks, print, and internet material.
A headless CMS has the flexibility to serve as a back end for an online store. It can also be integrated with preexisting e-commerce platforms and product inventory management systems, such as Shopify and SAP Hybris.
Case Studies – using Agility CMS for Finance
Scotiabank: Delivering Exceptional and Secure Content Experience
Canada's Scotiabank is a leading provider of banking and financial services with a reputation for safety and trustworthiness. For Scotiabank, a fast and dependable content management solution had been a top need. Scotiabank is the third-largest Canadian bank by deposits and market capitalization in Canada.
As a result of using Agility CMS, Scotiabank can keep its content architecture and high-security performance consistent across various foreign locations and business units. In addition, whenever Scotiabank expanded into new regions, they turned to Agility for help with launching many websites swiftly and securely.

Agility CMS has been able to accomplish the following goal:
Incomparable security measures
One of Canada's best databases
Content management that is simple to use and provides creative and functional flexibility
Each of the six countries in Scotiabank's Latin American portfolio is capable of controlling its website material. Utilizing their Scotiabank corporate credentials, they can log onto Agility CMS using their existing Azure Active Directory login page.
The Agility CMS platform has passed independent security audits by Scotiabank's security team for many years. After using Agility CMS for many years, Scotiabank has effectively rebranded and renovated its website frontends for each country. The development teams have repurposed the Agility content to save money and effort on each new design and rebuild.
Conclusion
Many actions and people must be coordinated for compliance to be achieved. Any one action or solution cannot ensure compliance. One of the criteria for a content management system is to support an end-to-end procedure to ensure that regulatory standards are met. For example, marketing and customer service professionals must always share accurate and reliable information with customers. Instead of being a separate task, compliance should be integrated into the content management process. So, financial institutions can quickly and reliably deliver the necessary information to their customers with the help of a suitable CMS.